Meet the Sellers: Los Angeles Angels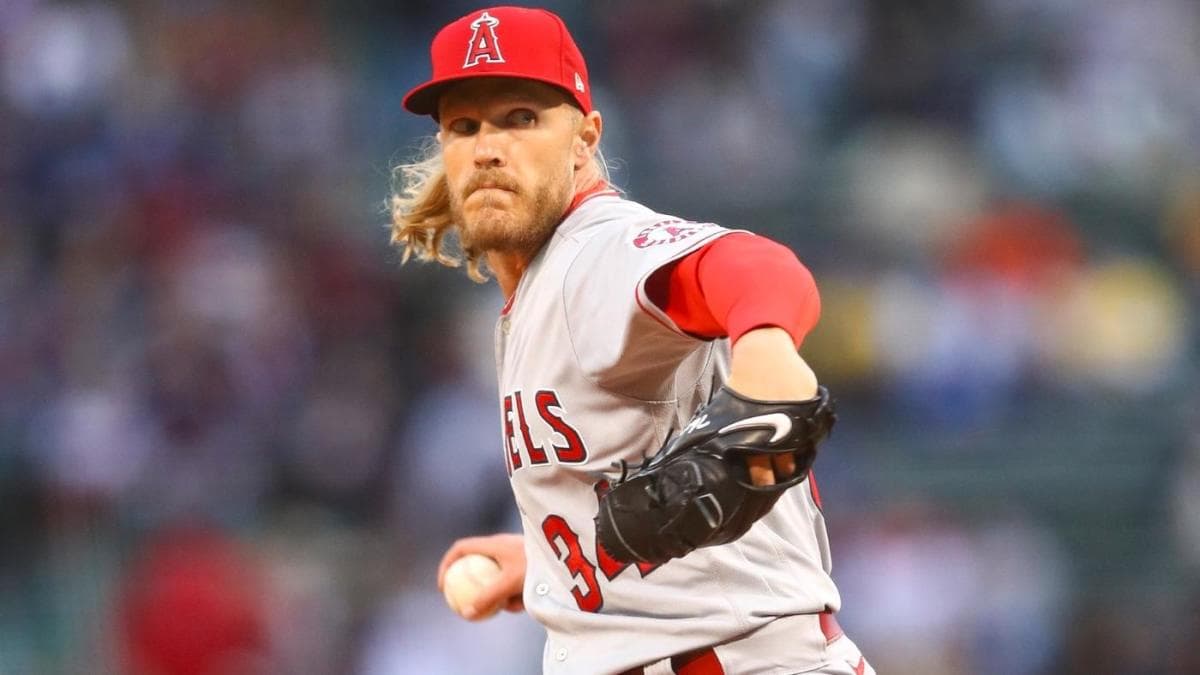 Photo credit:Getty Images
Did you know that the Los Angeles Angels have four former Blue Jays on their current roster?
In fact, all three players featured today will all be former Blue Jays, one longer than the other two, so that's pretty cool.
Let's be real here, the Angels suck. Yes, Ohtani and Trout are two of the best players in the game, but my god, are they ever bad at developing players. Not just that, but the Angels hand out some really bad contracts (i.e Rendon)
Aaron Loup:
The first of the former three Jays, Aaron Loup gets swings and misses, despite having a "meh" season. Not just that, but it would be cool to have two submarine pitchers, one lefty and one righty. Bonus points if you remember who the Jays got in return when they traded Loup in 2018.
Statistics:
This season, Loup has a 4.40 ERA and a 4.02 FIP in 30.2 innings pitched. While this isn't outstanding by any means, his K/9 of 10.57 is a career high, and he's done a fine job of limiting the walks with his 3.52 BB/9
In his career, he has pitched 438.1 innings and has a 3.14 ERA and a 3.40 FIP. That includes a 8.60 K/9 and a 2.71 BB/9. All things combined, he has a rather impressive track record.
In terms of Loup's best season, it came with the Mets last season. He posted a 0.95 ERA and a  2.45 FIP in 56.2 innings pitched. His K/9 for that season was above his career average at 9.05, while his BB/9 was lower than his career average at 2.71.
Since leaving Toronto, he has pitched 115.2 innings pitched with a 2.18 ERA and a 3.15 FIP for an ERA+ of 187. This includes a BB/9 of 2.6 and a K/9 of 9.3, so to say that Loup is an effective reliever is an understatement.
Contract:
This is where things get dicey. While Loup certainly has the track record, he hasn't quite pitched up to his contract. For the next two seasons, Loup will have an average annual salary of $7,500,000, along with a team option for the same amount in 2024.
While the Jays could certainly fit this contract onto their team it becomes a question of "is the soon to be 35-year-old declining". If so, this isn't a great contract. If not, the Jays could probably get him for fairly cheap, as I assume the Angels want to do anything possible to clear salary space before they have to sign Ohtani.
Positional Need:
Like with all relievers, yes, Loup fits a positional need. Contract aside, there's a lot to like about Loup as he's got a ton of swings and misses. Not just that, but he could be a second lefty in the pen, something the Jays desperately need.
Noah Syndergaard:
While he never outright played for the Jays big league team, Noah Syndergaard was the big part of the trade to acquire R.A Dickey.
Statistics:
Syndergaard is an interesting player. After not pitching more than 2 innings since 2019, Syndergaard has done quite well, posting a 4.00 ERA and a 4.05 FIP in 74.1 innings pitched. However, his K/9 has plummeted to 7.02 (his career average for context is 9.48).
He's still avoiding giving out free passes as his BB/9 sits at 2.42 (career average of 2.11), but he's relying more and more on fly balls ,as his fly ball percentage sits at 37%, a career high. His career average only sits at 30.5%, so again, incredibly noticeable.
Syndergaard features two different fastballs, a four seamer he throws for an average of 94.2 mph, 20.2% of the time and a sinker he throws at an average of 94 mph which he throws 27.1%. Interestingly, he throws more sinkers to right handed batters (257 to righties, 53 to lefties), while throwing more four seamers to lefties (75 to righties, 156 to lefties).
Syndergaard also features a changeup that he throws an average of 88.4 mph, 23.6% of the time. As well as a slider that he throws an average of 83.5 mph that he throws 20.2% of the time.
His last pitch is a curveball that he only throws 9% of the time at an average of 76.2 mph.
Contract:
Syndergaard's contract all but guarantees that he's being moved. He's making $21,000,000 for this season alone, and while that makes a dent on the payroll, if the Jays can unlock Syndergaard before the injuries, he's your number three in the rotation.
Not just that, but due to the fact the Angels conceded a second round pick in this draft
and
have one of the worst farm systems in the league, it makes sense for the team to try to recoup assets for a rental.
Positional Need:
As I mentioned in my previous "Meet the Sellers" article, if I were the front office, I wouldn't want Kikuchi anywhere near the starting rotation. While his contract is iffy, Syndergaard would certainly fill into a #4 roll at the very least.
If Berrios can continue his recent turn around, that is a pretty good rotation with an overpowering lefty in the pen (Kikuchi).
Jonathan Villar:
According to Hector Gomez, the Jays were actually in on Jonathan Villar this past off-season. So as much as I don't want him near this team, it's not out of the question that they might have a slight interest in him.
Statistics:
Villar hasn't been particularly good this season, in fact, I'd say he's been bad. He's slashing .211/.256/.297 between the Chicago Cubs (who'll be next in Meet the Sellers) and the Angels. Villar has only hit two homers and has struck out 27% of the time while walking 6% of the time. Villar is also a switch hitter.
Defensively he hasn't been particularly great this season either. At second base, he has a -7 DRS and a -5 OAA. At third base, he has a -1 DRS and -3 OAA, while at shortstop, he has a -2 DRS and -3 OAA.
However, Villar is just one season removed from a pretty darn good season.
With the Mets in 2021, he posted a .249/.322/.416 slash line with 18 homers. His K% was around the same at 26.1%, but he took more walks with a BB% of 9.1. Overall, he finished 2021 with an fWAR of 2.5 (for contrast, his fWAR this season is  -1.1).
Contract:
While the Jays were rumoured to sign him for $6,500,000, he signed with the Cubbies for $6,000,000. After being released by a really bad team, he signed a veteran contract worth $700,000 with the Angels.
So while he's been absolutely terrible in 2021, his contract is justifiable if the Jays want to take a chance with him to find that 2021 form.
Positional Need:
Villar would be a versatile infielder while providing subpar defense. If his bat came around and he was able to use his speed, I could see him replacing a catcher if the Jays don't want to call up Samad Taylor yet.
Are the Angels an ideal trading partner:
If you want a position player? Absolutely not, unless you could somehow grab Ohtani. However, they have two former Jay relievers that I'm sure the front office would be interested in if they would eat salary (Ryan Tepera being the second one).
There's also Noah Syndergaard who'll most certainly be traded. If he could find his previous form for the Jays, he would be a huge help to the starting rotation.
While there are certainly risks with all three of these players, it's possible that Syndergaard or Loup get a look. I doubt the Jays would be interested in Villar, but it shocked me when they were in on him during the off season, so who knows!
Previously in the series….
As always, you can follow me on Twitter @Brennan_L_D. Next up should be the Cubs.
---