Minor Leaguers: Do They Even Exist?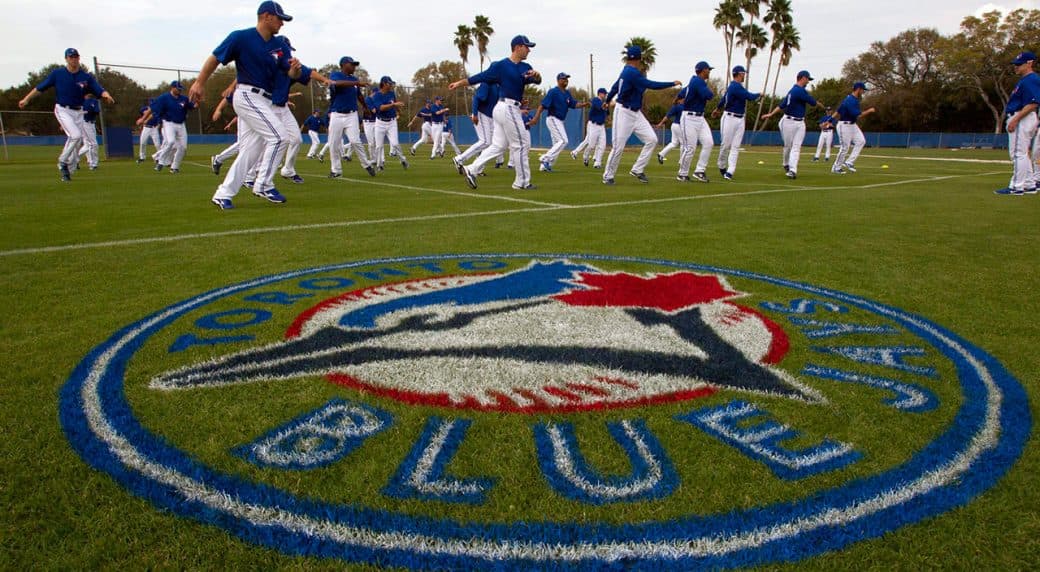 We were told, some time ago, that the minor leaguers would be staggered so as to come to spring training after the Blue jays broke camp. Certainly, in the case of the jays, there was some mild fuzziness because the complex is just five miles across town and the non-roster invitees to major league camp just continue on when the rest of the system arrives. All this in preparation for the opening of the minor league season currently set for May 4. So in theory all those many wonderful prospects are there, now, as you are reading this, going through their paces – and have been for over a week so. . . why is it so quiet?
Seriously, as far as a quick Google search can reveal, not one whisper published this month about Austin Martin or Jordan Groshans or Alek Manoah and what kind of impression they, or anyone else, might be making. For someone who's generally as fascinated with this side of the organization as I am the major league club, it makes one feel a bit deprived. Moreso when you feel obliged to generate some content as the season approaches.
So here's what little I've got: a revision of those rotation predictions I published seven weeks ago, mostly in light of what we learned at the big league camp and from how the Blue jays roster was constructed.
For Buffa-ton (I'm seriously crushing on the "Thunder Bison" gag, that needs to be a permanent thing!) there would obviously be the most fallout.
My initial projection
was Julian Merryweather (now a force in the Jays bullpen of course), T.J. Zuech (more on this in a bit), Thomas Hatch (injured), Anthony Kay, Patrick Murphy (injured, again) and maybe Jacob Waguespack if the depth thinned enough for him to be needed. Also, I noted that you might see Nate Pearson here as a function of innings management. About that…
It's now certain that when he's ready to pitch Pearson will need a full rehab run in the minors before he's back in "Toronto" and he's just now progressed to throwing off a mound. There are basically three weeks until the MiLB opening day so I could see a scenario where his first start or two happens in Dunedin, close to the staff in case things go sideways again, and then maybe 3-4 turns for the Thunder-Bisons. So barring a setback, at least most of May he'd be in that rotation.
Behind him would be Kay, barring injury of course which can be said of all these predictions. He was impressive in camp and, apart from Pearson, would be the most advanced prospect here. Also getting a regular turn would be, presumably, either Zuech (depending on how he holds up in the majors in April) or Trent Thornton (if they decide it's better to stretch him out for starting depth which they didn't have time to do in March). Logically one of these will potentially be displaced with Robbie Ray's activation Maybe not initially, but three long relievers in the 'pen seems sub-optimal. Possibly they shift Tommy Milone (who's not shamed himself, to my surprise) back to the taxi for April but the shift of Tanner Roark to the 'pen for now (and the reality that they only need a fifth starter once more in April) suggests the potential for one of these guys to get on the shuttle.
There's room here, now, for Joey Murray whom I'd had crowded out last time I made these predictions. Odds have greatly improved in his favour.
After an impressive spring, newly acquired Anthony Castro might get a rotation turn if he isn't needed on the big league squad in relief. Waguespack is still hanging around should a sixth option be needed. When Hatch returns from injury, were all these slots still full he'd displace Castro, probably, but I could imagine a scenario in which he'd be able to slide into the spot Pearson vacates when the latter is ready for the Blue Jays roster (all fingers crossed and such).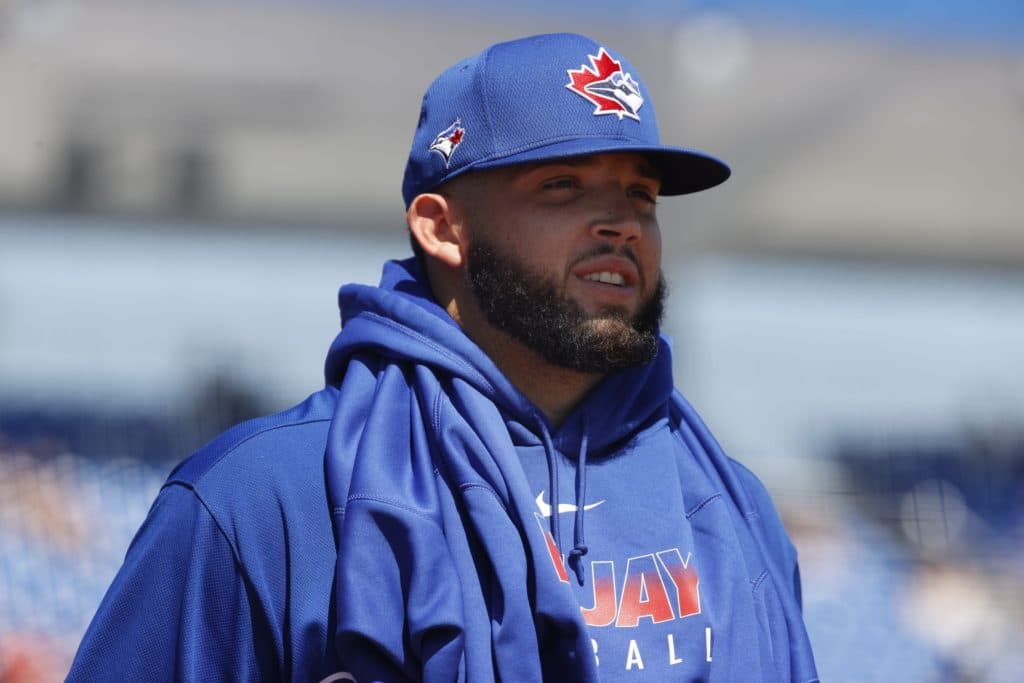 Mar 14, 2021; Dunedin, Florida, USA; Toronto Blue Jays pitcher Alek Manoah (75) looks on during their game against the New York Yankees at TD Ballpark. Mandatory Credit: Kim Klement-USA TODAY Sports
There's some implication for New Hampshire in all that, of course, since I initially had Murray in this group. But that's not the only big shift in my thinking.
Alek Manoah
set Jays Twitter ablaze with his work in March and notables like Pete Walker were also raving that he'd surprised them with how advanced he was. I feel it's safe to say now he's got the inside lane (insofar as we can guess about a camp that's now gone radio silent) for the AA opening day assignment. Beyond slotting him into the spot I'd originally given to Murray, what I
wrote in February
largely holds true.
Simeon Woods-Richardson
is likely the #2 (though not on the fast track like Manoah), and the balance would be filled out by some combination of
Zach Logue, Nick Allgeyer, Maximo Castillo
, and the recovering
Justin Maese
. On the latter, it's worth noting that with Vancouver displaced from their home stadium, it seems less likely that a player coming off a long-term injury would be assigned there. He may well be handled gently this year though, rather than hold down a regular rotation spot.
Likewise, if Manoah isn't in High-A there's an obvious derivative outcome from that. Last time I'd been uncertain how the team would assign the newly drafted players who hadn't yet played a professional game, but pretty much all the prospect rankings had CJ Van Eck as either the fourth or fifth rated pitching prospect (with Pearson set to graduate presumably) and described him as a pretty polished and advanced pitcher so he plugs in nicely here.  Following him are three youngsters I included last time: Adam Kloffenstien, Eric Pardinho – with a caveat I'll mention below – and Elvis Luciano. Rounding out the group, potentially the most loaded rotation in the farm system might be Yosver Zulueta. Again here's a case of an impressive spring (beyond the stats) possibly accelerating expectations. He is 23 already so that would make him the oldest player in this group.
About Pardinho, the caveat I applied to Maese may well also apply here. If Pardinho is ready for game action in May he will just be at the beginning of that road and one can certainly see the organization possibly wanting their recovering prize in Dunedin for the first month or two before sending him to the west coast. So I'm including him here mostly on prospect status, but my gut says he won't break camp with "Vancouver". The handiest guy to plug in there in the meantime is Kyle Johnston – who was wretched after being acquired in 2019 but has to pitch somewhere if he's not released.
Other than the guys I've moved up a notch (Van Eck and Zulueta) there's little to add to any Dunedin projection – pencil in Pardinho on rehab for several weeks, follow that with draftees Nick Frasso and Trent Palmer and after that, there are as many as five or six credible candidates for the other two spots, and a plethora of other guys they will have to do something with. As I noted last time there are fully six holdovers (beyond those I described as "credible candidates") from the Low-A rotation in 2019 and several other guys who might emerge as a dark horse contender besides. I still feel like the cuts in three weeks might be pretty brutal at this level.
Still and all, there's a lot to be excited about here. New Hampshire with the second and third top pitching prospects in the system, however, you rank them against each other, High-A potentially having an exciting prospect in every spot in the rotation (nevermind Luciano not technically qualifying for prospect rankings) and at least two high draft picks in the Low-A group. Nature is healing (I hope!).
Recent articles from Tammy Rainey