Mitch White has been designated for assignment to make room for Jordan Hicks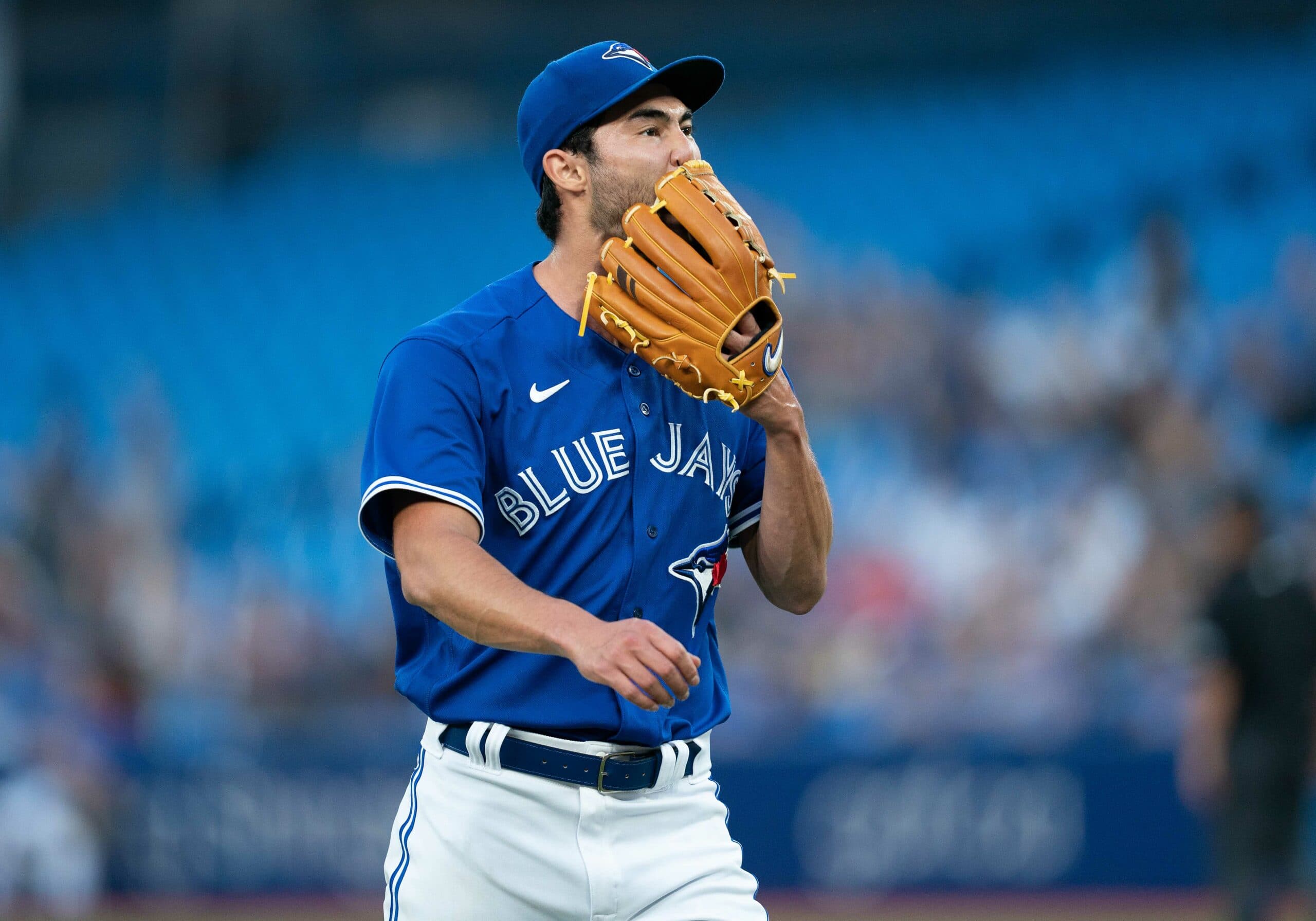 Photo credit:Nick Turchiaro-USA TODAY Sports
The Sunk Cost Fallacy has ended.
As you may know, the Blue Jays traded for hard-throwing reliever Jordan Hicks (more here). In return, they moved two Double-A pitching prospects, Adam Kloffenstein and Sem Robberse, neither of whom were on the 40-man roster (but were rule-5 eligible).
So to make room for Hicks on the roster, the Blue Jays designated Mitch White for assignment on Sunday afternoon.
Where to begin with this…
Mitch White:
Mitch White didn't have a great Blue Jays career., After being acquired from the Dodgers at the trade deadline in 2022 (more on that later),. White had a 7.74 ERA and a 3.76 FIP in 43 innings pitched, along with a 15.3 K% and a 7.9 BB%, while limiting hard contact. It was an encouraging sign, but 2023 undid all that.
White dealt with two injuries prior to even pitching in 2023, first something in his elbow, and then a shoulder injury. On his rehab assignment with the Buffalo Bisons, things didn't go great as he had a 10.07 ERA and a 6.71 FIP in 19.2 innings pitched. Once he reached Toronto, his 7.11 ERA and a 4.94 FIP improved, but was still quite awful.
In fact, out of 216 Blue Jays pitchers who have threw 50+ innings, him combined 7.60 is the fourth worst. Yikes.
There's some encouraging signs in his game, but overall, the Mitch White experience wasn't great, especially who they traded for him…
The trade:
Under Mark Shapiro, the Blue Jays don't have a lot of clear losses in terms of trades. Yeah, picking up Jonathan Villar made everyone unhappy, but it wasn't a loss of a trade, considering that Griffin Conine is still in Double-A as a 26-year-old.
Trading Joel Payamps for cash considerations wasn't a good trade, but it took him a year and a half to breakout into the reliever he is today.
The Mitch White deal is different. Nick Frasso, the main piece going back, has shown impressive stuff since coming back from Tommy John. Not only does his fastball sit in the upper-90s, but it has a ton of movement with a good slider.

So when it was announced that he was heading back, the Blue Jays community was not happy. He hasn't had the best of seasons in Double-A as a 24-year-old, owning a 4.37 ERA and a 2.85 FIP in 55.2 innings pitched, but the stuff is real. He has a great 30.7 K% and a 6.7 BB%.
The also gave up Moises Brito, a 21-year-old left-handed starter who stands 6'1, 215 lbs. So far in 2023 with one of the Dodgers DSL teams, he has a 1.71 ERA and a 2.95 FIP in 31.2 innings pitched, along with a 37.1 K% and a 6 BB%. It's worth noting that he's 1.4 years older than the average pitcher, though.
The saving hope for this trade is 21-year-old Alex De Jesus. After a rough start in High-A, he has turned his season around as he's slashing .252/.341/.477 with 10 homers in 311 plate appearances, along with an 11.6 BB% and a 25.1 K%. He has 33 extra base hits for the season, 10 homers, seven triples, and 16 doubles.
So what happens to Mitch White:
Despite being pretty awful as a Blue Jay, White will likely be picked up on waivers if he's not traded. With the Dodgers, White had a 3.58 ERA and a 3.87 FIP in 105.2 innings pitched, along with a 22 K% and an 8.3 BB%. Not just that, but he had a 4.03 FIP with the Blue Jays, which actually isn't that bad.
A team would definitely take a flyer on him, especially one that needs a pitcher to eat innings. Therefore, I think White will be traded before the deadline. Now it may only be for cash considerations or a lottery prospect, but at this point, anything would be nice.
---
As always, you can follow me on Twitter, Instagram, and Threads @Brennan_L_D.
---