MLB Notebook: The Yankees are a disaster, Shohei Ohtani is injured, and more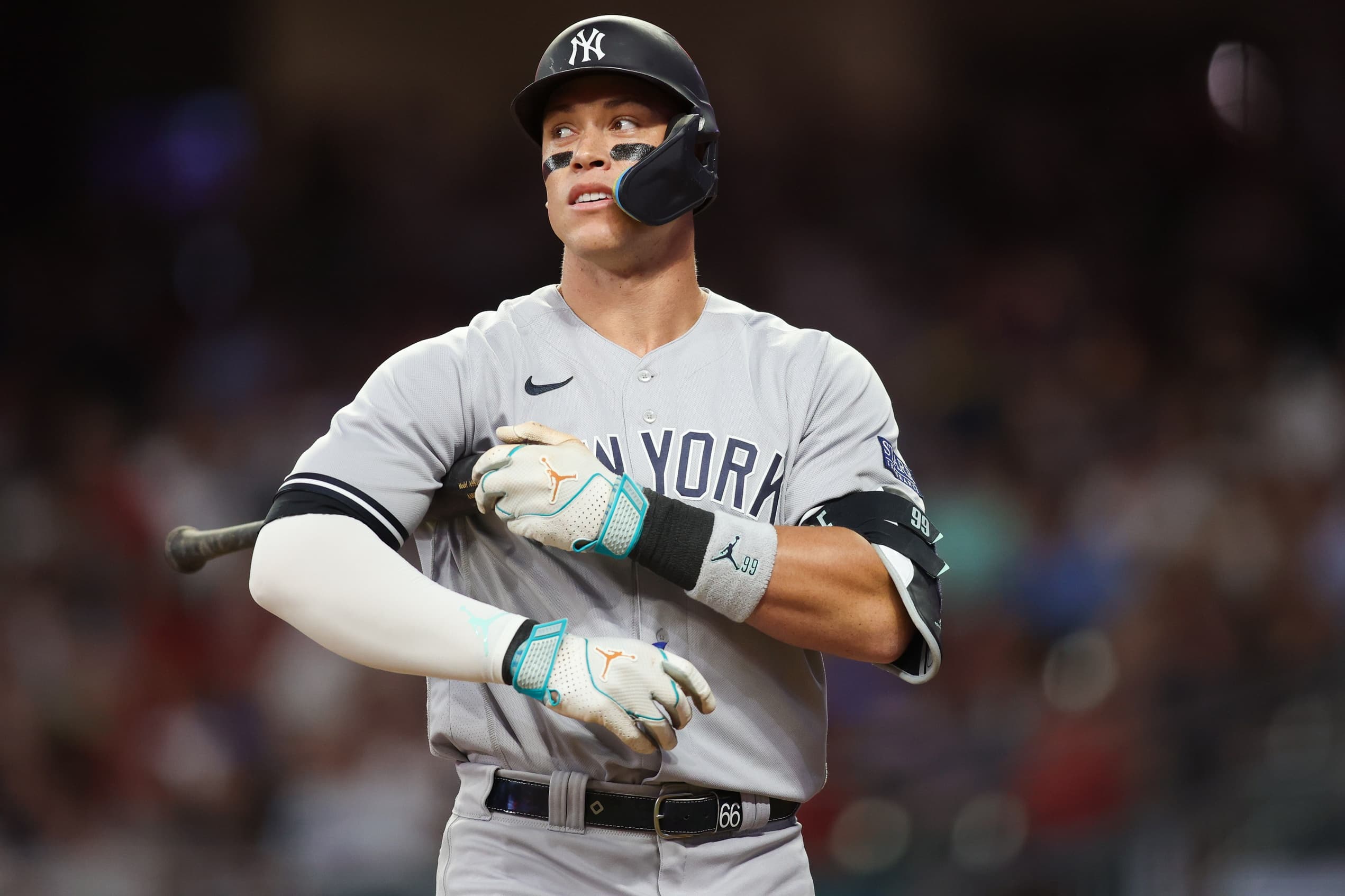 Photo credit:© Brett Davis-USA TODAY Sports
This week was one of the busiest of this season with MLB news. We had retirements, injuries, front office blunders, and so much more. Let's dive into the MLB's biggest stories.
Shohei Ohtani suffers a torn UCL
Los Angeles Angels starting pitcher/DH Shohei Ohtani received some unfortunate news this week that he has a torn UCL in his elbow. Ohtani was removed from his start in the second inning on Wednesday afternoon against the Reds with arm fatigue, and imaging later that day revealed that there was structural damage.
Per Angels GM Perry Minasian, the team will seek a second opinion on the injury, but Ohtani has elected to continue to bat as a DH for the time being. This speaks incredible volumes to the type of player and man that Ohtani is; he is willing to play while injured for a franchise to which he owes nothing more, and a team that has failed to surround him with the necessary talent for a playoff push. The Angels are currently 10.5 games out of a Wild Card spot, so their chances of reaching the postseason are slim.
Ohtani was well on his way to earning his second career MVP award, and he still might have a chance despite the injury. At the plate, he has 44 home runs (MLB-best), 91 RBIs, 78 walks, and an OPS of 1.069 (MLB-best), while also posting a 3.14 ERA through 23 starts with an 11.4 K/9. While the priority should be getting Ohtani healthy as fast as possible, this injury may have some impact on his pending free agency discussions and offers. While his bat alone is elite, he could potentially be going through his second Tommy John surgery (2018).
As a baseball fan in general, here's to hoping Shohei gets back on the field as soon and as safe as possible.
Wander Franco placed on administrative leave
Earlier this week, Tampa Bay Rays shortstop Wander Franco was placed on administrative leave amidst the ongoing investigation of his relationship with multiple underage girls. Franco will still be paid during his leave and also earn service time, but it's already been almost two weeks since he has not appeared in a game. Per reports, Franco is under investigation with both the MLB and Dominican Republic officials.
While investigations are still in process, there are some signs that point to Franco – at the very least – not playing with the Tampa Bay Rays any longer. Per reports, Franco still has a locker in Tampa's clubhouse, but posters and signs containing Franco have been removed from throughout Tropicana Field.
The New York Yankees – a mess in every aspect
Wednesday afternoon, Yankees GM Brian Cashman addressed the media to assess the season that New York has had, as well as discussion topics going into the offseason. He referred to this season as a "disaster" and that the organization is "disappointed, frustrated, and angered." Furthermore, Cashman indicated that there would be some evaluation among Yankees personnel, including himself. The Yankees will be a hot topic going into the offseason in regards to management and ownership, with things potentially looking very different going into 2024, but that topic is worth an entire article.
In other Yankees news, ESPN's Jeff Passan had some harsh criticism for New York's acquisition of third baseman Josh Donaldson. Donaldson was acquired by the Yankees prior to the 2022 season from the Twins in exchange for Gary Sanchez and Gio Urshela. Passan referred to the trade to acquire Donaldson as "terrible" and that Donaldson's relationship with the Twins organization should've drawn some red flags.
"That was bad from the jump," Passan told Michael Kay on the Michael Kay Show. "I think the Donaldson trade was bad from the start because the Yankees knew just how poorly he was getting along with people in Minnesota. There was some toxicity going on there. I don't think you can look at the Donaldson trade in any positive way."
This has been uncharted territory for Yankees fans, and it's unfortunately produced opinions like this one on social media.
Even the rich aren't excused from paying taxes.
There is no question that the Yankees have had it tough this year; losing Aaron Judge for weeks because of Dodger Stadium's outfield wall, Luis Severino's collapse, and the countless batting averages that sit under .250 are all situations that have put the Yankees in quite a rut.
But this is a take that, despite being predicated on this season only and the expectations that came with it, is as entitled as they come. Ask the Angels, who finally had postseason aspirations past the month of May, but lost Mike Trout to a hand injury for weeks and failed to take a step forward after finally adding at the trade deadline. How about the Cardinals? Last place in a middling National League Central…their fans haven't suffered any? The Mets and Padres have star-studded rosters – do you think their fans are OK with how things are going? Ask the Rays who, despite hanging on to a playoff spot, have four stud pitchers dealing with elbow injuries and a future face of their franchise on his way out of the MLB. Oakland is about to have their franchise plucked from their city.
Just because your team dons the pinstripes and shaved faces doesn't excuse you from failure every once in a while. This fanbase is upset just because they only saw the Yankees for what they were on paper. A rotation riddled with injuries over the past several years, an offence reliant on Aaron Judge, and a payroll tied up in underperforming veterans – the offseason hype blinded Yankees fans from the potential of this type of season.
The White Sox make changes at the top
As of earlier this week, there are now open positions in the Chicago White Sox front office.
Longtime White Sox owner Jerry Reinsdorf decided to relieve GM Rick Hahn and VP Kenny Williams of their duties on Tuesday amidst a disgusting couple of seasons of White Sox baseball. Chicago is currently 50-78, 16 games out of the AL Central lead, and a run differential of -125. Hahn and Williams had been together since 2002, with that time span including a World Series championship in 2005.
A decrease in attendance, turning into sellers at the deadline, and a lack of leadership within the organization are just a few of the ongoing issues with the ChiSox. Multiple players – current and former – have publicly admitted that the culture in Chicago was and is not conducive to winning. A couple of weeks ago, it was Keynan Middleton and Lance Lynn, and earlier this week after a loss to the Mariners, Eloy Jimenez responded with, "Not really…not really" when asked if his teammates have discussed stepping up and being leaders of this team.
Rookie manager Pedro Grifol is still in line to be the voice of the dugout for the time being, and he doesn't intend on there needing to be a rebuild. "It's definitely not a rebuild," Grifol said on Thursday. "When you got [Luis] Robert in center field and Eloy [Jimenez] and [Andrew] Vaughn, and Timmy [Anderson]…I don't consider it a rebuild."
Reinsdorf has reportedly also considered selling the team, but no further developments have been made yet regarding that decision.
Stephen Strasburg retires
It was announced yesterday that Stephen Strasburg, a three-time All-Star and World Series champ for the 2019 Washington Nationals, plans to retire. Strasburg spent 13 years with the Nationals, all starting back in 2010 with one of the most electric MLB debuts you will see when he struck out 14 batters over seven innings against the Pittsburgh Pirates. Each season that Strasburg made a minimum of 10 starts, he never posted an ERA worse than 3.74.
Strasburg finishes with a 113-62 career record, 3.24 ERA, 1,723 strikeouts, and a 1.096 WHIP. He also posted a dazzling 1.46 ERA across nine postseason games, including two outstanding starts in the 2019 World Series to which he was named the MVP. Unfortunately, Strasburg fought several injuries throughout his career. Since 2020, he has spent time on the IL for carpal tunnel neuritis, right shoulder inflammation, a neck strain, thoracic outlet surgery, and a stress reaction of the ribs. Per reports, Strasburg still suffers from nerve complications to this day.
Strasburg signed a seven-year, $245 million deal prior to the 2020 season. The contract was not insured, so the Nationals will still owe the entirety of it to Strasburg, per Bob Nightengale.
The assemblage in the NL Wild Card race
We rarely parse the National League at this time of year, but there are a lot of interesting teams in the NL Wild Card race that all still have a chance to be playing baseball in October. As of today, six teams are within 4.5 games of each other, with two teams from each of the three NL divisions being represented in that group.
The three Wild Card spots are currently held by the Philadelphia Phillies (69-58), Chicago Cubs (67-60), and Arizona Diamondbacks (67-61). The San Francisco Giants and Cincinnati Reds are both a half-game behind Arizona, with the Miami Marlins being two games back. The Reds and Diamondbacks have three more games left to go in their series this weekend, so one of those squads might switch places with the other. Due to the quantity of teams involved in this, we may see a race like this come down to the final weekend (or day) of the season.
---