If MLB's lockout persists, Hyun Jin Ryu may benefit from a shorter 2022 season
Photo credit:Kevin Sousa-USA TODAY Sports
The course of a 162-game season is a grueling marathon for any player, but if the 2022 campaign were to be shortened, a veteran starter like Hyun Jin Ryu might end up benefiting.
With no end in sight to Major League Baseball's current lockout, the start of spring training will almost certainly be delayed at this point and pushing back Opening Day could be on the table very shortly, as well. Unless a new Collective Bargaining Agreement is signed soon, players will likely be forced to train by themselves without the use of team facilities this spring.
For one member of the Toronto Blue Jays, Ryu, the 34-year-old has already begun training in South Korea – his home country – working with his former team from the Korea Baseball Organization, the Hanwha Eagles. There, the 6'3″ hurler has completed a pair of bullpen sessions and will continue his throwing program until MLB's lockout ends.
By rule, MLB players aren't allowed to use their club's facilities or training staff during a lockout, however, they're permitted to train elsewhere and could even play in other leagues – like the KBO or NPB.
As of now, it appears Ryu only intends to train with the Eagles, although his stance may change if this season is drastically altered by the lockout. Since there's a growing sense the regular season could potentially be shortened, perhaps he'd opt to briefly return to game action in Korea.
On that same note, would it be all that terrible if the season was reduced from 162 games? What if instead, the schedule was adjusted to 142 games? Or perhaps even fewer than that depending on how long this lockout stretches.
With a shortened campaign potentially on the horizon, it's worth exploring how this could impact Ryu's performance during his third season with the Blue Jays. At this stage of his career, a lighter workload might be what's best for the 2019 National League All-Star.
Entering his age-35 season in '22, keeping the left-hander healthy and fresh will be two key focal points over the next six-plus months as he looks to enjoy another strong showing in Toronto. Unlike during his first go-around, returning from the shortened 60-game season wasn't very kind to him last season.
For the most part, Ryu dominated opposing batters across 12 starts in 2020, earning him a 2.69 ERA, 3.11 xERA, 3.01 FIP, 3.32 xFIP and a 1.9 fWAR rating through 67.0 innings. Unfortunately, these impressive results largely didn't translate over to the following year.
Enduring a rollercoaster type of performance, the former Los Angeles Dodger struggled to string together consistent outings throughout last summer, causing him to become a liability at times. In total, he performed to just a 4.37 ERA, 4.48 xERA, 4.02 FIP, 3.94 xFIP and a 2.5 fWAR rating over 169.0 innings in 31 starts.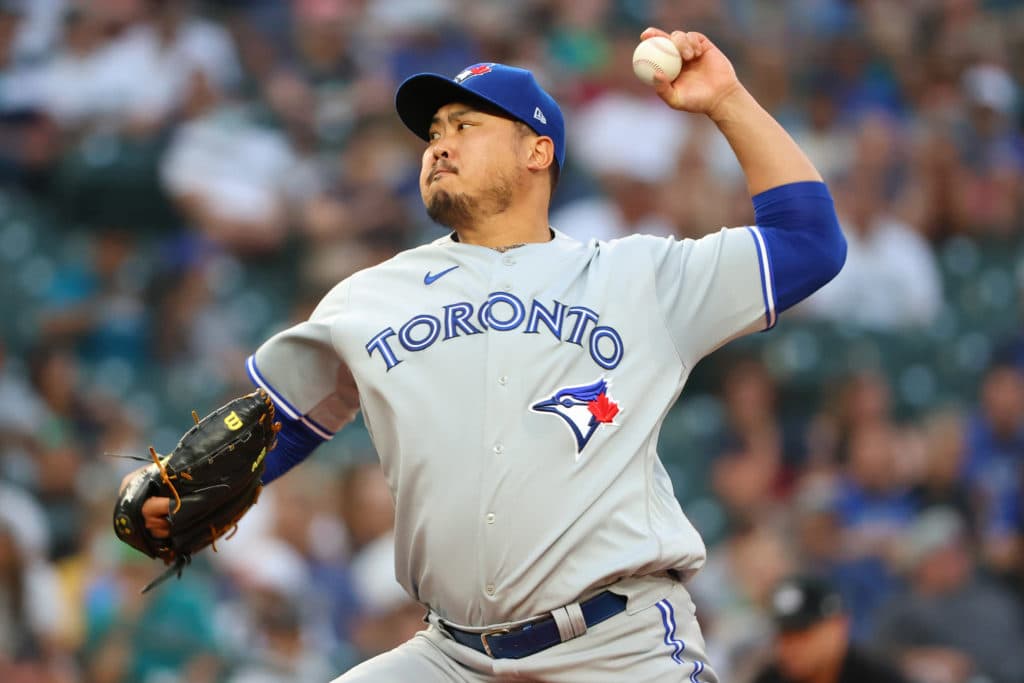 Credit: Abbie Parr-USA TODAY Sports
Paired with his inconsistencies, Ryu also experienced multiple health concerns in '21 – including a glute strain, neck tightness and arm stiffness. Also, several reports suggested he battled through fatigue at certain points of the schedule, all of which likely played a factor in his pitching woes.
Though the 2020 season spanned just two-plus months, the former Cy Young Award finalist didn't experience any of those issues, where he simply emptied his tank over the abbreviated schedule. Granted, achieving that feat is nearly impossible over a full season, especially for someone over 30-years-old, but it might be more attainable this time around.
As things currently stand, MLB owners seem determined to carry on this lockout for as long as possible with the goal of securing a better deal for themselves. No matter which side you stand on – although you'd have to be a certain individual to place blame on the players – it's difficult to ignore the fact that the regular season probably won't begin on Mar. 31.
If the 2022 campaign were shortened to 142 games, that'd likely mean pushing Opening Day back by one month. For Ryu, that could mean reducing his workload by five or six starts. Any further delay would indefinitely shrink his innings total even further, ideally, preserving him for the rest of the way.
In any case, a shorter season would undoubtedly improve Ryu's chances of staying on the mound and performing consistently in '22. For someone who features a lengthy injury history and has compiled 150.0 innings just twice in a single season since 2016, this option may prove to be pretty favourable, albeit, while occurring in very unfortunate circumstances.
Even with a lighter workload, assuming the schedule is indeed shortened, it'd likely be beneficial for Toronto to afford its talented left-hander with additional rest moving forward. While it may seem unusual, pitching on extra rest is something that's helped him enjoy significantly improved results in the past.
Dating back to his time in the KBO, Ryu has historically preferred to pitch on five days rest rather than four – a preference that hasn't changed while playing in North America. In particular, the soft-throwing hurler enjoyed far more success with an extra day of rest in '21 compared to his results on regular rest.
| | | | | | | |
| --- | --- | --- | --- | --- | --- | --- |
| | Starts | Innings Pitched | ERA | SO (%) | BB (%) | OPP AVG |
| Four Days Rest | 13 | 65.2 | 5.48 | 21.5 | 6.25 | .274 |
| Five Days Rest | 11 | 64.0 | 3.23 | 21.8 | 4.4 | .242 |
One extra day may not seem like much, but for Ryu, it usually meant the difference between locating his pitches effectively and failing to control the strike zone. After receiving five days of rest, his command was far more consistent, as evident by his improved ERA and walk rate, allowing him to pitch much deeper into games.
As for how Toronto could make this plan feasible, utilizing a six-man rotation immediately jumps to mind. Though this option would also likely force every starter to pitch on five days rest, if open to the idea, it could potentially preserve everyone's health over the long haul by allowing for an extra day of recovery.
Another idea could be to keep the other four starters on regular rest and then once it comes to Ryu's turn, Toronto could call upon a spot starter – like Ross Stripling, Thomas Hatch, Nate Pearson or Anthony Kay – pushing back his start by one day. Granted, this route could become problematic if a new CBA limits the number of times a player can be optioned to the minors in a single season.
On the other hand, bullpen days could act as a viable option to provide Ryu an extra day of rest, however, this strategy may result in alarmingly high workloads for several relievers – something that probably wouldn't be ideal, even during a shortened schedule.
Of course, whatever option was chosen, it'd have to be agreed to by both player and the team. Having said that, there's certainly enough evidence to suggest it'd be a route worth exploring.
At the halfway point of Ryu's four-year, $80-million contract, carving out the best version of himself should be the main goal of this season and the one after it, too. If reworking his role and the starting rotation can accomplish that, then it's probably best to make that decision, right?
With the Blue Jays aiming for a playoff berth in '22, they'll need their lefty starter to perform at his top level if they're to accomplish this goal, but with a reduced workload, he should possess a fairly high chance to deliver on his high expectations.