Narratives from the first 10 games: What's an overreaction and what isn't?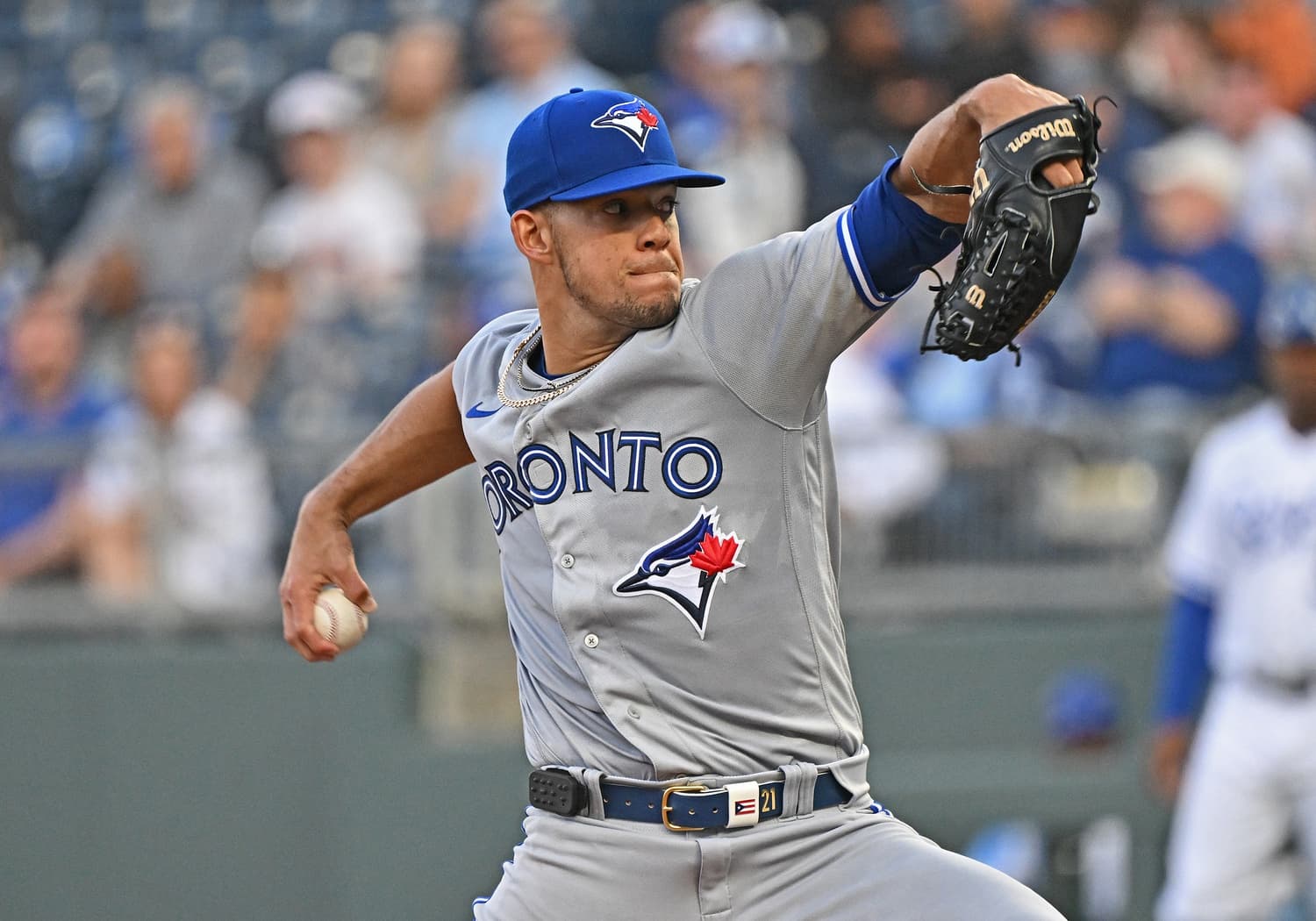 Photo credit:© Peter Aiken-USA TODAY Sports
The only thing better than hot takes before the season are the overreactions that happen during the first week of the season. Bad starts or good starts, some opinions are worth diving into. Let's take a look at some talking points and if they're overreactions or not.
A 6-4 to start the season is rather underwhelming
My opinion: Overreaction
Let's be reasonable. The Cardinals will be heavily involved in the NL pennant race, and the Angels have the two best players in all of baseball. 10 games on the road to start the season is a tall ask for any team, but the most encouraging note is the comeback they had on Sunday afternoon during the road trip finale against the Angels.
I won't go too in-depth on this topic, but a 6-4 start is perfectly fine, considering that other top teams (Yankees, Astros, Padres, Dodgers) all have similar records while playing some home games.
Matt Chapman is an American League MVP candidate
My opinion: Not an overreaction
Chapman was named AL Player of the Week for last week's games, and rightfully so. Through 10 games, Chapman has slashed .475/.523/1.323 with 2 home runs, 14 RBIs, and 7 doubles. Entering Monday, he led the majors or is tied for the league lead in batting average, RBIs, hits, and doubles. Defensively, he's made only one error at the hot corner, but outside of that, it's been exemplary defence as fans have become accustomed to.
It's a contract year for Chapman, so it isn't unusual that it's bringing the best out of him. We could chalk this up to a "hot stretch of games", or this is actually a preview of what this year will bring. I'm choosing the latter, mainly because of how complete of a hitter Chapman has been so far. The power has never been a question, and now he's hitting opposite-field doubles on the regular.
The only thing missing from his game is keeping the strikeout numbers down, but if he's hitting at the rate he currently is, he can strike out all he wants.
The Jose Berrios contract is officially a mistake
My opinion: Overreaction
I'll admit it, I'm in the minority on this. I still think Jose Berrios is a good pitcher that can get back to being an impact starter worthy of his money.
Now, let me be clear, I'm not defending his performances so far. The Blue Jays can't always play from behind in his starts. But I do think that his ceiling is too high to give up on him completely, and I don't think his contract is as bad as it's made out to be.
Berrios' current AAV is $15.7 million (his original contract was 7 years for $131 mil). Other pitchers with similar AAVs (+/- $1 million) are German Marquez, Jon Gray, and Lance McCullers Jr. Looking into his career numbers, are the financials really that blasphemous considering the company he is surrounded by?
During his time in Minnesota, Berrios was one of the most consistent and durable arms that the league had to offer. 5 of his 6 seasons with the Twins, he obtained an ERA of 4.00 or below, and had very seldom missed a start due to injury. Money is being thrown around like candy, and giving a lot of it to an arm that would always be available was probably something the Blue Jays valued.
Coming off of the 2021 season, Berrios had set a career-high in ERA (3.52) and had a career-best 10.0 K/9 during his 12 starts with the Blue Jays. He also had a 2.50 ERA in four starts against AL East opponents (Yankees x2, Red Sox, Rays) during that time period, all the more reason for the Jays to extend him.
This could be worse; Stephen Strasburg ($35 million AAV), Patrick Corbin ($24.4 million AAV), and Madison Bumgarner ($23 million AAV) are deals that their respective teams would probably redo if given the chance. Again, I'm not defending the performances thus far. I'm just saying that dissing the contract only two years in for a guy who is 28 years old is pretty premature.
*All salary figures are per Spotrac.
The Blue Jays shouldn't have traded Gabby Moreno
My opinion: Overreaction
Danny Jansen is a historically slow starter, and this season is no exception. Jansen has only one hit in 18 at-bats coupled with nine strikeouts. While that is an ugly stat line, 2022 was the first time in his career that he had a batting average over .200 through the first full month of a season. He has had trouble staying healthy during the past two seasons, so if he's able to stay off the IL over the course of a full season, maybe we can see the breakthrough that we've already witnessed glimpses of.
Kirk missed a good portion of Spring Training due to the birth of his child, and if anyone wants to shame him for that, please take that energy elsewhere. Through seven games, Kirk has only four hits and two RBIs, but it's a small enough sample size not to worry about him just yet. We can't forget that Kirk won a Silver Slugger and an All-Star bid in his first full season in the MLB last season.
Entering Monday, Gabriel Moreno is batting .240 with three RBIs and three doubles, and since that average is such a disparity between what Kirk and Jansen have, some are already believing that Ross Atkins dealt the wrong catcher. We love early-season takes!
The Blue Jays will need to acquire a starter at the trade deadline
My opinion: Not an overreaction
There was a lot of talk about the ceiling being incredibly high on Toronto's rotation, but there's no shame in admitting this. Sometimes a competitor needs one more starter to put them over the top. While I don't think the ERAs of guys in the current rotation will stay as high as they are, I do think that there is no such as thing as too much rotational depth. With all due respect to Thomas Hatch and Zach Thompson, those guys aren't it.
Last year, Luis Castillo, Jordan Montgomery, and Frankie Montas were a few of the headline starting pitchers involved in deadline deals. Seattle, for instance, had a good rotation, but Castillo made it great. The same could be said for the 2015 Jays when they acquired David Price – it took them to another level. Hyun-Jin Ryu is hoping to be back in the middle of this season, but depending on him being effective coming off of Tommy John surgery may be too much of a risk.
Some starting pitchers that are on expiring/opt-out deals that could be ideal options this year: Sean Manaea (player option), Lucas Giolito, German Marquez, and Tyler Mahle. There's also a guy out in Anaheim who is a free agent after this season, just saying.
Kevin Kiermaier will have a career season at the plate
My opinion: Not an overreaction
Before there's any uproar, let's make sure we know what a Kevin Kiermaier career season looks like. Prior to this season, Kiermaier's career high in batting average is .276., OPS is .788, RBIs is 55, runs is 62, and stolen bases is 21. Those may be random and cherry-picked stats, but they're also ones that Kiermaier can reasonably obtain and exceed this season with the Blue Jays.
Kiermaier has been known for his center-field defence for the majority of his career, and it's been recognized by his there Gold Glove Awards. His value skyrockets if his .400 batting average is no fluke, and he'll continue to be the benefactor of runs to his name as his 9 spot immediately turns the lineup over the big bats. It won't put him in the MVP race by any means, but maybe a full season in a new offence could rewrite his offensive narrative.
The Rays are the team to beat in the AL East
My opinion: Not an overreaction
Now 10-0 on the season (albeit with a weak schedule), the Rays have already put themselves in a good position in the AL East. Wander Franco is healthy and is already only two home runs shy of his 2022 total (6) ten games in. Brandon Lowe is also healthy, and they may have found a nice piece in OF Luke Raley. Their rotation has not disappointed so far, and if it were up to me, I'd let Tyler Glasnow take his sweet time so he can come back 120% healthy.
They face the Blue Jays and the Astros towards the end of April, so they'll get their first look at playoff-calibre foes soon. Nonetheless, the Rays for real, and a large enough division lead through the first third of the season might be all they need to grab their third division crown in four years.
---