Nate Pearson dazzles in his second outing with the Blue Jays this season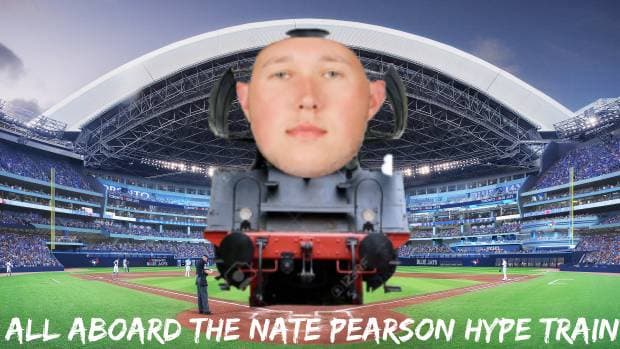 Large Adult Son Nate Pearson may have finally cemented a spot in the Blue Jays bullpen after Monday's performance.
The former top prospect was recalled by the Blue Jays on April 24th, and made his season debut a day later against the Chicago White Sox. He pitched an inning, striking out a batter while facing four.
However, he made his mark on May 1st against the Boston Red Sox. The Jays were down 5-3 heading into the bottom of the seventh when the 26-year-old flame throwing righty got the call. He got Justin Turner to line out, Rafael Devers to pop out, before striking out Jarren Duran. This clocked in at 100.1 mph, and had a ton of run.
The Jays later tied the game in the top of the eighth due to two Enrique Hernández errors.
Pearson also pitched the bottom of the eighth. Hernández redeemed himself with a hard-hit single. Pearson then struck out Triston Casas with a 98.5 mph fastball.
A stolen base and an error were charged to Danny Jansen, after Ramiel Tapia pinch ran for Hernández. So now there is a runner at third with just an out. A sac fly could have given the Sox a lead. So what did Nate Pearson do? Well, he struck out Enmanuel Valdez on a 97.4 mph fastball, with all three strikes coming via the swing and miss.
Pearson then got former Blue Jay Reese McGuire to flyout to right field, ending the inning, and giving Big Nate a line of
2 IP, 1 H, 0 ER, 0 BB, 3 K.
Pearson threw 29 pitches, with all but four being the fastball. His fastball also touched 100.1 mph (the first strikeout), with the lowest being 95.6 mph (which resulted in a swing and miss against Valdez.) The fastball had a whiff % of 44%, as he generated 16 swings and seven whiffs on the heater.
Both the curveball (in my opinion, his best pitch) and the slider were only used twice apiece, meaning the heater really carried the outing. Hard to beat a fastball with an average of 97.3 mph on it, as the Red Sox learned Monday evening.
For the season, Pearson has pitched three innings, not allowing a single earned run and owning a 1.72 FIP. Moreover, he has a 36.4 K% and hasn't walked a batter. He has definitely earned the opportunity pitch in the big leagues, but with Mitch White and Adam Cimber returning in the near future, he could see himself being optioned to Triple-A as he only has one option year remaining.
Either way, let's all hope that Nate Pearson can stay healthy and continue to build off his great start to the 2023 season.
As always, you can follow me on Twitter and Instagram @Brennan_L_D.
---