Nate Pearson is back with the Blue Jays (along with some other roster moves)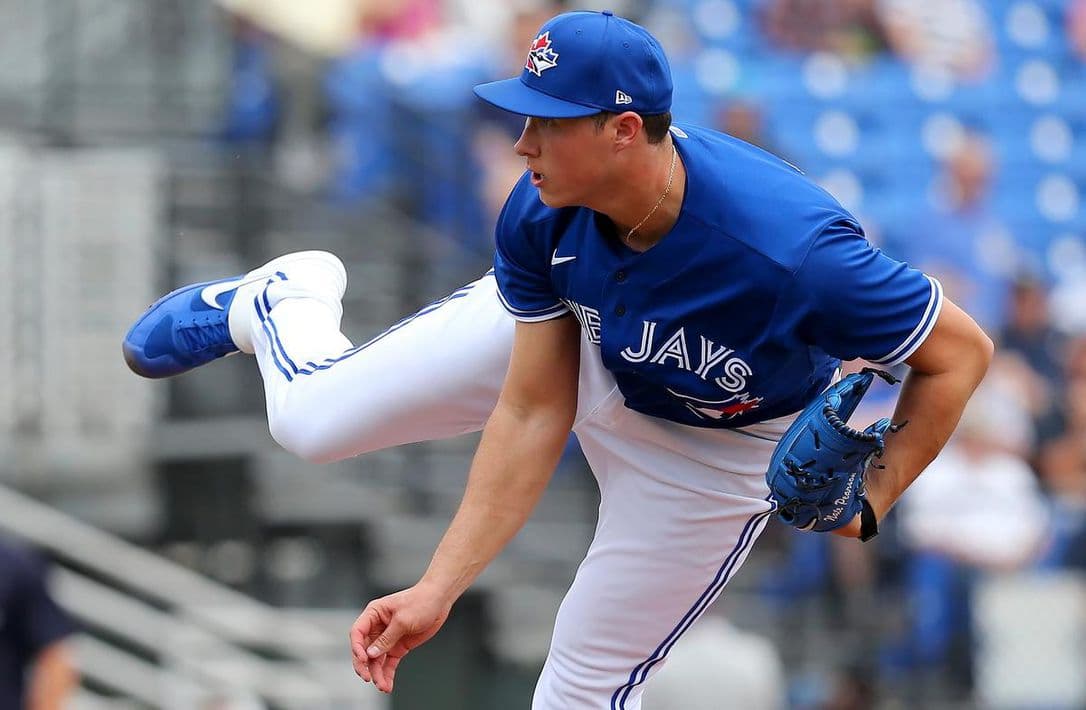 We've got quite a few roster moves here, so buckle up.
Yesterday, the Blue Jays designated Brand Hand for assignment, putting an end to that experiment only one month after acquiring him from the Washington Nationals ahead of the trade deadline.
In eight-and-two-thirds innings as a Blue Jay, Hand allowed seven earned runs on 13 hits and three walks while striking out just five. Digging into his numbers with the Nationals, it seems Hand was one of the pitchers who struggled with MLB's crackdown of foreign substances and he hasn't been able to rebound.
On the other side of that coin, Riley Adams has been killing it for the Nationals. A catching prospect buried on the Blue Jays' depth chart, Adams has gone 15-for-44 with Washington with two homers and four doubles, though he has a poor 15-to-4 strikeout-to-walk rate.
If Adams continues to hit, this is obviously going to go down as a really, really bad trade for Toronto. Of course, as well as Adams is doing, this is a microscopic sample size and the jury is still out. Given the Blue Jays' situation when it comes to catchers and their 40-man crunch, it's hard to say if Adams would have survived the off-season on the roster.
There was some speculation that the open 40-man roster spot would be for Julian Merryweather, who's currently on the 60-day Injured List and rehabbing in Dunedin. But it won't be Merryweather, and will instead be righty fireballer Bryan Baker, one of the guys Toronto got back from Colorado in the Seung-hwan Oh trade a few years ago.
Baker, who can touch 100 miles-per-hour on his fastball, has been excellent for the Triple-A Bisons this year. Over 34 innings, he has a sparking 1.32 ERA and has struck out 40 batters. The only worrying part of his line is the fact he's also walked 16 batters over those 34 innings.
And then there's the other fireballer the Blue Jays are adding to the roster — Nate Pearson.
Pearson is finally back with the team for the first time since his one start against the Astros back on May 9. This season has obviously been a mess for Pearson, who got hurt early in spring training, came back to the big leagues too quickly, and got hurt again while working in the minors. Let's hope that he can end the season on a positive note in the bullpen.
In his last outing with the Bisons, Pearson struck out the side on 13 pitches.
Finally, we have a pair of minor-league contracts.
Elvis Luciano is back on a minors deal after getting released by the club last week. I would assume the play here was to get him off the 40-man roster in order to open up some flexibility and that Luciano was given a fairly handsome signing bonus to sing a minor league deal.
They also signed outfielder Gregory Polanco, who was released recently by the Pirates, to a minor league deal. Polanco has been a mess over the past couple of years, slashing a .191/.261/.345 line over his last 157 games. He had what appeared to be a breakout season in 2018, slashing a .254/.340/.499 line, but hasn't done anything close since.
The timing of this was sort of funny, as it happened right around when George Springer was removed from Tuesday's game as a precaution. Polanco is an interesting reclamation project, but it seems more likely that he'll be a body for the Bisons than somebody the Blue Jays will trot out in September.