Nate Pearson tosses a clean inning in his first rehab outing (and other minor-league notes)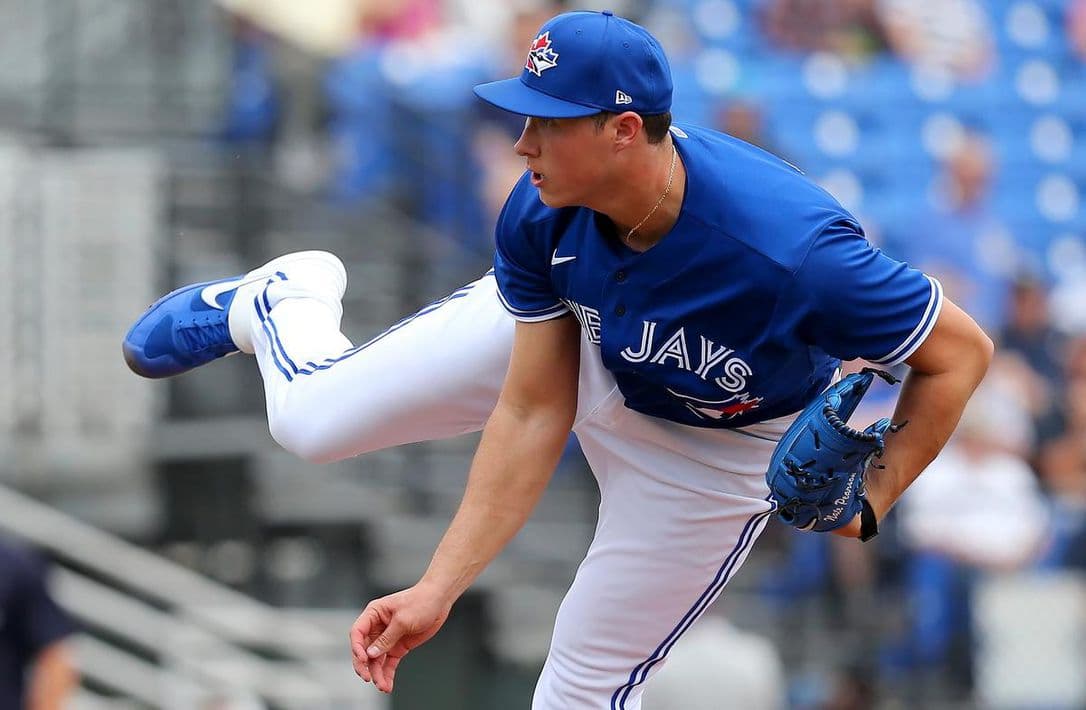 Nate Pearson is back with the Buffalo Bisons. Let's dive into his rehab outing a whole bunch of other stuff from the minors…
Buffalo Bisons:
Buffalo lost their game 4-0 bringing their record to 53-33. Let's dive into specific players.
Nate Pearson:
In a move that shocked me, Nate Pearson was reinstated from the IL. He had a pitch limit between 20-25 pitches, however he only needed 13 pitches to finish his one inning of work. The velocity was there and every pitch was near the zone (except for one).
This is a promising development, especially if he can come out of the bullpen for the stretch run.
Thomas Hatch:
Hatch continues to impress at the highest level of the minors. While he was saddled with the loss, he had a fantastic game regardless of the useless stat. His line for this game finished: 6 IP, 5 H, 2 R (1 ER), 0 BB, 6 K. The potential is there for either a back of the rotation or relief pitcher.
Otto Lopez:
Coming into this game, Otto Lopez had a .333 batting average. After going 0-3 today (and getting hit by a pitch), this has dropped to .306. It's small numbers, but he is putting himself in the conversation to make the main roster next season.
Rehabbers:
Cavan Biggio, Anthony Castro and Carl Edwards Jr all got action in this game. Biggio went 0-4 with two strikeouts.  Castro pitched an inning in relief registering a clean inning, while Edwards gave up 2 earned runs in his inning of work.
Other notes:
Kevin Smith didn't play in the game. This is likely due to rest. Josh Palacios also made his return to the Bison's roster, going 1-4.
New Hampshire Fisher Cats:
"The Fisher Cats won 6-3" he writes at the start of the bottom of the ninth. They proceeded to get walked off as I was writing this section. With that being said,  there is plenty to write about even if Jordan Groshans had a day off.
Nick Fraze:
Nick Fraze's long awaited debut (at least for me) took place on Friday evening. He finished with a line of 4.2 IP, 8 H, 3 ER, 2 BB, 1 K. He was lifted likely because of a pitch limit. While this isn't domination, luck was not on his side this evening. See attached tweet. 
However, much like Robberse the other night, he is new to the level and will need to adjust. He didn't give up a lot of hard hit contact and didn't walk a ton of batters, so it's not all bad. Expect him to dominate the next game.
Samad Taylor:
In his last 49 games, Taylor failed to reach base in a game only once. He had a 38 game on base streak snapped due to a 7 inning double header, so what does he do? Well he starts a new streak which has reached 10 games.
Not just that, but with a steal in tonight's game, he is leading the league in stolen bases. I've written an article about him before, but I must reiterate that Samad Taylor is a prospect to watch.
Chavez Young:
I've heard from a respected Blue Jays prospect watcher that Chavez Young will be a future major leaguer. If there was any skepticism before Saturday's game, it has disappeared. He finished the night going 1-3 with two walks, but that stat line pales in comparison to what he did with the glove. 
It's only a matter of time before I write an article about Chavez Young.
Vancouver Canadians:
The Canadians won this game big. Let's delve into the big performers of the night.
CJ Van Eyk:
Van Eyk finished with the line of 5 IP, 3 H, 2 ER, 3 BB, 7 K. In his last 14 IP, he's only allowed 4 runs, walking 6 and striking out 14. He's dropped his ERA to 6.14. Hopefully he'll continue this stretch.
Orelvis Martinez:
Martinez finished the hit-filled night without registering a hit. He finished the night 0-5 with an RBI coming by sac fly. His average sits at .167, but he's a 19-year-old in High A. He'll get there.
Will Robertson:
Robertson had a productive night, going 3-4 with a walk. Robertson finished his night with a batting average of .274. Baseball America ranks him as the Jays 29th best prospect, but it's nice to see him having success in High A.
Dunedin Blue Jays:
Due to Tropical Storm Fred, the Baby Jays played and won their two games on Saturday.
Miguel Hiraldo:
The Jays #8 prospect finished the first game 0-2 with a walk. He had a much better second game finishing 1-2 with a walk. He also had two RBIs as he hit his 6th home run of the season. Furthermore, Hiraldo has been active on the basepaths this season, stealing 19 while only getting caught three times.
Garrett Spain:
The Jays 15th rounder in the 2021 played his first game in the early game. After tearing it up in the FCL, the 20-year-old outfielder also went 0-2 with a walk.
FCL Blue Jays:
The Embryo Jays in Florida won their game 6-4. There are a few prospects at this level that I would like to write about here:
Angel Del Rosario:
The 18-year-old third baseman has quietly put together a good season. Although he didn't register a hit in Saturday's game, he scored three times and walked once (yes, I'm trying to figure it out as well). He's slashing .297/.432/.745 and has stolen 20 bases this season without getting caught once.
Gabriel Alejandro Martinez:
Not only does he have a mashup of three of the most notable IFA signings the Jays have made in recent years, but he is having a fantastic season thus far. The 19-year-old centerfielder finished the game on Saturday 2-4 with 2 RBIs. This result brings his slash line to .333/.432./.842. He has also walked (15) more than he has struck out (13) this season in his 95 plate appearances.
Victor Mesia:
The Jays have a knack for finding catchers with high potential on the International Free Agency market, and Victor Mesia is no different. He went 2-4 with an RBI on Saturday, bringing his slash line to .294/.387/.818. He is the Jays #12 prospect according to Baseball America.
Rikelbin De Castro:
The number 27 prospect according to BA has struggled early this season. In Saturday's game, he went 1-4 with three strikeouts. This brings his  slash line to .198/.309/.618. It is important to remember that De Castro is only 18, so he'll turn it around.
Other notes:
It's hard to judge how good these numbers are because rookie ball is a crapshoot, however, the Jays have more prospects coming via IFA, so keep an eye on these players!
DSL Blue Jays:
The Embryo Jays in the Dominican lost their game 6-0 and only had four hits. However, those four hits belong to two of the Jays top 30 prospects (according to Baseball America).
Manuel Beltre:
Manuel Beltre, the Blue Jays #10 prospect, struggled to start his season. From July 12th to July 31st,he had a slash line of .130/.208/.404. Since the start of August, he's hit .400/.533/1.104. He has turned it around and Saturday's game was a perfect example of such, as he went 2-3 with a walk. Stay hot, Manuel.
Luis Garcia:
Signing for $525,000 in the most recent International Free Agent period, Luis Garcia has quickly become an interesting prospect in the Jays organization. The soon to be 18-year-old has dominated the Dominican Summer League this season with a slash line of .359/.438/.887. According to Baseball America, he is the Blue Jays 14th best prospect; however, he is quickly raising his stock. Keep an eye on him.
Other notes:
There are a few other players to keep an eye on, notably the 17-year-old catcher Jonathan Peguero who has hit .302/.423/.935 in 52 plate appearances.