News and Notes: A reunion with Liam Hendriks could make sense, the catching market is heating up, and more!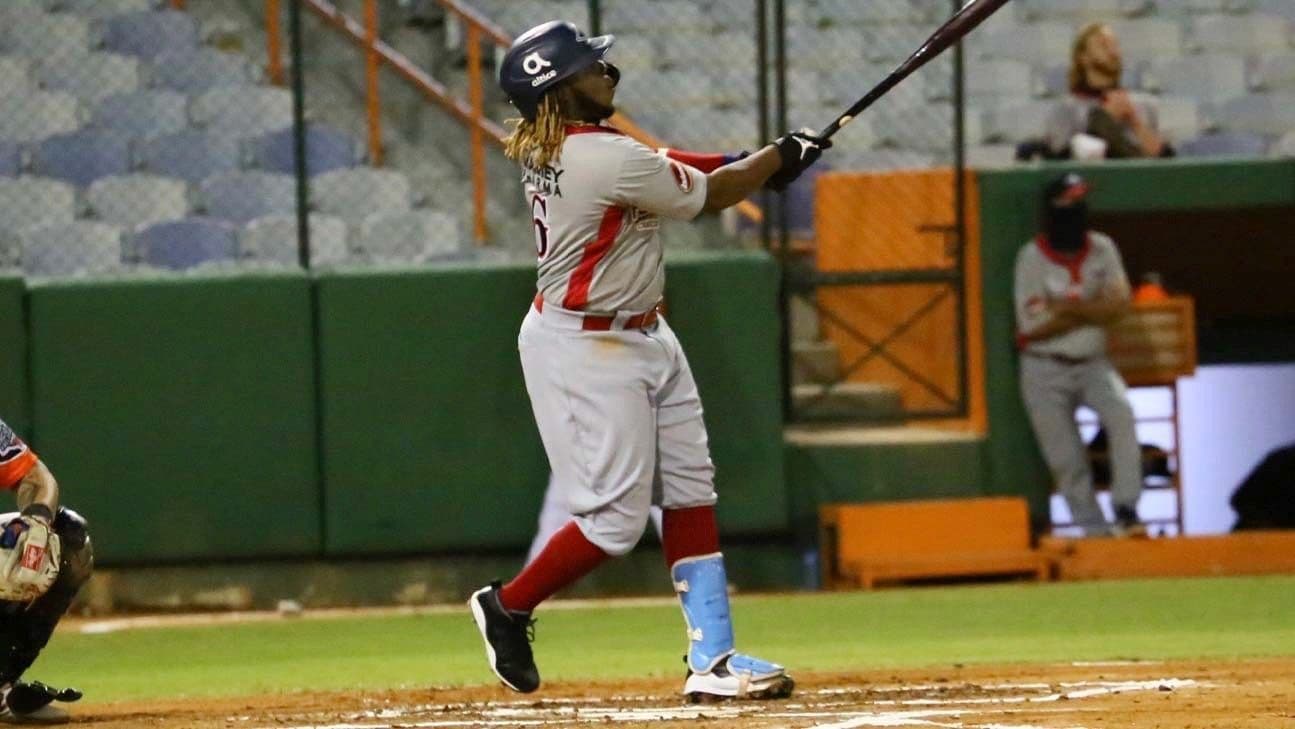 Photo credit:Leones del Escogido
NEWS AND NOTES, NEWS AND NOTES, NEWS AND NOTES. Yup, the morning calls for a News and Notes, which recaps rumours and news from the previous day.
Will the Jays have a reunion with a former their former reliever? A few more moves were made yesterday, limiting the Jays' options moving forward, and Vladimir Guerrero Jr. isn't finished playing baseball in 2022. Let's start with Liam Hendriks.
Are the Jays interested in Liam Hendriks?
Let me get this out of the way quickly. As an individual part of the LGBTQ+ community, what Liam Hendriks has done for the community can't be understated. In terms of personality, he's a character guy, and absolutely a guy you want on your team and in your clubhouse. As for what he offers? It really depends.
He's definitely great, but not his 2019 self. In the before times (before COVID), he had a 1.80 ERA and 1.87 FIP in 85 innings pitched, along with a 37.3 K% and 6.3 BB%. Aside from 2019 and the plague year, he's never had an ERA under 2.
Hendriks was still great in 2022, posting a 2.81 ERA and 2.68 FIP in 57.2 innings pitched, along with a 36.2 K% and 6.8 BB%. However, he even dropped off from last season, where he had a 2.54 ERA and 2.34 FIP in 71 innings pitched, which saw him own a career-high 42.3 K% and a fantastic 2.6 BB%. 
In terms of ability, he'd definitely help the Blue Jays' bullpen, but let's look at his contract and the potential cost of acquisition.
Hendriks will make $14,000,000 in 2023, and while he currently has a team option for $15,000,000 in 2024, it automatically becomes vested if he is traded. So if the Jays were to trade for him, his contract would be around $29,000,000 in additional payroll for the Jays (as well as $18,000,000 towards the luxury tax.) That's a lot of money to commit to a soon-to-be 34-year-old reliever who partially relies on velocity.
The second issue I have with a potential trade is what it would cost for the Jays. It wouldn't surprise me if catcher Danny Jansen was the main piece heading the way, and trading a catcher for a reliever isn't ideal. If the Jays do end up trading a catcher for a reliever, it made a lot more sense to do so for the St.Louis Cardinals' Ryan Helsley.
Now, that doesn't mean a hypothetical trade couldn't happen. Say if the Jays got a combination of Lucas Giolito, prospects,
Eloy Jiménez, and some money retention, there could be a deal here. However, it would be a very complicated trade beyond the scope of this article.
The Minnesota Twins sign Christian Vázquez:
Minnesota was a potential trade partner for the Jays, as they needed a catcher. Well, on Monday evening, they signed their catcher.
Realistically, the only player that intrigued me on the Twins' roster is Max Kepler, but that became less of a reality once the Jays signed Kevin Kiermaier. And yes, as of 2:53 AM when I'm writing these exact words, we still don't have Kiermaier's signing information.
Two teams fix their catcher situation:
The title of this section is slightly misleading, as the team from Atlanta was in a solid position with their catching core. That didn't stop them from trading for Oakland's Sean Murphy.
That didn't stop this from being one of the most heading scratching trades possible.
So the Milwaukee Brewers received catcher William Contreras, a solid relief prospect in Justin Yeager, and former Blue Jays Joel Payamps for literally Esteury Ruiz. Their Josh Hader trade tree has only gotten weirder.
As for Atlanta, they received a top 5 catcher (Kirk is still better, don't worry), and the Oakland Athletics received the worst package possible. Typical Oakland!
If the Jays were to receive a package like Oakland did on Monday, they should literally just go into 2023 with three catchers. Danny Jansen and Alejandro Kirk could both benefit from the designated hitter role, and Gabriel Moreno is so athletic he could play all over the place (probably).
Despite the Brewers solving their catching problem (no Corbin Burnes, sorry), and Murphy being moved, there are still plenty of teams looking for catching help. Let's look into that.
Jeff Passan says…
In Monday's "News and Notes" article, we looked at one specific article from Ken Rosenthal. We'll do the same in this article, focusing on what Jeff Passan said on Sportsnet 590 on Monday evening.
I didn't get a chance to listen to it, so we'll use Ben Turner's Tweets to help us out!
Chris Bassitt loves the city:
Per Passan (from Ben Turner), Chris Bassitt liked the idea of playing for Toronto, and that he loves the city.
I don't have a lot to input here, as I've only been to Toronto a handful of times. It's not surprising that he likes the city – it's pretty damn big with a ton to do – but it is nice that he noted that he likes it. Hopefully, other free agents do as well.
The Miami Marlins and Cleveland Guardians want catching help:
This section is from the same Tweet in the section above!
I was never really on board with the Jays getting Lars Nootbaar, as I believe the best return for a catcher would be a starting pitcher. However, signing Chris Bassitt on Monday changes that… potentially. 
The Marlins and the Guardians are two teams with
a lot
of intriguing pitchers. If Pablo López is available from the Marlins (we'll get to that), there could be some interest there. The Guardians also have a ton of middle of rotation starters who could really help out the Jays' rotation.
Say the Jays trade a catcher for a starter, I think at that point they should just go out and get Joey Gallo (an anagram of his name is Jello Yoga, and I just wanted to show off this meme). Gallo's plus defense in right field (probably the best on the free agent market), as well as an upside bat could really help the Jays. Especially considering he bats left-handed.
They could trade a catcher for… prospects?!?:
The phrase relayed to us by Ben Turner is "the Jays may trade a catcher to restock the farm system". Now you may be thinking "Brennan, how in the world does it make sense for a contending team", and to that I say:
If you want to contend for a long period of time like the Dodgers or Astros, a good method of doing so is always to have a good farm system that can produce good players. Look at how the Astros lost one of the best shortstops in the game in Carlos Correa, but the next season, Jeremy Peña, Correa's replacement, won the World Series MVP.
These prospects wouldn't be rookie level guys, they'd be high-minor prospects who'd fill in the Jays top 10.  Not just that, but there's a good chance it wouldn't
only
be prospects either. Think the Randal Grichuk or Teoscar Hernández trade, but with a much better return.
Jays switching focus to Pablo López or Bryan Reynolds?:
I brought up this rumour in my Chris Bassitt analysis, but it's worth mentioning here. Per MLB_Schoops on Twitter, the Jays have shifted their focus to trading one of their catchers for "more starting pitching help" or the Pirates' Bryan Reynolds.
Is MLB_Schoops reliable? Well, he did Tweet out that the Jays were signing Chris Bassitt, hours before it was announced by Jeff Passan.
The Pirates are apparently looking for a Juan Soto type package for Bryan Reynolds, which is incredibly laughable. I think there's a solid chance he isn't moved, and the Jays end up signing one of Michael Brantley, Michael Conforot, or my pick, Jello Yoga (Joey Gallo).
As for López, well that's interesting. The Jays have both Mitch White and Yusei Kikuchi penciled into the 2023 roster. It's likely one of them occupies the fifth spot in the rotation to start the season (it's also likely at least
one
of the two bounce back). However, getting López
instantly
makes this team a contender, even if they only get the worst version of Jello Yoga.
The only way I could see the Jays getting López is if they trade one of Alejandro Kirk or Gabriel Moreno, but of course, the Marlins may have to add a left-handed bat with upside, such as Jesús Sánchez.
All I know is that whenever the Jays trade a catcher, the move itself will likely have a prospect coming back, and that it'll be a fairly large clusterfluff.
Vladimir Guerrero Jr. heading to the Dominican Winter League:
Per Grandes en los Deportes on Twitter (@GrandesELD), Vladimir Guerrero Jr. is on the Leones de Escogido weekly roster and will make his debut on Wednesday evening.
Interestingly, fellow Blue Jay Otto López is also on the Escogido roster, meaning that if López starts at second base (he's split time between second base and centre field), and Guerrero Jr. starts at first base, the right side of Escogido's infield will be two Canadians.
Escogido also has Steward Berroa on the weekly roster. Berroa is one of the few prospects in the Jays organization that I have given a "fun tool" grade of 80. Here's a video of him dancing with the grounds crew at a Vancouver Canadians game.
Will there be more action tomorrow:
The Jays still have some needs to fill. The primary need is a starting outfielder, and that looks likely to be filled via trading a catcher after the Chris Bassitt signing on Monday. However, if they trade for López, they may end up signing Brantley, Conforto, or Gallo.
It'll be an interesting few days, as it appears as if the catching market will accelerate with Sean Murphy off the market.
Hopefully, the Jays make the right moves!
As always, you can follow me on Twitter and Instagram @Brennan_L_D. A lot of my Google Sheets will eventually be added to my Patreon page, which you can subscribe to here. Also give Ben Turner a follow on Twitter @BenTurn22. He originally found the news that Vladimir Guerrero Jr. would play for Escogido this season!
---