News and Notes: Andrew McCutchen has signed elsewhere, Bo Bichette is likely heading to arbitration, and more!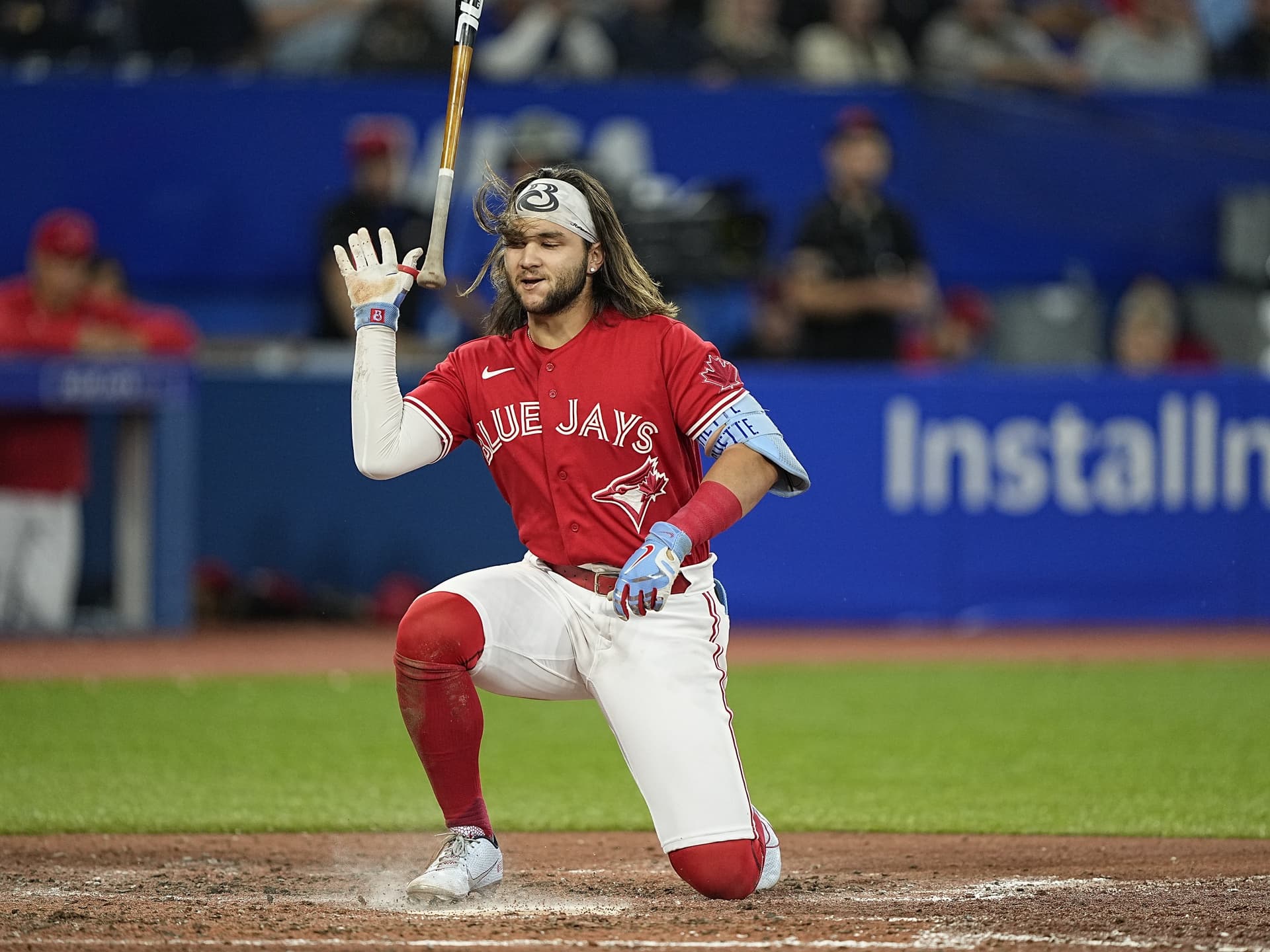 Photo credit:© John E. Sokolowski-USA TODAY Sports
It's time for everyone's favourite series, News and Notes!
Although it's only been a few days since the last article, there has been some notable news, as the Jays have avoided arbitration with 11 players. Furthermore, a right-handed outfielder who mashes left-handed pitching is off the board. Let's dig in.
Andrew McCutchen signs with the Pittsburgh Pirates:
Per Jason Mackey, a Pirates beat writer, the 35-year-old outfielder is returning to his hometown Pittsburgh Pirates.
Despite being offered more money by the New York Mets, it appeared that a promise of more playing time and a return home drove him to Pittsburgh.
Will he become available at the trade deadline? I have no idea, but I'm happy McCutchen will get regular playing time in 2023.
The Red Sox are interested in Adam Duvall:
According to Julian McWilliams of the Boston Glove (article here, it has a paywall), the Red Sox have been linked to right-handed batting outfielder Adam Duvall.
I noted in my last News and Notes (which you can read here) that Duvall doesn't intrigue me. While he is a great defender, he doesn't mash left-handed pitching, and he hasn't registered a 105 wRC+ or higher any time he's had 300 plate appearances in a season.
I've only brought him up because the Jays were linked to him via MLB_Scoops, as well as the fact that the Red Sox are in the same division.
News from The Walkoff podcast:
Friends of Blue Jays Nation, The Walkoff podcast has had some notable Blue Jay media members on the show the past few days. Let's look into some intriguing things that Jeff Blair and Shi Davidi have said on the show!
Matt Chapman loves Toronto and is open to signing an extension:
Jeff Blair appeared on The Walkoff Podcast and one important note from the interview is that Matt Chapman is open to signing an extension with the Blue Jays.
As you may know, the multiple-time Platinum Glove Winner is a client of super agent Scott Boras, and will become a free agent after the 2023 season. Coincidentally, the 2023-24 free agent class is significantly weaker than the 2022-23 class, with Manny Machado
possibly
being the only other big-name free agent.
Chapman, who'll be 30 next off-season, stands to gain a lot in free agency, but will the Jays be able to match his demands? At the very least, they'll get a compensation pick in the 2024 draft.
Could the Jays trade a second baseman:
As it stands, the Blue Jays have three starting second basemen who figure to be on the 26-man roster. Santiago Espinal, Whit Merrifield, and Cavan Biggio.
Jeff Blair speculated that one of these guys could be traded, and named Espinal as the likely candidate, as he has the most value. Could he be moved to a team that needs an infielder, such as Miami, for one of their starting pitchers?
Furthermore, the Jays have
Otto López, who needs major league at-bats, as well as Addison Barger who can play second base.
The Jays may not spend more than $3 million on a free agent for the rest of the off-season:
Sportsnet's Shi Davidi was on The Walkoff's podcast, where he noted that he doesn't foresee the Jays spending more than $3 million on a free agent.
Fortunately, I don't believe that this precludes the team from signing a right-handed outfielder that mashes left-handed pitching, such as Robbie Grossman. However, it likely means that a left-handed reliever such as Andrew Chafin is likely out of the question.
My assumption is that they'll add Robbie Grossman via free agency, and then potentially move a second baseman for relief help or starting pitcher help.
Arbitration news:
Friday was the deadline for teams and players to submit their arbitration numbers. Let's look at what went down on Friday afternoon.
The Blue Jays sign 11 of 12 players:
As to be expected, the Jays reached an agreement with the majority of their players. Vladimir Guerrero Jr. had the largest raise, as he'll make $14,500,000 in the 2023 season. Closer Jordan Romano (who has a septum ring now) also had a notable hike in pay, as he'll make $4,537,500 in 2023.
The embedded tweet above has the entire list of the players who agreed to terms, including Trent Thornton, who will make $1,000,000 next season, only $250,000 less than a top reliever in Erik Swanson. Furthermore, one of the newest Blue Jays, Daulton Varsho, is set to make $3,050,000 for the 2023 season.
The Jays still haven't
officially
crossed the Competitive Balance Tax threshold (about two million away), but there's still one more player that needs to be signed. 
Bo Bichette:
So, when it was announced that the Jays offered $5 million, while Bichette wanted $7.5 million, of course, this was going to go to arbitration. Essentially, the arbitrators will either pick the Blue Jays' $5 million filing or Bichette's $7.5 million filing.
The last time that the Jays went to arbitration with a player was back in 2018 with Marcus Stroman, and uh, it didn't go well. Most of the time, going to arbitration doesn't strain a relationship as much as it does with Stroman, but it's still a situation a front office should be wary of.
I don't think there's a lot to the situation as some may make it out to be. Bichette believes he's worth more than the Blue Jays do, but at the end of the day, you just hope there's no ill will between the two parties, as Bichette is an important part of the Jays organization.
What to make of this edition news and notes:
With McCutchen off the board, it's possible that the Blue Jays' sole focus will turn to either Adam Duvall or Robbie Grossman. We also got an idea of what the plan is for the rest of the off-season, especially in terms of money for free agents, and potentially trading a second baseman.
The arbitration situation is an ongoing development, so check out Cam Lewis' article on their arbitration dealings here.
As always, you can follow me on Twitter @Brennan_L_D. Check out The Walkoff podcast as well, as I absolutely love their content! They regularly interview minor league players, which is always a must-watch for me.
---