Notes and observations about each of the Blue Jays starting pitchers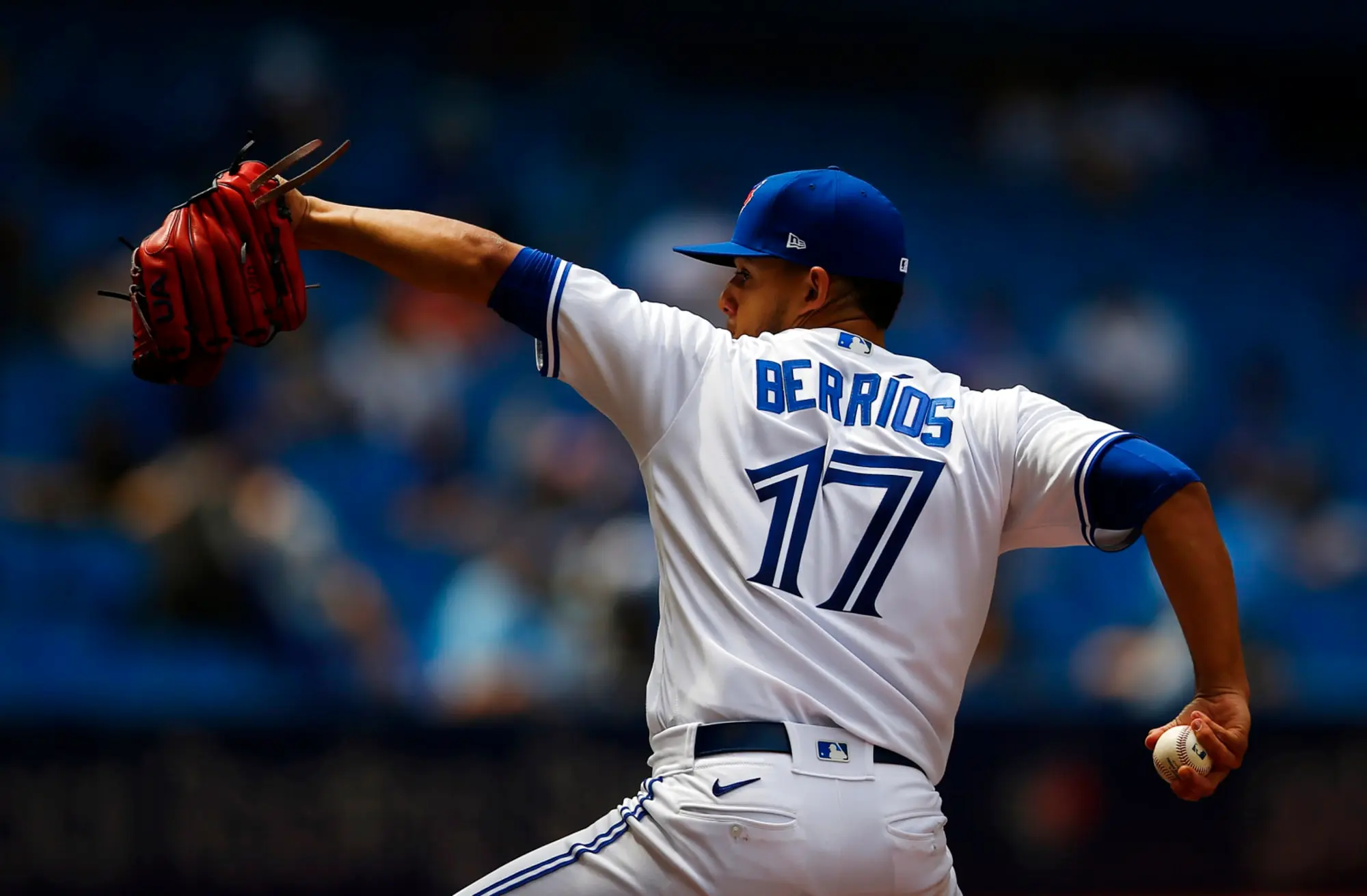 The Toronto Blue Jays starting rotation is fascinating to me. They have three pitchers pitching like front-line starters, while the back end of the rotation has some upside.
Do I think the rotation is good enough to make the playoffs? Absolutely. Is it good enough to make a deep run in them? That's a little hard to say, and it really just depends on one guy.
Jose Berrios:
The trade for Jose Berrios was good. Heck, I'd even argue his contract that he signed in the past off-season was good even, despite his inconsistent play in 2022. Which is odd, given his prior success.
From 2017-2021, Berrios posted a 3.74 ERA and 3.79 FIP in 793.1 innings pitched, the 7th most during that stretch.
This season has been difficult for the 28-year-old righty, as he's posted a 5.28 ERA and 4.83 FIP in 134.2 innings pitched. Moreover, his 21.7 K% is below his career average of 23.5%, and his mark of 26.1% last season.
That isn't to say there haven't been some bright spots. For starters, he arguably has the nastiest stuff out of any of the Jays starters.
Not just that, but 13 of his starts have been considered "quality starts" (6 innings pitched with 3 or less earned runs). Furthermore, four more starts (what I'm deeming a "solid start) that have been an inning or less away from a quality start, so 17 of his 25 starts have actually been pretty solid.
In those 17 good starts, he's pitched 107.2 innings and has an ERA of 2.59 and a FIP of 3.32. His BB% sits at 5.98, while his K% jumps to 26.21. In eight games that have been awful, he's positing a 16 ERA, 11.10 FIP, an 8.22 BB%, and a 6.16 K%.
So in the playoffs, will they get a good version of Berrios in 66% of his starts or the unplayable Berrios in 33% of his starts?
Kevin Gausman:
Speaking of quality starts, did you know that Kevin Gausman only has 13 quality starts?
Let me get this out of the way before we start. Kevin Gausman is a fantastic pitcher and is easily the Blue Jays' ace. However, there is a case to say he isn't unlucky.
His ERA of 2.99 and FIP of 2.05 are well deserved. He limits the walks extraordinarily well (4.1 BB%, 1.53 BB/9) and gets a solid amount of strikeouts (27.7 K%, 10.37 K/9). He's also only given up seven dingers in 129.1 innings pitched, absolutely phenomenal.
Should he have even better numbers? Well, that's debatable.
I've referenced this start numerous times in the past, but for batting average with balls in play, line drives by far have the highest batting average. While the batting average for a fly ball sits at 2.07, and a ground ball has an average of .239, line drives have an elevated average of .685, according to 2014 numbers.
Keep in mind, that this was before the shift became heavily used by all teams, but I don't think the difference has changed, even if the numbers have.
I bring this up because Kevin Gausman currently has a line drive percentage (LD%) of 25.4%. Amongst pitchers with 50 innings pitched, this ranks third (David Phelps has an LD% of 27.7%, which ranks second.) For qualified pitchers, he has the highest LD%.
For qualified pitchers, he also has the highest BABIP at .366, so is this a case of cause and correlation? I'm not sure, but it's fascinating.
He also has a WHIP of 1.24.
Ross Stripling:
Ross Stripling has a WHIP of 1.04, though. Great segue, but I'd argue that Stripling is the only Jays' starter who one could argue has had a better season than Gausman.
This season, Stripling is rocking a 2.84 ERA and a 2.79 FIP in 95 innings pitched. He has a 4.2 BB% and 21.1 K%.  He and Gausman have near identical walk numbers (Stripling has a 4.2 BB% and a 1.52 BB/9, Gausman a 4.1 BB% and 1.53 BB/9).
The accountant doesn't strike out nearly the same amount of batters (21.1 K% to Gausman's 27.6 K%), but he gets an awful lot of ground balls at 48.6% while keeping line drives down to 16%.
As a starter, Stripling's numbers are even better than his overall numbers. He's currently rocking a 2.68 ERA, 2.64 FIP, 21 K%, and a 3 BB% in 84 innings pitched.
There are reasons that most will agree that Gausman has had a better overall season, such as eating more innings and going deeper into games. However, it's not crazy to say that Stripling at least contends for the honour of "being the best starter."
One thing that I think
everyone
will agree on though, is the fact he's arguably been the MVP of the team. Without the work that he's put in, I genuinely have no idea if this team is in the position they're in. He's been great as a starter when they needed someone to step up, but he also did valuable work coming out of the bullpen.
Alek Manoah:
Since the all-star break, it seems that Big Puma has started to slow down and run out of gas.
It wouldn't be that surprising if that's the case, as he's surpassed his total innings (148.2) in the three seasons prior (129.2). Prior to the break, he had a 2.28 ERA and 3.35 FIP in 114.2 innings pitched. To go along with this, Manoah had a 22.6 K%, and a 5.5 BB% in that stretch. 
While his numbers haven't been terrible, they have raised considerably. Manoah has a 3.94 ERA and 3.97 FIP in 34 innings pitched. Interestingly, his K% has jumped to 24.2, but so to has his BB% of 8.1. While he hasn't dominated as he had before, he has three quality starts in that span.
Mitch White:
It's obviously way soon to tell how this trade has gone, but White has made three solid starts for the Blue Jays. He has a 3.38 ERA and 2.52 FIP in 13.1 innings pitched. To go along with that, he has a 16.4 K% and a 6.6 BB%, which is alright. Not a lot to go over here, so here's how each prospect in that trade is doing.
Alex De Jesus:
The prospect the Jays got in return, Alex De Jesus, is slashing .250/.362/.300 with a 97 wRC+ in 47 plate appearances with the High A Vancouver Canadians. He has an elevated K% of 40.4, which is worrisome but expect this to drop to around 30% in the near future. He also has a 33.3 line drive percentage, which is very good.
Here's an interesting card
Nick Frasso:
The main prospect in the trade, Frasso has a 1.59 ERA and 0.31 FIP in 5.2 innings pitched with the Dodgers High A team. He has a 42.9 K% and a 0 BB% as well, continuing his dominance at that level.
Frasso is definitely a great prospect, and it'll be fun to track his career as he continues up the minor league levels.
Moises Brito:
With the Dodgers Dominican Summer League team, the 20-year-old left has posted a 1.59 ERA and 2.67 FIP in 11.1 innings pitched. Brito has a 32.5 K% and a 0 BB% in that short stretch, but is fairly old for the level.
It'd be rather hilarious to see Brito be the best player from the trade, but it's only a matter of time before he's promoted up to the Arizona Complex League.
Yusei Kikuchi:
Just kidding, let him pitch in blowout games until he can throw that fastball for strikes.
As always, you can follow me on Twitter @Brennan_L_D. It's my birthday today, so that's pretty cool!
---