Off-season trade options for the Blue Jays to improve their lineup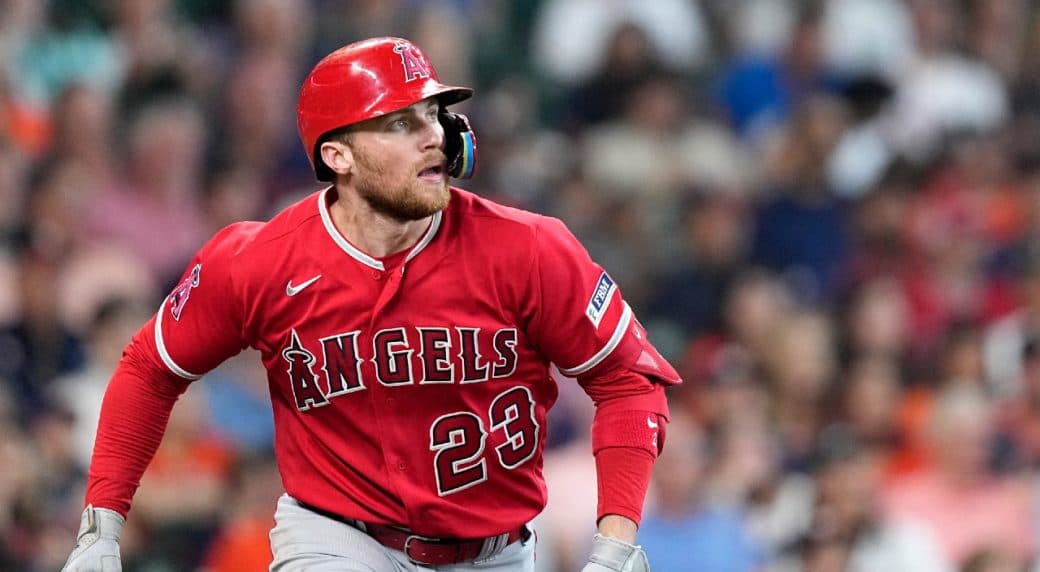 While it's still very early in the off-season to make predictions about who could be on the team next year, it's worthwhile to look at where exactly the holes will be on next year's squad. With the potential departures of free agents Kevin Kiermaier, Matt Chapman, Whit Merrifield, and Brandon Belt, perhaps one or more of these trade options will provide the Blue Jays with the necessary contributions to upgrade from their disappointing finish.
Brandon Drury – Los Angeles Angels (2B/3B)
Brandon Drury is a name I've had my eye on all year.
The 31-year-old would fit in perfectly with the Blue Jays as a possible trade candidate for about half the league
. While not the sexiest name out there, Drury hit the sixth-most home runs as a second baseman in the last three seasons.
The pop in his bat is legit as in the last two years, he's hit over 50 home runs as a dynamic versatile infielder.
Drury is in the 90th percentile in OAA (outs above average) providing solid defense even if his arm is not all that powerful.
At this point in his career, Drury can be counted on for about 20 home runs and close to 20 doubles a year which is pretty good value being paid only $8.5 million a year.
One drawback is that Drury tends not to do a whole lot on the basepaths with a total of two stolen bags in the last three years, however, I would not say he's slow by any means. Drury can get to balls defensively but just does not have a lot of speed, which is a drawback. At the same time, having a guy with an OPS of over 800 is never bad!
The Angels' infielder is going into the last year of his two-year deal with the Angels so he could be made for relatively cheap, considering the team will surely pivot to a rebuild after Shohei Ohtani walks in free agency.
Lane Thomas – Washington Nationals (OF)
Lane Thomas is a name that should sound familiar to Jays fans not only for his time in the Toronto system as a prospect, but also because he was linked to the Jays as a potential trade option for a playoff push, and for good reason. Thomas came up often during the leadup to the trade deadline but the Nationals opted to hang on. His name will again be prominent this winter.
Thomas displayed an exciting combination of speed and power that has become hard to find throughout the league. This year would be considered a career year for the 28-year-old, getting 134 more plate appearances than last year. Added in with 28 home runs, He was playing with a lot more freedom, being a bit more free-swinging as indicated by his walk numbers decreasing both years as a National.
In addition to his upgraded power hitting this year, he also stole 20 bags, which is a massive improvement over the eight from 2022. Thomas provides a lot of value with his legs, in fact, he was often able to extend his hits into extra bases. He ranked 62nd which is above players such as George Springer and Tommy Edman in a category called extra bases taken percentage, meaning if he were to hit a single, he could turn it into a double.
That's helpful for a team that struggles to hit for power. 
By looking at WAR (Wins Above Replacement), Thomas finished with 2.7 which would place fifth on the Jays according to FanGraphs.
Thomas would immediately provide a boost to the Jays lineup, being able to bat lead-off, second and even seventh. Leadoff is probably where he does best with a .902 OPS in that position.
Pair that with his insane lefty OPS of .948, which is elite production.
It's unclear however if the Nationals are willing to part with Thomas as it's been known by the team how much they value his presence.
However, he does not fit their contending window, so a trade for some pitching could work out here.
---
Apr 25, 2023; San Francisco, California, USA; St. Louis Cardinals center fielder Tyler O'Neill (27) scores a run during the eighth inning against the San Francisco Giants at Oracle Park. Mandatory Credit: Ed Szczepanski-USA TODAY Sports
---
Tyler O'Neill – St. Louis Cardinals (OF)
The Blue Jays and Cardinals love making trades, so how about another one? Tyler O'Neill was linked to the Blue Jays as a potential addition last winter, and with St Louis looking to retool this offseason, perhaps they're ready to part with their 28-year-old outfielder.
The Burnaby, B.C. native broke out in 2021 with 30 home runs, but the power has dried up ever since. Injuries have been a big part of his decline in 2023 as he hit the injury list six times for multiple knee issues in addition to back and foot injuries.
What's more troubling is his 168 total games in the last 2 seasons. If O'Neill hopes to get his career back on track, more consistent at-bats will be needed.
This would be a risky investment for someone who struggles to stay healthy and who also hits free agency in 2025. O'Neill is someone who has been on Jays fans' radar for a while now, however, his production leaves much to be desired. Last season, in his injury-plagued year, he scrapped by with a wRC+ of 97 hitting only nine home runs and an OPS of just over 700.
He's under control for one more season and will be eligible to hit free agency following the 2024 season. This would be a buy-low reclamation project for the Blue Jays, a type of addition they've made many times in the past to varying degrees of success.
Jonathan India – Cincinnati Reds (2B)
Earlier this year, I wrote about the potential of Jonathan India coming to the Jays because of the team's second base situation. Merrifield will likely move on in free agency and the Blue Jays have a mix of players in Cavan Biggio, Davis Schneider, and Santiago Espinal who will be in the mix to replace him, but India offers interesting upside.
The Reds will have a logjam in the infield and India has the most service time and will be the first person to be paid out of that group. A notoriously cheap franchise, the Reds might not want to pay him, and he could potentially be on the out sooner than expected.
India has regressed mightily since his Rookie of the Year campaign back in 2021, however, injuries have also been at play. He slashed a .244/.338/.407 line over 529 plate appearances in 2023 for the Reds and could be a long-term solution at second base if he's able to get back into the groove that he had a couple of years ago.
These are just a few names that might be available this winter so I would love to hear other suggestions about players I might have skipped over or did not touch upon! And, as always, have a good one!
---