On this day in 1977… The Blue Jays make their debut with a 9-5 win over the White Sox at Exhibition Stadium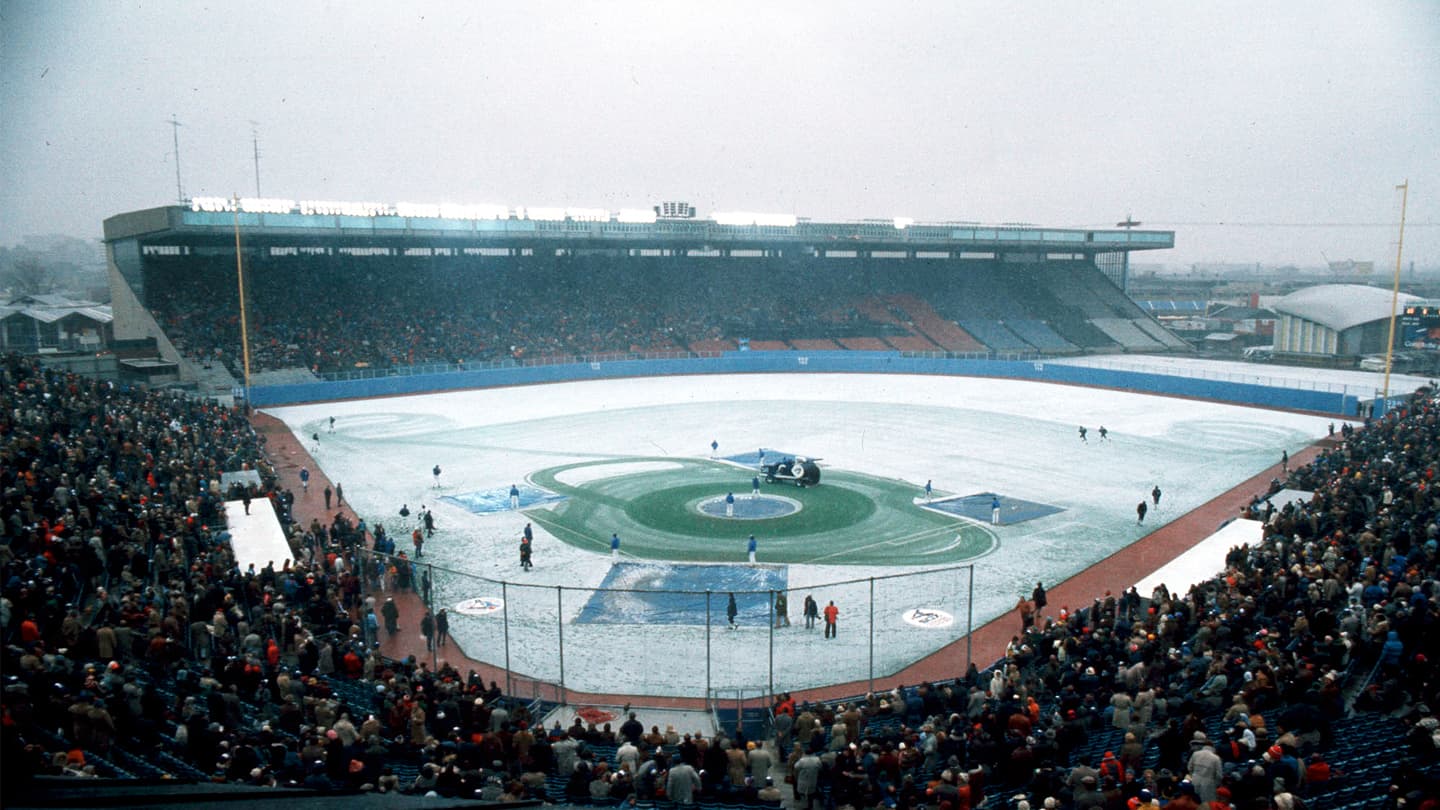 On April 7, 1977, 44,649 fans sat in the cold at Exhibition Stadium in Toronto to watch the Blue Jays play their first-ever Major League baseball game against the Chicago White Sox.
With help from a Zamboni that had been borrowed from the Toronto Maple Leafs, groundskeepers worked to clear snow from the field so that it could be suitable for a baseball game. Given the frigid temperature and the snow on the ground, fans wondered if the game would be postponed for another day…
"Fifteen minutes prior to the start of the game, there was some question if Toronto had been a wise choice for the home of a new baseball franchise, all because of the weather — freezing temperatures and heavy snow showers, anything but characteristic for a traditional summertime sport,"

Rick Cluff reported to those listening to CBC Radio that day

. "Groundskeepers worked feverishly, vacuuming up fallen snow from the artificial turf while players and fans alike speculated about a snow-out."
Despite the conditions, head umpire Nestor Chylak said the game would be played. The 48th Highlanders marched onto the field to perform the Star Spangled Banner and Canadian country music star Anne Murray performed O Canada.
Veteran starting pitcher Bill Singer threw the first pitch in Toronto Blue Jays history, a fastball to Ralph Garr of the White Sox that was called for a strike. Garr drew a walk, stole second base, advanced to third on an errant throw, and then scored on a sacrifice fly from Jorge Orta. After that, Richie Zisk came up to the plate and launched the first-ever home run in Exhibition Stadium history to make the score 2-0.
Singer was able to get through the first inning without any more damage and the Blue Jays went to bat for the first time. After Ken Brett struck out John Scott and Hector Torres to start the bottom of the first inning, Doug Ault came up to the plate and smashed a ball to deep left-centre for the first home run in Blue Jays history.
The White Sox scored a couple more runs in the second inning but it was all Toronto after that. Ault hit another homer in the third inning to tie the game, Al Woods put the Blue Jays ahead in the fifth inning with a two-run bomb, and relievers Jerry Johnson and Pete Vuckovich closed the door as the Blue Jays earned a 9-5 win.
"They cheered nearly every play and watched in surprise as their new heroes took control of the game in the closing innings,"

Cluff told those listening on the radio

. "The Blue Jays weren't supposed to win after all, everybody has been saying for weeks they're too young and too inexperienced to have much of a chance this year. But win today they did."
---