One Last Fortnight on the Farm – Vol. 12
Last for 2022 anyway.
The only team still in Action is Buffalo who, as you read this, might have two or three games remaining – and if anything remarkable happens I'll add an edit to their sub-section – but all else is done. I'll try to note here not only the playoff results where applicable but also whom on each roster looks to turn up on top prospect lists and why.
Low-A Dunedin
The D-Jays are the West Division champs in the FSL, but they are not the FSL champions. They took two out of three against Fort Meyers, then dropped two in a row to eventual champion St. Lucie.
The MVP of their postseason would have to be Cade Doughty who hit .381 combined. Given the absence of much gameplay, I'll use these reports to draw attention to players likely to be listed on the off-season top 30 lists or who have previously been noted or who, in my limited view, deserve at least some consideration as the list is winnowed. Maybe a few sleepers too.
First among the pitchers will likely be Irv Carter. The Jays' 5th choice in 2021 got four starts for the D-Jays and gave up just three runs over 11 IP in the last three of those. If you count back to his last four starts across town on the complex team, in his last eight starts his line is 30 IP, 24 H, 11 ER, 8 BB, and 29 K which works out to a 3.30 ERA. That's after looking really raw over his first five starts in the complex (9.17 ERA). The other guy who's on the mid-season updates for both Baseball America and MLB Pipeline is Kendrys Rojas. After stumbling early (5.82 ERA in his first five appearances)  he recovered and put up a 2.78 ERA since early May with an 11.5 K/9 and a 2.5 BB/9. He missed all of June and July with injury. Some other starters who likely won't make such a list but deserved to be watched are Lazaro Estrada, Rafael Ohashi, and Eddison Gonzalez. All of them dealt with significant time on the IL but show well when healthy.
Among the hitters, players acquired through and after the draft this summer dominate the list. Statistically, the best results belong to undrafted free agent signing center fielder Devonte Brown who hit .308 with a .960 OPS and walked more than he struck out. I'm unsure whether that will get him ranked but it will get him on the radar.
Still, the one who showed the most promise was second baseman Daughtry who's already mentioned in the top 10 of both those lists. Taken 78th overall this summer, he posted an .865 OPS and had six homers in 103 at-bats. Ranked just above him on the lists is SS Josh Kasevich (60th overall) who didn't make such a robust impression but also walked more than he struck out and he trended upwards down the stretch hitting .304 in his last 14 games. Speaking of recovering from a slow start, 1B Payton Williams (7th round) hit .115 in his first eight games but found his stroke and hit 15 for 44 through the end of August bringing his season OPS to .800 at that point. He faded again in September but caught fire in the playoffs hitting .353 with a .900 OPS. He'll be considered for the back end of the winter lists.
Manuel Beltre was in the top 10 of several lists last winter but spent much of the summer not hitting much in the complex league. He began to heat up in August with a .713 OPS in August which got him a ride across town to the D-Jays where he was a whole new man. It's just five games so sample size caveats obviously apply, but hitting .381 does help to restore the glow a bit, Estiven Machado was also well regarded last winter and spent much of the summer underachieving but over the second half of the season he picked it up, hitting .285 from the beginning of July with a .744 OPS. They've got the tools, but there's still development needed for both.  Second baseman Adrian Pinto is still on those prospect lists in the high teens but he missed the whole second half of the season to injury. Another summer draftee, RF Alan Roden (3rd round) is No. 18 on the Pipeline list at the moment. He too finished strong, hitting .364 in September and playing well in the post-season.  You can see how this was a playoff team.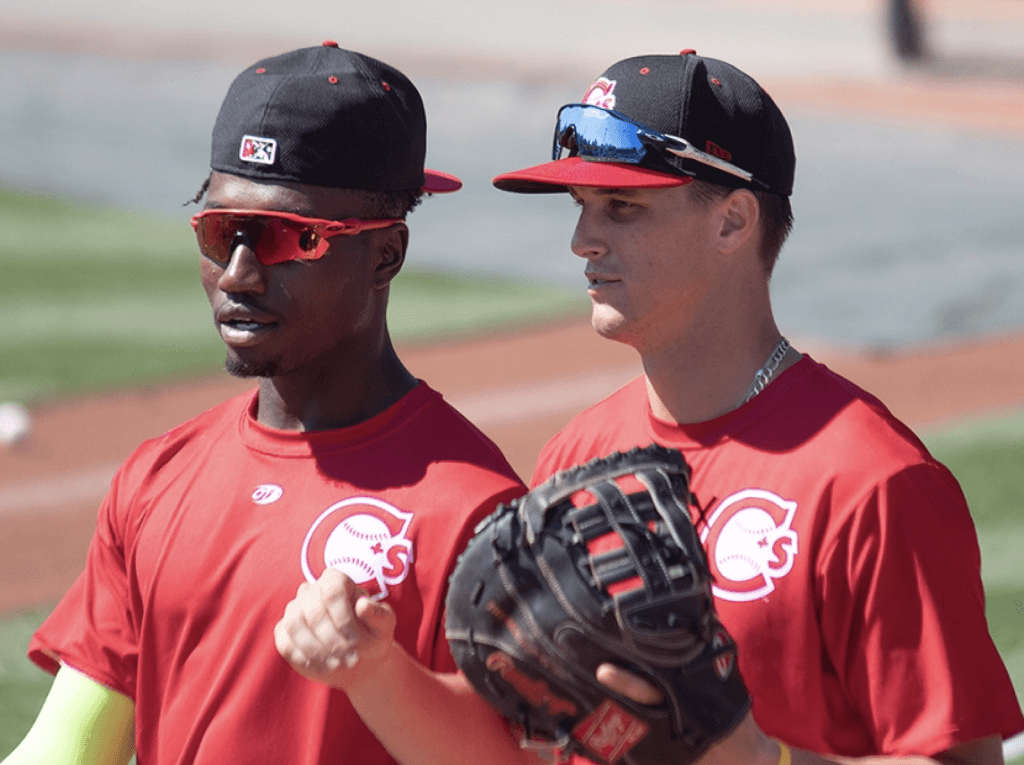 High-A Vancouver
The Van C's were unceremoniously swept out of the post-season but this is more a reflection of the dominance of the Eugene Emeralds than the Canadians.
Much of the noted pitching prospects that graced this roster at some point have moved on to AA and sometimes beyond, but the rotation isn't bereft. The top pitching prospect now is Dahain Santos, despite the ugly ERA. He was a beast most of the season in Dunedin and had a ridiculous 14.7 K/9 while his first two outings in Canada were quite ugly, in the end, he had a 15.6 K/9 over those four outings. He's top 15 on those lists. The other SP ranked on the back end of some lists is Chad Dallas who has potential but walked 51 in 88 innings so there's real work to do. A sleeper here is lefty Trenton Wallace, whom I've written a bit about before. He was untouchable in Dunedin with a 1.11 ERA in 40.2 IP. When he moved up he lost the zone some, walking 24 in his first 17.2 innings for the C's. but only 7 in the 21.2 innings over his last four starts. Meanwhile, he ran up at 12.6 K/9 overall at this level.
The list is longer on the offensive side. Outfielder Gabriel Martinez hit his way from sleeper status last winter (despite an impressive line for the GCL team in 2021) to a spot in the top 10-12 range on most everyone's list. Not only that, he hit even better for Vancouver than he had in Dunedin. He didn't hit a homer at all in 34 games in'21 and hit 14 in 96 games this year.
Not on the lists yet but doing all he can to get considered is 1B Rainer Nunez. Like Martinez, he elevated his performance after moving up from Dunedin and he recovered the on-base skills that he'd shown in '21 but was absent this year on the low A squad. Continuing the pattern of improving over the course of the season is CF Dasan Brown, who is on the low end of both lists and seems sure to be higher still when the winter lists are published. After a slow first week in A+, he's gotten steadily better. He hit .292 with an .822 OPS in August, and then .387 (.977) in September. All three men are certain to break camp in AA next spring.
Highly regarded by the evaluators is recent acquisition Alex De Jesus, who came over from the Dodgers at the deadline. He falls in the 15-20 range but his stats at Vancouver don't really shine. Likewise, Leo Jimenez has been as high as the top 10 last winter but you won't find support for that in his performance at the plate this year. Third baseman Damiano Palmegiani pushed his way onto the backend of the pipeline list with an .877 OPS in July, but he faded badly the rest of the way.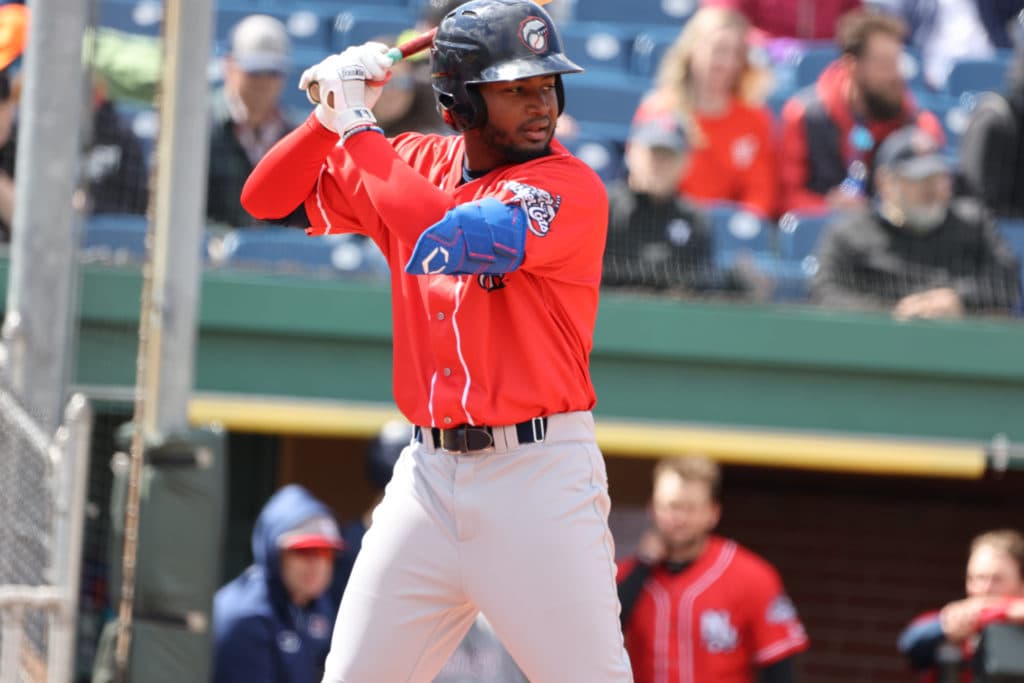 Double-A New Hampshire
Despite their underwhelming won-lose record, the Fisher Cats are not devoid of talent. Most notably is the new No. 1 (given that technically Gabby Moreno has spent enough days in the majors to graduate from rookie eligibility) Ricky Tiedemann.
There's little I could add to the many words written about him. Also finishing out in this rotation is Sem Robersse, who's a top 10 guy on pretty much all the lists. He too has been featured a lot in more prominent publications. On down the list is 2020 draftee Trent Palmer who has held opponents to a .192 BA over his 118.1 career IP while striking out 11.6 per nine innings. He got six weeks in AA after his promotion before being shut down with an injury in early July.
Not mentioned yet on the lists is the biggest comer in the organization among those who are not – Jimmy Robbins. Advancing across three levels, he posted a cumulative ERA of 2.59 and his best work came in his five AA starts where it was 1.52 over 23.2 IP.  He had an 11.5 K/9 and perhaps more impressively, just 3.3 BB/9 while holding opposing hitters to a .214 BA. I'll be stunned if he doesn't turn up on Top 30 lists this winter. I must note, also, that Alejandro Melean showed up at the bottom of the Pipeline list when Moreno graduated. There's some promise there but why they added him and not Robbins mystifies me.
The other side of this team offers less to comment on. Due to promotions, including one very recent one, the only sure-fire top prospect left here is Orelvis Martinez. We're all aware, of course, of his disappointing year and maybe the most encouraging thing one can say is that September was his best month of the season since May. He did set a club record for homers but he hit .203 with a .286 OBP. I've seen someone (can't remember who) suggests that he might go to AAA next year anyway, and partly because "Leo Jimenez needs somewhere to play" but I can't agree – about either player. Neither of them earned a promotion next year and both should start back at the same level. Also, Addison Barger (the recent promotion I mentioned) needs plenty of space to play SS in Buffalo early in 2023.
Now, when and if you want to promote Jimenez (if he earns it) to give Josh Kasevich or someone else from Dunedin a clean shot in Vancouver, you can always increase Martinez's time at 3B where he played a little over 40% of the time this year. But as I've said before, it was likely a mistake to start him at AA out of ST (and a mistake to push Groshans to AAA) and there's no need to repeat it. make him prove he's ready. Sleepers who are still here include catcher/OF Zach Britton who had an .808 OPS at this level, and Robert Robertis who was a late-season plug-in here but will be in Dunedin, more than likely, next season to start. He played most of his games in the GCL this year and he was solid but not a stud. But in a five-game cup of coffee in New Hampshire, he had a 1.000 OPS thanks to a couple of homers.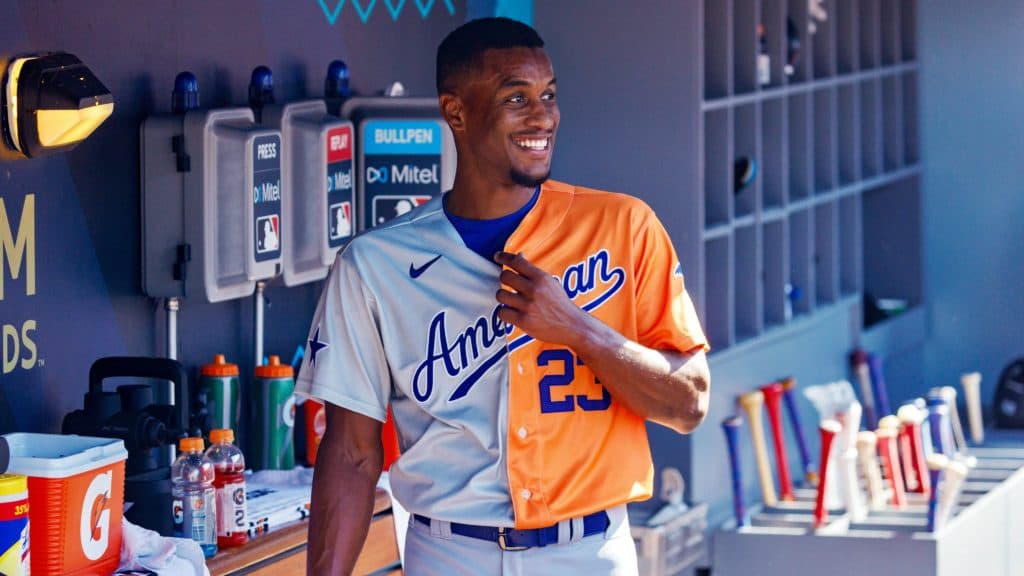 Tiple-A Buffalo
Y'all know the drill here. Several interesting relievers, but basically no starters that proved themselves aside from Casey Lawrence.
The notable thing about this roster is that every player on this roster, with the exception of Hayden Juenger, is either (a) already on the major league roster; (b) a pending Minor League Free Agent; or (c) rule five eligible (among whom there are around seven guys who have a case for being protected). So we're not looking at a group we can be speaking with a lot of confidence about looking forward.
Anthony Kay and Thomas Hatch are formerly well-regarded guys who had a rough year (the former plagued by injuries). There's some possibility they'll end up being contributors out of the 'pen but given the Kikuchi adventures, they missed a real opportunity this year that probably won't come again. The previously mentioned Juenger is a top 15 prospect in the organization and the question will be whether they stay with the "bulk reliever" concept or try to stretch him out to a regular starter routine.
Yosver Zulueta is a Top 10 prospect, but he was only promoted in mid-September and has only a few innings here. Expect him to be the Bison's Opening Day starter next spring. Adrian Hernandez has been turning up on lists in the area of No. 20, but after spending almost eight weeks on the IL mid-season he was kind of a mess. I'm not sure if his trademark screwball/change wasn't working or what but he had an 11.45 ERA over 11 IP in 12 appearances. I doubt he falls completely out of the rankings but I don't know how scouts will evaluate this bad run. Also, Matt Gage was excellent, they need to keep him around, Brandon Eisert was intriguing (77 K and 15 BB in 60.2 IP)
Offensively, with Gabriel Moreno in Toronto and technically graduated from rookie eligibility, it's still reasonable to bend the rules a bit for a guy who was in the Top 10 prospects in the majors last month. He finished with an .806 OPS which is fine but depressed, for his talent, mainly due to an absence of HR power which everyone seems to attribute to the hand injury that cost him half of 2021. It's expected to return.
There's also Otto Lopez, a guy who's widely ranked in the Top 20 in the system. Also technically in Toronto in the wake of Santiago Espinal's injury, I can't not point out that Lopez finished out the year slashing .332/.405/.450/.854 over 229 at-bats since late June. Then there's SS Addison Barger who's only been here for seven games but has announced his presence with authority, hitting .385 with a 1.253 OPS. No hitter in the system, with the possible exception of Gabriel Martinez, has improved his standing as much as Barger and he'll be sitting in the top 15 on most winter lists.
First baseman Spencer Horwitz and 3B/IF Tanner Morris are ranked prospects but Horwitz has been injured since September 13 and Morris since early August. The latter was very good in AA but never got untracked in his 31 AAA games. He may well fall off some lists given new additions to the organization. The sleeper here is IF Davis Schneider. As I've mentioned before, I've never seen him anywhere near a prospect list but here he sits with an .838 season OPS across three levels, with 16 homers and 17 steals (in 19 tries). Keep an eye on him.
As a coda let me note the listed guys who are not on any of these teams. This year's first-round choice Brandon Barriera wasn't assigned to any team, like Tiedemann last year they are being cautious with the young arm. Tucker Toman, the third baseman taken with their first comp pick, played well in the GCL and will be a fixture for the D-Jays next spring. Both are Top 5 prospects in the organization. CJ Van Eck is considered a Top 20 prospect but was out all year after Tommy John surgery. Catcher Luis Meza is highly regarded but played in the DSL and statistically wasn't a standout. There are maybe half a dozen other sleepers on the complex teams but I just passed 2400 words so let's not get into that.
---
Recent articles from Tammy Rainey