Orelvis Martinez makes Dominican Winter League debut, Blue Jays in the Arizona Fall League update, and more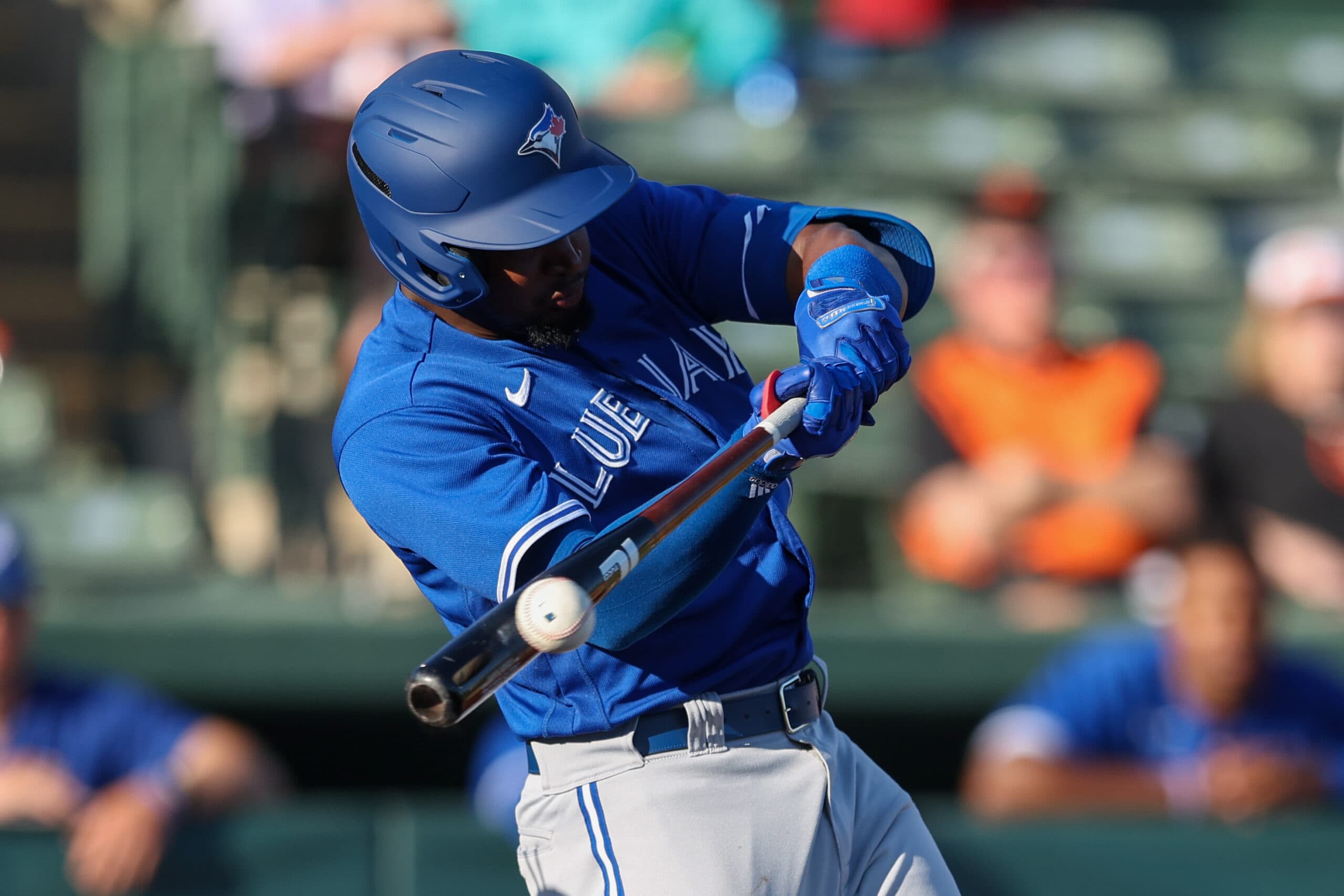 Photo credit:Nathan Ray Seebeck-USA TODAY Sports
Just because the Blue Jays are done for 2023 doesn't mean baseball isn't still ongoing.
In this article, we'll look at some interesting storylines regarding Blue Jays prospects playing in fall league and winter leagues.
Damiano Palmegiani is a top 10 Blue Jays prospect:
Since my mid-season 2022 Top Prospect List, Damiano Palmegiani has ranked in my Top 10. His Arizona Fall League performance may also get him some recognition elsewhere, as he's slashing .276/.395/.535 with three homers in 76 plate appearances. On top of that, he has a 25 K% and a 13.2 BB%, similar to his career BB% and K% splits in the minor leagues.
With the Double-A New Hampshire Fisher Cats and the Triple-A Buffalo Bisons, the 23-year-old corner infielder slashed .255/.364/.478 with 23 homers, the second most in the organization. In fact, since being drafted in 2021, his 49 homers rank as the third most behind Orelvis Martinez (whose 86 homers rank first in all of the minor leagues since 2021) and Addison Barger.
He's a top-10 Blue Jays prospect without question.
Dasan Brown has had a great start in the AFL
Speaking about Canadians that are playing the Arizona Fall League, Dasan Brown currently ranks 14th in batting average, as he's hitting .319 in 54 plate appearances. The Oakville native is slashing .319/.353/.511 with a homer while walking five times and striking out 16 times.
Brown had a rough season with the Vancouver Canadians, as he slashed .218/.309/.315 with seven homers in 463 plate appearances for a 74 wRC+. This was after a mini-breakout season in 2022, where he slashed .283/.383/.420 with six homers (actually nine) for a 132 wRC+ in Single-A and High-A.
The 22-year-old outfielder is a toolsy player, with all five tools having the potential to be at least average. As it stands, his speed is 80-graded already, while his arm and defence are plus tools. Watch out if he can get his hit and power tools to average levels.
Ricky Tiedemann leads the league:
The 21-year-old left-handed pitcher currently owns a 2.50 ERA in his four starts, but that doesn't tell the whole story. After only pitching 44 innings in 2023, Tiedemann leads the entire Arizona Fall League with 18 innings pitched. He also has 23 strikeouts, which also leads the league, albeit his K% and K/9 is below Davis Daniel, who has 22 strikeouts in 16 innings.
C.J. Van Eyk making up for lost time:
On top of Ricky Tiedemann pitching like the ace he is, Van Eyk has been one of the best pitchers in the Arizona Fall League. He's pitched 11.1 innings and has only given up one run in that time. While he isn't striking out batters at a high clip (20 K%), he's getting outs and pitching well.
Orelvis Martinez makes his Dominican Winter League debut:
After a tremendous 2023 season in Double-A and Triple-A which saw him slash .243/.340/.496 with an organization-leading 28 home runs, Martinez made his LIDOM debut for Tigres del Licey.
He's had 19 plate appearances and is slashing .167/.211/.278 with two doubles and six strikeouts. He's already played 33 innings at shortstop, leading the team and ahead of former Blue Jay Alen Hanson.
As more players join LIDOM as we move into winter, Martinez may lose his spot on the roster, but the fact that the 21-year-old has made the biggest team in the Dominican Republic is great news. Martinez could be among the players trying to push for a spot on the Blue Jays if Matt Chapman isn't re-signed and the team doesn't sign a new third baseman in free agency. 
Elsewhere in Winter League:
Reigning LIDOM Rookie of The Year (and 2022 home run leader) Rainer Nuñez is back with Estrellas de Oriente. He's had 14 plate appearances with 3 hits and is slashing .231/.286/.231 with three strikeouts and a walk.
Leones del Escogido hosts two Blue Jays players, Steward Berroa and Luis De Los Santos. Between them, they've only had two plate appearances, both ending in strikeouts. However, Berroa has been used as a defensive replacement, appearing in three games already.
Adrián Hernández has returned to Caneros de los Mochis in Mexico, striking out a batter of the three he faced. Catcher Andres Sosa is playing for Hermosillo in Mexico, slashing .207/.439/.241 with 3 RBI in 41 plate appearances.
Victor Arias has appeared in two games for Navegantes del Magallanes in the Venezuelan Winter League but has yet to have a plate appearance. The 20-year-old hit a career-high five homers in 176 plate appearances between the Florida Complex League, Single-A, and Double-A.
Also, Naswell Paulino's MiLB page notes that he has been transferred to Aguilas Cibaenas in the Dominican Republic but has yet to appear in a game. Last season, he was assigned there as well before eventually heading to Puerto Rico and pitching for RA12.
---
As always, you can follow me on Twitter, Instagram, and Threads @Brennan_L_D.
---