Pre-2022 Blue Jays Top Prospect Countdown – No 11: Adam Kloffenstein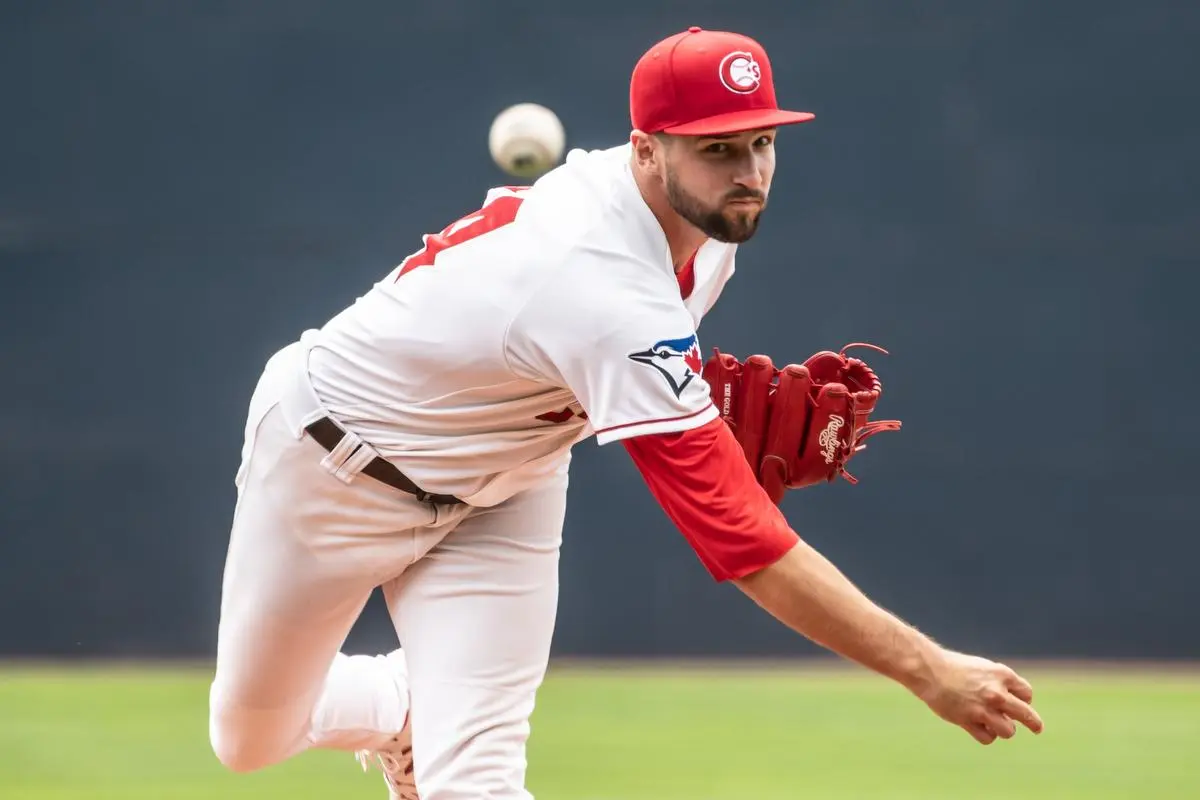 Photo credit:Mark Steffens
There's no sugarcoating it, Adam Kloffenstein didn't have a great season in 2021. He's one of the only few players that made my list where his potential outweighs his poor results.
Background:
The 6'5, 243 pound right hander certainly fits the mold of what the Blue Jays like in a pitcher, tall and athletic. The 21-year-old was drafted in the third round of the 2018 draft, along with fellow Magnolia High School senior, Jordan Groshans.
Kloffenstein started his professional career in 2019, pitching with the Short Season A Vancouver Canadians. The then 19-year-old pitched 64.1 innings and had a solid ERA of 2.24 with a FIP of 3.73, despite being -3.3 years younger than the average pitcher at that level.
There was a lot to like in his debut season, such as his 8.95 K/9 and a 3.22 BB/9. Kloffenstein also had a ground ball percentage of 60.1%, which is a good combination when paired with his strikeout prowess. It's important to remember that FIP doesn't favour ground ball pitchers.
Kloffenstein's 2021:
The then 20-year-old pitched 101.1 innings with the High A Vancouver Canadians, posting a 6.22 ERA and 5.16 FIP. His K/9 increased to 9.5, while his BB/9 jumped to a staggering 5.42. His ground ball percentage also dropped to 53%, which is still very high, but noticeable. The biggest issue in 2021 for the young pitcher was the inability to command the fastball.
Not just that, but when a runner got on base, they scored 42.2% of the time, a rather unsustainable number. This could be due to the 17 wild pitches he threw, as well as four balks, a very high number.
It's also important to remember that Kloffenstein, who was 20 at the time, was -3.2 years younger than the average pitcher in the league.
What the scouts say:
Kloffenstein doesn't have a true out pitch, which means that he'll need to tool with his windup to stay as a starter, per Baseball America. His velocity sits 90-93, but can reach as high as 96. His secondary pitches, such as the slider and curveball are just about average. The 21-year-old also has a changeup which he uses infrequently. The righty also falls off the first base side, which causes issues with control.
Here is the table with each of his tools according to Fangraphs, MLB Pipeline and Baseball America. Keep in mind that I'm using 2021 grades with Baseball America and MLB Pipeline.
| | | | |
| --- | --- | --- | --- |
| Pitch | MLB Pipeline | Baseball America | Fangraphs PV (FV) |
| Fastball | 55 | 55 | 45 (50) |
| Slider | 55 | 55 | 50 (55) |
| Curveball | 55 | 50 | 40 (45) |
| Changeup | 50 | 50 | 40 (50) |
| Control | 50 | 50 | 30 (50) |
| Overall | 50 | N/A | 40 |
Kloffenstein in 2022:
It's important for the 21-year-old righty to work on his command, as allowing over 5 free passes per nine innings is too much. One way he can do this is to rebuild his wind up so he doesn't fall to the first base side.
His potential is still high, he just needs the statistics to back it up. Here are some videos of him at spring training.
Previously…
As always, you can follow me on Twitter @Brennan_L_D. Originally, both Kevin Smith (#3) and Gunnar Hoglund (#9) were going to rank on this, but both were traded. Therefore, Kloffenstein and prospect #10 rank on my list.