Pre-2022 Blue Jays Top Prospect Countdown – No 2: Orelvis Martinez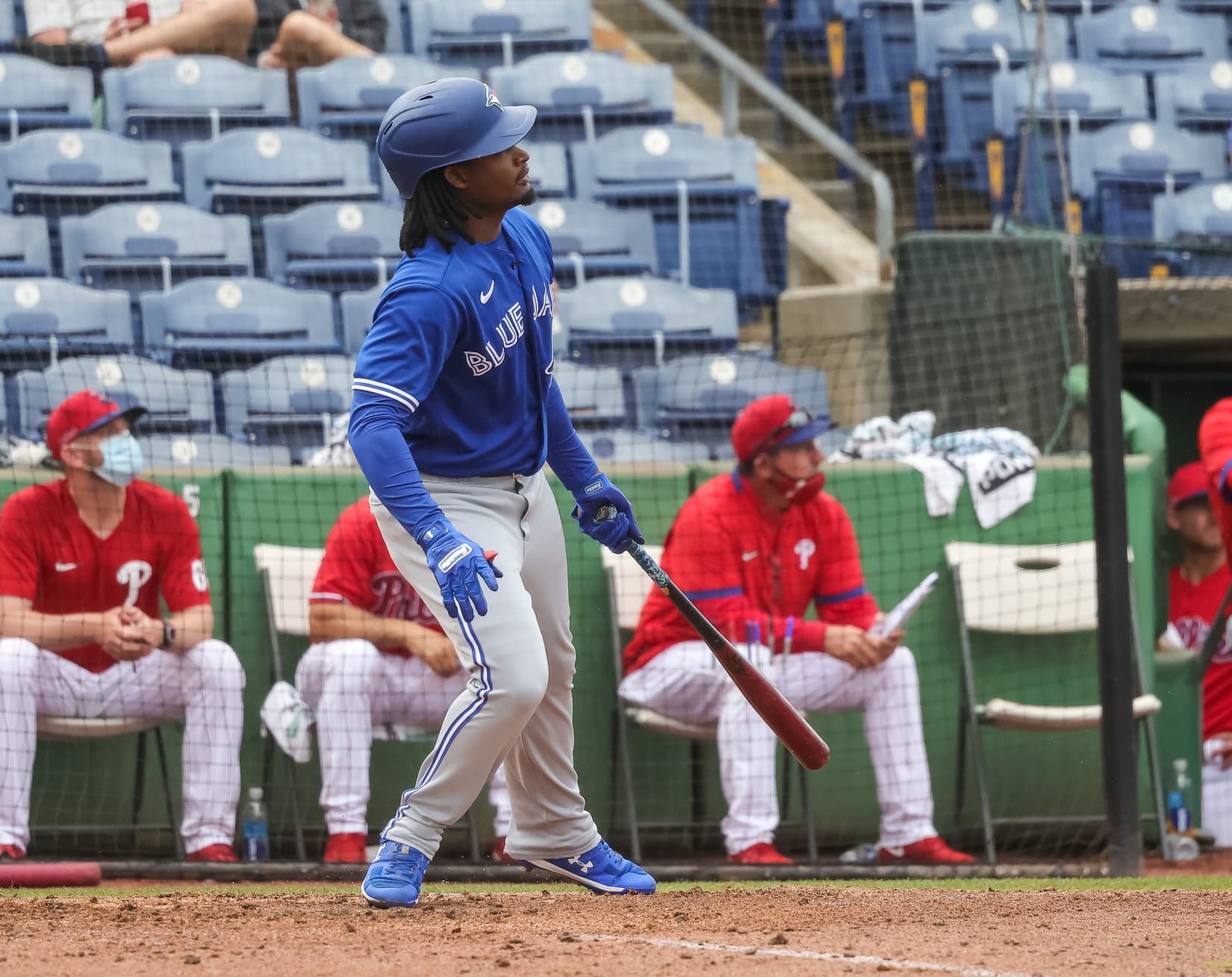 Photo credit:© Mike Watters-USA TODAY Sports
The final two prospects in this article will not be a shocker.
Like most prospect sites, Orelvis ranks as my second best Blue Jays prospect. In fact, I've been calling him "potentially generational" since last summer and I think people saw why during Spring Training. However, we'll start with the background.
A background:
Unlike most prospects on this list, except for Manuel Beltre, Orelvis signed for a lot of money. The Dominican born infielder signed for $3.5 million in 2018.
He made his professional debut in 2019 with the Gulf League Blue Jays, where he slashed .275/.352/.901 in 162 plate appearances. Despite being only 17-years-old at the time and -2.5 years younger than the average shortstop in the league, he hit seven homers and added three triples.
Orevlis also walked 8.6% of the time while striking out 17.8% of the time, which is an okay number for a slugger.
Like all other minor leaguers, Orelvis didn't get a chance to progress in the minor leagues in 2020 as the pandemic cancelled the minor league season. However, Orelvis was promoted to the alternate training site where he'd face big league pitchers.
Orelvis' 2021:
Speaking with a former teammate, I was told that Orelvis' goal in 2021 was to hit 30 homers. Unfortunately for him, he fell
just
short, registering 28 homers between Low A and High A.
Low A:
The then 19-year-old absolutely destroyed this level in 2021, as he registered only 326 plate appearances, but mashed the ball for 19 homers. He also had a solid slash line of .279/.369/.942, meaning he was also hitting for a solid average. There were some worrying signs however, as he struck out 26.1% of the time while walking 10.1% of the time.
Despite this, he was called up to High A in early August.
High A:
Overall, Martinez's slash line sat at .214/.282/.733 with seven homers. Despite only being 19 at the time, this isn't the greatest slash line, but let's play around with this for a second. I'm going to break this into two parts. At first, Martinez needed time to adjust, but once he did, he became a menace at this level.
He started his first 74 plate appearances off rough, batting just .162. While he had four homers in this time frame, he only walked four times, struck out 15 times and looked quite out of place. Starting on August 22 though, Orelvis started to belong in High A.
He hit .295 in his remaining 51 plate appearances, hit five home runs and tacked on an additional three doubles (only one before this). He also drastically upped his walk rate, as he walked seven times in those 51 plate appearances. He also dropped the K% as he walked only 13 times in this short stretch.
We can see a player that struggled to adjust at first, but once he did, he became a very good hitter, albeit in a small sample size.
Offence is just one half of the game:
You may be asking "what about his defence". Sadly, the minor leagues don't have advanced defensive metrics like Defensive Runs Saved or Outs Above Average, so I guess I'll just be a normie.
In short, he committed 20 errors in his 550 innings played at the position between both levels, which equates to about an error every 28 innings played at the position. It's nearly identical to his errors per inning at third, as he played 158 innings at third and committed six errors, or one every 27 or so innings.
Interestingly, he didn't commit a single error at third in his 53 innings played with the Vancouver Canadians. He did however commit nine errors in his 167 innings played at short with the Canadians. Perhaps the infield coach noticed something and helped him defensively at third? I have no idea, but Orelvis profiles at the hot corner for his career.
2022 Spring Training:
So the next section would usually be about what the scouts say, but I think his 2022 Spring Training deserves its own section.
Martinez only had 16 plate appearances with the team, but he showed improvement from the first day. He slashed .308/.400/1.323 with two homers in that time frame. He also only struck out 5 times, which is notable. The homer below came off MLB pitcher, Aaron Nola.
The one aspect of Martinez's game that could hold him back is identifying breaking stuff from pitchers with experience. In that short time we saw him, he had the ability to lay off tough breaking stuff and finish his spring with four extra base hits. Not just that, but he also walked twice.
All in all, it was an impressive Spring Training from the 20-year-old, and I hope people see why I compare his batting to a young Vladimir Guerrero Jr. We'll go more in depth with it soon, but while he may not hit for the average Vlad does, Martinez's power generated from his swing reminds me a ton of Vlad in the minors. Not just that, but Martinez will stick playing third base.
What the Scouts Say:
Martinez has the ability to turn on balls and barrel them for a high exit velocity. Somehow, he may project to hit for even more power according to MLB Pipeline. They also note his penchant for chasing, but Spring Training showed that he may be past that.
Fangraphs also make note that Martinez's hit tool could be a potential concern. His swing does leave him open to be early on breaking pitches, which doesn't help when looking for fastballs. However, we also saw him cut down on the leg kick in Spring Training, so again, we'll have to wait until the start of the minor league season.
According to Baseball America, the Jays believe the 20-year-old will be able to stick at shortstop; however, scouts don't see it that way. This is also noted in his MLB Pipeline, Martinez is a below average runner and as he grows stronger and ages, his range may decrease at short.
| | | | |
| --- | --- | --- | --- |
| Tool | MLB Pipeline | Baseball America | Fangraphs PV (FV) |
| Hit | 50 | 50 | 30 (45) |