Pre-2022 Blue Jays Top Prospect Countdown – No 3: Otto Lopez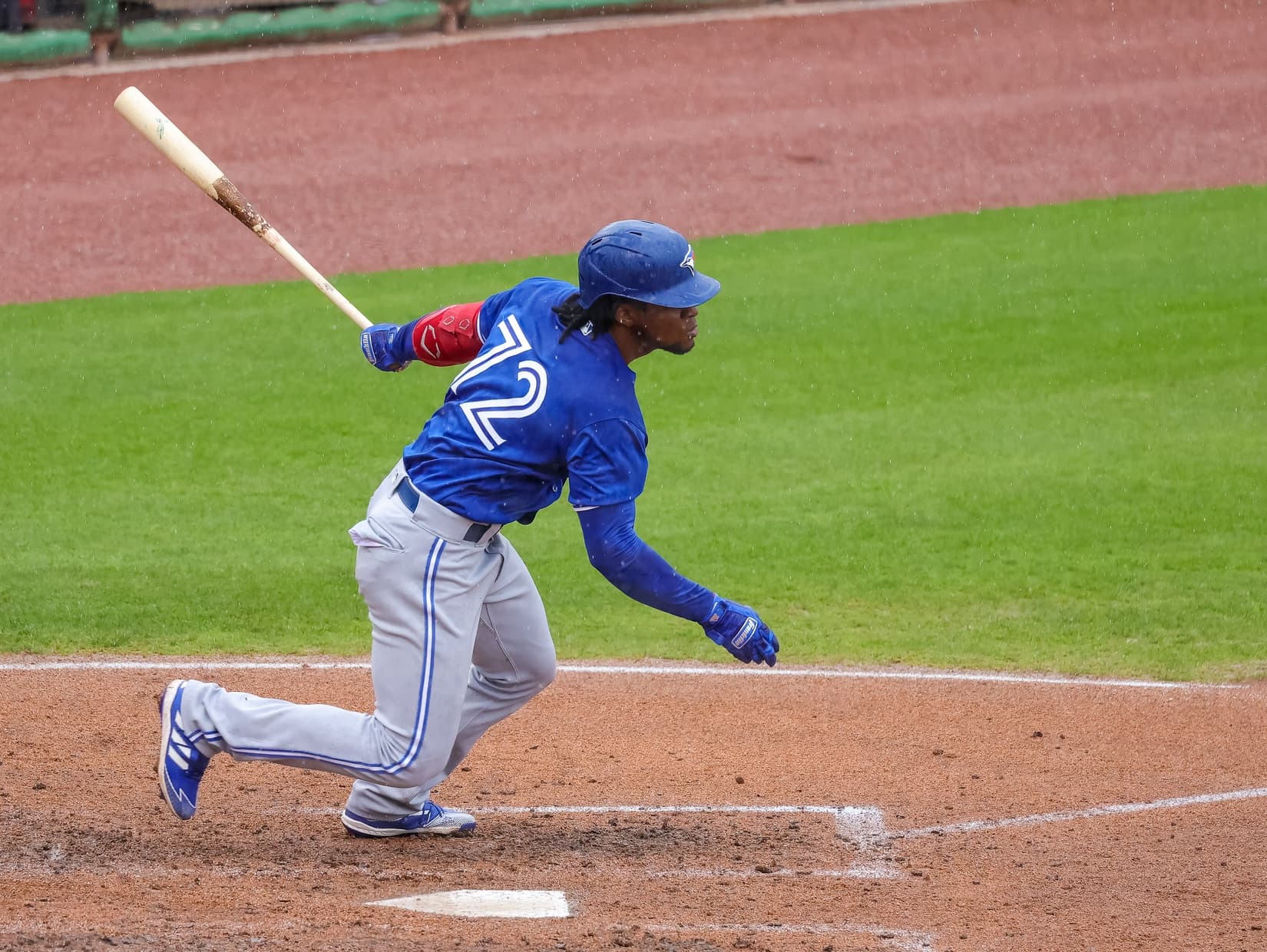 Photo credit:© Mike Watters-USA TODAY Sports
Prospect #3 Otto Lopez reminds me quite a lot of the current Blue Jay, Santiago Espinal.
Background:
Otto Loepz, who had already lived in Canada prior to signing with the Blue Jays, was signed during the 2016 International Free Agency period. The versatile player was signed for only $60,000 out of the Dominican Republic.
2017:
In his first professional season in 2017, the then 18-year-old slashed .275/.361/.721 in 203 plate appearances with their Gulf Coast Rookie League team. He also added an additional home run and an eye at the plate, only striking out 11.3% of the time while walking 9.4% of the time. He also stole 7 bases in 10 attempts.
2018:
Lopez had a brief spell with the Appalachian Rookie League team in 2018, looking good in his 34 plate appearances before being called up to the Vancouver Canadians in Short A. In his 206 plate appearances, he slashed .297/.390/.825 with three homers.
Despite being -2.1 years younger than the average uh,
player
, Lopez showed a great eye at the plate, walking 12.6% of the time while only striking out 10.2% of the time. He also stole 13 bases on 19 attempts.
2019:
In 2019, he was promoted to A ball in Lansing. The then 20-year-old slashed .324/.371/.796 with five home runs in his 492 plate appearances. He however has the lowest BB% up to this point (6.9%) and his K% sat at 12.8%, the highest of his career. 
Unless you include his 34 plate appearances with the Rookie team in 2018. In Lansing, Lopez stole 20 bases in 35 attempts, it may be time to give it up.
In the minors, Lopez showed limited power as he hit nine homers in 935 plate appearances, but he showed the ability to hit for contact while having a good eye at the plate. He also had the speed, but was caught stealing quite often.
Lopez's 2021:
Like all minor leaguers, Lopez missed the 2020 season due to COVID. However, upon the resumption of the 2021 minor league season, Lopez absolutely tore up Double A.
Double A:
In his 314 plate appearances in New Hampshire, he slashed .331/.398/.855 with three homers. His walk rate was rather impressive, sitting at 8.9%; however, he had the highest K% of his career at 19.7% in that time frame. He also stole 7 of 10 bases, an improvement over his last minor league season.
2021 was also the season that Lopez started to drive the ball in the outfield. In 2019, he hit 30 extra base hits in 492 plate appearances. In only 314 plate appearances in Double A, he hit 28 plate appearances, including 24 doubles (20 in 2019).
While the K% isn't great, getting a base hit a third of the time is quite impressive and with the new found ability to hit extra base hits, Lopez got the call up to the Buffalo Bisons on August 2nd.
Triple A:
The then 22-year-old Lopez slashed .289/.347/.752 in his 194 plate appearances with the Bisons. He added two homers, along with eight doubles and three triples. Interestingly, his K% dropped back down to 13.4% despite facing pitchers with major league experience. 
His BB% also dropped to 6.7%, the worst in his career, but he still looked quite good making the hardest jump in the major leagues. In fact, he even got his first MLB call up on August 27th, only getting one at bat and promptly striking out.
Remember how he was hovering just over 50% on his stolen base attempts in 2019? Well with the Bisons, he stole 15 of his 16 stolen base attempts, which is an absolutely shocking jump.
What the Scouts Say:
According to Fangraphs, while his contact approach at the plate makes him a useful utility player, there are questions about his arm strength, which realistically won't allow him to stick at third base or short. His skill set would usually make him a 45 FV, however the arm holds him back.
MLB Pipeline is a little less harsh on Lopez's arm, as they call it "average", saying that if he will settle into one position, it will be second base. They also mention that his speedy and ability to hit for contact is worth carrying him on the MLB roster.
Baseball America also notes that he probably won't hit for much power, as Lopez tends to smack the ball into the ground due to his bat path. Due to his speed, he can just out run out the ball. On top of that, he is a spray hitter, meaning that defense usually plays the 23-year-old straight up, instead of in the shift. 
Baseball America also notes that if he could hit for more power, he could easily develop into an everyday player, but they also note some scouts already see him in that role.
| | | | |
| --- | --- | --- | --- |
| Tool | MLB Pipeline | Baseball America | Fangraphs PV (FV) |
| Hit | 55 | 55 | 55 (60) |