Pre-2022 Blue Jays Top Prospects Countdown – No. 12: Ricky Tiedemann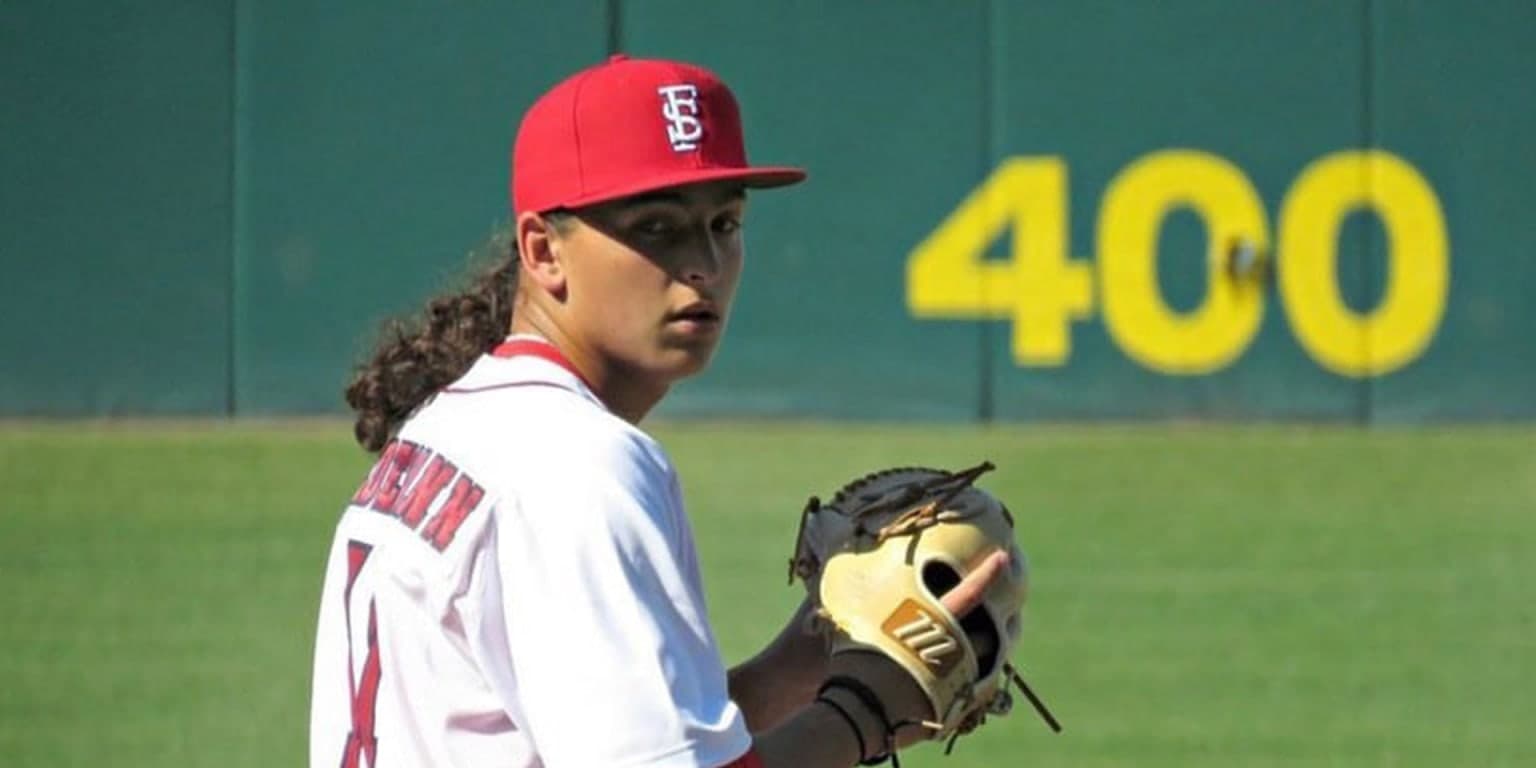 Photo credit:https://www.mlb.com/news/ricky-tiedemann-looks-to-impress-at-blue-jays-minicamp
Today's article will be the first time I truly deviate from the tentative Top 20 prospect list I created before starting this series. In fact, I'm dumb for not including Ricky Tiedemann in my list to begin with. 
Background:
Tiedemann was drafted in the third round of the 2021 draft from Golden West College. Prior to his college career, he played for Lakewood High School, where I was able to find both his pitching and batting numbers.
In his sophomore season in 17-18, the 15-year-old pitched 51 innings with a 3.16 ERA. He also had a K/9 of 9.18 with an elevated BB/9 at 4.06. Interestingly enough, high school pitchers usually also bat and Tiedemann was quite successful, as he slashed .297/.459/.837 in his sophomore season.
In his junior year, he pitched 53.2 innings with a 2.61 ERA. His K/9 rose to 11.45 while his BB/9 also increased to 5.2.  He also slashed .338/.446/.973. His senior year in 2020 was shut down due to the global pandemic, meaning that he only pitched in four games.
If you would like to look at his high school stats more in depth, you can do so here.
Per The 562
, prior to the pandemic shut down, Ricky was injured. Tiedemann had committed to San Diego State, but Ricky's goal was to always get to the pros as fast as possible. Playing at the university level would have meant he would have had to stay there for three years. So with no other options, Tiedemann made the decision to join Golden West City College for the 2021 season.
2021:
This was in a community college, so this must be taken with a grain of salt as competition is not at the same level as a Division I school. The then 18-year-old pitched 38 innings for Golden West College with an ERA of 3.55. As you'd expect, Tiedemann dominated batters as he posted a K/9 of 14.21 with a BB/9 of 3.55. According to the statistics page for GWC college
, the 6'4 lefty did not allow a home run. All in all, it was a decent season for the young pitcher.
It was possible that the 19-year-old could have been drafted in the first round out of high school if not for the pandemic. Since there were no competitive games taking place in 2020, there were no scouts to watch his development. Pair that with the fact that the 2020 MLB draft only had five rounds and you can see why Tiedemann chose to play for a community college.
What the scouts say about him:
In college, Tiedemann's fastball sat in the low 90s range, around 89-93 mph. However, after being drafted, it jumped up to the 95-96 range. Scouts believe this is due to a small sample size, however, the 6'4 200lb pitcher still has a frame to grow into, meaning his velocity may continue to tick up.
This is the first article where all three of Baseball America, Fangraphs and MLB Pipeline have grades for the 19-year-old lefty.
| | | | |
| --- | --- | --- | --- |
| Tool | MLB Pipeline | Baseball America | Fangraphs Present Value (future value) |
| Fastball | 55 | 60 | 45 (50) |
| Slider | 50 | 50 | 50 (55) |
| Changeup | 55 | 60 | 50 (55) |
| Control | 50 | 50 | 20 (55) |
| Overall | 45 | N/A | 40+ |
Here are some of his pitches, courtesy of fellow Jays journalist, Keegan Matheson (@KeeganMatheson)
Also one from the Blue Jays' radio voice, Ben Wagner.
2022 season:
It's likely that the 19-year-old starts his season with the Low A Dunedin Blue Jays. This is usually the case for young players drafted out of high school, or in Tiedemann's case, freshman year of Community College. If his velocity can stay in the mid 90s, he may quickly become one of the Jays' top prospects.
Previously…
As always, you can follow me on Twitter @Brennan_L_D. Big shout out to The 562 article. I didn't go that deep into it, but it's a great piece written by Tyler Hendrickson (@stylerroth on Twitter) if you want to learn more about Tiedemann.