Pre-2022 Blue Jays Top Prospects Countdown – No. 14: Adrian Hernandez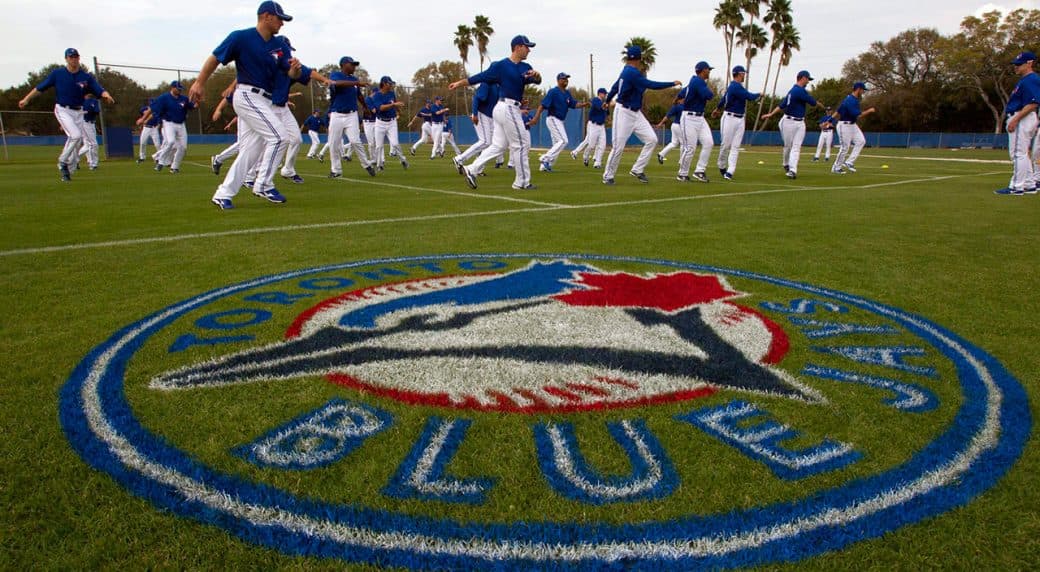 If I had to give you one word to describe the Jays #14 prospect's 2021, it'd be this: Yeet.
Adrian Hernandez has quickly become one of the Jays' most enticing bullpen prospects. Prospect lists are torn on the 22-year-old right-hander, but looking at his 2021 statistics along with the fact he's almost MLB ready, ranks him high on my list.
Hernandez was signed through international free agency in 2017 out of Mexico. In his first professional season in the Dominican Summer League, he pitched 55.1 innings and had a 2.60 ERA with a K/9 of 10.41 as an 18-year-old. Not too bad, but his BB/9 of 3.42 was a little bit concerning.
He followed up 2018 with an Incredibly poor 2019. Playing in the now Florida Complex League, the then 19-year-old had an 8.02 ERA and a K/9 of 6.33 while dropping his BB/9 to 3.38.
All minor leaguers missed the 2020 season and at this point, you may be wondering how this player who can almost be described as a non-prospect made this list. And t
hen you look at his 2021 numbers…
Hernandez's 2021:
Hernandez rose through the ranks of the minor leagues in 2021 as he pitched at three different levels. Unlike the other articles in this series, I will be splitting his tenures into three different sections.
Low A:
Starting the season in Low A, the then 21-year-old had an ERA of 4.50 in 18 innings pitched, again, nothing special. That is, until you look at his underlying numbers. Firstly, his FIP in Low A was  2.91, even with a ground ball percentage of 50% (keeping the previous article in mind). Why? Well, this is largely due to a K/9 of
18.50
. In Low A, he had 37 strikeouts in 18 innings.
Matched with his K/9, he had a high BB/9 of 7.50, or 15 walks in those 18 innings, by far his worst BB/9 at any level. Furthermore, at 21, he was around the average age for the pitcher and was facing younger players. The onus was on Hernandez to continue his success at the higher levels.
The 5'10 right-hander made his High A debut on June 9th after a successful spell in Dunedin. In Vancouver, he pitched 28.2 innings where he posted a 1.88 ERA, the lowest in his career. His FIP only increased to 2.97, not an incredibly high jump. Furthermore, Hernandez's K/9 decreased significantly, to 13.81, which is still very high. Not to mention he was facing much tougher competition. Interestingly, he posted a BB/9 of 2.51, by far the lowest at any level. This warranted a second promotion.
Double A:
In New Hampshire, Hernandez put together his best stretch of work in 2021. In 15.2 innings pitched, he posted an 2.30 ERA with a K/9 jumping back to
15.51
against the toughest competition he has faced. His FIP sat at 3.45, but I think it's important to clarify why this was the case.
Now, I'm not a huge fan of expected statistics after the season ends, but I think it's useful in this case. His xFIP in New Hampshire sits at 2.69, which is a huge difference from his 3.45 FIP.
Why is this the case? Well, the then 21-year-old's Home Run to Fly Ball Ratio (HR/FB) was an elevated 22.2%. Over the season, this is incredibly unsustainable, considering the fact that his 11.1% HR/FB in Low A was the highest in his career. Over time, his FIP would have normalized to around where his xFIP was.
The thing is, it's not like Hernandez is giving up a ton of home runs either. In his 62.1 innings pitched in 2021, he only allowed five home runs for an HR/9 of 0.73. His 2021 HR/FB was at a much better 11.63%, albeit it is still considered poor according to Fangraphs.
What the scouts say:
I've written nearly 700 words without mentioning
why
Hernandez has had his success. Quite frankly it's due to one reason: An absolutely disgusting change up. Here are a few videos featuring his change-up.
In fact, his devastating changeup is his primary pitch as he throws it over 50% of the time and quite frankly, you can see why. Both Fangraphs and MLB Pipeline liken him to Cesar Valdez, who also has a pretty nasty changeup, but induces ground balls rather than strikeouts. Below are his grades according to MLB Pipeline's 2021 midseason report.
| | |
| --- | --- |
| Pitch | Value (scale of 20-80) |
| Fastball | 50 |
| Curveball | 45 |
| Changeup | 65 |
| Control | 45 |
TSN's Scott Mitchell reckons that his changeup is a 70 grade, a grade which is hard to come by for any tool. However, while his changeup sits low-80s, his fastball only sits low 90s. This could become a larger issue as he progresses through the major leagues. One thing is certain though, that changeup is already good enough for the major leagues.
Hernandez in 2022:
2022 will be a big test for the young pitcher as it's likely that Hernandez will start the minor league season in Double A. However, it's possible and even likely that we at least see him in Triple A and maybe even in the Blue Jays bullpen.
The key for Hernandez is to improve his control and add a little bit more velocity to his fastball. If he can do that, he'll be a major leaguer in no time.
Previously…
As always, you can follow me on Twitter @Brennan_L_D. The Jays 13th best prospect may be someone you've never heard of, so take a guess who it is in the comments below.