Pre-2022 Blue Jays Top Prospects Countdown – No. 15: Kyle Johnston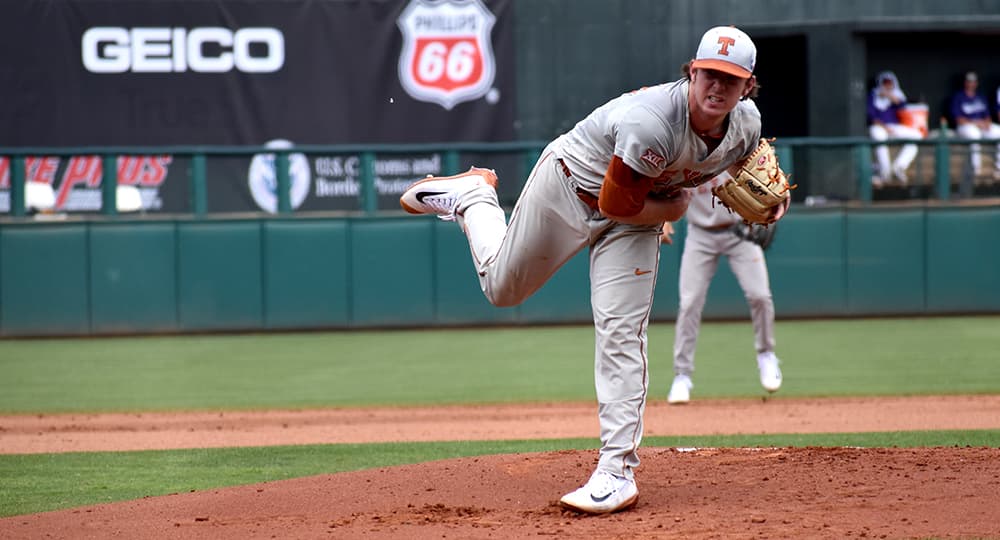 I think that the Blue Jays' 15th best prospect may come as a shock to quite a few people. When looking at Kyle Johnston's career pitching numbers in the minor leagues, nothing stands out, that is, until we take a deep dive into his 2021 performance.
The 25-year-old right-handed pitcher was drafted in the sixth round of the 2017 draft. However, Johnston is the first prospect on this list that was acquired through a trade. On July 31st, 2019, the Jays traded Daniel Hudson to the Washington Nationals in exchange for prospect Kyle Johnston.
This is one of those baseball trades that worked for both teams, the Nationals got the player who recorded the last out of the 2019 World Series and the Jays received a pretty good prospect in return.
It didn't always look that way, as Johnston looked like a project throughout his minor league tenure before 2021. He never had an ERA below 3.42 at any level, his K/9 usually sits around the 7 K/9 mark and his FIP has never been particularly good. So what makes Johnston my 15th best Blue Jays prospect.
Johnston's 2021:
Johnston absolutely dominated 2021, well, not a first. In Double A, he pitched 51.2 innings, registering a 1.74 ERA, 4.06 FIP, with a K/9 of 7.14 and a BB/9 of 4.53 (we'll get to this). Not particularly great, but he got the promotion to Triple A in mid-August.
In Triple A, he pitched 17.1 innings and posted a 1.04 ERA with a 3.54 FIP. Furthermore, his K/9 increased to 7.27 while his BB/9 drastically decreased to 1.56, facing much tougher competition. While 17.1 innings pitched doesn't sound like a lot, keep in mind that Johnston is a reliever.
Speaking of which, in his first 40.1 innings pitched in Double A, Johnston was used as a starter/long man. He played 11 games during that time, where he had a 2.01 ERA with 21 of his 26 walks in Double A coming during that stretch for a BB/9 of 4.69. His role changed to that of a short inning reliever on July 7th.
In the following 24 games in the season, primarily as a high leverage pitcher, Johnston posted a 0.94 ERA with 28.2 innings pitched. He only walked eight batters for a BB/9 of 2.5, a drastic decrease from the first half of the season.
There's also a reason for his elevated FIP in both Double A and Triple A. Fielder Independent Pitching is a great stat, but it
heavily
favours strikeout artists. Johnston is not that pitcher. That isn't a bad thing though, as the 25-year-old righty had a ground ball percentage of 48.3% in Double A and 55.6% in Triple A.
If you ask any front office, they'll tell you they want a strikeout artist, but a ground ball pitcher is easily the next best thing. Firstly, it saves the pitcher's arm as they throw fewer pitches. Secondly, the chances of a home run drastically decrease. Especially in the case of Johnston, as he has never had a HR/FB (how many fly balls go for homers) over 8.7%, which came in only 19.2 innings pitched.
What the scouts say about him:
Unfortunately, the 25-year-old has gone under the radar since being traded to the Jays, meaning that much of this section relies on his 2019 scouting report.
Dating back to MLB Pipeline's 2019 report on the pitcher, his fastball sits in the low-mid 90s which creates soft contact. Furthermore, they consider his slider to be a cutter, which again creates soft contact. Both these pitchers are considered plus pitches as both grades for these pitches sit at 60.
Both Pipeline and Baseball America note his lack of control, which improved after his move to full-time short relief.
Johnston in 2022:
Kyle is Rule 5 eligible, meaning that if the Rule 5 draft does happen after the lockout, it's possible that the Jays lose him. Regardless, the 25-year-old is looking to build off his impressive second half of the 2021 season.
If he can continue his success in the bullpen, it is possible that he gets added to the 40-man roster and pitches for the Jays as early as 2022. Johnston is definitely an interesting prospect to watch this upcoming season.
Previously…
As always, you can follow me on Twitter @Brennan_L_D. This article may be the biggest shock to you in this entire series, but who knows. Take a guess who prospect #14 is in the comments below!