Pre-2022 Blue Jays Top Prospects Countdown – No. 19: Vinny Capra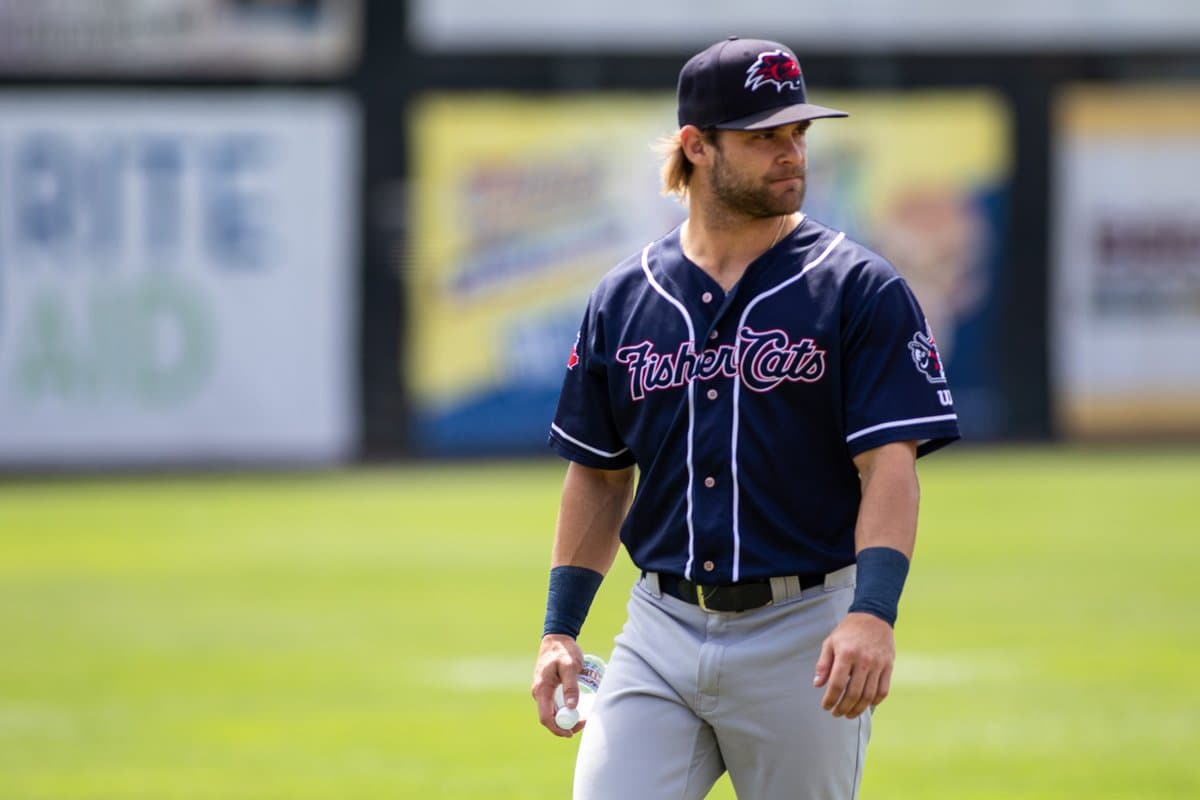 Photo credit:Kyle Mace
In what could be seen as the first "off the board" pick for my prospect list, the #19 best Blue Jay prospect is Vinny Capra.
The Jays may have a late blooming prospect on their hands. The utility infielder who mainly played third base, had a successful college career, but with a shaky start to his professional career, many thought of him as a non-prospect.
However, 2021 was a breakout season for the 25-year-old.
Capra's college years:
Chosen in the 20th round of the 2018 draft, the 25-year-old utility infielder signed for a bonus of a measly $1,000. The college drafted player had a successful college career playing for the Richmond Spiders as he slashed .356/.420/.908 with four home runs in 243 plate appearances.
Capra followed up his freshman season with a solid sophomore season, where he posted a .327/.435/.920 slash line in 248 plate appearances, including five home runs. In his two college seasons, the utility infielder struck out 54 times in a combined 491 plate appearances, for a K% of 11%. His walk rate in college was a slightly better 11.4%.
You could see why the Blue Jays took a shot on Capra, as he had impressive college numbers.
A tough start to his pro career:
Capra started his professional career with the Short A Vancouver Canadians, where he slashed .235/.344/.715 with two home runs. His strikeout rate inflated to 20.2% in his 163 plate appearances with the team, his highest until 2021. Until 2021, his wRC+ of 103 in Vancouver was the highest in his career. He added eight stolen bases in ten attempts in his time in Short A.
Still in 2018, Capra earned a promotion to the A level, Lansing Lugnuts (when that used to exist). In 103 plate appearances, Capra slashed .266/.324/.675 with a K% of 18.4% and no home runs. He also added a single stolen base after his promotion.
After his first professional season in 2018, Capra posted a total slash line of .248/.336/.699 in 266 plate appearances across two different minor league levels (Short Season A and Single A). He added two home runs, nine stolen bases (in 10 attempts) and had a K% of 19.33%.
Double A in 2019 wasn't much kinder to Capra, as he slashed .229/.295/.605 with three home runs in 435 plate appearances as a 23-year-old. Furthermore, he has a K% of 19.1% and a walk rate of 7.6%, the lowest of his career. He also added 15 stolen bases in 19 attempts. 
While this is what you may expect from a 20th round pick, Capra had not been able to translate college success into professional success… yet.
A change in the 2021 season:
From the statistics I have mentioned, it may seem bold to place a 25-year-old who has spent the majority of his professional career in Double A. Coming into the 2021 season, Capra had only five home runs in 701 professional plate appearances. He had also never had a batting average over .266 in any level, and even that was in only 103 plate appearances. Everything changed in 2021.
Coming into his age 25 season for the New Hampshire Fisher Cats, Capra slashed .327/.396/.945 in a total of 282 plate appearances, by far his best season to date. While his hitting improved drastically, so too did his home run numbers, as he posted 10 home runs, which doubled his professional career amount.
However, with those numbers come caveats. For example, his K% in 2021 ballooned to 26.2%, which eclipsed his career high K% of 20.2% set in 2018 in Short Season A ball. Capra also stole fewer bases in 2021. Prior to 2021, he stole 24 bases on 30 attempts, but in 2021, he only stole four bases in five attempts.
Another fact to note is that for the majority of the season, Capra was 25 as his birthday is only July 7th. While he was the average age for the level, the onus is on Capra to prove that he can do it at the next level.
Capra's 2022 season:
So where will Capra start his 2022 season? It's safe to say that his numbers in 2021 deserve a promotion to Triple A. In fact, the 25-year-old was actually promoted to Triple A in 2022, where he slashed .000/.200/.200 in only 11 plate appearances. That sounds awful, but it's important to note that he played sporadically during his time in Buffalo.
Vinny is eligible for the Rule 5 draft as he is not on the 40-man roster, meaning this could be a moot point for the Jays if he is to be chosen by a different MLB team. However, Capra finally tapped into what he showed in college and is a rising prospect in the Blue Jays system.
Previously…
No. 20: Zach Logue
As always, you can give me a follow on Twitter @Brennan_L_D. Take a guess who the #18 prospect will be in the comment section below.