Pre-2022 Blue Jays Top Prospects Countdown – No. 7: Leonardo Jimenez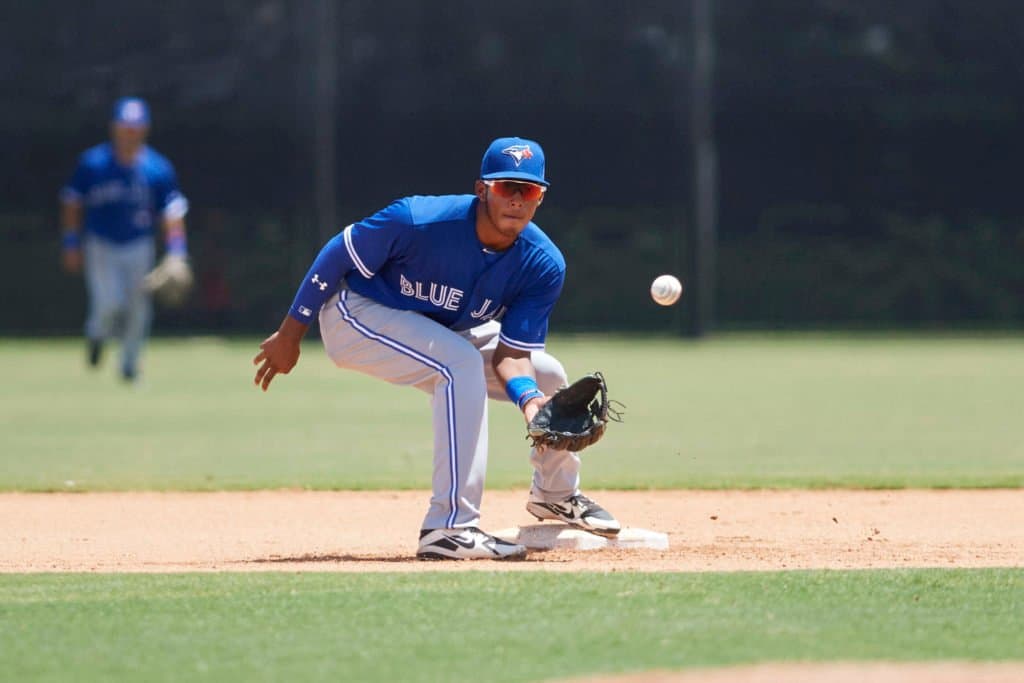 Photo credit:Mike Janes, Associated Press
Despite playing in Low A, his highest level to date, Leo Jimenez was added to the Blue Jays 40-man roster. For good reason. The 20-year-old is one of their most enticing infield prospects as his bat and glove are pretty darn good.
Background:
Of course, we'll start with his background. Jimenez was signed for $825,000 during the 2017 International Free Agency period from Panama.
In his first professional season in 2018, the then 17-year-old slashed .250/.333/.674 without a home run in 150 plate appearances. However, there were signs that the young shortstop had potential, as he walked 10.7% while only striking out 11.3% of the time. Two solid percentages for a 17-year-old already playing in the States.
In 2019, the then 18-year-old slashed .298/.377/.754 in 245 plate appearances, an improvement at the same level he had played a season prior. However, with an increase in batting average, his K% also rose to 17.1% while his BB% decreased to 8.6%. Leo also failed to register a home run in 2019.
Then came the global pandemic, which meant that Jimenez and every other minor league didn't get to play a 2020 minor league season due to the cancellation. 
With all these numbers in mind, why does Leo Jimenez rank so high?
Jimenez's 2021:
This is probably the craziest statistic in this series, even more so than Kendry Rojas pitching more innings than pitches called for balls. In 242 plate appearances, the 20-year-old slashed .315/.517/.897 in Low A. Read that slash line again, did anything stand out?. Yes, Leo Jimenez got on base more than 50% of the time in Low A.
I've said in this series that one thing I look for in a young player is their ability to see the zone. If a player has a BB% higher than their K%, even by the slightest amount, it's incredibly impressive. Jimenez had a BB% of 21.1%, which is already incredible. Once you factor in his K% of 14.5%, you have a once in a generation prospect, in terms of his eye at the plate.
Let's compare him to Cavan Biggio, who arguably has the best eye at the plate for the Jays. His best K%/BB% season came in his age 24 season in Triple A. In 174 plate appearances, Biggio posted a 19.5% BB% and a 16.1% K%. Granted, this was against much tougher pitching, but Cavan was also much further along in his development.
What else did Jimenez do that was impressive? Well, he also hit .315, a rather good average for a 20-year-old. The reason I believe he hit for such a high average is due to his high line drive percentage, which sat at 25.2% in 2021. In the Espino article, I went over why LD% is so important, so let's contrast it with his two other seasons. In 2019, his LD% was 26.9% and Leo had a .298 average. In 2018, Jimenez's LD% was 16.1%, the lowest of his career, and he posted a .250 average, also the lowest of his career.
Jimenez also hit his first professional homer in 2021, so there's that as well!
What the scouts say about him:
Per MLB Pipeline, the 5'11, 160 pounder has room to grow more into his frame. In turn, that has the potential to increase his power tool, resulting in more home runs. Baseball America goes as far as to say that some scouts believe a different approach could help generate that power. This sentence on Fangraphs' scouting report is incredibly interesting:
"We buy that Jimenez is at least going to become an important big league cog, but his hit tool might be so special that he sneaks up on everyone and seizes hold of an everyday job."
-Fangraphs
His hit tool is attributed to his eye at the plate and his ability to make contact. He also has the ability to get on top of high fastballs, a common putout pitch for pitchers. This isn't mentioning his ability defensively, as he's an incredibly smart fielder who makes fluid motions with his strong arm. Below are his grades according to the three different rankings.
| | | | |
| --- | --- | --- | --- |
| Tool | MLB Pipeline  | Baseball America | Fangraphs PV (FV) |
| Hit | 60 | 50 | 55 (70) |
| Run | 55 | 45 | 50 |
| Arm | 55 | 50 | 55 |
| Field | 55 | 50 | 40 (50) |
| Overall  | 50 | 45 | 45 |