Pre-Series Notes: Kikuchi returns and the Tigers audition bullpen arms ahead of the August 2nd trade deadline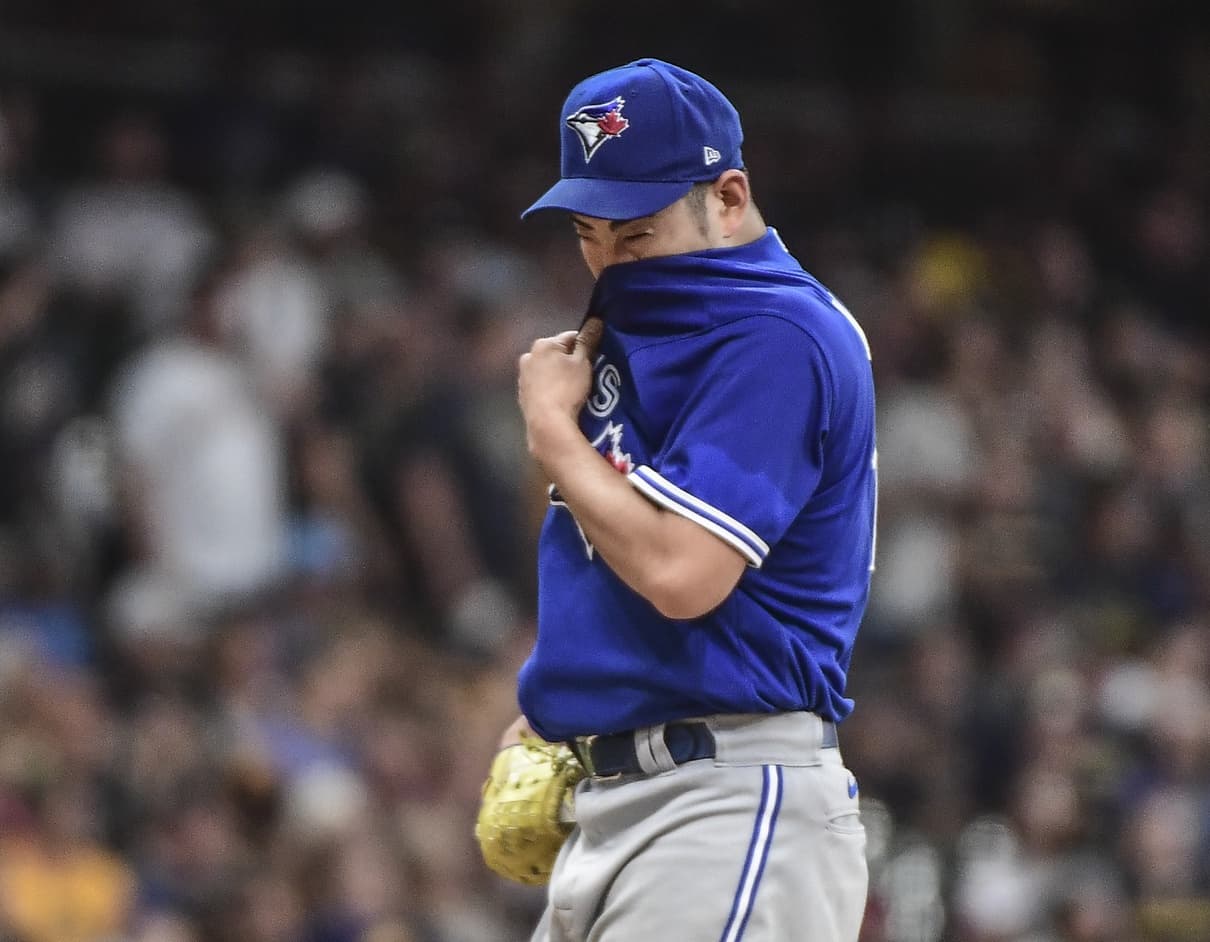 Photo credit:© Benny Sieu-USA TODAY Sports
The Blue Jays seven game win streak came to an end yesterday with a 6-1 loss to Albert Pujols, Adam Wainwright and the St. Louis Cardinals. After receiving his second standing ovation from the Toronto crowd in the series, Pujols proceeded to go 3-4 including a three-run shot in the fifth inning to break the game open.
His fellow future Hall of Fame teammate Adam Wainwright turned back the clock as well throwing seven innings of one-run ball while striking out eight. In what will likely be the final major league game either plays in Canada, they made sure to put on a show.
The Jays' attention now turns to the Detroit Tigers as their homestand continues with a four-game set tonight. Back in June, the Jays took two of three from the Tigers in Detroit while outscoring them 17-4. Ross Stripling and Jose Berrios twirled gems in the series and both will get the ball again this time around.
Things Worth Mentioning…
At 40-59 on the season, the Tigers will definitely be sellers at the upcoming August 2nd trade deadline. One thing to keep an eye on during this series will be Detroit's bullpen. Despite posting a bottom three record in the American League thus far, their bullpen is collectively one of the league's best.
Two names to watch out for include Michael Fulmer and Gregory Soto. Both of these guys could be great adds to a Blue Jays team that desperately needs a couple more high-leverage arms.
One player we won't see in this series is LHP Andrew Chafin. Chafin has been added to the restricted list and did not make the trip to Toronto due to his vaccination status.
It is worth noting that Chafin has stated he will consider getting vaccinated if he is to be traded to a team that will have to play meaningful games in Canada down the road.
Yusei Kikuchi returns to the starting rotation tonight.
Kikuchi hasn't made a Major League start since July 5th in Oakland and hasn't gone longer than four innings since June 3rd. However, he did look great in a Triple-A start for the Buffalo Bisons on July 22nd.
His performance tonight could have a major impact on what the Blue Jays do at the trade deadline.
The head-to-head…
Yusei Kikuchi vs Tyler Alexander
Kikuchi returns from the 15-day IL tonight and will look to build off his performance in Buffalo last week. He has shown some promise this season but his inconsistency locating his fastball has been a major concern. With 41 walks and 14 home runs allowed in just 65 innings of work, Kikuchi has been completely unreliable.
His 10.2 K/9 ratio proves he still has major league stuff but without the ability to locate it, he isn't able to keep hitters off balance. If he can start throwing more strikes and keep his fastball on the corners, he could still be a productive starter for the Blue Jays in the second half. If he can't do that, the management team needs to seriously consider adding another starter this week.
Alexander has split time between the bullpen and rotation this season with his last start coming on June 14th against the Chicago White Sox. In his four starts this season, the furthest he has gone into a game was 3.2 innings in Colorado on April 24th where he gave up five runs on eight hits.
In 33.1 innings in the majors this year, Alexander has posted a 4.05 ERA and 1.29 WHIP with only 18 strikeouts.
Alek Manoah vs. Bryan Garcia
After not winning a game for nearly a month from June 24th to July 15th, Manoah is back on track with wins in his last two starts. In these two wins, Manoah has thrown a combined 13 innings allowing just two runs while striking out 13 and walking zero.
Unquestionably the Blue Jays most dominant pitcher this season, Manoah's 11 wins are second in the American League, his 0.97 WHIP is third and his 2.24 ERA is fourth. Shane McClanahan of the Tampa Bay Rays is the betting favourite for the American League Cy Young award but with a strong second half, Manoah could make a push.
Garcia has not pitched in the majors this season but has been impressive in Triple-A for the the Toledo Mud Hens. In 40.1 innings in Triple-A this season, he has an ERA of just 2.90. One area he has struggled in is his walk rate. His 4.9 BB/9 rate is likely the reason he hasn't seen the majors this year. This matchup against a Blue Jays team who has been seeing the ball very well lately could make for a short outing for Garcia.
Ross Stripling vs. Drew Hutchinson
At times used as a utility man out of the bullpen, Stripling has been a staple in the rotation since June 6th. His last start against the Tigers came on June 12th in Detroit where he threw six innings of one-hit shutout ball to earn one of his five wins this season.
Stripling's 3.10 ERA and 1.10 WHIP rank second amongst Blue Jays starters ahead of both Kevin Gausman and Jose Berrios. Friday will be his 15th start on the season, pretty good for a guy who wasn't expected to be in the rotation for any significant length of time.
Once a promising up and coming pitcher for the Blue Jays, Hutchinson's career hasn't panned out as expected. 71 of his 87 career starts came for the Blue Jays between 2012 and 2015.
This season, Hutchinson has thrown 44.2 innings for the Tigers including six starts. Over his last two starts, he has allowed eight runs on 12 hits and four walks over 9.1 innings.
Jose Berrios vs. Garrett Hill
Berrios has struggled with consistency this season but hasn't hurt the team as much as some of his stats would suggest. July has been better for him as he has gone at least five innings in all five of his starts. In July he has thrown a combined 28.2 innings and allowed 11 runs. While these numbers are not elite, they are serviceable.
Berrios' main issue this season has been the home run ball. With 21 home runs allowed in 20 games started, he is on pace to surpass his career high of 26 which came in 32 starts for the Minnesota Twins in 2019. Despite his issues allowing home runs, Berrios has still managed to post a winning record of 7-4 and hasn't lost a game since June 26 in Milwaukee.
Garrett Hill has split time between Double-A, Triple-A and the MLB this season. In his 15 minor league starts he has recorded an ERA of 3.23 and WHIP of 1.08 while posting an elite strikeout rate of 12.7 per nine innings.
Since being called up and making his MLB debut on July 4th, Hill has went 1-2 and pitched at least five innings in all four of his starts. Although he has pitched somewhat deep into games, his stuff hasn't quite translated to the MLB. So far in his MLB career he has an ERA of 5.57 and his strikeout rate has dipped to just 4.3 per nine innings.
---