Pre-Series Notes: Vladdy vs. Ohtani, Cavan Biggio joins the Taxi Squad, and more!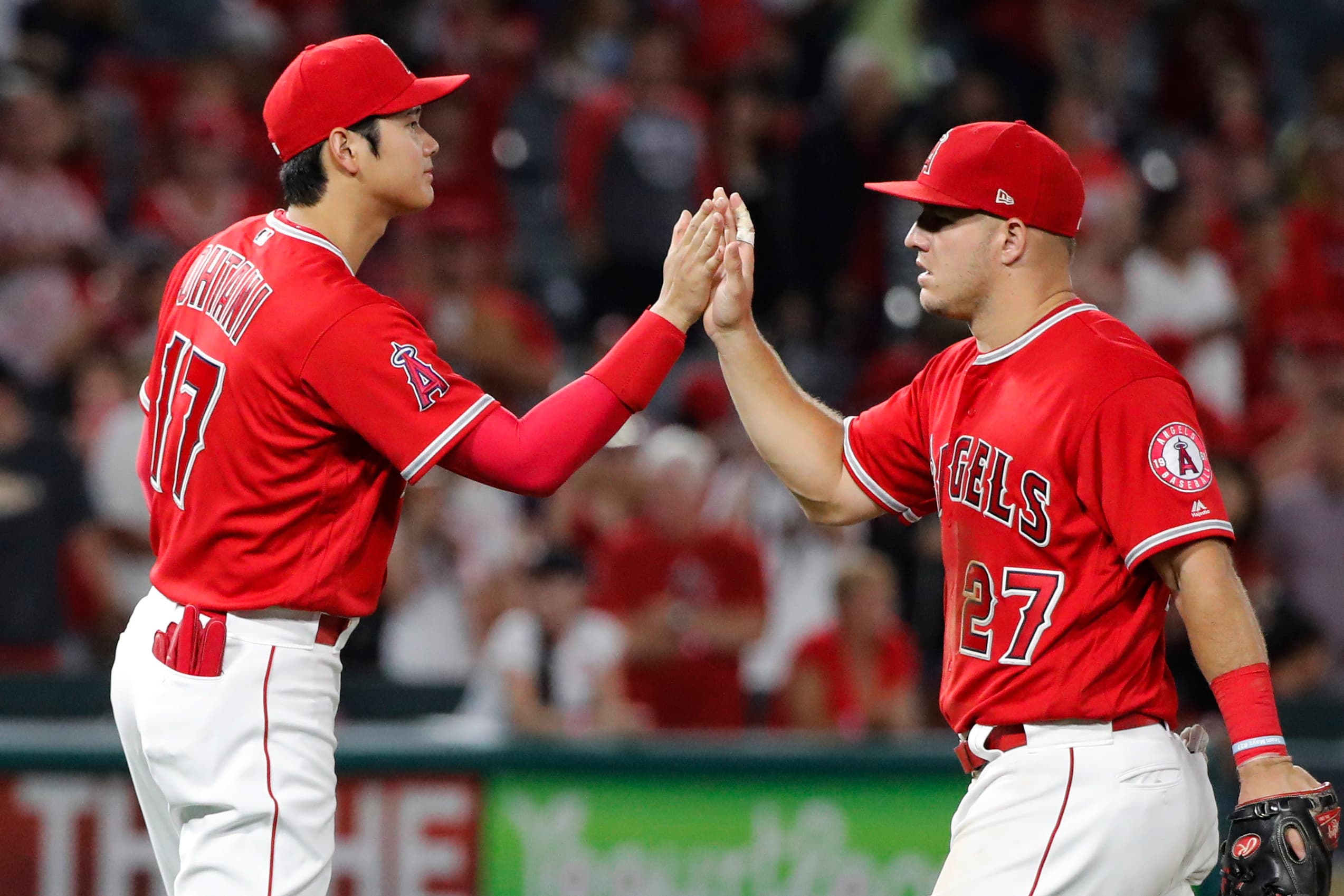 Photo credit:AP
We've got ourselves a star-studded series coming up this weekend.
The Blue Jays are in Anaheim to face the Angels and the series will get kicked off on Friday with Shohei Ohtani, last year's American League MVP, taking the mound against last year's AL MVP runner-up, Vladimir Guerrero Jr.
Also, if you're looking to watch the Friday game on TV like normal, you won't be able to, as it's being streamed exclusively on Apple TV as part of their Friday Night Baseball package.
Ohtani is having a bit of a down year with the bat compared to what he did last year, but the team is being led by Mike Trout, who's back to being Mike Trout after an injury-riddled 2021 season. The best hitter on the team, oddly enough, isn't Ohtani or Trout, it's *checks notes* … Taylor Ward?
Through 30 games this year, Ward has slashed an absurd .270/.481/.713 line, as his slugging percentage is higher than the OPS of .693 he had in 159 games coming into this season.
The Angels are among the best teams offensively, as they rank fifth in baseball in runs per game, but the thing that's different about this team than in previous years is the fact they've been getting good pitching, as they rank just ahead of the Blue Jays with a 3.45 team ERA.
After a blazing start to the season, the Angels have cooled off a bit, as they've gone 6-6 in their last 12 games, which were played exclusively against the Oakland A's and Texas Rangers. They're 27-18 on the season, two games back of the Houston Astros in the AL West.
Worth mentioning…
Jeff Blair and Kevin Barker talked to Buffalo Bisons' manager Casey Candaele about Cavan Biggio on Thursday about whether he might be back up with the big league club soon…
Biggio went on the COVID-IL back in late April and was optioned to Triple-A after that. Since then, Biggio has appeared in 13 games for the Bisons, a handful of which have been played in the outfield, and he's gone 8-for-29 with 10 walks compared to six strikeouts.
Though he hasn't hit for any power in Triple-A, it's encouraging to see Biggio with very good on-base numbers. He has a .462 OBP through 39 plate appearances, which is much better than the .289 OBP he put up in 90 plate appearances with the Bisons back in 2021.
A big issue for the Blue Jays' offence is how one-dimensional their lineup is, as the majority of their lineup is right-handed hitters. The two left-handed hitters left on their roster after Zach Collins got sent down as Raimel Tapia and Bradley Zimmer, both of whom are very swing-happy, as they have a 27-to-6 and 20-to-1 strikeout to walk rate respectively.
Biggio is with the team currently as they're allowed to take five players from Triple-A with them on the road. It wouldn't be surprising to see him back on the roster soon.
In other news, the Blue Jays have added a veteran relief pitcher on a minor-league deal…
The head-to-head…
Hyun Jin Ryu vs. Shohei Ohtani 
It'll be Ohtani kicking things off for the Angels on Friday. He's been better as a pitcher this season than as a hitter, as the 2021 MVP has a 2.82 ERA and is striking out 12.4 batters per nine over his first seven starts. Save for an ugly six-run outing in his second start of the season against the Rangers, Ohtani hasn't allowed more than two runs in a single start this season. As Rob Wong pointed out, also holding righty hitters to a .113/.149/.155 line this year, so the Blue Jays will need a big showing from the likes of Raimel Tapia and Bradley Zimmer.
Going for the Blue Jays will be Hyun Jin Ryu, who's been excellent since coming off of the Injured List with Left Arm Shittyness. Ryu allowed just one run over four-and-two-thirds against the Rays and then shut out the Reds over six innings, giving him a 0.84 in the month of May. The Angels feature a stronger lineup than both of those teams, so this will be a test to see if Ryu is truly back or not. He hasn't faced the Angels since 2019 when he was a member of the Dodgers.
Alek Manoah vs. Chase Silseth
Friday's game will feature a pair of young arms who made it through the minors very quickly.
Starting for the Blue Jays is Alek Manoah, who's coming off of his best start of the season thus far, an eight-inning masterclass against the Reds. Manoah faced the Angels once last year and allowed two earned runs over six-and-two-thirds innings.
The Angels will send out Chase Silseth for the third start of his big league career. Drafted in 2021, Silseth made just eight appearances in the minors before getting called up a couple of weeks ago. In his first outing, he shut out the A's over six innings, and then Oakland got to him a bit in his second outing, as he allowed three runs over four-and-one-third innings.
Yusei Kikuchi vs. Michael Lorenzen 
Michael Lorenzon, Saturday's starter, has been a very good under-the-radar addition for the Angels. He was mostly used as a reliever in Cincinnati and signed a one-year deal with the Angels worth $6.75 million in the offseason to see if he could hack it as a starter. So far so good, as Lorenzon has a 3.05 ERA across seven starts.
Toronto's starter on Saturday is one that the Angels know well, as Yusei Kikuchi spent the first three seasons of his Major League career in the AL West with the Mariners. Kikuchi has struggled mightily against the Angels, as he has a 10.92 ERA against them over seven starts. That said, these all came before he worked with Pete Walker.
Jose Berrios vs. Patrick Sandoval 
The Blue Jays will send out Jose Berrios in the finale. After an up-and-down start to the season, Berrios seems to have settled down as of late, as he shut out and Angels over seven innings and then allowed three runs over six-and-one-third innings to the Cardinals. Berrios' last-ever start for the Minnesota Twins came against the Angels. He tossed seven scoreless frames and struck out 11.
Opposing Berrios will be Patrick Sandoval, a young lefty who's putting together a breakout season. Sandoval has a 1.79 ERA over seven starts this season and hasn't allowed a single home run yet. Sandoval hasn't faced the Blue Jays yet in his big league career.
---