Premium Defenders: Bo Bichette's bat is so important, he only needs to be average defensively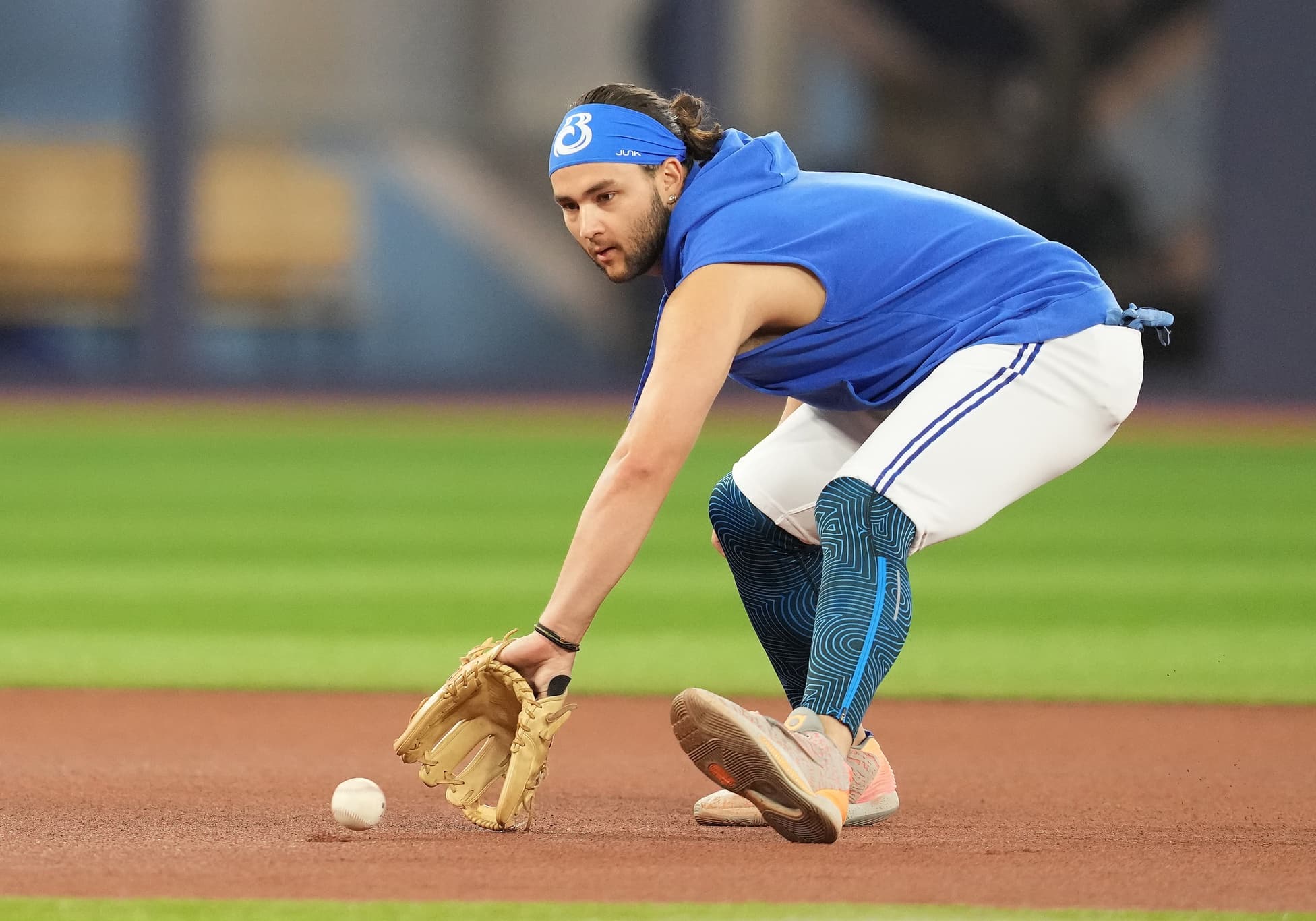 Photo credit:© Nick Turchiaro-USA TODAY Sports
With the news that Bo Bichette will return to the Blue Jays, let's look at how he's done defensively in the final installment of Premium Defenders.
We all know Bo Bichette is one of the best hitters in the major leagues. This season, he's slashing .321/.352/.494 with 17 homers in 471 plate appearances for a 135 wRC+. Despite missing all of August up to this point, he leads the American League in hits with 144, only trailing Luis Arráez, Ronald Acuña Jr., and Freddie Freeman. Bichette's impact with the bat at a premium position can't be understated, but how has he been defensively this season?
Bo Bichette's defence…
Bichette hasn't been good defensively this season, but he also hasn't been bad. Last season was by far his worst defensive season to date, posting a -16 Defensive Runs Saved and a -7 Outs Above Average, both career lows. He also committed 23 errors, one less than he did in 2021.
This season, he's been much better. His DRS sits at 1, below his career high of 5 in his rookie season, but still average. His -5 OAA is still pretty bad, but he's only had one season over a 0 OAA, and that was in 217 innings fielded back in 2020.
What's more noticeable is that the 25-year-old has done a great job of cleaning up the errors. After committing 47 errors in 2021 and 2022, Bichette has only committed eight errors in 907.2 innings fielded. His .975 fielding percentage is the best of his career, surpassing his .957 mark in 2021 and .958 mark in 2022.
Another noticeable improvement is his Ultimate Zone Rating, which looks at range, errors, and double plays. He has a RngR of 2.3, the highest mark in his career. Furthermore, his ErrR sits at 1.7, which is also the highest mark in his career. This gives him an UZR of 3.5 which as you guessed, is the highest in his career.
What has changed…
Unlike for Alejandro Kirk and Kevin Kiermaier, there aren't any Baseball Savant metrics geared toward shortstops or infielders. The only metric that applies to Bichette is arm strength, which he throws at an average of 82.4 mph. This is actually below average for a shortstop, who averages 86.2 mph on throws to first. In terms of his arm, he's closer to the average for a second baseman (80.1 mph).
So that begs the question, what has helped Bichette defensively this season? It appears that his inner clock has improved, as he tends to take his time and throws the runner out at first. At points in the last two seasons, this wasn't always the case, as he'd rush his throws and give the first baseman a bad one.
Another aspect which I think he's improved is his decision-making. How many times in the past two seasons did he make a throwing error on a play in which he had no shot to get the runner? Bichette hasn't really made those poor decisions in 2023.
So is Bichette a good defender..?
Bo Bichette is not a good defender, but he also hasn't been a bad defender in 2023. He may improve a bit as he gains more experience, but he likely won't ever win gold gloves.
However, he doesn't need to with his bat. The 25-year-old is one of the best hitters in the league, having the second most hits since 2021 while also hitting the third most home runs from shortstops in that period.
All the Blue Jays need from Bichette defensively is to play average defence, which he has in 2023.
Previously…
---
As always, you can follow me on Twitter, Instagram, and Threads @Brennan_L_D.
---