Premium Defenders: Kevin Kiermaier has brought his centre field Gold Glove to Toronto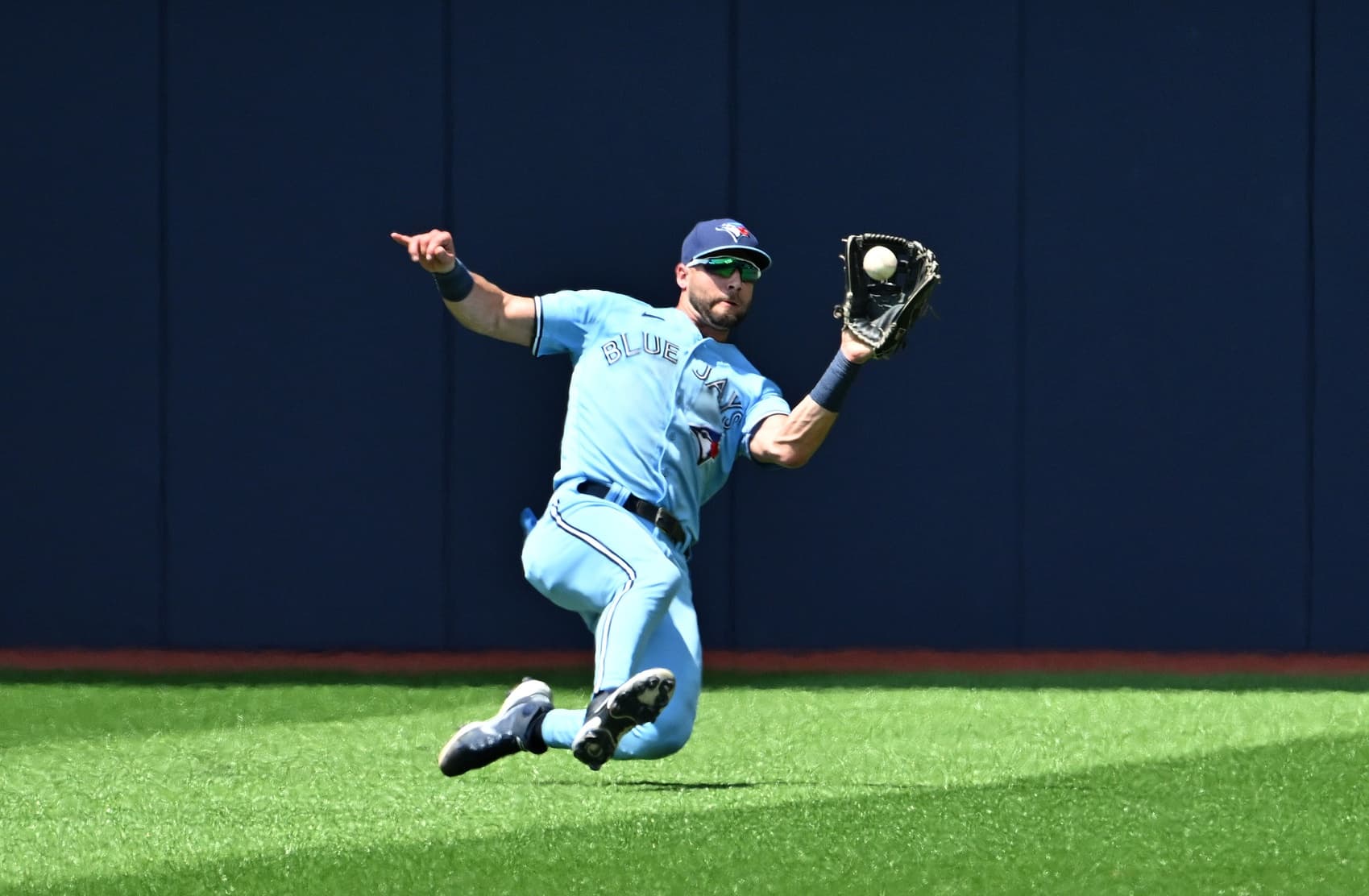 Photo credit:© Dan Hamilton-USA TODAY Sports
Where were you when it was announced that the Blue Jays would be signing Kevin Kiermaier?
Personally, I was in the dumbest drive-thru layout for my local McDonald's. I didn't think too much of it, as Kiermaier was coming off his worst defensive year with the Tampa Bay Rays, and was a below average hitter in 2022.
Like many, I assumed that he'd be a fourth outfielder and the Blue Jays would be looking to add a guy like Brandon Nimmo. Of course, that didn't happen, and for good reason. Let's look at Kiermaier's 2023 season with the Blue Jays.
The bat:
Of course, the title of this series is Premium Defenders, but it's worth mentioning that Kiermaier is having his best offensive season since the 2017.
So far in 2023, he's slashing .274/.336/.415 with five homers in 299 plate appearances. His walk rate is where you'd expect it to be at 7.4% (7.1% is his career average), while his K% sits at 21.4%.
His 109 wRC+ is the highest since he had a 113 wRC+ in 2017. During that season, he slashed .276/.338/.450 with 15 homers (a career-high) and a 7.4 BB% and a 23.5 K%. So the two seasons are pretty similar, say for less home runs.
Now on to the main course:
Last season was Kiermaier's worst defensive season by the metrics. Granted, he needed hip surgery for a few years, which he recieved in early August of 2022. Still, his 2 Defensive Runs Saved and his 1 Outs Above Average are quite a difference from his other numbers.
For context, Kiermaier had a 38 DRS in 1174.2 innings all the way back in 2015, when OAA didn't exist. His career-high in OAA is 18, which was achieved in 2019. For Kiermaier's career, he has a 147 DRS and a 77 OAA in 714.1 innings, so yeah, a 2 DRS and 1 OAA seems out of place.
This begs the question, how is Kiermaier doing this season? Well, he's rebounded fantastically, as he has a 13 DRS and an 8 OAA in 714.1 innings field in centre field.
Components of what makes Kiermaier so good:
First off, let's look at arm strength. Baseball Savant measures this stat by averaging out the top 10% of throws, with 50 throws to qualify. Kiermaier has an average arm strength of 93.2 mph, third amongst centre fielders and tenth for all outfielders.
Another key factor to what makes Kiermaier so good is his outfield jump. Components of jump comes down to reaction, the burst, and the route an outfielder takes. All together, this comprises three seconds. 
As you could imagine, Kiermaier has the best outfield jump with 3.4 feet vs average (the next highest is 2.9). The biggest reason for this is his 2.7 burst. It shouldn't be all too surprising that Kiermaier also covers the most distance, as he covers 37.7 feet, beating out Jake Meyers by 0.1
How does Kiermaier stack up against the rest of the competition?:
The best outfield defender in terms of Defensive Runs Saved is Kiermaier's 2024 replacement if he doesn't sign, Daulton Varsho, who has a 19 DRS. Interestingly enough, Varsho had the highest DRS (19) and OAA (18) in 2022 with the Diamondbacks, but his OAA only sits at 5 this season.
Kiermaier ranks fourth in DRS and fifth in OAA amongst all outfielders. Compared to other centre fielders with 700+ innings, his 13 DRS ranks first by a large margin (with a bunch of players putting up 4 DRS). In terms of OAA compared to other centre fielders, he ranks third behind Julio Rodríguez (11) and Luis Robert (10).
So why is Kiermaier so good defensively?:
The main reason why Kiermaier has been able to show off his defensive prowess is because he's stayed healthy. Up until Monday, the 33-year-old centre fielder avoided the injured list, only missing a handful of games in late June due to back spasms. In fact, the reason he's on the injured list is due to a "shit luck" sort of play while catching a ball, which required eight stitches.
On top of good health, it appears that his hip troubles are far behind him. He's one of the quickest defenders in the outfield, and he's shown off a great arm this season.
Add in an above-average bat, and you have a centre fielder who has a 1.8 Fangraphs WAR in just 299 plate appearances.
What a great signing, hopefully the can re-sign him.
---
As always, you can follow me on Twitter, Instagram, and Threads @Brennan_L_D.
---