Prospect Graham Spraker making strong push to crack the Blue Jays' 40-man roster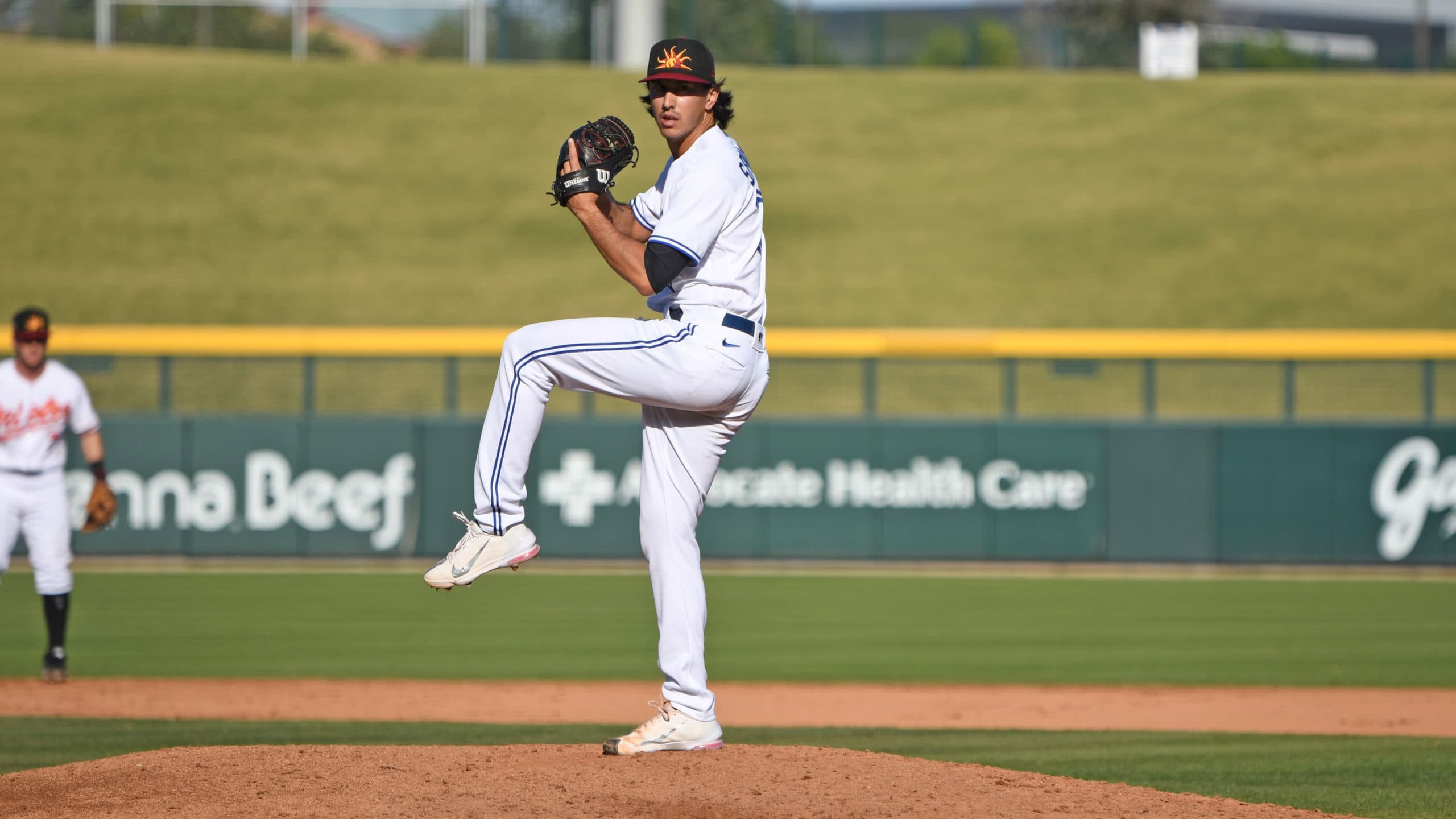 Year after year, every off-season usually brings some very intriguing 40-man roster decisions ahead of the annual Rule 5 Draft, and for the Toronto Blue Jays, this winter shouldn't be any different.
This time around, the deadline for all 30 teams to add Rule 5 eligible players to their respective 40-man rosters is scheduled for Nov. 19 (this Friday). As currently constructed, the Blue Jays feature seven open spots on their 40-man squad, although it's unlikely they'd fill all of those openings so early in the off-season.
Among numerous quality candidates, pitcher Graham Spraker is someone who's been generating plenty of buzz around himself over the last six months or so, likely inserting himself into this conversation. Though he isn't a highly-touted prospect, at least, not at the moment, the 26-year-old has made considerable progress in the last year and is seemingly knocking on the door of the major leagues.
Originally drafted out of the 31st round of the 2017 MLB Draft, Spraker came out of college as a starter, however, he split time between the starting rotation and the bullpen through his first few seasons of professional baseball. Unfortunately, the right-hander battled through inconsistencies during that span, struggling to develop his swing-and-miss skills.
Then in 2019, while playing for the Dunedin Blue Jays, the 6'3″ hurler further expanded on the idea of pitching out of the bullpen, making eight of his 24 appearances as a reliever. Despite posting an encouraging 2.90 ERA over 108 2/3 innings, he still couldn't enhance his strikeout ability and only recorded a measly 16.8% rate.
Making matters worse, the COVID-19 pandemic wiped out the 2020 minor league season and since Spraker didn't receive an invite to Toronto's alternate training site, he wasn't able to pitch professionally for the entire campaign – that's not ideal for any developing pitcher.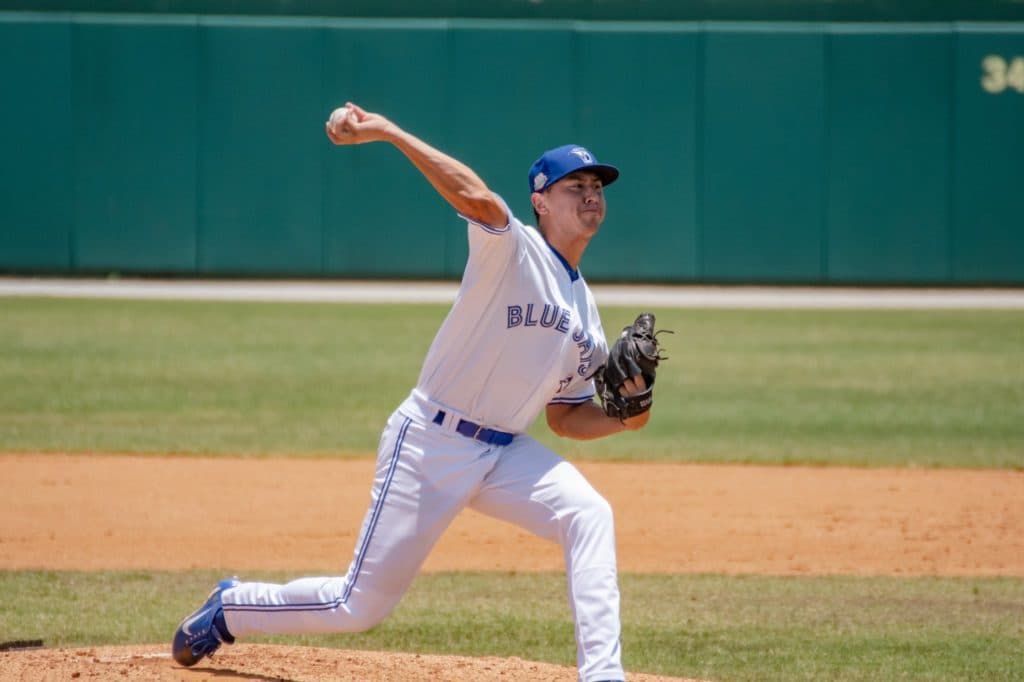 Credit: Dunedin Blue Jays
After working on his own for a full calendar year, Spraker returned to pro ball in 2021 and began his season at double-A with the New Hampshire Fisher Cats, although he was provided with a new role. Rather than bouncing back and forth between the rotation and the bullpen, he was strictly used as a reliever and made all 30 of his appearances in relief.
Initially, it was unclear as to how the Quincy product would perform as a full-time reliever, especially considering he didn't participate in any game action in 2020. Though he opened the season as a medium-to-low leverage option, it didn't take long for him to quickly rise up the depth chart, which saw him making up for lost time.
Emerging as one of the most reliable arms in the bullpen, Spraker ultimately earned himself a high-leverage role on New Hampshire's pitching staff, large in part due to his newfound ability to generate high amounts of swings and misses.
Unlike in previous seasons, with his workload limited to just an inning or two, the former starter didn't need to save any stamina for later innings and was able to impose his will on every single pitch. As a result, the velocity on his fastball increased a few tics, now averaging in the mid-90s, allowing him to overpower opposing hitters at the plate.
Paired with his 2.74 ERA and 3.89 FIP, this new gig helped Spraker record a career-best 34.6% strikeout rate – a 17.8 percent increase from '19 – over his 42 2/3 innings with the Fisher Cats. In turn, his 62 strikeouts finished tied for seventh-most in the Northeast Division among all relievers, according to
MiLB.com
.
Thanks to this breakout performance, the Arizona native put himself on the map and received an opportunity to continue his success into the fall, as he was one of six prospects from Toronto's organization to be named to the Arizona Fall League.
Joining the Mesa Solar Sox, Spraker has maintained his role as a high-leverage arm and has served as the club's primary closer, which has seen him finish seven games and register three saves over his 10 1/3 innings pitched. Adding to his resume, with only one week remaining, he still hasn't surrendered a single run and has struck out 16 batters while only walking two.
Not too shabby for someone who produced a disappointing 5.68 ERA, 4.94 FIP, 13 strikeouts, and six walks through 12.2 innings of work during his first tenure at the AFL back in 2019.
Putting his stellar results into perspective, Spraker has been one of the most effective hurlers in the desert thus far, as he's currently tied for the second-most saves and has produced the third-most strikeouts among all relievers in the AFL, according to
MLB.com
.
Earning plenty of recognition for his strong showing, the hard-throwing righty was named to the AFL's Fall Stars Game, joining teammates Gabriel Moreno and Spencer Horwitz in that honour. While he only threw for 1.0 inning, the former 31st-round selection certainly didn't disappoint as he retired the side in order to record the save.
Along with relying on his mid-90s fastball, which topped out at 96 mph in the Fall Stars Game, Spraker also possesses a serviceable mid-80s slider and an occasional changeup as well. That being said, for now, there's no question his electric heater is fully responsible for his recent emergence.
Considering it's transformed into a reliable swing-and-miss offering, there's a very good chance it could help punch the talented reliever's ticket to the majors as soon as 2022. With that in mind, leaving him unprotected from this year's Rule 5 Draft could prove to be extremely problematic for the Blue Jays, as he'd likely be a popular commodity across the majors.
Set to enter his age-27 season, based on his newly discovered success in the bullpen, odds are Spraker would be claimed by another organization if left off Toronto's 40-man roster this winter. Since this front office is currently in the market for reliable strikeout pitchers, it'd seem foolish to let one from within the farm system depart for nothing in return.
Even though the promising right-hander is far from a finished product, as this current version of himself, he could still provide plenty of upside to a bullpen that's already headlined by Jordan Romano, Tim Mayza, Adam Cimber, and Trevor Richards.
Given his lack of experience at the triple-A level, where he's totaled just 7 1/3 career innings, Spraker would surely begin the 2022 campaign with the Buffalo Bisons if he were to remain with the Blue Jays, of course. While that's likely where he'd open next season, if his impressive results were to continue, there's a pretty strong chance he'd rightfully earn a promotion to the majors at some point.
For an organization that's been successful at developing quality relievers lately, it seems like they may have found themselves another diamond in the ruff, but that may only come to fruition if they're willing to invest in him moving forward.