Prospect Profile: Damiano Palmegiani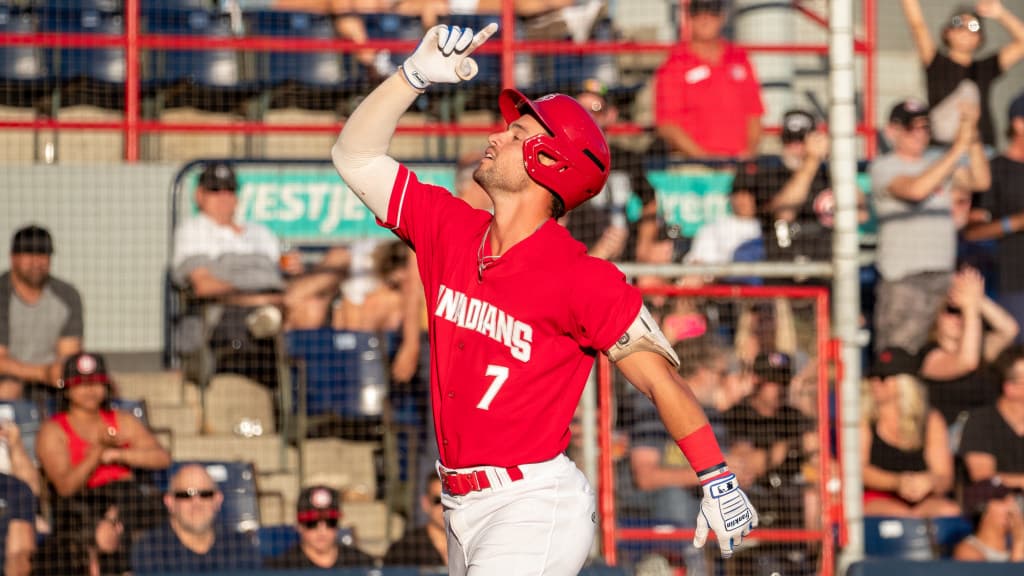 Photo credit:(Mark Steffens - Fotoguy)
Damiano Palmegiani is a prospect some may have never heard of, but you'll be hearing the name quite often soon enough.
Damiano Palmegiani may not rank on any prospects lists (yet), but he is certainly making a name for himself. Next to Orelvis Martinez, Palmegiani has the most home runs for a prospect. His wRC+ of 155 is the second highest amongst all Blue Jays minor league players.
This is to say come the mid season rearranging of the prospect lists, Palmegiani will get quite the boost. Let's dig into his background.
Background:
The 22-year-old was born in Caracas, Venezuela, but moved to Canada when he was five. He grew up in Surrey, British Columbia, before attending Vauxhall High School in Vauxhall, Alberta.
Palmegiani was drafted in the 35th round of the 2018 MLB draft, but elected to attend college, first at California State University, Northridge, before transferring over to College of Southern Nevada, a junior college.
Fast forward three years, and the Jays are once again interested in Palmegiani. Growing up in Canada meant that Palmegiani was a die hard Blue Jays fan, so when they drafted him the second time, he signed.
Palmegiani's pro career:
Palmegiani spent his first season with the Florida Complex League Jays. As a 21-year-old, he slashed .333/.458/.538 in 48 plate appearances. He added two homers and had a BB% of 14.6% and K% of 18.8% in his brief stint with the team. 
Although he was a little bit old for the team (he was a year older than the average position player), his wRC+ was an impressive 167.
Now 22-years-old, he started the 2022 season in Low A with the Dunedin Blue Jays. In 228 plate appearances, he posted a .256/.351/.508 slash line with 11 homers. He had a BB% of 17.6% and a K% of 20.6%, finishing his stint in Low A with a 144 wRC+.
On June 23rd, 2022, the 22-year-old third baseman was promoted to his hometown Vancouver Canadians. To say he has lit up the Northwest League is an understatement.
In 91 plate appearances, he is slashing .304/.451/.565 with four homers. Not just that, but the third baseman has a K% of 15.6% and a BB% of 17.6%, an incredibly impressive number. This has led to a fantastic wRC+ of 184, the highest in his career.
A few questions for Damiano Palmegiani:
Brennan:

"What was it like getting your name called by the only Canadian team, not once, but twice?"
Damiano:

"The first time the Jays drafted me, I felt like it was a once in a lifetime opportunity. Especially growing up as a die hard Blue Jays fan. I decided to attend college even though it was a difficult decision.

Three years later, I knew there were a handful of teams interested in drafting me in 2021. Seeing the Blue Jays in the mix again, I couldn't get the thought of them picking me out of my head. I wanted that second opportunity, and I still had that dream of playing at Rogers Centre.

It was an extremely special moment for me to see everything come full circle once they called my name again. What's most special about it is that the Jays have always been there in my life. As a fan growing up, as a senior in high school, and after three years of college. 

After all that time of the Jays being in my life, the team deserves the best of me."
Brennan:

"Where do you see your defensive home as you continue to progress through the minors?"

 

Damiano:

"I believe I have the natural athletic and reactionary ability to not only play third base moving up, but to become an elite defender there as I continue to improve the way that I have. 

That being said, I value versatility greatly and would be more than willing to work at any of the corner infield or outfield positions. My size and athleticism can allow me to move around well at any of those positions."

 

Brennan:

"When you step into the batters' box, what is the game plan?"

 

Damiano:

"I like being well prepared in the box for who I am facing, while keeping it simple. I don't need too much deep analytical information from the scouting report, but I will make sure I know what to expect.

Previous matchups are my best scouting report. Once I have my plan, physically all I want to do is keep my head still and my rhythm on time with the pitcher. I'll anticipate a good pitch to hit (within my approach) and take a good hard swing on it. 

It may sound simple, but this is what goes through my head."

 

Brennan:

"A lot of what I've heard about you is "growth". How have you felt that you've grown since becoming a pro?"

 

Damiano:

"I feel like I've grown immensely from my last year in college to now. I can credit a lot of growth to understanding what sort of routines allow me to play at my highest level. A lot of it is the 'boring' stuff that may get unnoticed by some. 

Going through my specific routine with my body to keep me healthy, infield hands work with a machine before batting practice, specific targeted tee and flips routines before hitting batting practice. All of these things have a purpose for me, and it has produced results in the long run, rather than in the immediate future.

I think what's most important about these routines is that they helped me grow mentally. There will always be another day and I cannot get too low or too high on myself because of yesterday's results.

As I get older, the better I am at letting go and moving on. The growth of 'letting it go and moving on' this season is something I am the most proud of."

 

Brennan:

"What do you feel is the next step in your development?"

 

Damiano:

"The next step in my development is to continue facing new challenges. The best way to improve is by competing with others who will make you better. I feel like the Jays have provided me with that opportunity.

Offensively, I think  the more I play pro ball, the more my swing will refine itself to drive the ball to all fields of the park.

Defensively, the higher I go, the harder it becomes. There's more in between hops that I'll get on the field, so working through that and gaining experience will make me comfortable at my position."
As always, it's a treat being able to reach out to the minor league players to ask them questions. Damiano was incredibly informative with his answers, and I learned a lot about him. I hope you did as well.
When will he arrive in Toronto:
So when will Palmegiani realize his dream of playing at Rogers Centre?
If I had to guess, he will likely finish the rest of the season with the High A Vancouver Canadians. If he continues his torrid pace, he may see a couple of plate appearances with the New Hampshire Fisher Cats at the end of the season.
In 2023, the destination for the then 23-year-old will be Double A. Depending on how he does with the Fisher Cats, I could see him being moved to Triple A Buffalo, much like how Spencer Horwitz was moved up.
If I had to give an ETA, it would be for the 2024 season. While some scouts don't believe he is an "average" defender at any position, he'll certainly be working on that as he continues his career
All in all, Damiano Palmegiani is a prospect you should keep an eye on, because he has the ability to become a darn good player in the upcoming years.
As always, you can follow me on Twitter @Brennan_L_D. Damiano has a perfect attitude and is a really nice guy. His Twitter handle is @damiano_p24. Next up in the Prospect Profile should be Trent Palmer, so stay tuned!
---