Quality depth in the upper minors means the Blue Jays will have a lot of internal competition for roster spots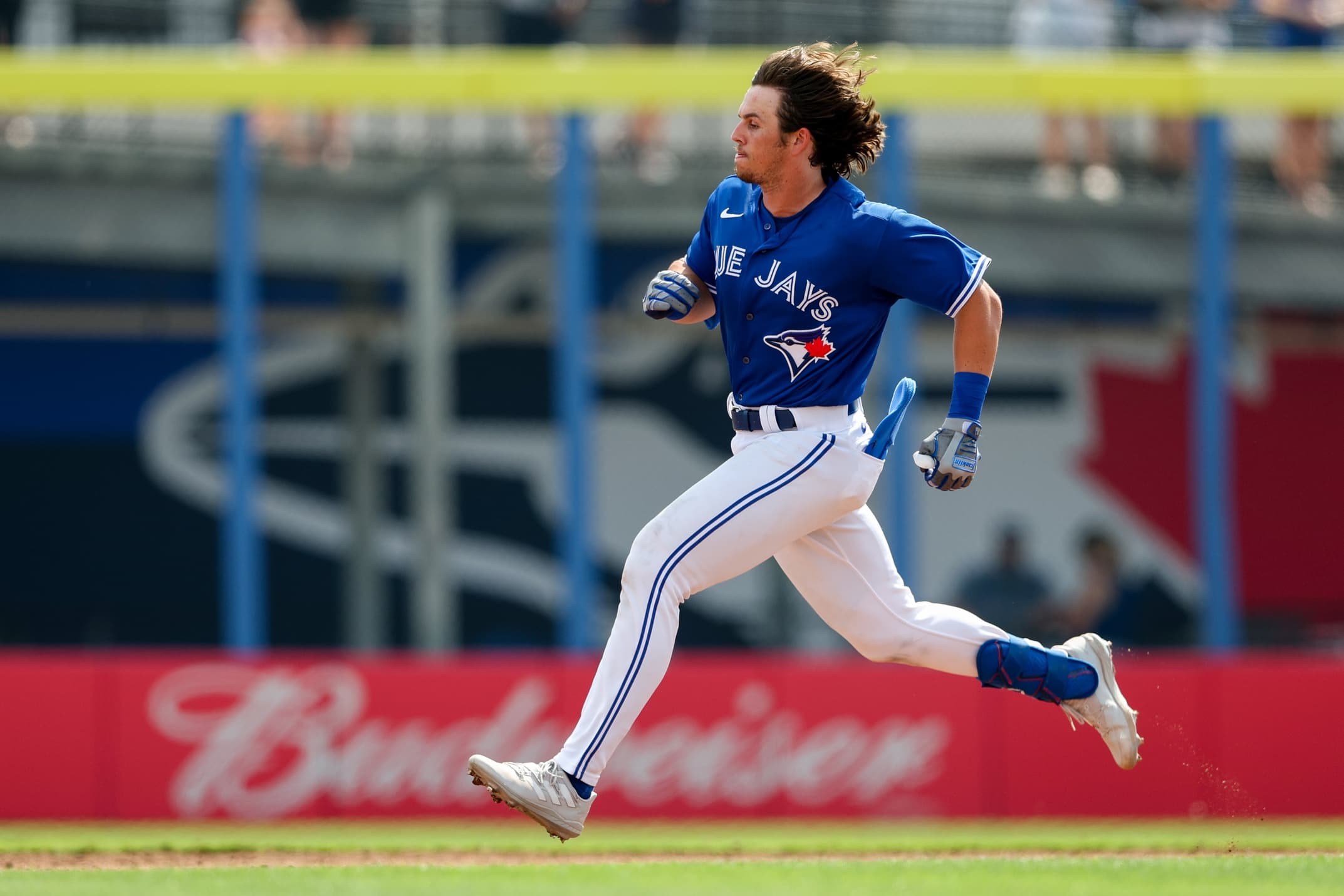 Photo credit:© Nathan Ray Seebeck-USA TODAY Sports
The Toronto Blue Jays have a few prominent players from the 2023 squad heading to free agency, headlined by third baseman Matt Chapman.
Joining Chapman in free agency this winter position player-wise includes Brandon Belt and Kevin Kiermaier, while pitchers Hyun Jin Ryu and Jordan Hicks will also be heading to the open market. Whit Merrifield is destined for free agency with his pending $18 million mutual option declined while reliever Chad Green has a complex layer of options at his and the Jays' disposal, and it is unlikely he'll be testing the waters again this offseason.
Considering the Blue Jays struggled to generate offence this past campaign, a sore spot that was highlighted during the Wild Cards series against Minnesota, it wouldn't be surprising if general manager Ross Atkins brings in some veteran bats into the mix in what would likely be a short-term capacity (outside of a longshot Ohtani megadeal or a trade). Numerous players fit the bill – Jeimer Candelario, Joc Pederson, Cody Bellinger, and Teoscar Hernández, to name a few – although the infield market is thinner than normal outside of a few veteran players (and Chapman, who will be a top-ranking free agent).
While there is no guarantee that Chapman, Belt, and/or Merrifield will return to the Jays next season and beyond, should any of these three decide to depart, there will be some open spots for the taking come Spring Training (even with any potential free agent signings). While Bo Bichette and Vladimir Guerrero Jr. are locked at their respective positions, with Alejandro Kirk and Danny Jansen forming a tandem behind home plate, also in the mix for some increased looks would be Santiago Espinal and Cavan Biggio, both of whom have solid MLB experience but struggled in 2023 at times and could be usurped by a prospect if they struggle early in Spring Training.
Even with pending free agency moves and the current Jays roster, there is potential for internal prospects to try and take over at second base, third base, and in the DH role heading into the new season. Should Kiermaier not return and the Jays don't sign an outfielder, there will also be a spot open there for the taking as well.
Second Base
With Merrifield now heading out, second base will be hotly contested should this position remain open heading into the new season. Cavan Biggio has the most experience at second with 1731 innings in the big leagues but there are some other players who could give him a run for his money.
Davis Schneider
can slot in at second base and the mustached infielder is looking to build off his explosive start in 2023 with some increased reps in 2024. Schneider's primary position was on the right side of the second base over the past couple of seasons in the Minors, although he does have some experience at third base, although this was more when he was just starting with the organization years ago. Ernie Clement also impressed during his time with the Jays, playing shortstop when Bichette was hurt but also splitting his time between second and third base. He too will be looking to impress this spring and should have an inside track over other internal options, given his experience in the big leagues.
Alongside Schneider in the hunt for a big-league spot is Leo Jimenez, who is a defence-first type of infielder who had a solid year at the plate in Double-A before a late promotion to Buffalo saw a dip in his production. Jimenez is primarily a shortstop in recent memory but has some experience at second as well, which would make sense for the Panama product considering Bichette is not going anywhere over the next two seasons. While Jimenez is more of a dark horse to make the Opening Day roster, a strong start in Triple-A next year will have him in the promotion conversation throughout the year.
Another contender entering the second base conversation is top prospect
Orelvis Martinez
. A third baseman/shortstop for most of his career, when he was promoted to Triple-A Buffalo, he started to get some playing time at second base, committing four errors through 227 innings. He also is currently playing in the Dominican Winter League and continues to get reps at second base. This stint at second was his first foray on the right side of second base since turning pro and it will be interesting to see if the Jays continue that trend into 2024.
Third Base
Blue Jays fans have been spoiled over the past two seasons at third base, as Matt Chapman is one of the best defensive players at the position since he debuted back in 2017 with the Oakland A's. If he doesn't return, whoever takes his spot will have pretty big shoes to fill.
The front runner for increased reps at third base right out of the gate would be Espinal, who has handled himself well defensively at the spot (5 DRS through 802 2/3 innings) but struggled at times with the bat this past year which saw him see a decrease in playing time compared to 2022. Schneider will likely also be in the conversation but he is less tested at the hot corner compared to Espinal (at least in recent memory) but his ability at the plate could see him put at third base just so manager John Schneider can get production from the New Jersey product in the lineup outside of the DH spot. Clement could also factor in at third base as well but may be more suited for the bench considering he can play third, shortstop, and second base as a utility infielder type.
Outside of these three are prospects Martinez and Addison Barger, as both players will likely get a lot of looks this spring. Martinez continues to mash the ball in every level he is promoted to, and for the majority of his career, he has played third base or shortstop, where he owns a .919 fielding percentage at the hot corner. As mentioned earlier, it will be interesting to see if the Jays continue the trend of having him suit up at second heading into next season, as this may be his calling card compared to third base.
Barger missed a good chunk of time with an elbow injury early in the 2023 season, which pushed a potential promotion date into the 2024 campaign. The athletic Washington product has a plus arm that saw him take quite a few reps at third base and shortstop within the Jays farm system but the club has also experimented with him in the outfield as well, opening another avenue for a move to the big leagues. He too will be one to watch this spring from a positional point of view.
Another prospect to keep an eye on is
Damiano Palmegiani
. The former Vauxhall Jet has over 160 games at third base since turning pro and was the Double-A New Hampshire Fisher Cats third baseman for most of the season until he was moved to Buffalo. While he spent more time at first base with the Bisons to finish the year, his bat has been impressive this past season and in the Arizona Falle League and has him in the category of players to keep an eye on next season.
Outfield
In the outfield, the Blue Jays have a few players that they can turn to within the system should Kiermaier not return.
Nathan Lukes spent most of his time with Toronto on the bench but did find himself in 29 games this past year, posting a .598 OPS with two RBIs. If he can last the offseason with a roster spot still intact, he could be a factor heading into the 2024 season the same way he was this past year, making the team out of Spring Training as the bench outfielder (albeit it was short-lived). Cam Eden is also an interesting candidate, as he got a taste of the big leagues late in the year but was used as a pinch runner over his bat.
As I mentioned earlier, Barger has started to get some reps in right field and will be one to watch this spring, especially if he continues to get starts in the grass. Biggio can also play the corner outfield spots as needed and if the Jays want his left-handed bat in the lineup, that's an avenue Schneider could explore.
Prospect-wise outside of Barger, Alan Roden is one player with the inside track for some increased looks after impressing in High-A and Double-A this past year, posting a .317 average and a .889 OPS on the year while taking home the Blue Jays Hitting Prospect of the Year Award. He will likely start the year in Triple-A but continuing to put the barrel to the ball will go a long way for a potential promotion in 2024 for the outfielder. Another prospect to keep an eye on is Rafael Lantigua, who is Rule 5 Draft eligible this winter and will need a 40-man spot to stay protected. He posted a .893 OPS through 129 games with Buffalo this past season, and if he remains a Blue Jay through the offseason, expect the Dominican product to get some reps in the corner outfield spots and a potential spot on the Jays roster sometime in 2024.
First Base/DH
The likes of Martinez, Palmegiani, Roden, Barger, and Schneider could all find themselves in the DH spot at the big league level but Spencer Horwitz is the lone standout who could be the platoon between both first base and the DH role, something the lefty-batter was doing earlier this year in the big leagues.
Horwitz found himself in 39 at-bats with the Jays this year and will be a candidate to supplement Belt in the same role this upcoming season, giving Guerrero Jr. days off as needed defensively while also getting Horwitz and his left-handed bat in on occasion. He posted a solid .726 OPS with a .385 SLG and has a solid hitting tool, which is what carried him to the big leagues in the first place. Horwitz also spent time in left field this past season when he was in Buffalo, which adds to his usability on the big league roster, but there is a solid chance he could break camp with the Blue Jays if he swings a hot bat through February and March.
---