Recent success from Biggio, Tapia should help Blue Jays prioritize search for impact pitchers
Photo credit:Kevin Sousa-USA TODAY Sports
It's no secret that the Toronto Blue Jays' lineup is predominantly right-handed, which the front office would like to address by the August 2 trade deadline. But lately, that's become less of a dire situation.
Of course, if management has an opportunity to acquire either Juan Soto or Shohei Ohtani via trade, they should pounce on it. Adding either lefty to this offence would dramatically improve it. Though, that outcome seems unlikely given the astronomical price tags attached to both superstars.
Plus, inserting Soto or Ohtani into the mix still wouldn't solve the team's No. 1 concern: the bullpen.
There's also the fact that the Blue Jays have witnessed improved production from two of their internal left-handed hitters over the last month and a half. While their core righties have led the way, Cavan Biggio and Raimel Tapia have been effective complementary pieces as of late.
Biggio, who missed a large chunk of the season early on due to COVID-19, has rebounded quite well since returning to the majors. The 27-year-old no longer possesses a regular position thanks to the emergence of All-Star Santiago Espinal, however, he's quickly transformed into a valuable utility player.
In 35 games since May 31, the left-hander is hitting .264/.381/.453 with a pair of home runs and 13 RBIs across 127 plate appearances. He also owns an impressive 137 wRC+ score.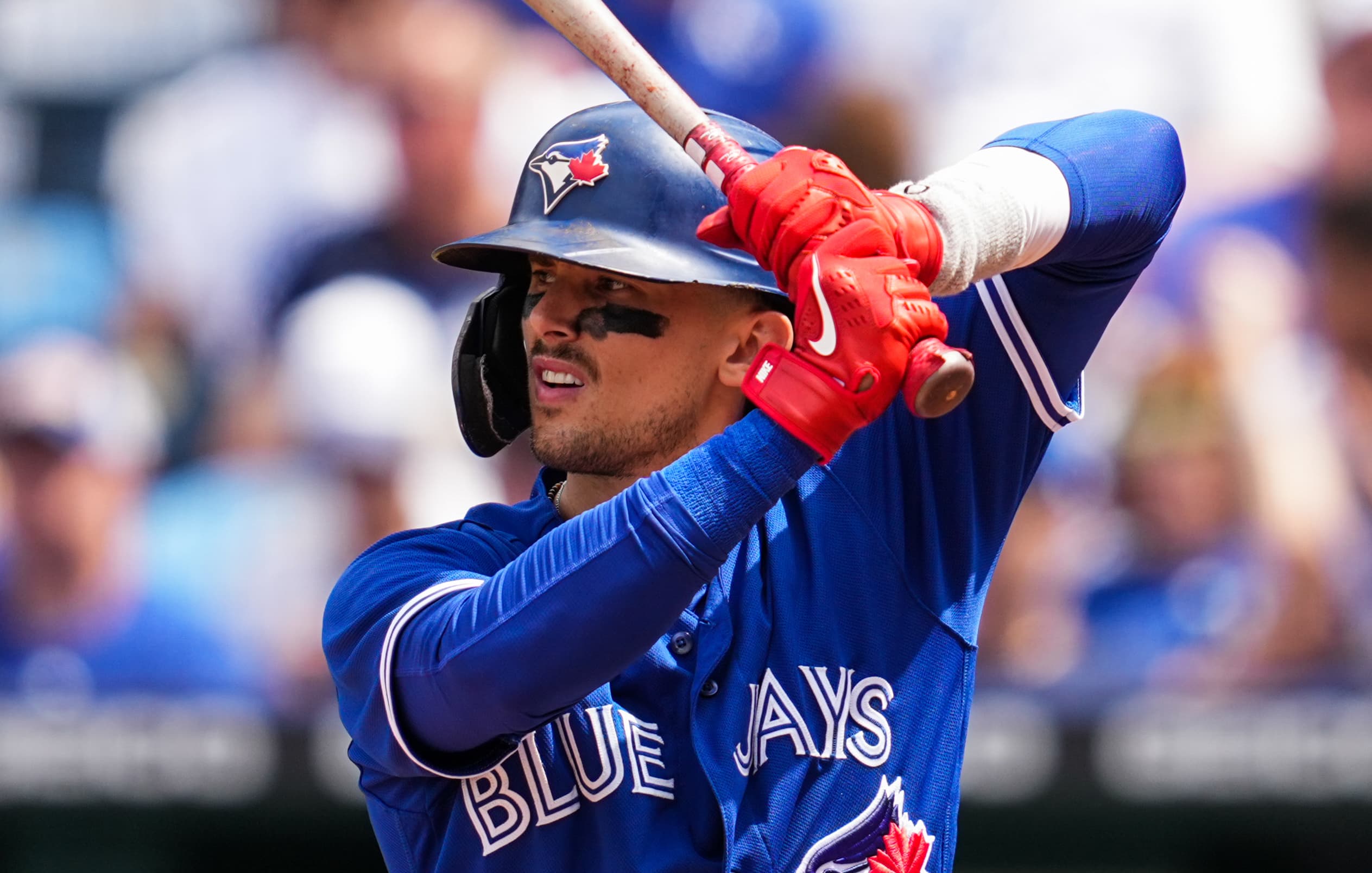 Credit: Jay Biggerstaff-USA TODAY Sports
As you'd expect, Biggio has been on-base several times during this productive span, resulting in a 15.0 per cent walk rate and a .367 wOBA. The 6'2″ lefty has also been putting plenty of balls in play, earning him a .356 BABIP, but that hasn't translated into a high batting average because of his 24.4 per cent strikeout rate.
Still, interim manager John Schneider has to be encouraged by what he's seen from his versatile infielder, especially since these results are similar to the ones he posted prior to his injury-riddled 2021 campaign.
Similar to Biggio, Tapia has also recovered from his miserable start, where he slashed .228/.256/.276 with a 46 wRC+ score across his first 37 games with Toronto. That certainly wasn't the first impression he wanted to make after being acquired from the Colorado Rockies, which sent fellow outfielder Randal Grichuk the other way.
The 28-year-old didn't dwell on his early struggles, though, and has since served as the productive fourth outfielder that the team previously envisioned. Since May 24, he's registered four home runs, 26 RBIs and a promising .341/.361/.550 slash line through 135 plate appearances.
Tapia also carries a 154 wRC+ score, which received a major boost following his 10-RBI performance versus the Boston Red Sox this past weekend. His strong showing included an inside-the-park grand slam – the second in franchise history – and six total hits in 12 at-bats.
There might not be a hotter hitter in the Blue Jays' lineup right now than Tapia, whose recent success has bumped his overall wRC+ (101) above the league-average score of 100. And because of that, the 6'3″ lefty has earned additional playing time in all three outfield positions. In turn, that's provided much-needed rest to George Springer, Lourdes Gurriel Jr. and Teoscar Hernandez.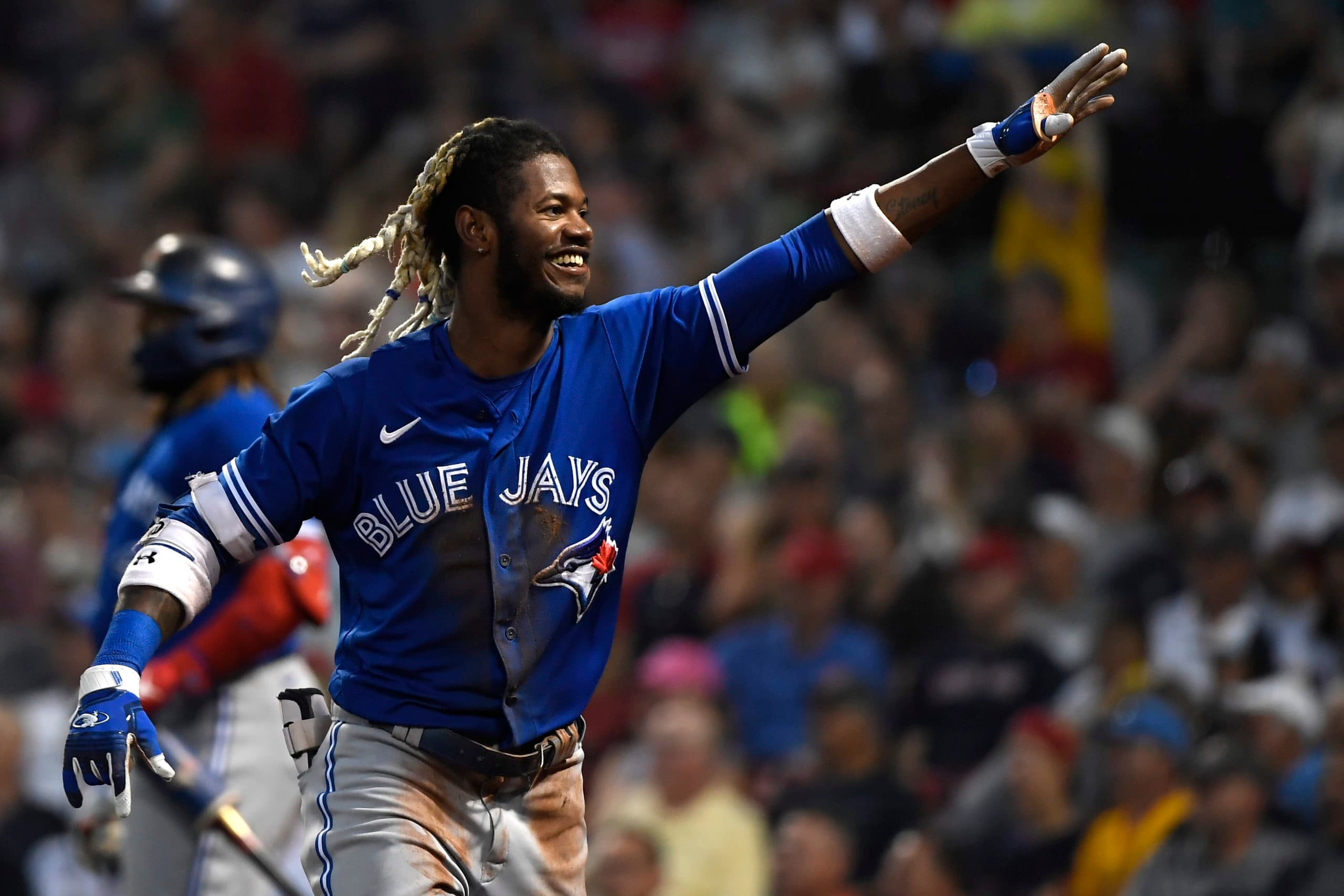 Credit: Bob DeChiara-USA TODAY Sports
Biggio and Tapia have been pleasant surprises thus far, especially considering how much both faltered out of the gate. It may not seem like it, but their recent results – along with Bradley Zimmer's and Zack Collins' – have positioned Toronto's offence near the top of the majors involving production from left-handed hitters.
Since June 1, the team ranks first in BABIP (.342) and third in AVG (.284), wRC+ (138), SLG (.500) and wOBA (.369) among all 30 MLB teams, according to
FanGraphs
. Having said that, they've also recorded the fewest plate appearances (280) in this regard.
Nonetheless, the Blue Jays are receiving quality offensive results from two of the four lefties on their roster, adding valuable balance to the bottom half of their batting order.
This has somewhat reduced the organization's need to acquire another left-handed batter. That's not to suggest the front office shouldn't pursue one, they'd benefit from doing so. But it probably wouldn't be catastrophic if they can't acquire one this season.
Even if general manager Ross Atkins traded for an impact lefty, there's a strong chance that player wouldn't be guaranteed regular playing time. A logjam would likely ensue regardless of the position any newcomer played, assuming no one on the big-league roster's traded.
For example, someone like first baseman Josh Bell would be hard-pressed to earn consistent at-bats with the Blue Jays. With Vladimir Guerrero Jr. at first, and Alejandro Kirk splitting time as the designated hitter, there wouldn't be enough regular opportunities for everyone. Biggio has also been earning at-bats while filling in for Guerrero at first base in 2022, logging 156.0 innings in 19 games.
The outfield would become just as crowded as the infield in this scenario. With Gurriel hitting .313/.363/.436 this season, you wouldn't want to remove his bat from the lineup. Springer – when healthy – and Hernandez require consistent playing time, too.
So there wouldn't be a simple solution to this problem, and it would become further complicated with prospect Spencer Horwitz thriving in the minors. At this rate, the 24-year-old, who's hitting .316/.381/.509 in 14 games at triple-A Buffalo, could potentially make his major-league debut in September.
Horwitz, who'll be Rule 5 eligible this winter, appears poised to be added to the franchise's 40-man roster in the future. If selected, the left-handed first baseman could provide some production off the bench for the Blue Jays down the stretch.
With Biggio, Tapia and possibly Horwitz on the roster, the team would presumably feature enough quality left-handed options through the rest of this season. Thus, eliminating the need to acquire another lefty. Management could then focus on upgrading the pitching staff, adding at least a few arms before the deadline.
The World Series isn't won at the trade deadline, and in most cases, it isn't awarded to the team with the best offence. It's usually decided by who possesses the best group of pitchers, although it doesn't hurt to have potent hitters, too.
Toronto already carries some of the best hitters in baseball. Now it's time for the front office to further surround them with game-changing hurlers that can help them win in October and beyond.
---