Refined command should help Thomas Hatch rebound from rough 2021 performance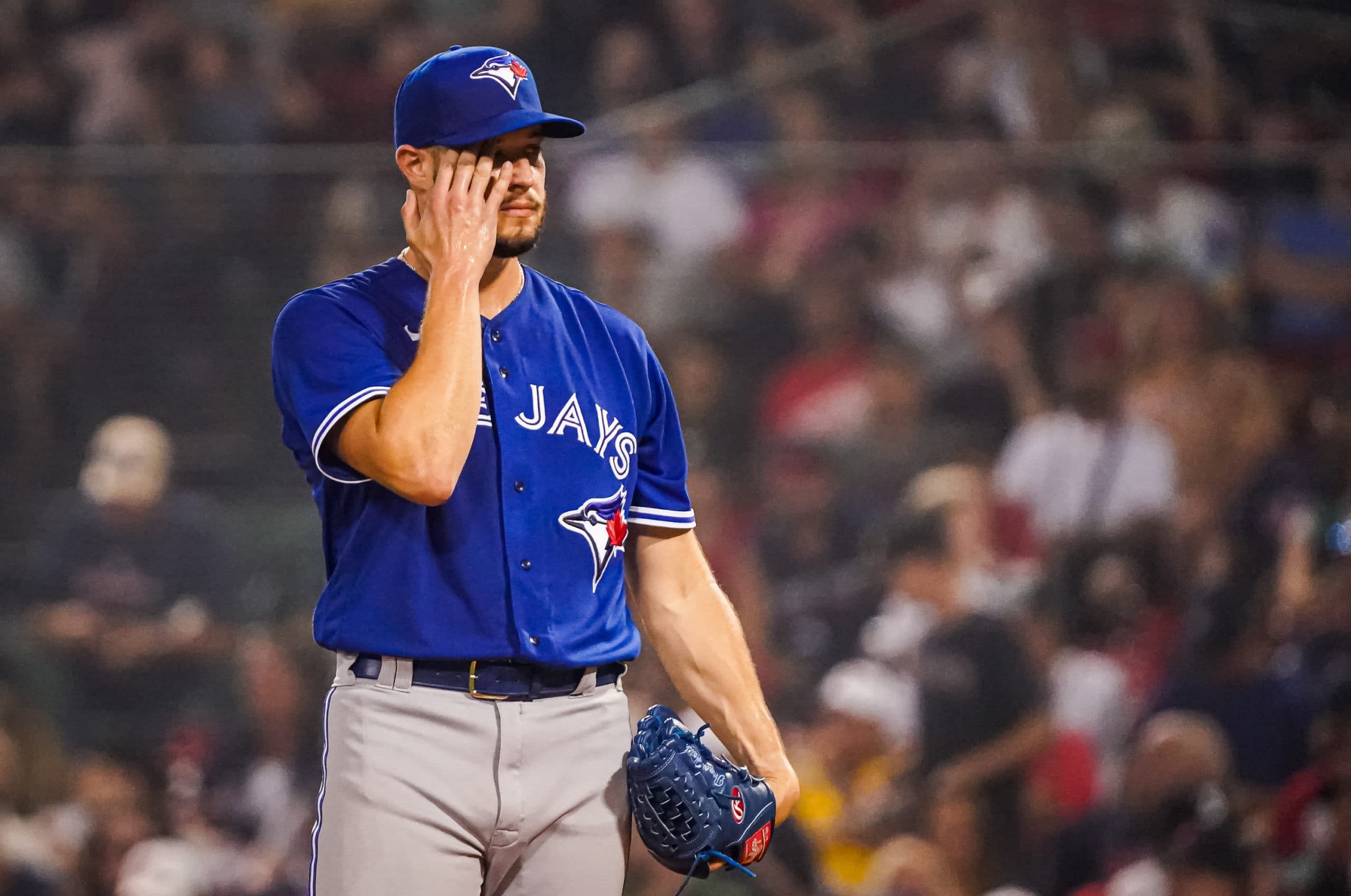 Photo credit:David Butler II-USA TODAY Sports
Amid this current lockout, the Toronto Blue Jays are still in search of a fifth starter and while pitcher Thomas Hatch is expected to compete for that role this spring, his hope hinges on bouncing back from his disappointing 2021 campaign.
But, the right-hander has plenty of work ahead of him if he plans on returning to the same hurler that excelled during the previous season.
Originally acquired by the Blue Jays in 2019, which sent reliever David Phelps to the Chicago Cubs, Hatch broke out as a relief pitcher during the shortened 60-game season in 2020. During that time, the 27-year-old put himself on the map and performed as one of the club's most reliable relief arms, where he posted a 2.73 ERA across 26 1/3 innings pitched.
Despite serving as a viable bullpen option, the 6'1″ pitcher returned to his starting duties the following year and was aiming to compete for a rotation spot last spring. Unfortutnley, his efforts were derailed by injury as he was forced to leave his second spring training appearance due to right elbow discomfort – later diagnosed as elbow impingement.
As a result, Hatch eventually landed on the 60-day injured list and didn't return to game action until mid-May. With Toronto's starting rotation already filled at that point, the former third-round selection was optioned down to triple-A Buffalo, where he spent the majority of last season.
Returning to the mound as a starter, aside from his encouraging strikeout (25.6 per cent) and walk rates (7.0 per cent), the former prospect didn't impress anyone with his overall results as he registered a 4.04 ERA, 4.41 FIP, 4.33 xFIP and allowed 10 home runs over 64 2/3 innings in 15 appearances (14 starts) with the Bisons.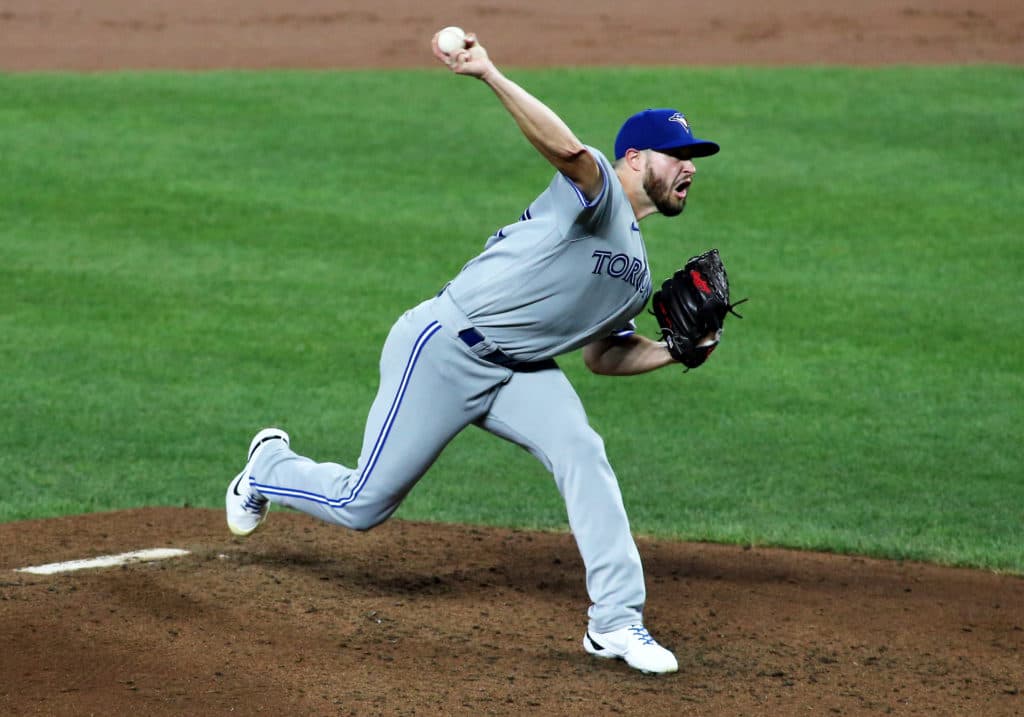 Credit: Daniel Kucin Jr.-USA TODAY Sports
Along with his time in Buffalo, Hatch also made a trio of appearances in the majors – including a pair of starts. But unlike his tenure in 2020, he didn't enjoy much success in either of those three outings, which saw him struggle mightily on the mound.
In total, the Oklahoma native compiled just 9 1/3 innings, producing a 6.75 ERA, 6.49 FIP, 6.16 xFIP and a -0.1 fWAR rating. Additionally, the righty also surrendered two long balls, six walks and produced eight strikeouts.
Making matters worse, Hatch concluded the 2021 campaign in the same place he started it – on the IL – as he experienced tendinitis in his right hamstring. Suffice to say, he just couldn't avoid the injury bug for much of his first full season in Toronto's organization.
Not only couldn't he stay healthy last season, but the Oklahoma State product also wasn't recognizable when he briefly returned to the majors. Above all else, his lack of command was the most eye-opening aspect of his craft, especially involving his four-seamer and changeup – his top two pitches.
Though Hatch's arsenal includes four pitches (four-seamer, changeup, sinker, cutter), historically, he's relied heavily on his primary heater and off-speed offering. While this combination was effective in 2020, however, the opposite transpired last season.
Beginning with his four-seamer, which he utilized 39.2 per cent of the time in 2021, it remained his most-utilized weapon but he couldn't control it nearly as effectively at the major league level compared to the previous season.
For the most part, Hatch kept his fastball away from the middle strike zone in 2020, directing it to the outside corners against righties and the inside corners against lefties. That way, it didn't matter which type of batter came to the plate, they weren't going to square up his heater.
Rather than attacking the zone north and south, as he did in '20, Hatch primarily located his four-seamer above the belt against opposing hitters in '21. While this is an effective strategy for some hurlers, it largely only works for those that possess high velocity.
Since his fastball only averaged 93.9 mph last season, a difference of 1.4 mph from the previous campaign, those same batters didn't encounter any issues creating plenty of damage against it.
Unable to locate his four-seamer down in the zone, understandably, Hatch's results with this offering proved to be extremely problematic and ultimately caused him to reduce its average usage by 7.8 per cent. By his final appearance of '21, he had lowered its frequency down to just 20 per cent – the lowest percentage of his professional career.
Even with this reduced usage, the former draft selection of the Colorado Rockies – who he didn't end up signing with – still witnessed a dramatic difference regarding his fastball's performance compared to the 2020 season.
| | | | | |
| --- | --- | --- | --- | --- |
| | AVG | xAVG | SLG | xSLG |
| 2020 | .172 | .240 | .276 | .433 |
| 2021 | .368 | .329 | .842 | .753 |
Similar to his four-seamer, Hatch's changeup also underperformed and experienced command issues in the majors last season, which was primarily responsible for his overall strikeout rate dropping from 21.1 per cent in '20 to 17.8 per cent in '21.
Serving as his most reliable strikeout weapon, the righty's off-speed pitch generated a career-best 33.3 per cent clip during the shortened campaign, however, that rate fell to just 14.3 per cent this past season. What caused this sudden decline? Well, the majority of these struggles can likely be directed to inconsistencies regarding its location.
Over his three appearances with the Blue Jays in '21, Hatch threw his changeup in several different locations, but on most occasions, it finished on his arm side – inside to righties and outside to lefties.
Despite allowing just a single hit against his changeup, its expected results weren't very favourable as it allowed a .404 xAVG, a .446 xSLG and a .416 xwOBA over seven plate appearances – likely suggesting its overall production would've worsened over a larger sample size.
In the season prior, the Blue Jays' hurler didn't encounter those same issues with his devasting off-speed weapon, resulting in a .214 xAVG, a .269 xSLG and a .215 xwOBA through 15 plate appearances.
Further to this, one of the key reasons Hatch's changeup enjoyed significantly more success in '20 was because he primarily located it on the other side of the zone, pairing it perfectly with his four-seamer. In turn, both of his top two pitches finished on his glove side rather than on the right side of his body.
If Hatch hopes to rebound from his poor 2021 performance, refining his command over the off-season will be crucial in helping him accomplish that feat next season. Along with allowing him to perform more effectively with his four-seamer and changeup, doing so may also elevate the rest of his repertoire, too.
Though he utilizes both his sinker and cutter less than 20 per cent of the time, with his other two offerings returning to top form, they'd each likely receive a boost in production if their locations remain in the bottom half of the zone.
Set to enter his age-27 season in '21, this next step of Hatch's development could determine whether he's better suited as a starter or as a reliever. But with limited arms in the system near the major league level, the Blue Jays would probably prefer to keep him stretched out for as long as possible, especially since he still possesses two additional minor-league options.
As things currently stand, the right-hander is expected to compete against Ross Stripling – who's likely considered the favourite – Nate Pearson and possibly another starter or two for that final rotation spot. Either way, there'll likely be a healthy in-house battle for this role once spring training begins, whenever that ends up happening.
For Hatch, at this stage of his career, finding his way back to what worked for him previously should be his main focus of the 2022 season.