Replacement Level Killers: Which spots do the Blue Jays need to upgrade most?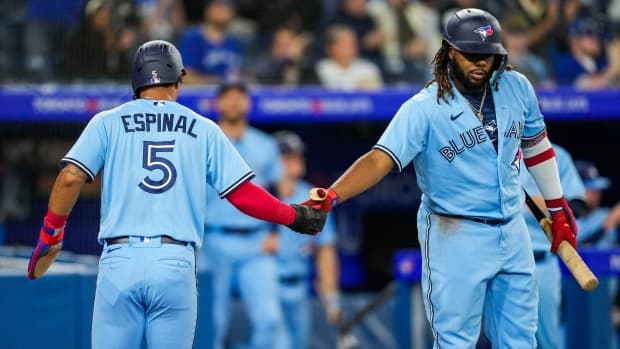 Photo credit:THE CANADIAN PRESS/Andrew Lahodynskyj
Over at FanGraphs, they're running their annual series of Replacement Level Killers, a series of articles going through position by position what contenders are being dragged down by a particular spot on the diamond. The
2023 Introduction Post for that can be found here
.
I thought it would be fun to do this same sort of thing but with a Blue Jays twist. Focusing on which Blue Jays players have hurt the team the most and where they should be looking to upgrade at the trade deadline.
Let's start with the hitters…
This season per FanGraphs WAR the Blue Jays have had one player post negative value and that's Santiago Espinal who has produced -0.2 WAR in 54 games.
Espinal has hit .230/.305/.302 this season, a 73 wRC+, playing predominately second base. Espinal though is not a big-leaguer because of his bat, even last season when he was worth 2.3 WAR, he only had a wRC+ of 99. He's here for two reasons, he's a strong defender at second who can also handle short and third, and he can hit lefties. This season, however, neither one of those has happened.
It's only been 66 plate appearances against lefties, but Espinal is hitting just .217/.288/.283 with a 62 wRC+. For his career, his wRC+ against lefties is 112 so you would think eventually he will figure it out but right now the Blue Jays just don't have time to wait around. If he was playing better defence, it would be easier to roll him out there against lefties in hopes of him figuring it out. Whether it's the eye test or the numbers, Espinal's defence has not been there this season. FanGraphs has him at four defensive runs saved (DRS) last year at second base, and this year has none. Per
Baseball Savant's outs above average
(OOA), he was a +9 at second last season, and this year has been -3. That's a pretty steep decline for a glove-first player.
The other hitter dragging down the Blue Jays just happens to be their other second base option, Cavan Biggio.
Biggio in 65 games (32 of which have come at the keystone), has hit .217/.300/.388 good for a slightly below average 92 wRC+ and 0.1 WAR. Bigigo like Espinal can move around the diamond, and Biggio has played right field, first base, three innings at third, on top of his games at second. Biggio has never been regarded as a great defender but he's been about average for his career. This season however much like Espinal his defence has fallen off a cliff. Biggio has -6 DRS at second, and -3 DRS at right. OOA is a little better, he's -4 at second and 0 in right field. More recently Biggio is starting to hit much better. Since May 1st, he's hitting .269/.347/.449 a .796 OPS and a 123 wRC+. That wRC+ is the fourth-best on the team over that span, this is a bat that should find its way into the lineup most nights against a right-handed pitcher.
As for who would come out of the line-up to get Biggio in there you have to look at the left-fielder Daulton Varsho.
Varsho's defence has been as advertised this season, his 18 DRS lead MLB outfielders, and has +4 outs above average splitting between left and centre. Unfortunately, everything positive he produces on defence he's given most away on offense. His .632 OPS and 74 wRC+ are well below average and have resulted in Varsho being worth 0.8 WAR, the fifth lowest on the team among players who have played at least 25 games. Now of course given what the Blue Jays gave up for Varsho they are not going to be looking to replace him, but perhaps this is a situation where Merrifield gets more time in left and Biggio at second.
The Blue Jays need to add another bat. Particularly one that can hit left-handed pitching. Ideally, you want to have it so that Espinal is the last one on the bench. He's there as someone who can spell Bo Bichette or Matt Chapman in a blowout, and maybe hit against the odd lefty but not someone who should be seeing too many starts the rest of the way. Jordan Luplow could be that player, with a career .835 OPS, and 123 wRC+ against lefties, but he's spent most of the season in Buffalo so it doesn't seem the Blue Jays view him as that. Upgrading on that position and the bench should be the goal.
Before we go into the pitchers, I want to make note that Vladimir Guerrero Jr. has been worth just 0.5 WAR, slightly worse than Varsho. Vladdy has been underwhelming at the plate relative to his standards but dragging him down further is his defence. He went from a Gold Glove winner to perhaps the worst defensive first basemen in the league. His -6 DRS and -13 OOA are both the lowest among MLB first basemen. This matches the eye test, Vlad hasn't been as good whether it's a ball bouncing off of his glove or a hard grounder getting by him, it's tougher plays but ones he was making last year, that he hasn't been this year. Obviously, Vlad isn't going anywhere, but I do wonder if we see Brandon Belt (0 DRS, 1 OOA) get more starts at first down the stretch, with Vlad as the DH.
Nick Turchiaro-USA TODAY Sports
Next up, let's take a look at the pitchers…
The Blue Jays have had 16 relievers throw an inning for them, here are the bottom nine of them.
For those who are keeping track at home, that's two players no longer with the organization, four who have been sent down to Buffalo, one position player, one player lost on the Injured List, and one current big leaguer in Mitch White who very well may not be on the team much longer.
The Blue Jays bullpen popular contrary belief, hasn't been that bad. Their relievers have combined for a 3.75 ERA and 3.1 WAR which rank ninth and 11th respectively, in the league. The bullpen ranks fourth with a 26.2% strikeout rate and second with an 18.1% strikeout-walk rate. The issue for the pen is depth, you can't have a situation like you did on Tuesday against the Dodgers where you have three arms just completely unavailable and another you can't trust unless it's super low leverage. This is a bullpen that should not be overworked. The relievers have combined to throw 355.1 innings, the eighth fewest. That's a testament to the starters who have given the team length consistently all season.
Going back to earlier the Blue Jays have used 16 relievers, one is Génesis Cabrera, who they just got, and one is Clement who is not a pitcher. That's 14 regular relievers this team has used. If that doesn't sound like a lot its because its not. Going through the relievers for each team on FanGraphs only the Astros who have used 14 relievers have used fewer bullpen arms than the Blue Jays. Most teams were in the 19-20 range, the Rays for comparison were at 27 relievers (with two position players), second most behind Oakland.
You need to be churning the back end of your bullpen, and the Blue Jays have been unable to do this as they lacked players with options and were perhaps too patient with struggling veterans.
The team needs to be adding bullpen depth at the deadline. A high-impact arm would be ideal to bump everyone down a spot and take some pressure off of Erik Swanson and Jordan Romano. With Chad Green coming back, it seems expectations are that he will be that player, but that is a lot to ask of someone coming back from Tommy John surgery. Realistically if you acquire a late-inning reliever, and Chad Green is fully recovered and pitching like he was for the Yankees, then great that gives you four late-inning arms and something of a super bullpen.
At the very least they need to add another arm in the Cabrera mould. Someone who can help but someone with options who if they pitch multiple innings can be sent down for a fresh arm. Hopefully avoiding a situation where John Schneider is handcuffed by his limited available options.
As for the starters, we know Alek Manoah has had his problems. With Hyun-Jin Ryu set to return soon, you don't need to go out and get an impact starter. Much like the bullpen it would be beneficial to get a depth starter, with options. Someone like Mitch White last season who can fill in as an emergency starter if Ryu has a setback, if Manoah needs to go back to the minors, or they could be sent down themselves/moved to the bullpen if not needed in the rotation.
Nick Turchiaro-USA TODAY Sports
What does it all mean?
The way the Blue Jays are constructed, there isn't really an obvious spot where the team can bring in one player that'll make a huge difference.
Second base has been a problem, but with Biggio hitting better and Merrifield playing well it's tough to see who is out there that could be better.
Tim Anderson's name has been rumoured
but I don't know that a team that's fighting for a playoff spot should risk it for a player with a 58 wRC+, 0 home runs and -0.4 WAR this season. As for the pitching like all contenders, they should be looking at high-end relievers and depth starters.
It may not be a flashy deadline, but there are moves to be made and little things that can be done to improve this roster. A bullpen arm and an upgrade on Santiago Espinal and Jordan Luplow who can hit lefty pitching is what I would expect to happen.
---