Revisiting the Daulton Varsho trade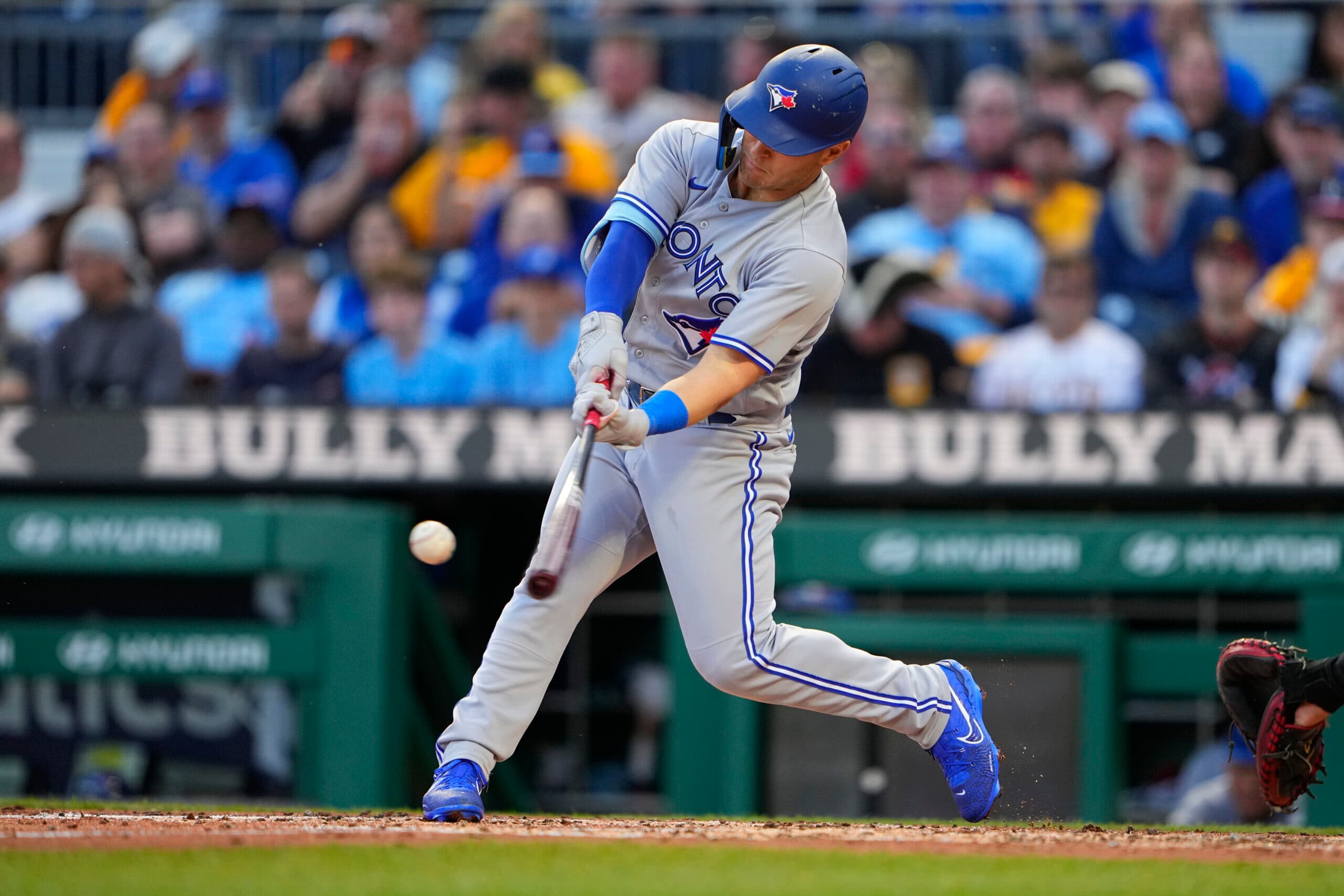 Photo credit:Gregory Fisher-USA TODAY Sports
Out of all the recent trades we've looked at, this one stands out as the most ambiguous of them all.
Two days before Christmas in 2022, the Blue Jays traded long-time Blue Jays Lourdes Gurriel and prospect Gabriel Moreno to the Arizona Diamondbacks for Lourdes Gurriel Jr.
The two main pieces of the trade have underperformed, while the only player who was thought to be a throw-in has done incredibly well nearly three months into the season. Let's dive in.
Gabriel Moreno:
Gabriel Moreno has had a mixed first full season in the big leagues.
Offensively, he has underwhelmed so far. He's slashing .273/.313/.352 with two homers in 192 plate appearances. Moreover, he has a 6.3 BB% and a 21.4 K% for a 80 wRC+. There were a few reasons why the 23-year-old catcher was considered a top prospect at one point, and one of those reasons is due to the power he showed in 2021.
He busted onto the scene in Double-A, slashing .373/.441/.651 with eight homers in just 145 plate appearances in 2021. However, he was hit by a pitch that broke his thumb. He was still great in Buffalo last season, slashing .315/.386/.420 in 267 plate appearances, but his home run total dropped to just three. He had a high average in his two stints in Toronto, but only hit one homer in 73 plate appearances.
With only two home runs in Arizona this season, it wouldn't be unfair to say that he either benefited from New Hampshire's stadium, or the injury impacted his power big time.
The other aspect of his game that made him a Top 100 prospect has definitely been there. He has one of the best arms in the league, throwing out 14 base stealers in 30 attempts. This is due to the arm, but also a great pop time of 1.91 seconds, which is tied for tenth in the league. For context, Jansen has a 1.97 pop time which is tied for 36th, while Kirk has a pop time of 1.99 seconds, which is tied for 42nd.
Still, there's a lot to clean up defensively for Moreno. His Catcher Defensive Adjustment, Baseball Prospectus' stat for measuring throwing, block, and framing, sits at -4.4, eight worst in the league. He has issues framing and blocking, but that will hopefully come with experience. Alternatively, his 7 Defensive Runs Saved is the best in the league for a catcher, so I don't know.
Lourdes Gurriel Jr.
Did anyone see this season coming from Lourdes Gurriel Jr.?
So far in 253 plate appearances with the Arizona Diamondbacks, he's slashing .282/.332/.513 with 11 homers and a 6.3 BB% and 17.8 K%. Overall, he has a 125 wRC+ and a 1.4 fWAR, the highest mark of any player we'll cover today. In fact, he'd be tied with Whit Merrifield for fourth among Blue Jays hitters.
After returning from an injury on June 10th, he only registered one hit in 27 plate appearances, but has three hits in nine plate appearances in his past two games. He hasn't been very streaky this season, and it appears he's unlocked another level.
Defensively, he has a 2 DRS and a -2 Outs Above Average in 373 innings fielded in left field. He's not going to win any gold gloves out there, but he's a capable defender, and has been for the past few season.
Gurriel Jr. will become a free agent after the end of the season, and if he continues his hot stretch, he could end up earning a qualifying offer. It seems unlikely given his tendency to streak, but there aren't a lot of good options for offense in this upcoming free agent class, so you never know.
Really wish the Jays could have kept him, as he would have been nice to platoon with Daulton Varsho.
Daulton Varsho:
Speaking of Daulton Varsho, the Blue Jays paid quite the price to get him, so how is he doing in 2023?
With the bat, he's been fine. He's slashing .231/.299/.409 in 294 plate appearances, along with an 8.5 BB% and a 20.4 K% for a 96 wRC+. He has given the Jays some power from the left side though, as his 12 home runs rank second on the team behind Bo Bichette.
It's also worth noting that since June 2nd, he's slashing .302/.387/.566 with four homers in just 62 plate appearances for a 162 wRC+. So he may finally be heating up.
Defensively for the Blue Jays, he has been a beast. He has played 614.2 innings in the outfield, and has a 14 DRS and a 1 OAA. In left field, he's played 433 of those innings and has a 7 DRS and -2 OAA, but he had only played 103.2 innings there previously in the big leagues.
At centre field, where he's played a lot more, he has a 7 DRS and 3 OAA in just 181.2 innings. This is notable, as DRS and OAA are counting stats, so meaning over an extended period innings fielded, one could assume that these numbers could increase.
It's also worth noting that Varsho has three more years of arbitration after this season is done, meaning he won't become a free agent until the end of the 2026 season
Who won this trade:
Early results tell us that Arizona has won this trade, as Gurriel Jr. has a higher fWAR on top of Moreno's 0.5 fWAR.
However, it's not even half way into the season yet, so it's anybody's guess. At the end of the day, this trade will be judged on the performance of Moreno and Varsho unless Gurriel Jr. receives a qualifying offer.
With Varsho heating up and Gurriel's penchant for being streaky, this may be a totally different answer at the end of July.
As always, you can follow me on Twitter and Instagram @Brennan_L_D.
---