Revisiting the Matt Chapman trade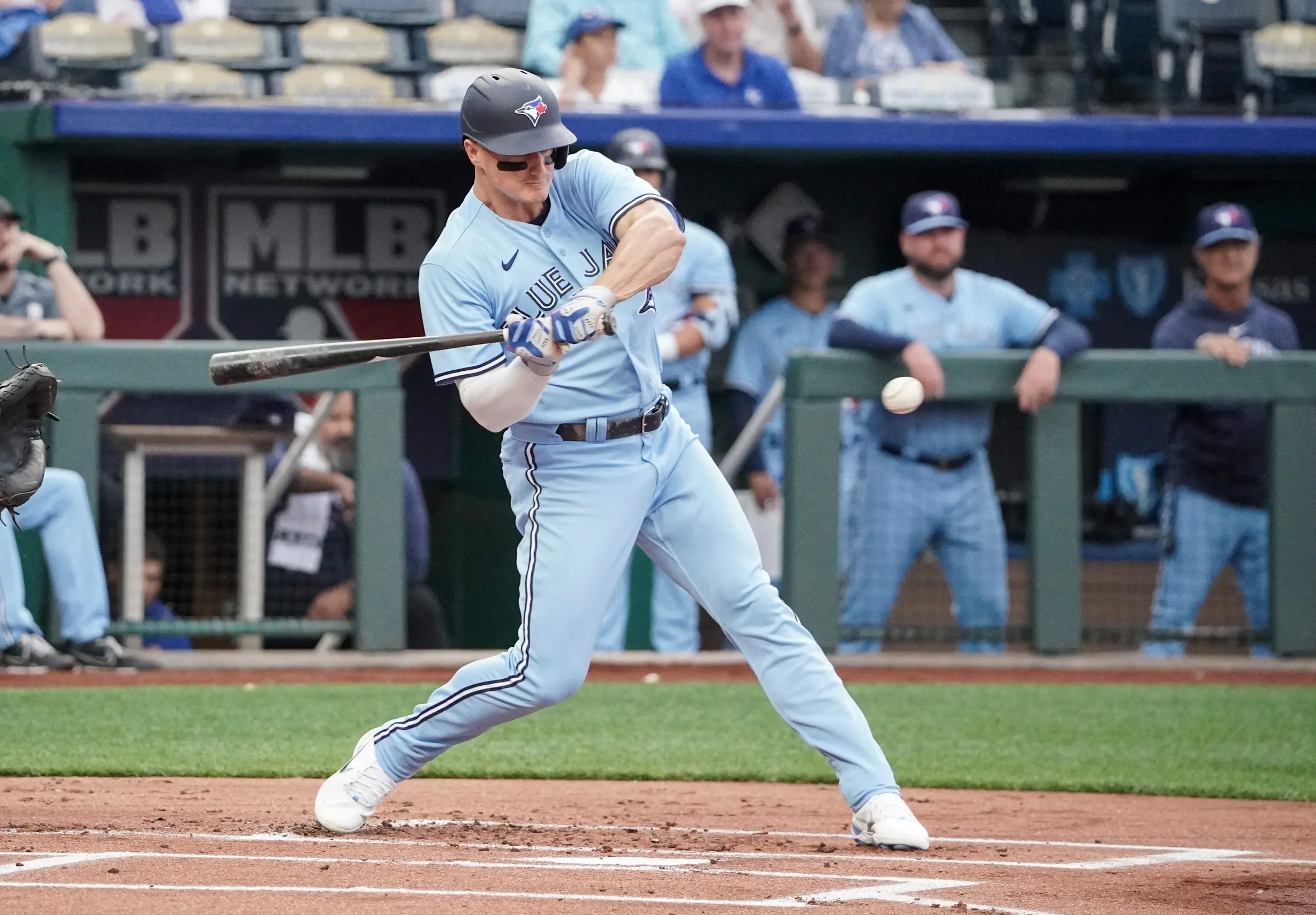 Photo credit:© Denny Medley-USA TODAY Sports
After Marcus Semien signed with the Texas Rangers in late 2021, the Blue Jays needed a new infielder.
On March 16th, 2022, the Blue Jays packaged four players, including their 2021 first-round draft pick for Oakland Athletics third baseman, Matt Chapman.
In this "revisiting" article, we'll look at the four players traded to the Oakland Athletics, Gunnar Hoglund, Kevin Smith, Zach Logue, and Kirby Snead, and see how they're faring. We'll also look and see how Matt Chapman has done as a Blue Jay.
Gunnar Hoglund:
The 23-year-old right-handed pitcher was
the prospect
going back to Oakland. Prior to missing the backend of his college season with the University of Mississippi due to Tommy John surgery, Hoglund was considered a top 10 pick.
However, he fell to the Blue Jays, and was later moved in this deal. Now 23 years old, he has only pitched 17 innings professionally, eight in 2022 and nine in 2023.
This season, he's rocking a 9 ERA and a 5.75 FIP in those nine innings pitched, going three innings each. He missed the early part of the 2023 season due to a bicep injury that was sustained in August 2022.
Although he may not have ace potential written on him, Hoglund was known for his high ceiling. If he can stay healthy. He has a mid-90s fastball, a slider that sits in the mid-80s, and a changeup and curveball. Hoglund does a fantastic job at throwing strikes with pinpoint accuracy. 
Hoglund ranks as MLB Pipeline's 11th best Oakland prospect and has 60 grade control, an unusual number for minor league players.
Kevin Smith:
One of the first articles I wrote when I first started this gig was about calling Kevin Smith up.
In his final season in Toronto, he had 410 plate appearances with the Triple-A Buffalo Bisons, slashing .285/.370/.561 with 21 homers and 18 stolen bases. The Jays needed a third baseman at the time, and the then 24-year-old shortstop/third baseman was rocking a 144 wRC+.
Prior to the trade, he was ranked as my third-best Blue Jays prospect heading into the 2022 season, but was shipped off to Oakland.
His first season in the big leagues was tough, as he slashed .180/.261/.302 with two homers in 151 plate appearances for a 48 wRC+.He offered plus defense though, rocking a 5 Defensive Runs Saved and a 3 Outs Above Average in 312.1 innings fielded at third base. Ironically, that was higher than Matt Chapman's totals.
Smith's struggles continued in Las Vegas, where he slashed .216/.280/.257 with a 35.3 K% and a 7.4 BB% in his first 190 plate appearances in Triple-A. He also didn't have a homer in that stretch. However, he finished the season strong slashing .333/.395/.673 with 13 home runs in his final 172 plate appearances, so he looked fully adjusted in the new organization.
Like 2022, it's a tale of trying to adjust to the major league level. In Triple-A, he's slashing .280/.341/.633 with eight homers in just 82 plate appearances. In Oakland this season, he's slashing just .191/.216/.330 with four homers in 102 plate appearances
Time will tell if he will ever make the necessary adjustments that make him successful at the major league level, but he has an intriguing blend of raw power, good defence, and speed.
Zach Logue:
The 27-year-old lefty is the only player from this trade not on the Oakland Athletics anymore.
He had a breakout season in the Blue Jays system prior to the trade, pitching 35.2 innings in Double-A and posting a 4.54 ERA and a 3.52 FIP. He saw a massive jump in his K%, as it sat at 35.9%, while his BB% dropped to 4.9%.
Logue's numbers improved after a promotion to Triple-A Buffalo, where he had a 3.52 ERA and a 3.56 FIP in 89.1 innings pitched. Facing more advanced hitters, his K% dropped  to 25.2%, while he still had a great 5.4 BB%.
He made his major league debut with Oakland in 2022, finishing the season with a 6.79 ERA and a 5.76 FIP in 57 innings pitched, starting 10 games of the 14 he appeared in. His K% took a further hit, as it dropped to 16.3%, while his BB% sat at 7.8% in his first season.
He was designated for assignment in late December and picked up by the Detroit Tigers (who also DFA'ed him, but he cleared.) With the Toledo Mud Hens this season, the 27-year-old lefty has a 5.70 ERA and a 5.67 FIP in 47.1 innings pitched. His K% has increased back up to 20.5% (it was at 15.3% in Triple-A in 2022), but his walk rate of 12.7% is the highest it's ever been in his career.
He had the ceiling a backend rotation starter, but his development has been stinted with Oakland and Detroit. He could still find his way to MLB at some point, though.
Kirby Snead:
Drafted in 2016, the left-handed pitcher Kirby Snead made his MLB debut with the Blue Jays in 2021. He pitched 7.2 innings and posted a 2.35 ERA and a 2.52 FIP. Moreover, he had a 23.3 K% and a 6.7 BB% and averaged 93.4 mph on his fastball, which is pretty impressive for a lefty.
Snead's first full season in the majors wasn't as good though, posting a 5.84 ERA and a 4.61 FIP in 44.2 innings with Oakland. His K% plummeted to 16.7%, while his BB% increased to 10.5%.
In 2023, he hasn't pitched in the big leagues as he has been injured. However, Oakland sent him on a rehab assignment on June 6th, so he's working his way back.
Matt Chapman:
So spoiler alert, the Blue Jays won this trade.
Prior to the trade, Chapman had some pretty impressive seasons in 2018 and 2019, but struggled in 2020 and 2021 by his standards.In late September 2020, he had a surgery to repair his torn hip labrum and clean up his femoral head. That doesn't sound fun.
In his first full season with the Blue Jays, he slashed .229/.324/.433 with 27 homers in 621 plate appearances. In his two prior seasons, he had a 35.5 K% and a 32.5 K%, so it was nice to see his K% drop to 27.4% in 2022. He finished with a 4.1 fWAR (same amount in 2021), but also had a 117 wRC+, up from his 102 wRC+ in 2021. Chapman also received votes for the third base gold glove, but did not win.
So far in 2023, he's slashing .264/.342/.456 with nine homers in 295 plate appearances. He's already amassed a 2.2 fWAR, while his K% has dropped slightly to 27.1%. His DRS and OAA also increased, as the DRS jumped from 2 to 7, and his OAA went up from 1 to 3.
It's been a tale of two months for Chapman though. In April, he slashed .384/.465/.687 with five homers in 114 plate appearances. He picked up his first American League player of the month and had a 218 wRC+.
Since May 1st, he's slashing .191/.265/.315 with four homers in 181 plate appearances. His wRC+ in that time has dropped to 62, which doesn't look great. It's worth noting that Chapman has always been rather streaky in his career, so you can presume he'll heat back up soon.
Chapman is set to become a free agent at the end of the season. The Blue Jays will more than likely give him a qualifying offer, which he'll likely decline due to a lack of offensive powerhouses in the 2023-24 free agent class.
If that's the case, the Blue Jays will receive a fourth round pick due to being over the Competitive Balance Tax. So technically, this trade tree isn't finished.
So who won this trade:
The Blue Jays won this trade, and it will more than likely stay that way.
The only chance this has at being a win for both teams is if Gunnar Hoglund hits his ceiling, or even his floor. Kevin Smith has the tools to be a utility player, or maybe an every day player, but will be 27 years old this season hitting under the Mendoza line.
After the trade, Zach Logue has struggled to find what once made him an intriguing prospect, while Kirby Snead struggled in his first full season in the bigs.
Chapman, on the other hand, has been great for the Blue Jays. He's offered plus defence while being an above-average offensive player, even if he's struggled in the past few months.
---
As always, you can follow me on Twitter and Instagram @Brennan_L_D.
---