Revisiting the Mitch White trade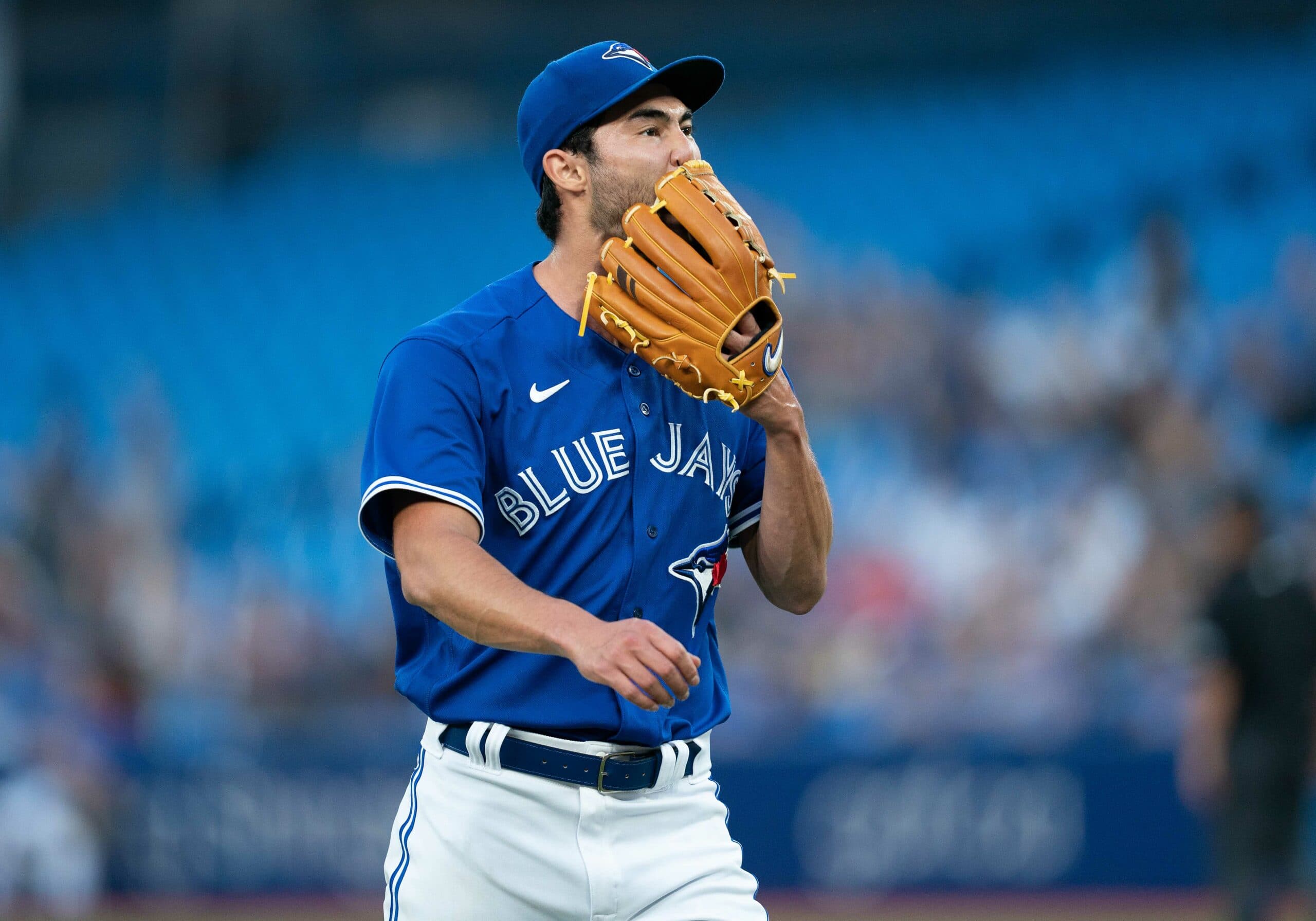 Photo credit:Nick Turchiaro-USA TODAY Sports
I'm a masochist, so let's talk about the Mitch White trade.
Prior to the start of the season, I'd often defend this trade as I believe that players sometimes need time to adjust. However, it's been nearly a year since this trade happened, and well, it doesn't look very good, does it?
If you don't remember, let me remind you of this trade. On August 2nd, 2022, the Jays sent Nick Frasso and Moises Brito to the Los Angeles Dodgers in exchange for prospect Alex De Jesus and Mitch White.
Let's look at each player involved in this trade and dissect why the Blue Jays lost this trade (spoiler alert: it's because of Frasso).
Mitch White:
Strip away the fact that the Jays gave up Frasso and just focus on White as a player.
He hasn't been great in his Blue Jays tenure by any means, but there's still some hope for him. After the trade in 2022, he had a 7.74 ERA, not good, but a 3.76 FIP in 43 innings pitched, which isn't all that bad. While he didn't strike batters out (15.3 K%) and walked an average number of batters (7.9%), he avoided hard contact which kept the FIP down.
For the 2022 season, he was in the 79th percentile for hard hit % (which is good), and in the 63rd percentile for average exit velocity. Furthermore, hitters had a hard time barrelling him, as he was in the 77th percentile with that statistic. So while he may not have had an out pitch, the contact was usually soft, which led to a solid FIP.
And then Mitch White suffered a shoulder injury that kept him out of spring training. If that wasn't enough, he missed the first few months due to an elbow injury. Once he reached full health, the results were… not great.
The 28-year-old spent eight games rehabbing with the Triple-A Buffalo Bisons (he had to stop his first rehab assignment because of shoulder soreness) and posted a 10.07 ERA and 6.67 FIP in 19.2 innings. He struggled with command as his BB% ballooned to 14.1%, while he only had a 21.2 K%.  Moreover, he gave up four homers, which isn't great.
The Jays eventually decided White would mainly pitch an inning or two and not start for the rest of the season, and he actually had some success in Buffalo in a very short relief role. In his final two appearances, he had a combined line of
2.1 IP, 0 ER, 0H, 0 BB, 3 K
and actually looked solid. Except for his one rehab game in Dunedin, these two games were the only time he didn't give up an earned run, a walk, or a hit.
The Jays eventually called him up when they released a certain Anthony Bass, where he's had similar results as last season. In his 3.2 innings pitched with the Jays this season, he has a 7.36 ERA, bad, and a 3.55 FIP, good. He's pitched so few innings that I'll even use xFIP (his sits at 2.17). The most surprising statistic from the small sample size is his great 35.3 K% while not walking a batter.
So with White, there's some good to his game, but he struggles at keeping the ERA down, but it runs a few layers deeper.
White spent three seasons pitching for the Dodgers in the big leagues, posting a 3.58 ERA and a 3.87 FIP in 105.2 innings pitched. He had a solid 22 K% and an 8.3 BB%. He also had good results in Triple-A in both 2021 and 2022.
On top of performance, White was in his first year of pre-arbitration and won't hit arbitration until 2025, before eventually becoming a free agent after the 2027 season.
However, there were/are a few downsides to White. While he has many years of team control remaining, he has no options. So unless the Jays want to lose Nick Frasso for nothing, they sort of have to hope that White somehow figures it out in the big leagues. This is probably one reason why people
hate
this trade.
Nick Frasso is really good:
Yeah, people weren't happy at the time of this trade, and they certainly aren't happy now that Frasso is ranked as Baseball America's 69th-rated prospect (nice).
After his first High-A start until the end of the 2022 season, Frasso looked to hit a wall. With Vancouver, the Dodgers' High-A team, and the Dodgers' Double-A team, Frasso had a 3.33 ERA and a 3.75 FIP in 24.1 innings pitched. More worrisome was a drop in his K%, as it sat at 23.8%.
While those numbers certainly aren't bad, they were a sharp decline to his 0.61 ERA and 1.05 FIP in 29.2 innings pitched between Single-A and four innings of High-A with the Jays. He also had a pretty crazy 46.8 K% and an 8.1 BB%.
Frasso, who was 23 years old at the time, was facing off against much younger batters in the Florida State League, so I didn't know how real these numbers were. But then 2023 happened.
The 24-year-old started his season with the Dodgers' Double-A team, and has dominated from the get-go. He has a 1.69 ERA and a 2.04 FIP in 32 innings pitched. While the K% isn't quite at the level it was in Single-A, he's still striking out 34.9% of batters and only walking 7% of them.
If not for a little road bump in his last appearance where he allowed three runs in two innings, he'd have an even better 0.90 ERA and a 1.89 FIP. He missed nearly a month with an injury, but his triple digit fastball with nasty movement, his slider and changeup are legit. He'll be at worst a reliever, probably of the high-leverage variety. If he hits his ceiling, this could be a very, very bad trade for the Jays.
There were other pieces to the puzzle:
On top of the Top 100 prospect the Jays gave up for a big league player, the Jays received a Top 30 prospect, while the Dodgers received a left-handed pitcher with good numbers. Let's start with Moises Brito.
Moises Brito:
The left-handed Dominican signed on June 2nd as an international free agent. He started his career with the Dominican Summer League Blue Jays, posting a 1.86 ERA and a 2.16 FIP in 29 innings pitched. He had a 29.4 K% and a 0.9 BB%, and 10 of his 12 appearances were in relief.
He was moved to the Dodgers, where he continued to excel in DSL. He posted a 1.59 ERA and a 2.67 FIP in 11.1 innings pitched. He started one of the four games he appeared in, and had a 32.5 K% and didn't walk a batter. It's worth noting that he was 19 years old at the time, facing 17 and 18 year olds.
He was once again placed in the DSL this season, where he hasn't given up a run and has a 2.69 FIP in eight innings pitched. His K% sits at 33.3%, while he's walked two batters, one more than last season.
I've never seen Brito pitch and there isn't a lot of information out there on the 20-year-old. I always jokingly say that
he'll
be the best piece in the trade, but it's just hard to have an analysis on a guy with little information.
Alex De Jesus:
Prior to the trade, the then 20-year-old had a .282/.376/.421 slash line with the Dodgers' High-A team in 226 plate apperances. While he had an elevated 28.8 K%, he had a well above average 125 wRC+, on top of a 129 wRC+ in 176 plate appearances with the Dodgers' Single-A team.
His tenure with the Vancouver Canadians in 2022 wasn't as good, as he slashed .211/.298/.333 with two homers in 104 plate appearances. His K% also increased to 34.6%, while his BB% fell to 11.5%.
He had a tough start repeating the level, as he had a .175/.252/.351 slash line on May 14th. His K% dropped to 27.1%, and he only had three homers in the 107 plate appearances. However, something changed on May 16th.
Since the start of that series, as he's slashed .312/.389/.597 with four homers in 90 plate appearances. Moreover, his K% dropped to 22.2%, while his BB% has risen to 12.2%. Overall, he has a 149 wRC+ since that date.
For the season, he's now slashing .236/.315/.460 with seven homers in 197 plate appearances. His K% is the lowest it has been since 63 plate appearances in rookie ball dating back to 2019, as it sits at 24.9%. Moreover, his BB% has crept up since that cold start, as it sits at 10.7%.
Who won this trade:
The current regime has managed quite a few good trades with very little bad trades, but there's no sugar coating this: It was a bad trade.
They overpaid a high-ceiling prospect with great stuff for a long-man who may end up being designated for assignment if he can't figure it out.
That's the way she goes sometimes, though.
As always, you can follow me on Twitter and Instagram @Brennan_L_D.
---