Ross Atkins optimistic about Alek Manoah's future as a Blue Jay, says pitcher hasn't asked for a trade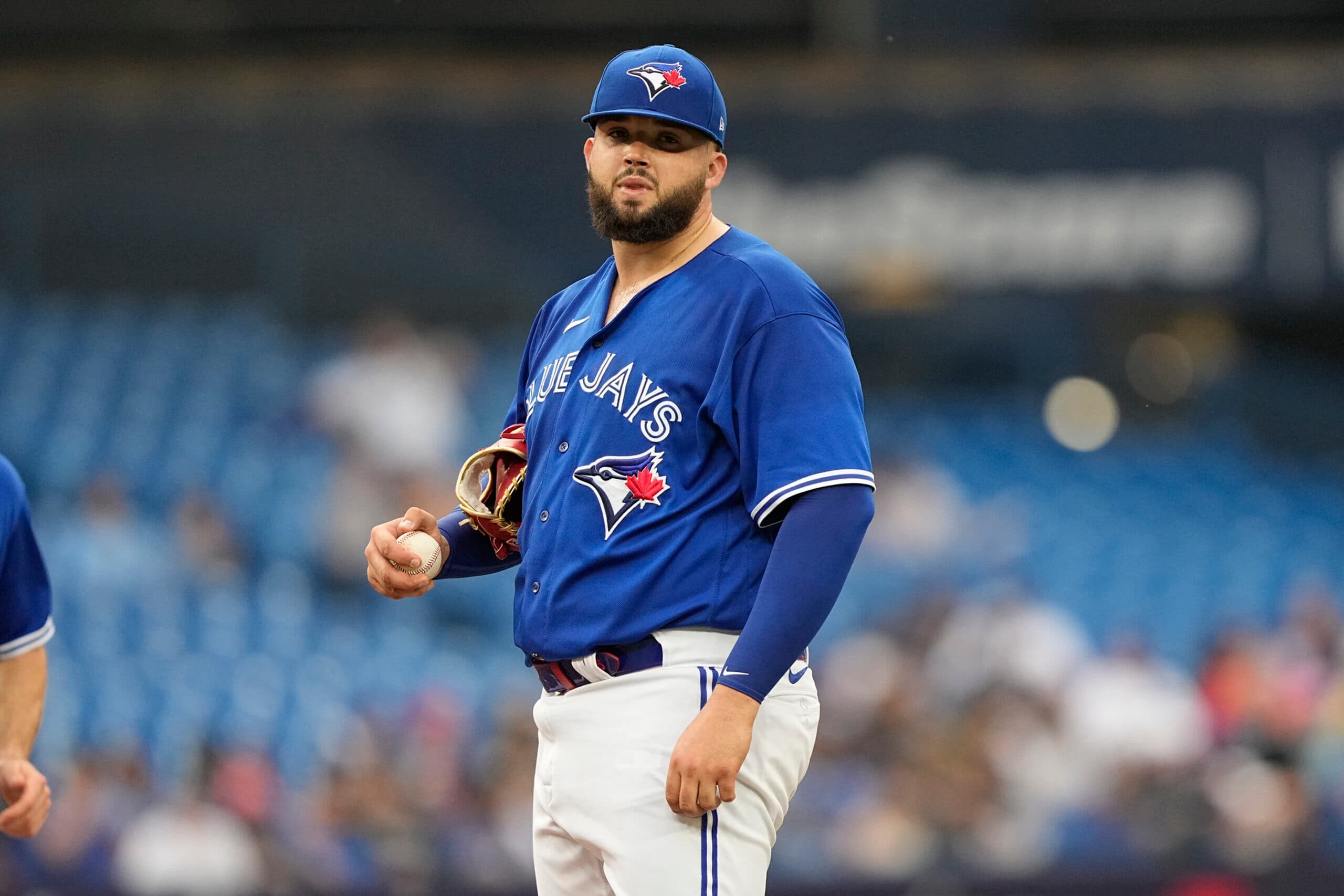 Photo credit:John E. Sokolowski-USA TODAY Sports
Among the many questions facing the Blue Jays this off-season is what the team can realistically expect from starting pitcher Alek Manoah moving forward.
Manoah finished third in American League Cy Young voting in 2022 and was unsurprisingly named Toronto's Opening Day starter in March when they kicked off the 2023 season in St. Louis. The big righty struggled mightily over the first couple of months of the season and was sent down to the Blue Jays' training complex in Dunedin, Florida to figure out what was wrong.
He came back up a month later and had a promising start in his return to the Major Leagues but provided mixed results over the next few weeks. The Blue Jays operated with a six-man rotation for a couple of turns after Hyun Jin Ryu came back from Tommy John surgery before Manoah was optioned to Triple-A Buffalo on August 11 following a rough start against the Cleveland Guardians.
That start wound up being the last of Manoah's season. The plan was for Manoah to be Toronto's sixth starter in Buffalo but his camp reportedly fought against the demotion and argued that he should instead be on the Injured Reserve. Manoah stayed in Toronto for weeks following the August 11 demotion getting medical tests done and he ultimately got shut down for the season on September 21 after receiving multiple injections in his right pitching arm.
Manoah finished his season with a 5.87 ERA over 19 starts, a staggering drop from the 2.60 ERA he posted across his first 41 starts in the Majors between 2021 and 2022.
General manager Ross Atkins speaks about Alek Manoah
During his end-of-season address with the media on Saturday afternoon, Blue Jays general manager Ross Atkins spoke about the situation with Manoah. Atkins acknowledged that Manoah was frustrated and disagreed with the demotion but also said that he hasn't requested a change of scenery.
The issue for Manoah seems to come down to big-league service time. If Manoah is on the Injured List in the Majors, he's accumulating service time and could be able to reach salary arbitration sooner as a player with Super 2 status. That isn't the case if he's been optioned to the minors.
As frustrating as a situation as this has been, it would be surprising to see the Blue Jays move Manoah in the off-season following far and away the worst season of his career. The team has Kevin Gausman, Jose Berrios, Chris Bassitt, and Yusei Kikuchi filling four of five spots in the starting rotation next season and Manoah will come to training camp with the goal of earning that fifth spot. Maybe having that chip on his shoulder will be a good thing.
---