Ross Atkins talks about the Blue Jays' payroll, the impending free agents, Nate Pearson, and more!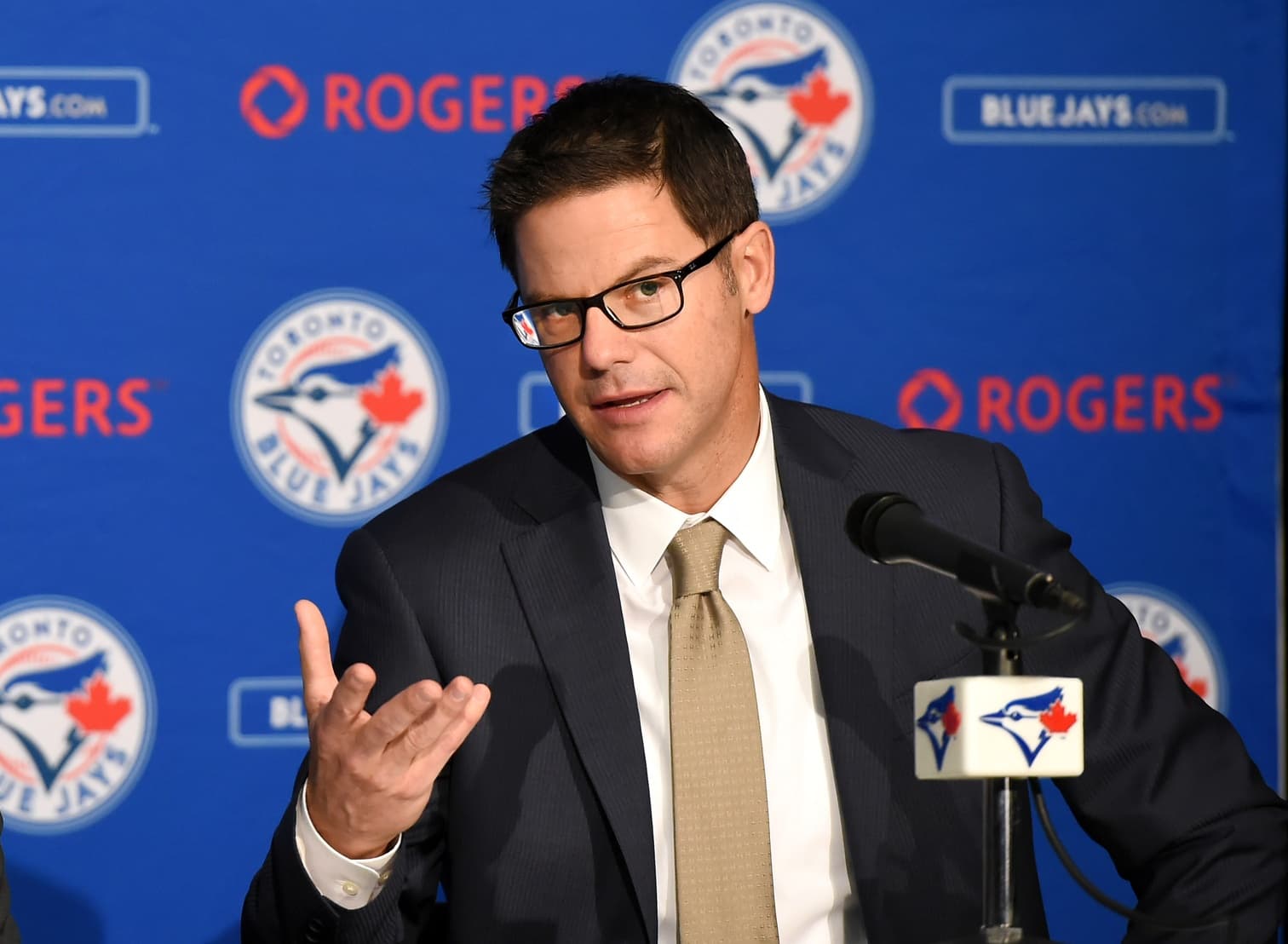 Photo credit:Dan Hamilton-USA TODAY Sports
Ross Atkins hosted his end-of-season media availability on Wednesday, so the off-season has officially started.
Atkins talked about a variety of different topics, including the team's payroll situation moving forward, a desire to bring back all three of the major impending free agents, where the team can improve heading into next season, extensions for the young core, and the status of both Bo Bichette and Nate Pearson moving forward.
Let's get into it!
On payroll, re-signing free agents, and contract extensions…
Atkins didn't go into much depth when it came to the team's financial situation this off-season, but he did offer a comment saying
"we're in a really good position"
in regards to both payroll flexibility and the ability to offer prospects to acquire talent via trade.
As of right now, the Blue Jays only have four players committed to their payroll for the 2022 season — George Springer, Hyun Jin Ryu, Randal Grichuk, and Lourdes Gurriel — who combine to cost about $58,000,000. There are also a handful of players — Vladimir Guererro Jr. and Teoscar Hernandez, most notably — who are eligible for arbitration, so that figure will obviously rise once new their deals are sorted out.
Speaking of Vladdy, when asked about inking core players to long-term deals, Atkins said that the possibility is open and it's something the team is
"always"
thinking about. He also noted that these types of discussions are easier done in the off-season rather than during the year when players are dealing with daily game preparation and don't want to have a distraction.
Last winter, the Padres locked up Fernando Tatis Jr. to a massive 14-year contract worth $340 million. It was the longest deal signed in Major League Baseball history, eclipsing the 13-year contracts signed by Giancarlo Stanton and Bryce Harper, and it was the largest deal ever given to a player before they were eligible to hit arbitration.
Tatis broke into the league in 2019 as a 20-year-old and slashed a .317/.379/.969 line over 84 games. He followed that up in 2020 with a .277/.366/.937 line over 59 games. That offence coupled with a great glove resulted in San Diego making their $340 million investment after Tatis had played just 143 big league games.
Vladdy will be eligible for arbitration for the first time this winter while Bichette will get his first go next winter. I think Vladdy is more likely to ink a long-term deal this winter but it wouldn't be shocking to see both of them get signed. I'll touch more on Bo later on.
Atkins unsurprisingly didn't go into much detail about Toronto's two major impending free agents — soon-to-be AL Cy Young winner Robbie Ray and soon-to-be AL MVP finalist Marcus Semien — but he did say that the team plans to continue to have dialogue with both players as they move into the open market.
Atkins also said
that Steven Matz, another impending free agent, is somebody the Blue Jays are interested in bringing back. All three are eligible for a qualifying offer.
Again, none of this is new because
reports from September indicated
that the Blue Jays tabled a contract extension offer to Semien during the season and were preparing to do so with Ray. It's fair to assume both players will test the open market to see what they can get after their amazing seasons and we likely won't see either of them signed until a new Collective Bargaining Agreement between the league and the Players' Association is reached.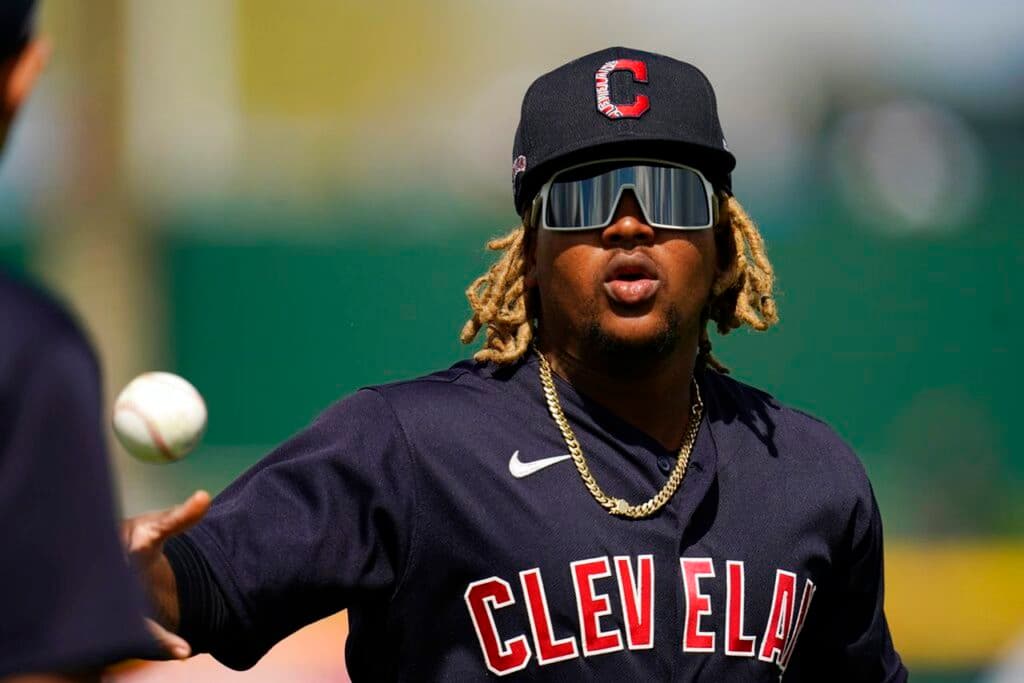 On improving the team and areas of need…
It's sort of interesting that Atkins chose to mention making the rotation better rather than the bullpen, as one was a strength and one was a glaring weakness, but I think we can safely assume that adding better relievers will be on the Blue Jays' radar. It's a fair strategy to worry about your starters before you worry about your 'pen.
It's sort of difficult to project exactly how the Blue Jays will improve next season given two of their best players are about to test the open market. If Semien and Ray both move on, the Blue Jays will have a whole bunch of payroll to add different players, and they'll sure as fuck have to. If they both stick around, there likely won't be any cash for another big improvement.
The one spot that obviously comes to mind when it comes to improving the roster for next season is third base.
The Blue Jays had a revolving door of third basemen throughout the season, as Santiago Espinal, Breyvic Valera, Cavan Biggio, Joe Panik, Kevin Smith, and Jake Lamb all saw time at the hot corner. The whole lot of them combined to post -0.1 wins above replacement,
according to Baseball-Reference
.
Again, this also comes down to what happens with Semien. If Semien sticks around, cheap guys like Biggio, Espinal, and Valera make sense at third. If Semien walks, those players could be needed at second base and the Blue Jays could opt to bring in a big fish to fill the hole at third.
The name that stands out, of course, is Jose Ramirez, a player that was signed by Cleveland in 2009 when Mark Shapiro was still around.
Last off-season, Cleveland unloaded Francisco Linor because he was one year away from free agency and they had no desire to hand him a big contract. It's difficult if say if the cheap Clevelanders will have the same interest in moving Ramirez, as he's signed for two more years at $11,000,000 and $13,000,000 respectively.
Ramirez's deal is also a reason why the Blue Jays would be very, very interested in pulling off a trade to acquire him. Beyond him being good and filling a position where they're weak, his reasonable contract makes it so that the Blue Jays could more than likely afford to fit him and Semien/Ray into their payroll.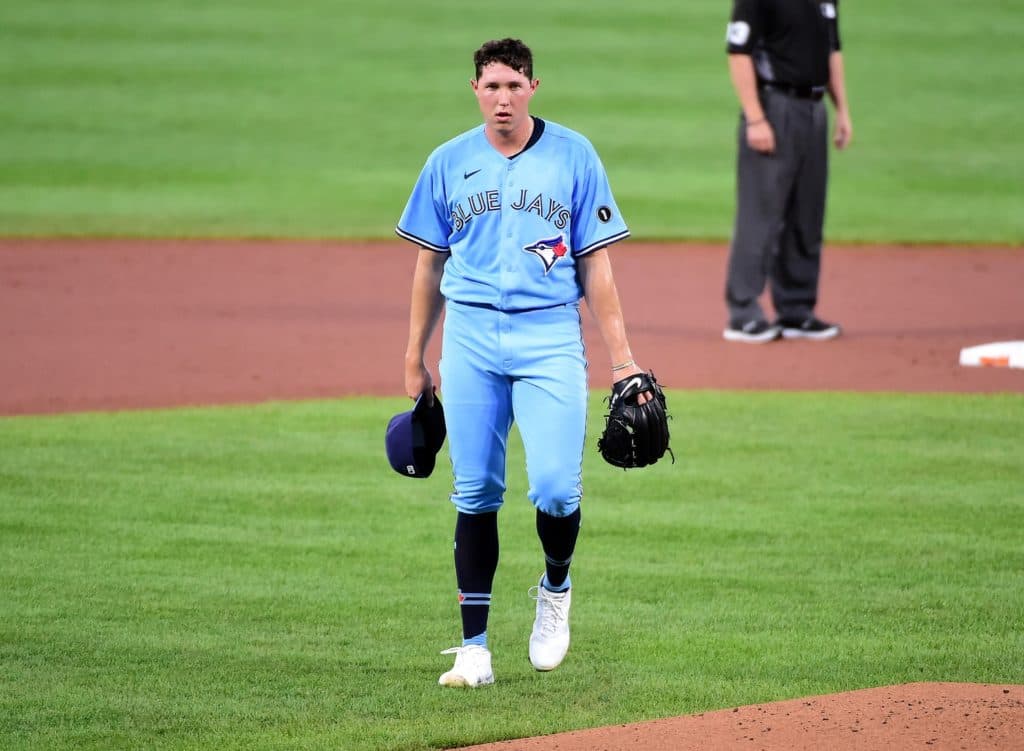 Aug 18, 2020; Baltimore, Maryland, USA; Toronto Blue Jays pitcher Nate Pearson (24) reacts after giving up a home run in the first inning against the Baltimore Orioles at Oriole Park at Camden Yards. Mandatory Credit: Evan Habeeb-USA TODAY Sports
On the coaching staff, Bo at short, and Nate Pearson…
Finally, we have a whole bunch of miscellaneous stuff.
Atkins noted
that all of the Blue Jays coaches will be invited to return next season, which is no surprise given how the team performed this season. And yes, that includes Charlie Montoyo, who absolutely isn't going to be fired after guiding the Blue Jays to a 91-win season when they played in three different home stadiums just because you didn't like the time he used Joel Payamps in a high-leverage spot back in May.
Anyways!
Nate Pearson, who was limited to just 45 2/3 innings this season due to injury, is being assessed this week in order to determine if a procedure is necessary to deal with a sports hernia.
Pearson turned 25 years old in August and the most innings he's thrown at the professional level in a season is 101 2/3. He hasn't come anywhere close to that amount of innings in any of his other seasons as a pro.
We'd all love to see Pearson become the top-level starting pitcher that his arm suggests he can be, but, at this stage, it's difficult to see him taking on a starter's load. Now, that doesn't mean he necessarily needs to be just a reliever, either. Pearson fits the bill of a Rays-style pitcher who moves around from pitching as a bulk guy to tossing multiple high-leverage innings out of the 'pen.
Also, circling back to Bichette, who I touched on earlier,
Atkins said
the team is committed to keeping him at shortstop long-term and that they believe in him. He didn't rule out the possibility of adding another player who could play short, like with Semien, but it does seem like a priority for the organization to keep Bo at short.
This will be something that has an effect on Bichette's long-term contract. If he sticks at short, given the way he hits, he'll earn much more money than he would if he pivots to play second. From Toronto's perspective, they might not be ready to commit to such a deal and pay him as a shortstop if they aren't 100 per cent certain that'll be his role long-term.