Ross Stripling has done everything and more this season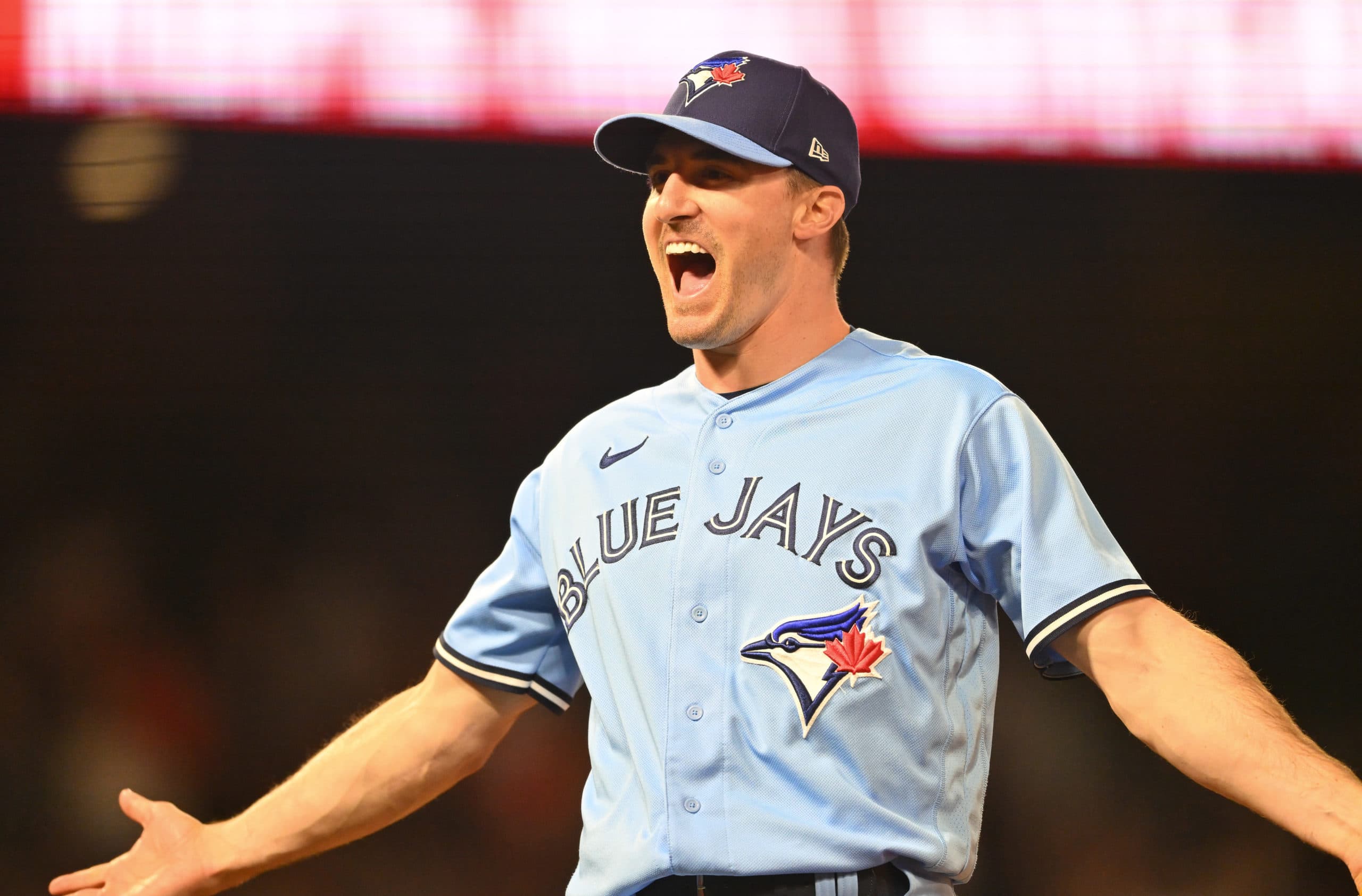 Photo credit:Jayne Kamin-Oncea-USA TODAY Sports
For almost all 30 MLB franchises, every season usually consists of pleasant surprises and for the Toronto Blue Jays, pitcher Ross Stripling has been exactly that in 2022.
Stripling, who was acquired from the Los Angeles Dodgers during the shortened 2020 campaign, has played a crucial role on the Blue Jays' roster thus far. The 32-year-old entered the season as a multi-inning reliever, however, his flexibility has allowed him to do far more than just that.
Out of the gate, the veteran righty made his first two appearances from out of the bullpen, although he quickly shifted to the starting rotation as the team wanted to provide its regulars an extra day of rest following a shortened spring. But his stay lasted far longer than originally expected. Once Hyun Jin Ryu landed on the injured list with forearm inflammation, Stripling was needed to remain as a starter.
With Ryu ultimately sidelined for a month, Stripling temporarily took over his spot in the rotation, making five starts during that span. In total, he compiled 21.0 innings and performed to a respectable 4.29 ERA, 2.95 FIP, .267 OPP AVG, 20.5 per cent strikeout rate and a 2.3 per cent walk rate.
Then, when Toronto activated Ryu off the IL on May 14, Stripling was reassigned to the bullpen and continued to provide length in relief when needed. He remained there for the rest of the month. That is until his services were required in another key situation.
As the club shipped off to Los Angeles for a four-game series against the Angels, he was asked to fill a massive hole once again. With closer Jordan Romano pitching on three straight days, manager Charlie Montoyo was forced to save his pitcher before he could blow the Blue Jays' 6-5 lead in the ninth inning. With an already exhausted bullpen, Montoyo had no other choice but to turn to Stripling.
Without hesitation, the 6'3″ hurler entered into a high-leverage spot and quickly recorded the final out of the game by getting Andrew Velazquez to ground out on just three pitches. That earned him his first save of the season and the fourth of his career.
Credit: Nick Turchiaro-USA TODAY Sports
Shortly after the team returned to Toronto, it was ultimately determined that Ryu would require a second IL stint due to some nagging forearm inflammation. Unfortunately, this injury is expected to sideline the veteran lefty for a significant amount of time. That has since forced Stripling back into the rotation.
Though, he hasn't missed a beat since returning as a starter. The 2018 National League All-Star has been nearly perfect in two starts, allowing just a pair of hits while striking out six batters over 11-scoreless innings. He also faced the minimum during his most recent outing against the Detroit Tigers, where he earned his third victory of the campaign.
Whether it's been as a reliever or a starter, Stripling has done everything that's been asked of him this season. His willingness to assume any role has quickly transformed him into an unsung hero. And he's been quite effective in every position he's been placed in, too.
As a reliever, the former fifth-round selection from the 2012 draft has logged 11.0 innings in eight relief appearances, posting a 4.09 ERA and a 3.96 FIP. He's also recorded a .233 OPP AVG, a 22.0 per cent strikeout rate and a 12.0 per cent walk rate.
As a starter, the right-hander has compiled 32.0 innings across seven outings, registering a career-best 2.81 ERA and a 2.64 FIP. His 1.6 per cent walk rate ranks as a career-best, too. Additionally, he's also produced a 19.7 per cent strikeout rate and a .208 OPP AVG – the second-lowest of his career.
Thanks to his versatility and impressive results as a starter, Stripling has proven extremely valuable to the Blue Jays in '22, as he owns the
third-highest fWAR rating
(1.0) among all qualified pitchers. The former Dodger has also pitched the fifth-most innings (43.0) on the team. And rightly so considering he's bounced back and forth between Toronto's rotation and bullpen.
Without Ryu, Stripling is poised to remain as a starter until further notice, and why shouldn't he? After all, he hasn't allowed a single run in each of his previous two starts. He's more than deserving of a third consecutive start, though his next one is scheduled against the New York Yankees.
Of course, that'll undoubtedly prove to be Stripling's biggest challenge of the season. Facing one of the best teams in the majors won't be easy. Having said that, Toronto's versatile hurler has been utilizing a very effective game plan versus both left-handed and right-handed hitters thus far.
Unlike last season, the former Texas A&M standout features a five-pitch mix this season – including his four-seamer, changeup, curveball, slider and 2-seamer (or sinker as Baseball Savant refers to it). This has allowed him to rely on three specific offerings for each type of batter, making him extremely unpredictable from either side of the plate.
When a left-hander comes up, Stripling is primarily throwing his fastball, changeup and curveball. He'll also occasionally mix in his slider and secondary heater, as well. But for the most part, he's been a three-pitch pitcher.
Given this dependable combination, lefties are slashing just .185/.217/.292 against Stripling this season. They've also struck out 12 times and have only walked on three separate occasions, earning him a 4.0 strikeout-to-walk ratio. That's the second-highest of his career and the highest since 2018.
Adding to his impressive performance, he's also induced plenty of weakly hit ground balls, resulting in a 53.7 per cent GB rate and a 22.2 per cent hard-hit rate against.
When facing a right-hander, though, Stripling's slider becomes a much larger piece of his arsenal as he's utilizing it 32.5 per cent of the time in '22. Along with his breaking ball, he'll also heavily feature his four-seamer and changeup while mixing in his curveball and two-seamer.
Together, just like against lefties, this pitch usage has helped Stripling enjoy positive results versus righties, who're slashing .235/.272/.347 against him. It's also led to plenty of swings and misses. In total, he's posted 23 strikeouts compared to just five walks, resulting in a 4.6 strikeout-to-walk ratio.
The Bluebell, Pennsylvania native has been inducing several ground balls against right-handers, as well. He currently possesses a 54.7 per cent clip, which is by far the highest of his career. His second-highest percentage (49.1 per cent) occurred during his rookie campaign in '16.
In the majors, opposing hitters will almost always attempt to eliminate a certain pitch from a pitcher's repertoire. But that hasn't been possible against Stripling. With the way he's attacking both lefties and righties, it's nearly impossible for the opposition to strictly sit on one pitch, which is a key reason why he's been so effective versus both sets of batters.
What's more intriguing is that Stripling has done all of this during his walk year. Once the 2022 season concludes, he'll be slated to reach free agency for the first time in his career. There's no doubt he'll likely receive a ton of interest on the open market. But that's thinking months in advance.
While 102 games remain in the regular season, at this point, there aren't many other players who've been more vital to the Blue Jays' success than Stripling. That certainly wasn't the expectation heading into 2022.