Round Up: Blue Jays celebrate first post-season berth since 2020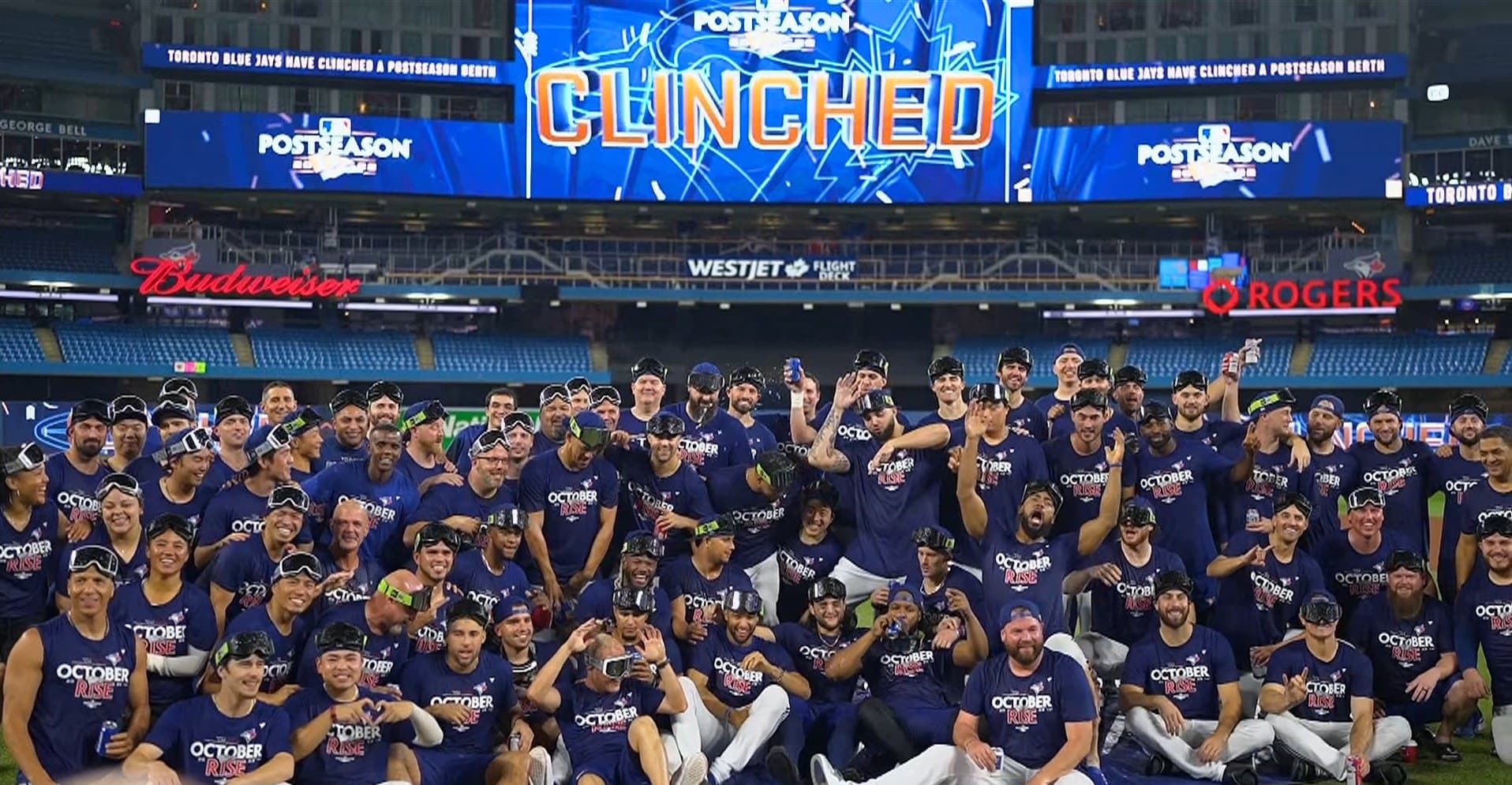 The Toronto Blue Jays may have clinched a playoff spot during an off-day on Thursday, but they didn't hold back in celebrating that season-long accomplishment after Friday's 9-0 victory over the Boston Red Sox.
Before anyone started popping bottles of champagne, though, interim manager John Schneider delivered a message to his team, reminding them that making the post-season deserves to be cherished. After all, you never know how things are going to work out in October when anything can happen.
Friday night, however, everyone was focused on celebrating the franchise's first playoff berth since the 2020 season.
The mood was definitely high in the Blue Jays clubhouse as players and coaches enjoyed champagne showers in what quickly transformed into a nightclub atmosphere. No one shied away from breaking out their dance moves.
A pirate flag somehow found its way into the party, as well, with outfielder Teoscar Hernandez waving it around while on top of a table as his teammates danced around him.
Amid this celebration, Vladimir Guerrero Jr., who blasted a 117.5-m.p.h. home run earlier in the night, spoke about the different amounts of alcohol players receive in the minors versus the majors after securing a playoff spot.
The number of champagne bottles the Blue Jays players were afforded is unknown, however, it was certainly significantly more than just one.
And as the evidence displays, there were enough bottles for plenty of champagne showers post-game.
After partying in the clubhouse, the Blue Jays returned to the field to celebrate on an even larger dance floor, which took place on the infield at Rogers Centre. Afterwards, players and coaches huddled around for a group picture, which has become customary during these instances across baseball.
The team also shared its appreciation to the grounds crew for all their hard work and dedication throughout the season. In doing so, the good times continued as everyone gathered around to drench themselves in one giant beer shower.
That's one mess they probably won't mind cleaning up afterwards.
Of course, work remains for the Blue Jays as they attempt to secure the first wild-card seed, ensuring them home-field advantage in the opening round of the playoffs. They're entitled to celebrate clinching a spot in the playoffs, but the players know, particularly Bo Bichette and Guerrero, meaningful games still lie ahead.
The next one comes Saturday afternoon as Toronto turns to right-hander Ross Stripling in Game 2 of a three-game set versus Boston.
---