Rumour Nest: Marcus Stroman said he would be open to a Blue Jays reunion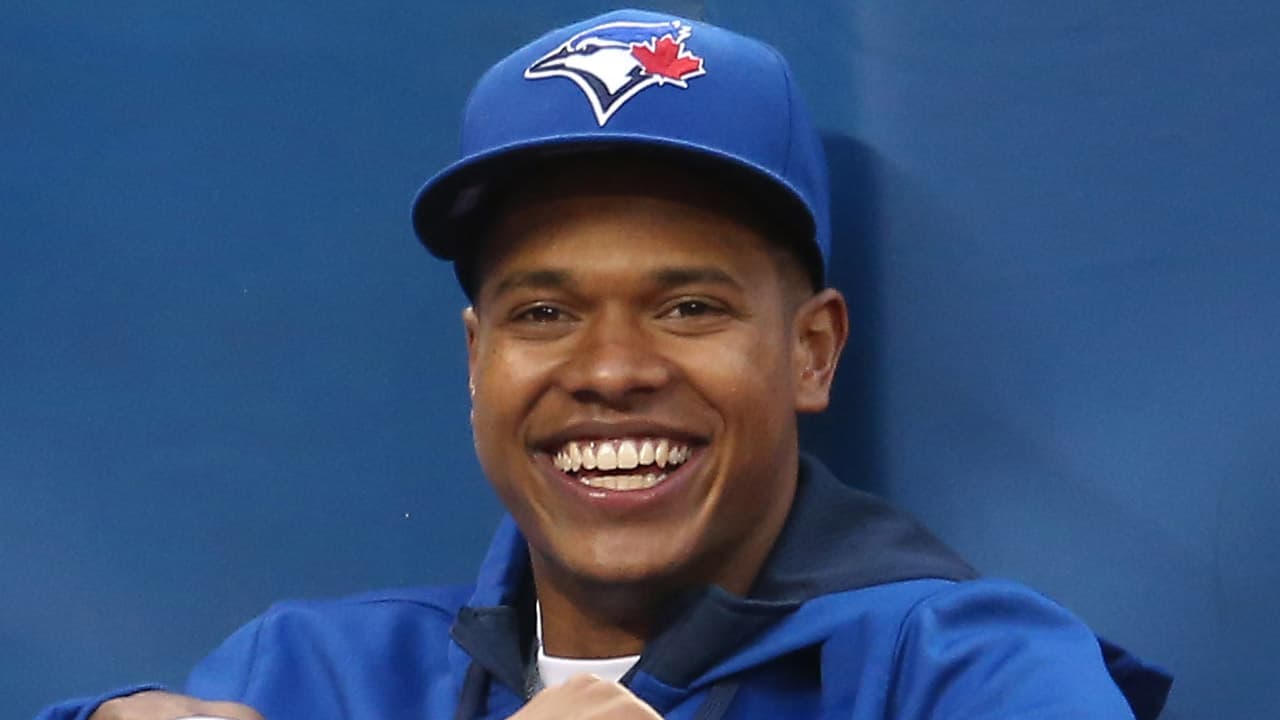 Photo credit:MLB.tv
Rumours, yes rumours, not rumors. I am Canadian. What is a rumour though? Rumour was an album released in 1977, over two decades before I was born. It is by far the best album Fleetwood Mac released, in fact, it is one of the best albums, period.  Rumours could also be the source of drama when you were in high school. 
However, this is a Blue Jays blog site and neither of those rumours have anything to do with the beloved Blue Birds. This begs the question, why the heck am I writing about rumours.
Well, dear reader, since the Blue Jays season is done, I'll be doing a new series about rumours surrounding potential trades/signings related to the Blue Jays.
Firstly, we'll cover a rumour about a former Blue Jays, Marcus Stroman.
I think before we start, regardless of how you feel about Stroman as a player, it's important to call out racism as you see it. He has received quite a lot of it throughout his career which is 100% unacceptable.
With all that being said, we'll start with Marcus Stroman as the rumour I believe to have no substance. This came from an interaction with a fan on Twitter, which means it came from Stroman's account, but we'll get to my thoughts on this later in this section. I first want to give a run down of how well Marcus has performed this season.
Marcus Stroman's 2021:
Many people have said he'd be a cheaper replacement for Ray and while it is true that Stroman would definitely bring good pitching to the Blue Jays, the word "cheap" doesn't describe Stroman.
In terms of his 2021 statistics, he pitched 179 innings and finished with a 3.02 ERA, 3.49 FIP and an xFIP of 3.57. If you are a WAR connoisseur, he finished with a fWAR (Fangraphs WAR) of 3.4 and a bWAR (Baseball-Reference WAR) of 3.6.
He may not be nominated for a Cy Young, but these numbers are what you'd expect of at the very worst, a third option in your rotation.
As a direct replacement, Stroman isn't as good as Ray and this reflects in their K/9. It's been well known that Marcus Stroman is a ground ball pitcher as the movement on his pitches drive the ball down. In terms of eating innings, this is great as a ground ball could take one pitch while a strikeout takes at least three. However, a ground ball out requires the help of a defender whereas the strikeout does not. The ground ball pitcher has slowly been phased out of the league as power has taken over.
That doesn't mean that Stroman doesn't excel with ground balls. Among qualified starters, Stroman had the 7th highest GB% (percentage of batted balls that were ground balls) at 50.8%.
Marcus Stroman's track record:
When Marcus was traded in 2019, I criticized the fact that he was rather inconsistent. In his five seasons prior to 2019, he had an ERA of 3.91, FIP of 3.62 in 665 innings pitched. It is also important to remember that he only pitched four games in 2015 due to a fluke of an injury. He had two full seasons where he looked like a near ace in 2014 and 2017 and two seasons where he struggled, especially in 2018 where he posted an ERA of 5.54 (a much better FIP of 3.91). So when he was traded, I didn't think much of it as to me it didn't seem like he would be consistent.
After looking at his last two seasons played, I can safely say that I was incorrect with this take.
His career ERA stands at 3.63 and a FIP of 3.62, the same after his first five seasons. If you look up "consistency" in the dictionary, you may well find Marcus Stroman as the definition. I mentioned his ground ball percentage in the last section and even though he finished 7th, it was the worst in his career to date. However, his K/9 of 7.94 is the highest to date.
Let's explore his career GB%. Since his rookie season in 2014, Stroman ranks 5th in ground ball percentage at 57.4% among qualified starters. If we change the minimum innings to 800, or 100 innings per year over the eight seasons, Marcus Stroman ranks second behind only Dallas Keuchel.
It's fair to say that Marcus Stroman is at the very least a good third option in the rotation as he's incredibly consistent and excels at what he's best at, so why do I think this rumour has no substance?
Front Office:
If you've experienced a break-up before, you have a sense of how the trade to the Mets left both the Front Office and Marcus Stroman. To say it wasn't an amicable split is to significantly downplay the situation.
Stroman was reportedly unhappy with being traded to the Mets instead of the Yankees (I would be as well, the Mets suck). Furthermore, Stroman tweeted and deleted
"[Blue Jays] front office will never build the team they should around their unbelievable core of young players…it's a travesty!"
This was tweeted (and deleted) on January 7th, 2021. I still think we are in 2019 and for those still stuck in pre-pandemic, we are still in 2021. I believe Stroman doesn't care about the past and he is open to returning to the Jays, but are the Jays interested in him? I don't think so, but anything is possible!
On a scale of 1-10, this rumour is a 2:
Introducing the validity rumour scale! While I could be wrong and have been wrong before, it is my belief that this rumour has next to no substance. There is zero doubt in my mind that Stroman is actually interested in a move. Without context, the Blue Jays should be doing all they could to sign Stroman; however, with context the validity of this rumour changes. It's definitely possible, just highly improbable.
As always, follow me on Twitter @Brennan_L_D. Even as I was writing this, I wasn't expecting this to be a series, but now I believe it may well become one as I was intending this to be about Stroman and Jose Ramirez.