Santiago Espinal is quickly becoming an integral piece of the Blue Jays' lineup
Photo credit:Erik Williams-USA TODAY Sports
On a team loaded with all-star talent, sometimes it can be difficult to stand out amongst the crowd. Though, that hasn't been the case for infielder Santiago Espinal in 2022.
So far this month, Espinal has proven you don't have to be a superstar to play a key role on the Toronto Blue Jays. As a former 10th-round selection from 2016, he's already forced his way into the starting line-up regularly. And that wasn't the original plan heading into this season.
Before spring training concluded, the Blue Jays were expected to platoon Espinal and Cavan Biggio at second base as the organization attempted to fill the void created by Marcus Semien's departure. Since both players are extremely versatile as well, they each were expected to fill in around the diamond, too. But plans change.
For Biggio, who landed on the COVID-19 injured list Monday, he started the first two games of the season at second base, however, his offensive woes quickly shifted him to a reserve role. Prior to this latest injury stint, the 27-year-old was largely being utilized in the outfield, at first base or as a pinch hitter/runner.
Espinal, on the other hand, has rapidly grown up in front of everyone's eyes. When he was first acquired from the Boston Red Sox in '18, which sent Steve Pearce the other way, his ceiling was more as a defensive-first middle infielder that could move around to multiple positions. Since then, however, he's developed into so much more.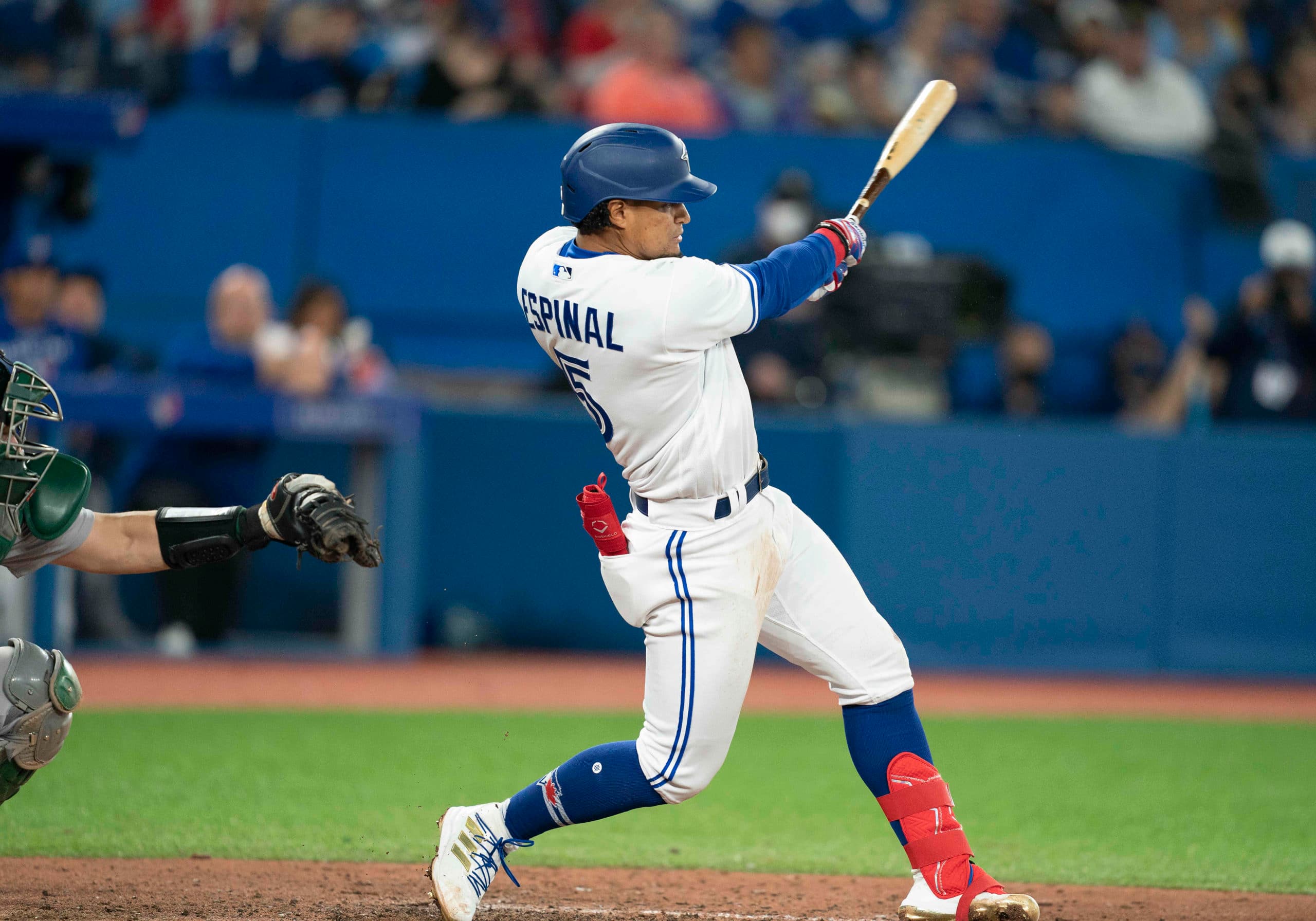 Credit: Nick Turchiaro-USA TODAY Sports
Over the off-season, the 27-year-old prioritized his strength and muscle training, allowing him to add 15 pounds to his 5-foot-10 frame. Early on, it's become pretty obvious his efforts are paying off in a huge way from an offensive standpoint.
Across his first two seasons in the majors, Espinal didn't hit for much power as he registered just a pair of home runs and a .390 slugging percentage. But after bulking up over the winter, he's started to excel in the slugging department like never before.
Through 17 games this season, the right-hander has already matched his home runs total (two) from a year ago, and he's also posted career-highs in SLG (.415) and ISO (.189) through 59 plate appearances.
That's a pretty considerable improvement from the previous campaign. Not to mention, he's providing these results while hitting within the bottom-third of Toronto's batting order.
There aren't many teams in the majors who're receiving this type of production from their No. 8 or No. 9 hitters. And there still might be more to come from Espinal's bat, too.
On the surface, Espinal's contact and on-base metrics aren't very eye-popping as he's performed to a measly .226 AVG, .288 OBP, .263 BABIP and a .306 wOBA. Traditional results can be deceiving, though. If we dig deeper, we'll discover that his underlying numbers are fairly promising.
Proving as such, the former Red Sox product carries a .307 xAVG, a .525 xSLG and a .377 xwOBA. Why is there such a dramatic difference in regards to his expected results? The easiest answer to that is he's been pretty unlucky thus far.
A season ago, the opposite was true for Espinal. In 2021, his overall metrics were much higher than his expected ones, meaning he was luckier than he should've been. More often than not, he was finding holes with soft contact, which normally isn't sustainable.
This time around, though, the Dominican native is largely creating loud outs with hard contact. That's not something he had previously done. After his hard-hit (22.8 per cent) and barrel rates (1.6 per cent) posted career lows last season, the Blue Jays' second baseman has exploded for a 52.5 per cent hard-hit rate and a 12.5 per cent barrel rate in '22.
Both of these percentages are
second-highest on the team
to first baseman Vladimir Guerrero Jr., who owns a 53.1 per cent hard-hit rate and a 16.3 per cent barrel rate.
In just his third big-league season, Espinal has elevated his offensive craft to another level – one most experts didn't envision during his days in the minors. As long as he remains on this current path, he'll continue to see his name in the starting line-up every day.
Paired with his growing offence, the Miami Dade College standout has also taken his defence to new heights this season, as well. Even though he was previously known as a quality defender, that hasn't stopped him from wanting to continuously improve his game, which has been evident at second base.
One of the biggest reasons Espinal has remained in Toronto's starting line-up – along with his offensive production, of course – is he's providing them Gold Glove-calibre defence. His growth in the infield was on full display during last weekend's series in Houston, where he made several jaw-dropping plays – including this diving snag in the series finale.
Overall, Espinal has logged 125 1/3 innings at second base in '22, registering a remarkable +4 DRS and a +3 OAA rating. Last season, he finished with a +8 DRS and a +5 OAA rating at third base across 551 2/3 innings.
Whether it's at second or third base, Espinal has proven capable of serving as a reliable defender no matter the situation. This season, while patrolling the right side of the diamond, his elite-worthy defence has seen him act like a vacuum for baseballs, particularly up the middle of the field.
In an infield that already features Matt Chapman, Bo Bichette and Guerrero Jr., Espinal has done an excellent job of complimenting this already talented group. The club's pitchers no longer have to worry about receiving very little support from its defence.
Instead, they can feel confident that if hard-hit balls are put in play, there are enough quality defenders behind them to convert those situations into outs. This pitching staff certainly couldn't say that a year ago, and definitely not in '20, either.
Espinal has come a very long way since being acquired by the Blue Jays during the 2018 season. Now, almost four years later, he's solidifying himself as a prominent member of this roster, both offensively and defensively.
He may never receive proper recognition for his growth outside the Canadian market, but within it, most fans are fully aware of just how valuable he's become.
---