Scoreboard Watching: Mariners continue through easy schedule, Rangers on seven-game losing streak, and more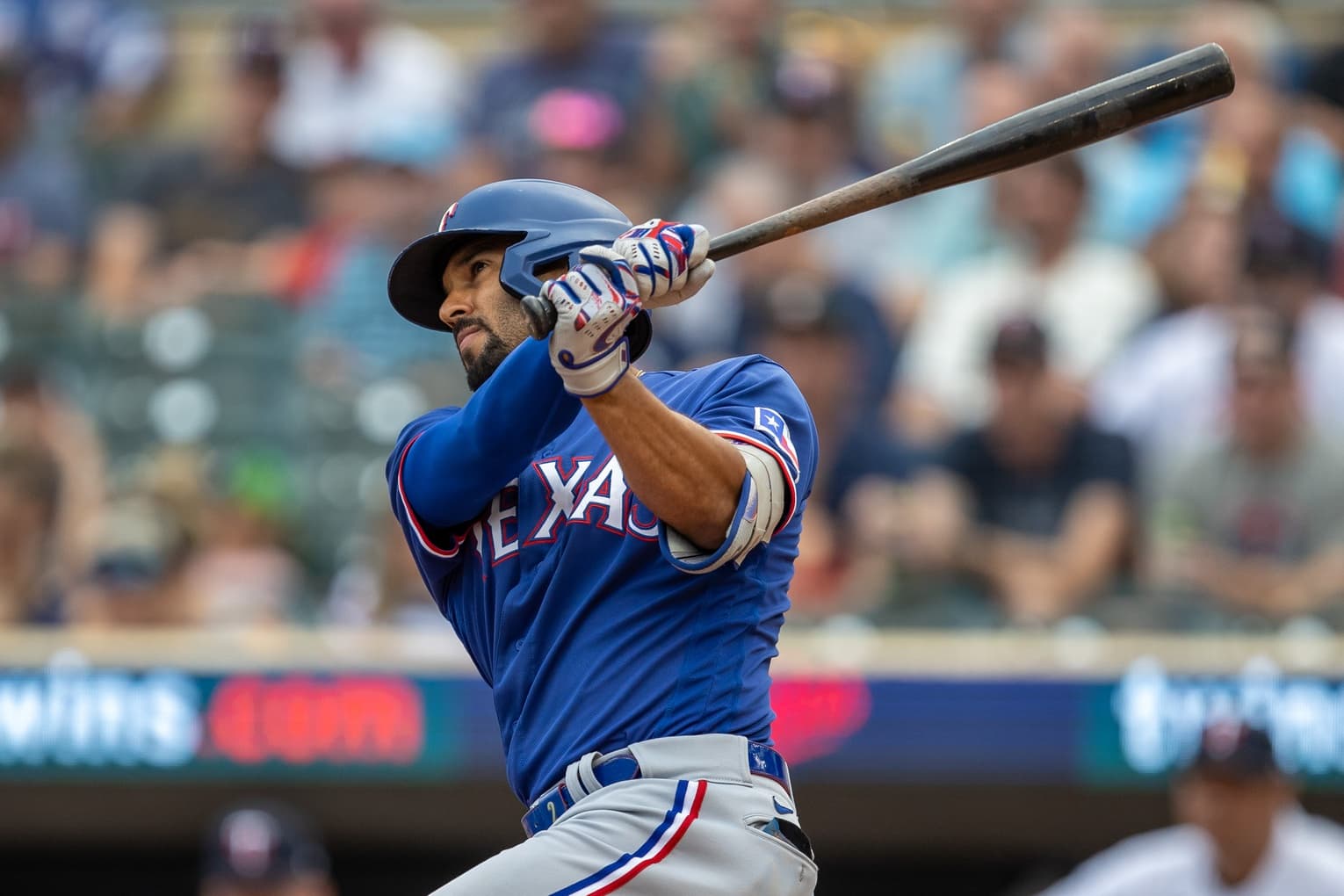 Photo credit:© Jesse Johnson-USA TODAY Sports
From Shohei Ohtani to Wander Franco to the White Sox front office and much more, the headlines stayed away from the American League contenders this week. That doesn't mean that there weren't some standout performances, though, and that will surely carry over into the weekend.
Baltimore Orioles
Midweek Recap: The Orioles finished off their season series against the Blue Jays with a 10-3 record, stealing two of three games from Toronto this week. They shook off losing the series opener and hit four home runs over the final two games to keep them in front of Tampa Bay in the AL East by two games.
The Orioles were stoked to get three home runs from Anthony Santander this week after missing a few games with lower back soreness. While the Orioles are loaded with young talent, Santander is their biggest source of power, now leading the team in home runs (24) and RBIs (69). Per multiple reports, Santander has been dealing with back issues all season, however, I'm sure Baltimore is okay giving him some days of rest if he can produce the way he did this week.
Kyle Gibson may not be a Cy Young candidate, but he has been especially tough on AL East opponents this season. Gibson has made eight starts against AL East foes this year and has a 5-2 record with a 3.18 ERA in those games. That includes the start he made on Thursday night when he battled through eight innings against the Blue Jays and earning his 13th win on the season.
Looking Ahead: The Orioles stay home to face the Colorado Rockies this weekend in a three-game set. The Rockies are in the middle of a rough part of their schedule, because…
Tampa Bay Rays
Midweek Recap: …as a surprise to no one, the Rays handled their end of business this week with a three-game sweep of those Colorado Rockies. With that, they gained a game back on the Orioles with Baltimore losing one of three against the Blue Jays. Tampa is only two games back of the AL East lead, but they hold a six-game lead for the first Wild Card spot.
With Wander Franco being put on administrative leave, the Rays have called upon rookie reinforcements in SS Osleivis Basabe (6th-ranked TB prospect) and 3B Curtis Mead (3rd-ranked TB prospect). While it has been a very small sample size for them both, they have already positively contributed to the team, especially Basabe, who might have already locked up the shortstop position for himself with Franco's situation and Taylor Walls out with injury. Basabe went 4-for-8 with a home run and 5 RBIs during the Rockies series, with that home run being the first of his career and a grand slam at that.
Tampa Bay's bullpen recently got a boost with the reinstatement of reliever Andrew Kittredge. Kittredge missed much of the last two seasons due to recovering from Tommy John surgery, and his return will hopefully complement an already potent group of relievers.
Looking Ahead: The Rays will host the Yankees this weekend for a three-game series. With Zach Eflin and Tyler Glasnow starting two of those games, the Rays are hoping to rest some of their relievers given that Thursday was a bullpen day for them.
Toronto Blue Jays
Midweek Recap: It's hard to fathom with how inferior the Orioles were from 2018-2021, but now, Baltimore is just better than Toronto. The Blue Jays dropped two of three to the Orioles, and any chance the Jays had at an AL East crown is seemingly out of reach. Still, the Blue Jays are 1.5 games back of Houston for the final Wild Card spot.
That doesn't mean that the Blue Jays are unable to beat Baltimore, because they did steal a win on Tuesday night. Toronto's bullpen was on full display for that game, as six Blue Jays relievers combined for 5.1 innings, two hits, and eight strikeouts. That's the kind of impact that Ross Atkins imagined this bullpen would have, as different arms with different strengths kept Baltimore out of striking distance for the back half of that game.
Brandon Belt, who hit the game-winning home run on Tuesday, is having an outstanding August. Through 18 games this month, Belt has hit seven home runs, eleven RBIs, and a 1.114 slugging percentage. Getting Belt and a more-than-serviceable Kevin Kiermaier for $18 million combined this season is not talked about enough.
Looking Ahead: The Blue Jays now enter a stretch of games against sub-.500 opponents – 15 consecutive games to be exact. That'll start with a weekend series against the Cleveland Guardians, a series in which Toronto will face three pitchers that they saw two weeks ago. While familiarity may sound good, these three pitchers allowed only two earned runs combined during their previous series against the Blue Jays.
Boston Red Sox
Midweek Recap: After losing the first two of a four-game series with the Houston Astros, the Red Sox clawed back into things by winning the final two games, including a 17-1 beatdown on Thursday afternoon.
Unfortunately, Boston had to send Jarren Duran to the IL earlier this week due to a toe injury he suffered over the weekend. On the bright side, they called up rookie Wilyer Abreu, and received instant production. Abreu appeared in the final three games of the series totaling six hits, five RBIs, and his first major league homer (which was an absolute nuke). Ironically, Abreu was traded from the Astros to the Red Sox last year in exchange for Christian Vazquez. Adam Duvall figures to be getting more time in the outfield due to Duran's injury, and he too put together a high-yielding series with three home runs and eight RBIs. While I obviously want the Blue Jays to make the postseason, watching this Red Sox offence in October would also be awfully fun.
Tanner Houck made his first start since June on Tuesday night, going five innings allowing four hits, three earned runs, three walks, and two strikeouts. Houck will likely be better as time goes on, but the Red Sox are happy to have him back to throw in their rotation nonetheless. The Red Sox continue to hang around in the AL Wild Card race, sitting 3.5 games back of the final spot.
Looking Ahead: The Red Sox are back in Boston and will start a three-game series tonight with the Los Angeles Dodgers. It'll be the first time Mookie Betts is back in Boston since he was traded to LA back in 2020. Connor Wong and Alex Verdugo, part of that trade's return, will surely be in the lineup for these games.
Texas Rangers
Midweek Recap: Things are getting scary for the Rangers, who are in danger of falling out of the AL West lead for the first time since April 8th. Crazily enough, that is the only day this season that they haven't been in first place.
The Rangers dropped both games in a two-game series against the Diamondbacks this week, starting with a walk-off loss on Monday night despite getting eight shutout innings from Jordan Montgomery. Closer Will Smith, who ultimately wound up earning the loss in that game, has had a brutal month of August with an 11.05 ERA across 7.1 innings.
Texas' offence had little to no answer for Zack Gallen on Tuesday night, striking out 11 times against the All-Star righty. The Rangers have an exemplary offence this season and have been able to outslug their problems, but their pitching needs to follow Montgomery's suit in limiting runs if the bats are cold on occasion.
Looking Ahead: It's too early to declare that the sky is falling, but with two teams in the rearview mirror, the Rangers need to start playing with some urgency. They started a four-game series with the Twins last night and lost that game as well, pushing their losing streak to seven and their AL West to lead to a single game.
Houston Astros
Midweek Recap: The Astros had a really nice opportunity to retake the AL West lead as well as put a huge dent in Boston's playoff hopes, but they could not convert and would split a four-game series with the BoSox. Still, they remain only one game back of the Rangers due to shortfalls of their own.
Justin Verlander continued to show that he is still effective at age 40 tossing six shutout innings on Tuesday night. He's 3-1 with a 3.38 ERA since he returned to Houston, including Tuesday's nine-strikeout performance. Verlander also provided a comical moment in his start, telling Alex Cora to "f–k off" when Cora accused Verlander of pretending his PitchCom device didn't work to avoid a pitch clock violation.
The Astros unfortunately were on the wrong end of a 17-1 defeat on Thursday afternoon. The 16-run margin of loss tied their worst loss in franchise history, with September 25, 2011 being the last occurrence. Check out that box score if you like some nostalgia – J.D. Martinez was a rookie with the Astros that year. Rookie starter J.P. France had to wear a lot of the damage yesterday, allowing 10 runs and watching his ERA rise from 2.75 to 3.51. It marked only the second time this season that France has allowed more than four runs in a start.
Looking Ahead: The Astros head to Detroit to face the Tigers for three games. The Tigers took two of three from the Astros earlier this season, but the Astros will send Verlander and Framber Valdez to the mound to try and reverse that result this weekend.
Seattle Mariners
Midweek Recap: Someone finally beat the Mariners, but it didn't come without a fight. The White Sox walked off Seattle on Wednesday afternoon with the help of a late-game throwing error by shortstop JP Crawford, halting their winning streak at eight games.
Still, the Mariners have still put themselves in a fantastic position as we head towards September. They took two of three from the White Sox this week, headlined by Cal Raleigh going 4-for-10 with two home runs and seven RBIs across the three games. Josh Rojas (7-for-13), Eugenio Suarez (4-for-10), and Teoscar Hernandez (6-for-14), also swung the bat really well this week, as their offense continues to complement a starting rotation that is as solid as they come right now.
With this week's series win, the Mariners hold a 16-5 August record. They currently reserve the second Wild Card spot and are only one game back of the Rangers for the AL West lead.
Looking Ahead: The Mariners kick off a six-game homestand tonight that starts against the Royals. These two teams played an exhilarating and back-and-forth series last week in which Seattle won three out of four, however all of the games were tightly contested.
Minnesota Twins
Midweek Recap: Minnesota did not have a good time visiting their neighbouring state up north. The Twins were swept by the Brewers in a mini two-game series, continuing to allow Cleveland to hang around in the AL Central race. Minnesota's biggest issue in the series was their bullpen play. Both starters in the series left their respective outings with leads, but their relievers combined to allow eight earned runs across the series. How many runs did the Brewers' relief allow? None.
Trade deadline acquisition Dylan Floro allowed five earned runs in his inning of relief on Tuesday, and a combination of relievers couldn't hold a three-run lead on Wednesday despite Minny's offense jumping on Corbin Burnes for six earned runs. On top of the bullpen performances, the Twins committed an error in each of the two games, both of which led to a run for the Brewers.
I really tried to hype up the Twins during the last version of this article on Monday, and they didn't make me look very good this week.
Looking Ahead: Minnesota will complete a four-game series this weekend against the Rangers after winning the first game last night. The Twins have a six-game lead over the Guardians in the AL Central, so the Blue Jays can help Minnesota out this weekend if the Jays can win their series.
Cleveland Guardians
Midweek Recap: With a couple of rain delays mixed in, the Guardians lost two of three to the Los Angeles Dodgers this week. They won the first game of the series 8-3, giving off the impression that they might turn a corner offensively. Unfortunately, they reverted back to their old ways, scoring a combined four runs in the final two games.
Past Jose Ramirez and Steven Kwan, the Guardians are searching for answers with the bats. They're hoping mid-season addition Kole Calhoun can provide a consistently good level of production right now; it was Calhoun's three-run home run that put the game out of reach on Tuesday night for his ninth RBI in 14 games. It's what comes after the three above names that really put Cleveland in a rut. Ramon Laureano, Gabriel Arias, Oscar Gonzalez, Bo Naylor – these are the guys that could get Cleveland over the hump with a hot stretch of their own. Eventually, though, the Guardians may realize that this is who they are, and they'll continue to ride the coattails of their pitching.
Looking Ahead: The Guardians head north of the border to face the Blue Jays. Fortunately for Cleveland, their scheduled starting pitchers had tremendous success against the Blue Jays a couple of weeks ago. If they're able to win a game or two in Toronto, it'll set them up nicely for a make-or-break series against the Twins next week.
---