Scoreboard Watching: Seattle has their eyes on the AL West crown, the Rays keep their head above water, and more!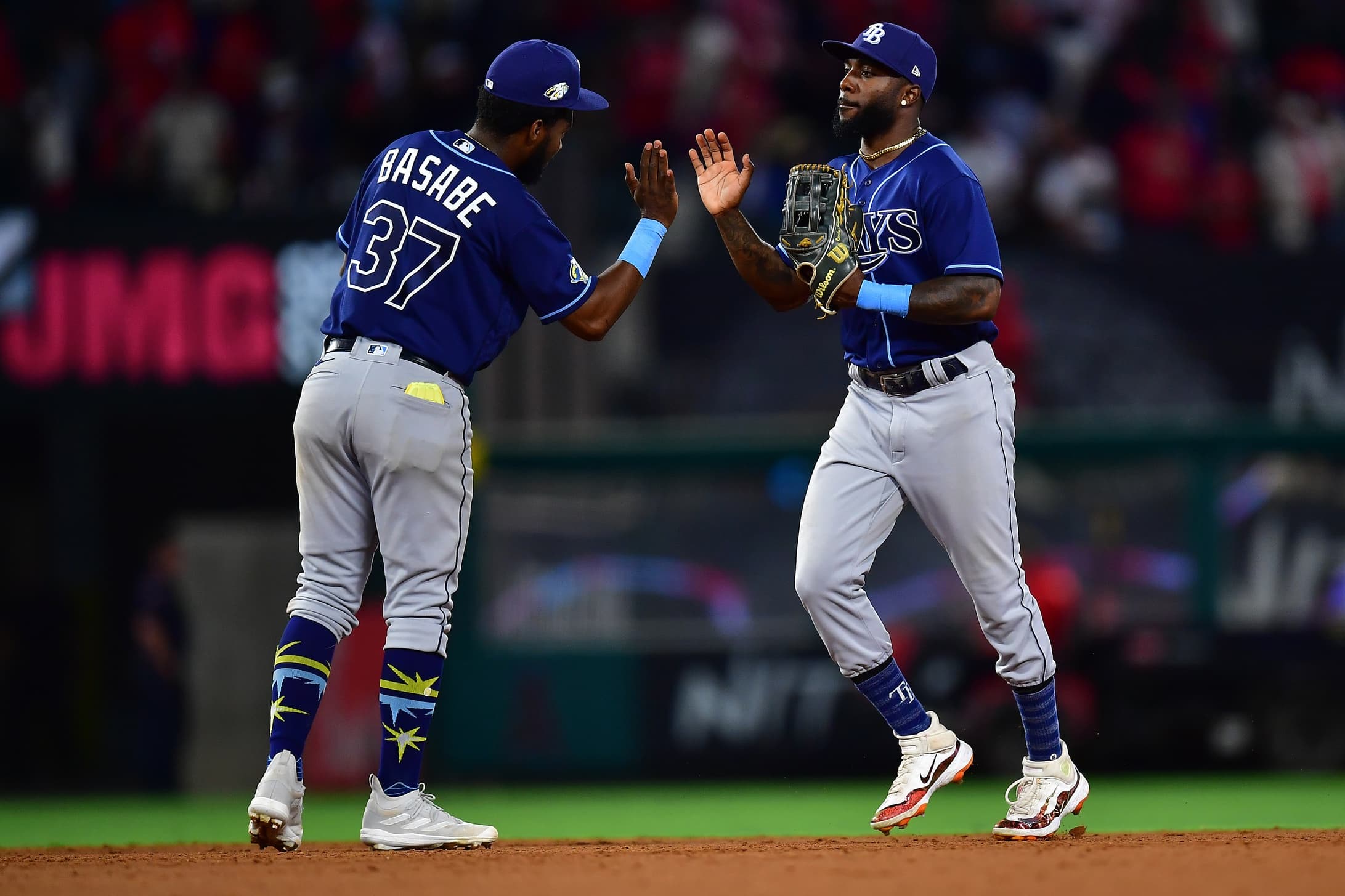 Photo credit:© Gary A. Vasquez-USA TODAY Sports
It's only the second episode of this series, and we've already lost somebody.
Say goodbye to the New York Yankees who, barring a magical September run, are falling out of contention and relevance. Things have gone from bad to worse – no – worse to very worse for the Yankees who have lost eight in a row, and they're in position to finish in last place in the AL East for the first time since 1990.
What are you laughing at, Cleveland? Now seven games under .500, you guys might fall from the contender list later this week!
Anyways, this weekend provided some great entertainment across the board. Let's take a look at how the American League contenders fared this weekend, and what they have in front of them this upcoming week.
Baltimore Orioles
Weekend Recap: The Orioles took full advantage of facing inferior competition this weekend, sweeping the Oakland A's by a combined score of 28-7. Obviously, there would be a lot of offensive superlatives, but Gunnar Henderson stole the show by far. Henderson went 8-for-14 with two home runs and five RBIs this weekend, and he also was "a single shy" of a cycle on Sunday afternoon. The quotations are there because his last hit of the day could've very well been a single, but Henderson decided to stretch it into a double. There's no shame in adding a little to your OBP.
Orioles left fielder Austin Hays had a once-in-a-blue-moon moment on Saturday when his home run to left field got wedged into the foul pole. Maybe the foul poles in Vegas won't allow such an oddity.
Looking Ahead: Baltimore takes a day off on Monday to recover from their travel. They'll start a three-game set on Tuesday against the Blue Jays, a team that they are 8-2 against this season. Toronto doesn't have too much of a chance to win the AL East, but the Orioles can bury that opportunity with a series win.
Tampa Bay Rays
Weekend Recap: The starting pitching is depleted for the Rays, but the offence picked up the slack this weekend. Tamps Bay's offence generated 33 runs out in Anaheim, and they fell just a run or two shy of sweeping the Angels. Yandy Diaz continued his steady season at the plate with a pair of hits in all three games, with Harold Ramirez contributing a 7-for-12 weekend to complement him.
The Rays are still only three games back of Baltimore and are five games up in the Wild Card race, so as long as they take care of business the rest of the way, they should be playing baseball in October. These are the Tampa Bay Rays, and taking care of business is all they do. Winning by committee is the name of the game.
Looking Ahead: The Rays welcome the Colorado Rockies to the Trop on Tuesday for a set of three. It'll be a battle of two franchises with low attendance, but it's an important series for Tampa nonetheless, especially if the Blue Jays can snag a game or two from Baltimore.
Toronto Blue Jays
Weekend Recap: Toronto welcomed back a multitude of guys off the injured list this past weekend, the biggest name being Bo Bichette who was 2-for-5 with a homer and a triple on Sunday. Toronto took two of three from the young guns in Cincinnati this weekend, while their offence continued to be one of the most perplexing in the MLB. The Blue Jays struggled against Long Island Ducks legend Brett Kennedy, but naturally had no issues teeing off against Hunter Greene, one of the most electric young arms in the game.
While the reinforcements made the Blue Jays a lot stronger, the boost they have gotten from Hyun-Jin Ryu (a reinforcement from a couple of weeks ago) has made an already good rotation even better. Ryu has made four starts since his return from Tommy John surgery, pitching to the tune of a 1.89 ERA with 15 strikeouts and 5 walks. Given they make the postseason, the Blue Jays will have some complicated (yet welcome) decisions to make when it comes to who is pitching.
Looking Ahead: The bad? Toronto has to face Baltimore this week. The good? It'll be for the last time this season. The Blue Jays will send their arguably three best arms to the mound in this series with Yusei Kikuchi, Kevin Gausman, and Jose Berrios. Toronto really needs to make the most of this series as it will be the last time they can control how much ground they make up (or lose) against the Orioles this season.
Boston Red Sox
Weekend Recap: Boston did the United States a great service this weekend and swept the New York Yankees. Their starting pitching set the tone as Brayan Bello and Kutter Crawford combined for twelve innings and only two runs allowed on Friday and Saturday, and bulk man Nick Pivetta threw five quality innings of relief on Sunday. Pivetta has hit his stride this year as a reliever; now that their starting rotation is getting healthier, using an opener for Pivetta shouldn't be too big of a deal.
Luis Urias, one of Boston's few trade deadline acquisitions, had his biggest moment as a Red Sock with a grand slam off of Gerrit Cole on Saturday. That homer cemented Urias' name in Boston's history; he became the first Red Sox player to hit grand slams on consecutive pitches and the first in 80 years to hit a grand slam in consecutive games. Boston tagged Cole for six earned runs, the first time he has allowed that many in an outing since June 9th, 2021.
Looking Ahead: The Red Sox have a full week ahead as they start a four-game series with the Houston Astros. In fact, seven of their next ten games are against Houston. I hope the Red Sox are okay with facing Justin Verlander twice in one week!
Texas Rangers
Weekend Recap: Oh boy, it was not a fun weekend for the Rangers. Milwaukee raided Texas this weekend with a sweep on their mind and that's exactly what happened. The Brewers won a shootout on Friday night, a style of game that Texas is used to playing, but the latter two games of the series were dominated by Milwaukee starters Freddy Peralta and Adrian Houser. The Rangers went 0-for-9 with RISP over those final two games, and a tough pitching team like Milwaukee will make you pay for that.
Furthermore, it was a particularly rough weekend for Texas' bullpen, a group that gave up 12 earned runs through the course of those three games. Adding insult to injury, the Rangers' slump this weekend reduced their AL West lead to 2.5 games. That's where the Astros sit, with the Mariners only being a half-game behind them. A lot of talk early in the season stated that the AL East was the best division in baseball, but the AL West is starting to have something to say about that.
Looking Ahead: Texas needs a short memory, as their next series starts today against Arizona, a team that's won 7 of 9. Jordan Montgomery and Jon Gray, two very reliable starters this season, have a chance to get the Rangers back on track in the short two-game series.
Houston Astros
Weekend Recap: Oof. Houston, we have a problem.
The Astros were dominated by the Mariners at home this weekend, and now they find themselves closer to being out of the Wild Card race than they are in it. Framber Valdez has been subpar since the All-Star break, and that type of pitching reared its ugly head again on Saturday when he allowed six earned runs over five innings of work. Sure, the sweep doesn't fall entirely on Valdez, but he's accustomed to being a stable piece of the rotation. Since July 15th, Valdez has surrendered at least five runs in an outing four times.
Rookie Hunter Brown also had a tough time on the mound, allowing six earned runs himself on Sunday afternoon. That's just what Seattle is doing to teams these days. On the bright side, Jose Altuve reached 2,000 career hits this weekend. He's not the most popular guy in the league, but his longevity and consistency are very much respected in my book.
Looking Ahead: The Astros have four games against the Red Sox this week. Houston is now a half-game up on Seattle for the second wild-card spot, and even the Blue Jays are close behind them. Does the six-year postseason run end this year?
Seattle Mariners
Weekend Recap: The Mariners are the hottest team in the majors right now, and no one outside of that clubhouse would've predicted that after the trade deadline. After this weekend's sweep over Houston, the Mariners have won six in a row and 14 of their last 17 games. Furthermore, they're only a half-game back of Houston for the second Wild Card spot, and three games back of Texas for the AL West lead.
It'd be hard to talk about the Mariners without mentioning Julio Rodriguez. J-Rod set a major league record with 17 hits in four games on Saturday, an insane tear that is validating the contract to which the Mariners signed him. He's changed it all!
Their bullpen has rebounded nicely after some concerns last week, and supporting bats such as Teoscar Hernandez and Dominic Canzone had notable performances this weekend. Everything is clicking right now for Seattle, and with a very favourable schedule over the next few weeks, this is not putting a smile on the faces of Blue Jays, Rangers, and Astros fans.
Looking Ahead: Seattle heads to the south side of Chicago to face the White Sox. Their starting pitching lines up perfectly to put them in position for success; Luis Castillo, George Kirby, and Bryce Miller are the scheduled arms for the Mariners this week.
Minnesota Twins
Weekend Recap: While the Twins are bound to win the AL Central by default, I wanted to make sure I gave them credit this week for not getting trade-happy at the deadline. This is a team that doesn't have enviable World Series odds. If they get into the postseason, they won't be expected to go far and they'll be playing with house money. Teams are thinking they'd be better off getting the third Wild Card spot…because they'd rather play the Twins. With all that being said, why go all out at the trade deadline?
Instead, the Twins are letting what they currently have take them as far as they can go. Minnesota took two of three from the Pirates this weekend, building their division lead to six games. Edouard Julien and Royce Lewis continue to be a pair of criminally underrated rookies that won't win AL Rookie of the Year due to the stacked rookie class that they're a part of.
Minnesota's starting pitching stole the headlines this weekend; Pablo Lopez extended his scoreless innings streak to 19 frames on Friday, and Dallas Keuchel took a perfect game into the 7th inning on Sunday.
I'm high on the Twins right now because they're flying under the radar, and their roster is capable of winning a best-of-3 series. Don't be surprised if they win a series or two in October.
Looking Ahead: The Twins will look to carry that momentum into Milwaukee this week. The Brewers are bringing the momentum of sweeping Texas into this series as well, so it is making out to be an exciting two-game set.
Cleveland Guardians
Weekend Recap: It'd be a valid question if you were to ask why Cleveland is in this article and New York isn't, but I trust the Guardians much more to chase down the AL Central than I trust the Yankees to claim a Wild Card spot. The Guardians had a tough weekend though, and they're dangerously close to falling out of a realistic AL Central crown.
The Detroit Tigers took three of four from Cleveland, with the Guardians only able to muster 10 total runs in those games. Thank goodness they could put together a four-run 8th inning during Friday's win, as that was the only thing keeping them from being swept. Detroit only sits 1.5 games back of Cleveland for second place in the AL Central. It's not a prestigious honour, but it shows how close the Guardians are to the rest of the division than they are to the Twins.
Looking Ahead: Things don't get any easier for Cleveland as they start a three-game series with the Dodgers on  Tuesday. Lance Lynn, who has pitched phenomenally (3-0 with a 1.44 ERA) since being traded to Los Angeles, will pitch the final game. I'd take the under on Guardians runs for that matchup – thank me later.
---