Scoreboard Watching: Texas is running out of fire, Baltimore keeps rolling, and more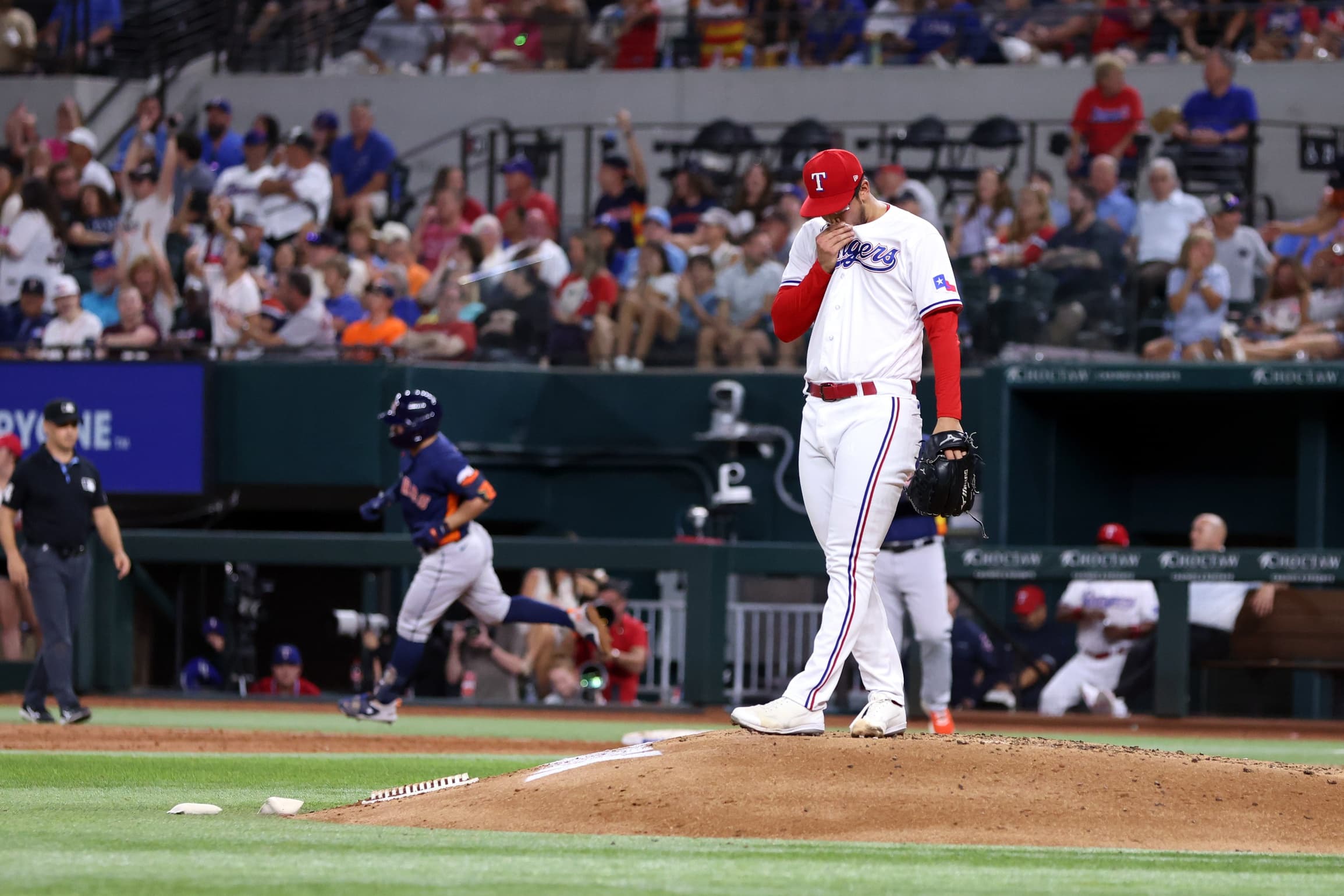 Photo credit:© Tim Heitman-USA TODAY Sports
Taking only two out of three from Oakland left a "meh" feeling in the mouths of a lot of Blue Jays fans, but oh man, it could be worse.
You could be a fan of the Texas Rangers, a team in the midst of the worst stretch of their season and falling out of a playoff spot for the first time since April. You could also be a Guardians fan, whose team watched a position player pitch more innings and allow fewer runs than Lucas Giolito in the same game.
Regardless of where you stand, there was some movement this week in the standings. Let's see how it all went down.
Texas proves no match for Houston, falls out of Wild Card spot
This week's Astros-Rangers series figured to be quite the duel, but the Astros reminded the Rangers – and the AL West – who the big dog is in this division. In a series that we never really close, Houston outscored Texas 39-10 in Arlington, obviously sweeping the Rangers and throwing Texas out of a playoff spot for the first time since April 8th.
You can argue whether Houston is just that good or if Texas is just that bad, but two things can be true as well. This series is arguably what Houston's ceiling is; they became the first team in MLB history to have 50 hits and 16 home runs in a three-game series. It would be shocking if those offensive numbers didn't include an outstanding individual performance or two, and Jose Altuve was the one to do it. Altuve, just a week after hitting for the cycle, became the fourth MLB player in its history to hit three home runs in the first three innings of a game.
It was the perfect storm in the worst way for Texas, who got forgettable outings from almost their entire pitching staff. Their bullpen allowed 24 earned runs in this series (if you include Dane Dunning as a reliever), and Max Scherzer allowed seven earned runs over three innings on Wednesday's finale. At the plate, Marcus Semien and Corey Seager accounted for 70% of Texas's runs, with the rest of their lineup being subpar.
That abysmal series didn't end Texas' season, but it definitely cost them some ground at a time when it really wasn't convenient. The Rangers are now in third place in the AL West, three games back of Houston who is now in first place. Sandwiched in between them are the Mariners, who are in second place in the division and hold the second Wild Card spot. Seattle lost two of three to the Reds this week and will head out to Tampa Bay for a four-game series.
Orioles and Rays stay close, Blue Jays claim third Wild Card spot
The Orioles have now won five consecutive games, including a three-game sweep of the Los Angeles Angels. Baltimore does a lot of things really well, but their biggest question mark for most of the season has been their starting rotation. While veterans like Kyle Gibson and Jack Flaherty seemed to be the default playoff starters, Grayson Rodriguez and Kyle Bradish are making a strong case to be No.1 and No. 2. Rodriguez has a 2.85 ERA since his promotion from AAA in July, and Bradish is fifth in all of baseball with a 3.03 ERA.
The Rays defeated Boston in a three-game series, with the exclamation point being Brandon Lowe's walk-off three-run homer on Tuesday night. As an honourable mention, starter Tyler Glasnow tied a career-high with 14 strikeouts last night en route to a 3-1 Tampa Bay win. While winning the series against a division rival is good, that didn't keep pace with Baltimore, who swept their series. The Orioles stretched their AL East lead to 3.5 games, with a four-game series between the two looming large next week.
And then there's the Blue Jays who, as I mentioned, made their way back into the playoff picture with a series win over Oakland. Toronto will host Kansas City this weekend before Texas makes its way into town on Monday. Fortunately, the Blue Jays are expecting shortstop Bo Bichette back this weekend.
Minnesota wins series over Cleveland, time running out on Guardians
The Guardians had been hanging around for quite a while, and while they're still not mathematically out of the playoff race, this week's series loss to Minnesota may prove to be the nail in the coffin.
The Twins took two of three from Cleveland this weekend, setting the tone in the first game with a 20-6 Minnesota win. Twins rookie Royce Lewis hit a grand slam in that game as part of his six-RBI night, becoming the first rookie in MLB history to hit three grand slams in an eight-day period.
Unfortunately, that game was started by Lucas Giolito, who was making his first start since joining the Guardians. Giolito allowed nine earned runs on seven hits and three walks, lifting his season ERA to 4.88. Later in the game, Cleveland sent out position player David Fry, who threw 64 pitches (second most on the team that night) and allowed seven earned runs in four innings of work.
Again, the Guardians aren't out of it yet, but their season to this point doesn't suggest that they have any chance of catching Minnesota. The most games they've been over .500 is three, and their longest winning streak is four games – they'll need a lot more than that to make up the six games they trail the Twins.
---