Six years later, Alex Anthopolous has a team in the World Series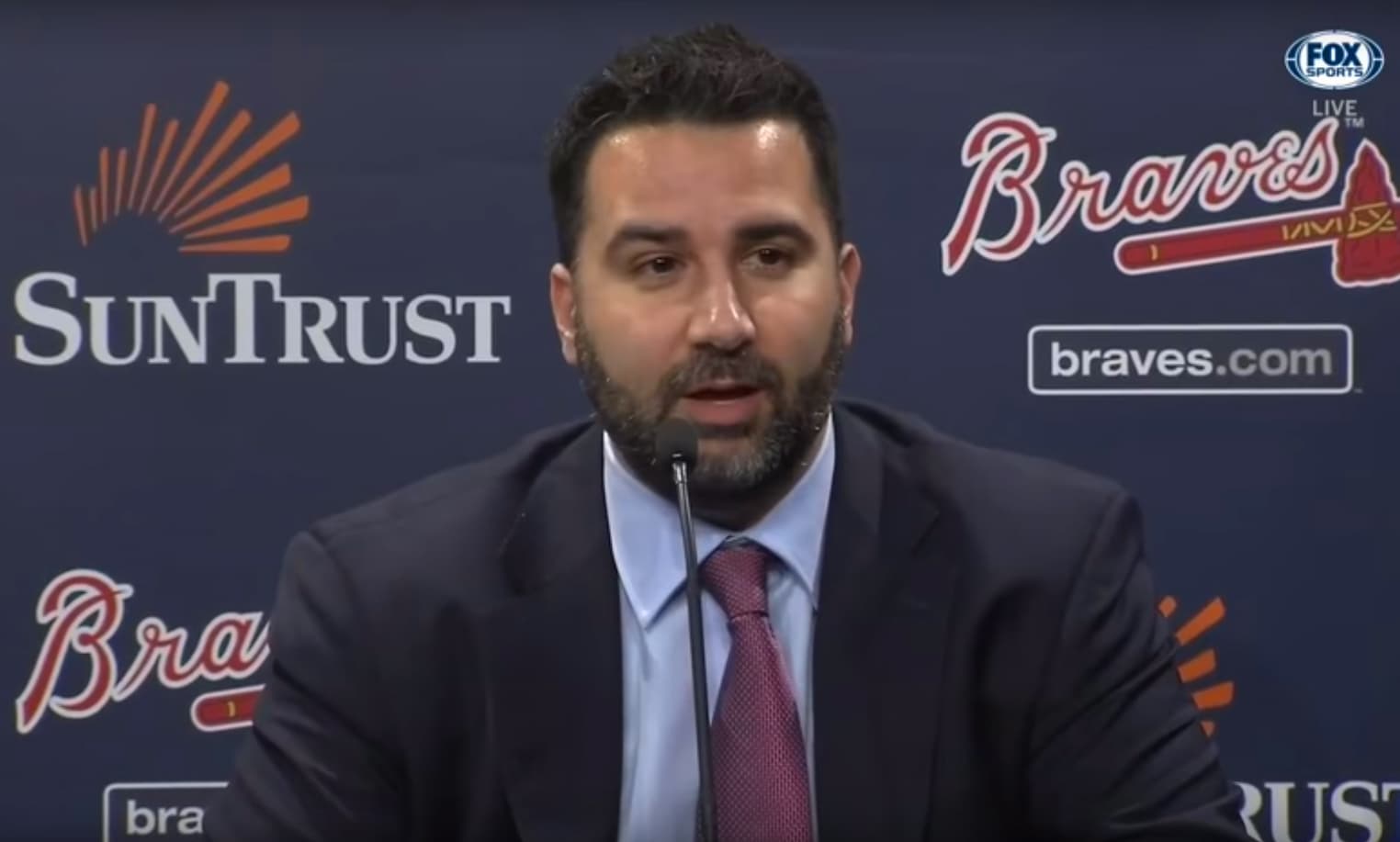 Photo credit:YouTube.com
Shortly before I started writing for Blue Jays Nation, I finished my diploma in Management and Entrepreneurship. While this program was not my primary interest, I did learn a lot about sustainability in business. Even our beloved Toronto Blue Jays are a business, meaning that sustainable practices must be implemented.
Back in July, I wrote an article titled "Building a Sustainable Contender"
 where I dove into how the Front Office turned an old, overpaid team into a contender in four years. This was done by savvy international free agent signings as well as trading pending free agents at the deadline to build up prospect capital.
However, there are other methods of team building, such as trading for key assets at the trade deadline, such as former Blue Jays General Manager Alex Anthopoulos did at the 2021 deadline. This obviously paid off for Anthopoulos and the Atlanta Braves as they are in the World Series
Alex Anthopoulous' 2015 trades:
Alex Anthopoulos made moves in 2015. He made a fantastic move to acquire soon-to-be AL MVP Josh Donaldson (30), he traded Jose Reyes and other minor league prospects for Troy Tulowitzki (31) and traded the rest of the farm for David Price (30). Not just that, he also signed severely underrated Russell Martin (32) to a large contract extension. Add Jose Bautista (35) and Edwin Encarnacion (32) and you have a core of fantastic players, albeit a little old.
What's more is that to acquire Price and Tulowitzki, the farm was left barren. Was it worth it? Absolutely. The 2015 and 2016 playoff runs are not just my fondest memories, but also many other Blue Jays' fans' fondest memories.
If the Jays won the 2015 or 2016 World Series, do you think that '17, '18 and '19 would have been rebuilding years if Anthopoulos was still in charge? I say yes. That was an old core that would have continued to age and with very little in the farm system, I'm willing to bet that the rebuilding period would have taken longer.
Alex will always be remembered as the Blue Jays GM that traded scraps for Josh Donaldson and nearly got this team a World Series, but I'd be lying if I didn't mention Alex's past failings through trades. Examples range from acquiring R.A Dickey for Noah Syndergaard and Travis D'Arnaud or that massive trade with Miami. It took him 6 years on the job to finally make an impact and his Blue Jays legacy won't be tarnished due to the fact that he left on a high and didn't have to rebuild.
The state of the Blue Jays, post 2016:
In 2017, the Blue Jays had an opening day payroll of $163,381,937, in 2018, it was nearly an identical $162,037,233. Who was making the most money in 2017? Russell Martin (34) made $20 million, Troy Tulowitzki (33) also made 20 million. An aging Jose Bautista made 18 million and Josh Donaldson made 17 million, which was well deserved after two tremendous seasons.
This is to say that the Jays were kind of stuck between wanting to contend and wanting to rebuild. Despite injuries, the Jays were three games back of a wild card spot on August 18th, 2017.
While the Jays were struggling in the MLB, moves were being made to bolster their farm. The new Front Office also drafted key players like Bo Bichette, Cavan Biggio, and Nate Pearson.
Alex left a wonderful parting gift in Vladimir Guerrero Jr, but it's also important to mention that they signed Vlad in the 2015 international free agency, but by doing so they went over slot. Worth it? Absolutely, but it also meant that the Jays could only sign 2016 and 2017 IFAs to a max of $300,000.
The Jays continued to bolster their farm even with the low signing bonus, as they were able to sign two main roster players (Lourdes Gurriel, Alejandro Kirk), one top 10 prospect in all of baseball (Gabriel Moreno) and another player in the Blue Jays top 10 (Otto Lopez).
While it appeared that the team was just plain bad, it is important to remember the situation that the team was left in. The farm was devoid of any top prospects, the 26 man roster was up there in age and that payroll was too high for what the team had.
Where did Alex Anthopoulos work before Atlanta:
It's important to note that Alex worked as the Vice President of Baseball Operations for the Los Angeles Dodgers. I bring this up because if you think of sustainable Major League ball clubs, the first two that come to mind are the Tampa Bay Rays (a small market team) and the Los Angeles Dodgers (a large market team).
The Dodgers have a lot of money, but they also have developed many players on their 26 man roster. This mix of developing home-grown talent and spending big on free agents has allowed the Dodgers to make the postseason nine straight seasons, including eight consecutive NL West titles.
Did Alex's brief time working for the Dodgers impact his decision-making for the Atlanta Braves? Time will tell, but it's an important note in the career of Alex Anthopoulos.
2021 Atlanta Braves:
That brings us to the current day. The Blue Jays had three more wins in a much tougher division, yet they didn't get an opportunity to play in the playoffs. Call this poor planning on the part of the MLB, but this stuff happens. Without a doubt in my mind the team will continue to be a perennial playoff team due to the Front Office's ability to find players through the international free agency and smart drafting.
That brings us to the Atlanta Braves and Alex Anthopoulos. While the team is in the World Series, it would be misleading to say that Alex Anthopoulos built this team
Joining the Braves in late 2017, the team already had Ronald Acuna, Freddie Freeman, Ozzie Albies, Auston Riley, Mike Soroka and others. In the preseason of 2018, the Atlanta Braves farm system was considered one of the best in all of baseball. This begs the question, how much of the Atlanta Braves' success can be claimed by Alex Anthopoulos?
The playoff spot was a given. Miami is a rebuilding team. The Phillies have the possible NL MVP, but their bullpen is awful. Think May-June Blue Jays but 20 times worse. The Nationals, who also got hot at the right time, look nothing like that 2019 World Series team and the Mets continue to be a disappointment to American sports everywhere.
What I have to give Alex credit for is knowing this situation and going for it. He made key trades that helped further down the line such as the Eddie Rosario trade (for Pablo Sandoval!). These moves cannot be understated.
Is sustainability worth it when you may get a banner?
If we learned anything from the Blue Jays 2015 run, it's that the playoffs are a crapshoot. You may be the best team in Baseball like the 2015 Blue Jays were, or even the Los Angeles Dodgers or San Francisco Giants were this season, but all you need to do to win a World Series is make the playoffs and get in a hot streak, such as the Nationals in 2019.
Anthopoulos' trades did just that for the Atlanta Braves. You can say whatever you want about how they only won 88 games, which is the lowest in the playoffs. You can talk about how easy their division was, but in the end, they still beat the Los Angeles Dodgers and are still in the Fall Classic. When it's all said and done, their 23rd ranked farm system (according to Pipeline) doesn't matter when the team is playing for a World Series.
I think the main difference is that Alex goes for it, while Shapiro and Atkins want to win multiple rings. Anthopoulos' approach puts sustainability to the wayside and focuses ongoing for a World Series. Assuming that a lot of you reading this are Raptors fans, are you satisfied with just one NBA title? I can tell you, I'm sure as hell not satisfied with just one title. Alex's approach to team building is very much one and done, and that's not a bad thing
when
you win the World Series.
However, Shapiro and Atkins have a different approach. Why just win one when you can win multiple through sustainable team practices? Nothing is guaranteed in baseball and as I said, the playoffs are a crapshoot, but consistently having prospects break into the MLB or be used in trades is a surefire win to potentially become a dynasty.
As always, follow me on Twitter @Brennan_L_D. I've been busy with school and also decompressing from Baseball (aka, it's Basketball and Hockey season). I got a few more articles on my mind, so stay tuned.