The starting rotation? Or the bullpen? Where should Nate Pearson begin next season?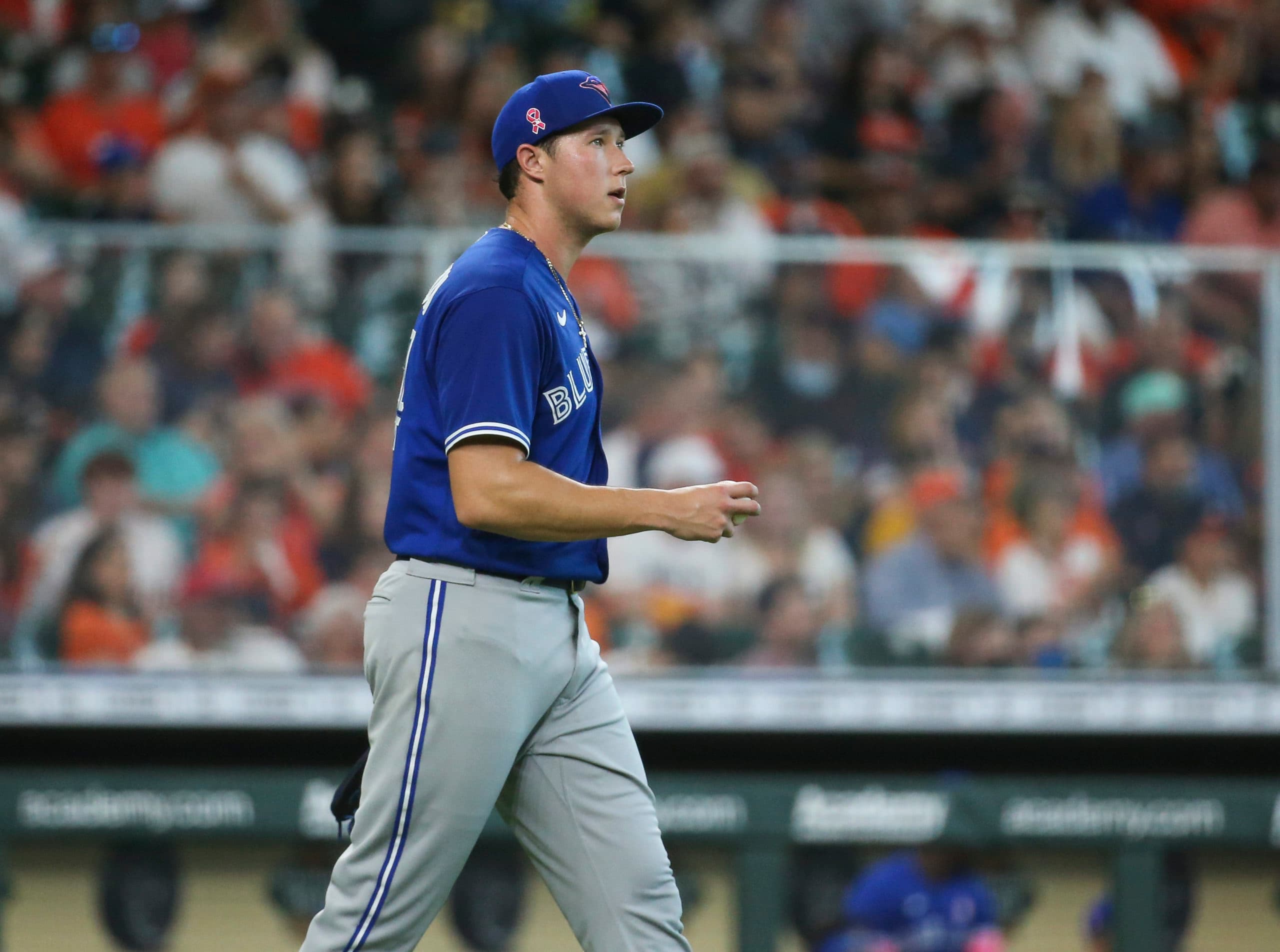 Photo credit:Troy Taormina-USA TODAY Sports
Following another disappointing season, the 2022 campaign is set to serve as a potential career-defining year for pitcher Nate Pearson, whether that be as a starter or a reliever.
Ever since being selected in the first round of the 2017 MLB Draft, Pearson has been viewed as one of the top rising arms within the Toronto Blue Jays' farm system, unfortunately, he's been unable to deliver on those high expectations thus far.
Sadly, injuries have served as the 25-year-old's biggest obstacle through his first five professional seasons, limiting him to just 187.0 innings across six levels during that span. In particular, a sports hernia – which required surgery this off-season – plagued the 6'6″ hurler throughout last season, preventing him from completing more than 45 2/3 innings between triple-A and the majors.
While Pearson is expected to be ready for the start of spring training, assuming it doesn't get delayed, his current role with the organization remains uncertain and will likely need to be determined in the spring, at least, in the short term.
Either way, the Blue Jays aren't ready to label the right-hander as a busted prospect just yet, and rightly so. For now, everyone's main focus currently rests on putting the youngster in the best position to succeed moving forward.
But that's where things become tricky, what is the best route for Pearson in 2022?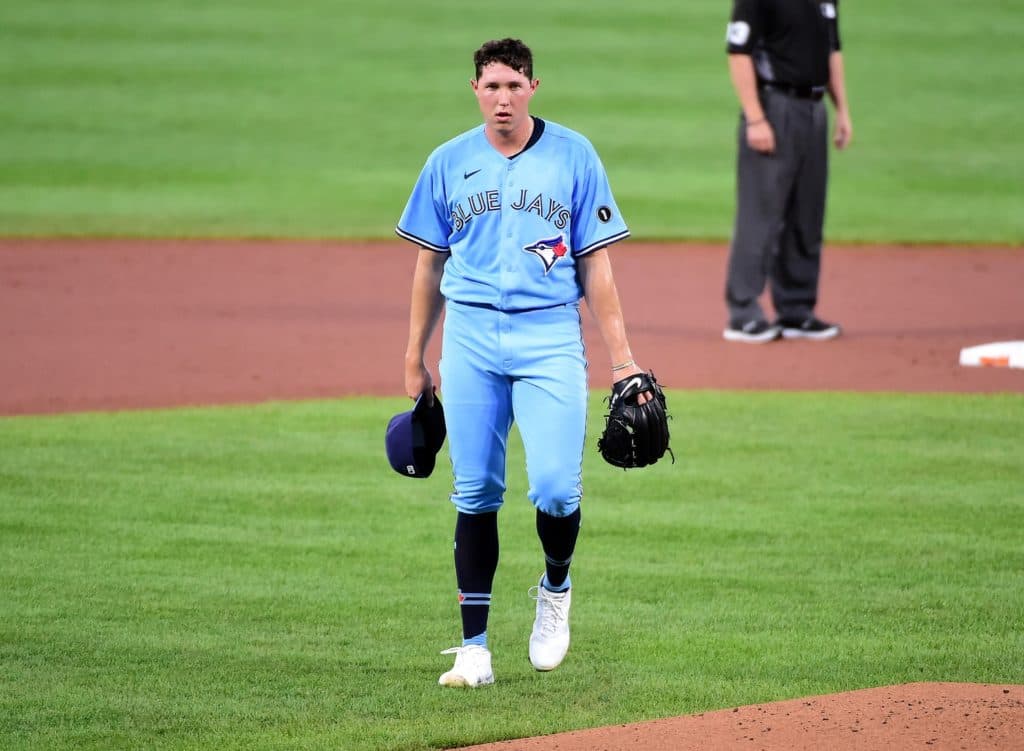 Credit: Evan Habeeb-USA TODAY Sports
Ideally, Pearson is stretched out as a starter this spring and ultimately earns the final spot in Toronto's starting rotation. Though that gig remains up for grabs, pursuing that avenue could prove to be much more challenging as opposed to returning to the bullpen.
Most importantly, the Florida native must prove he's capable of performing effectively in a starter's role, which has been problematic at times in the past. Due to his command issues, the towering righty has struggled to locate the strike zone consistently, especially in the majors, leading to some very disappointing results.
Since making his major league debut in 2020, Pearson has compiled 18 2/3 innings through five starts with the Blue Jays, resulting in a miserable 7.23 ERA, 7.90 FIP, 7.26 xFIP, 15.6 per cent strikeout rate and an 18.9 per cent walk rate.
Additionally, he's also allowed five home runs and a 17.9 per cent HR/FB ratio during that same span.
Along with proving himself worthy of a starting role, Pearson will also be tasked with edging out the competition for that last rotation spot, which currently includes Ross Stripling and Thomas Hatch. Having said that, there's also the expectation for management to acquire at least one more starter once this lockout concludes, either via free agency or a trade.
With that in mind, the former top prospect will be tasked with competing against three, possibly four, other pitchers for just one job in the coming months. Based on his recent track record, it's difficult to feel comfortable about those unfavourable odds, which is why a bullpen role seems much more likely at this point.
Credit: Dan Hamilton-USA TODAY Sports
Unlike as a starter, Pearson has enjoyed considerably more success as a reliever in the majors so far, allowing him to dominate opposing batters at times during his shorter outings.
While his accuracy woes remain a concern in this role, they weren't nearly as alarming as they were during his time as a starter, resulting in a 12.9 per cent walk rate over his 14 1/3 innings in relief since 2020. Paired with his steadily improved command, the Central Florida standout also posted an encouraging 2.51 ERA, 3.59 FIP, 3.39 xFIP and a 35.5 per cent strikeout rate as a reliever.
Most notably, one of the biggest turning points of Pearson's career occurred during the 2020 post-season, where he came in relief during Game 2 of the American League Wild Card series and blew away the Tampa Bay Rays. Of the six batters he faced, five of them struck out over his 2.0 innings of work.
Digging deeper, the hard-throwing righty's arsenal has performed far more effectively as a reliever, not as a starter, over his brief time in the majors. While he's only needed to rely on two pitches in the bullpen – his high-90s fastball and mid-80s slider – both of them have experienced a dramatic difference in velocity and spin between his two different roles.
Beginning with Pearson's four-seamer, his primary weapon, its average velocity has dipped down into the mid-90s when he's been utilized as a starter since 2020. But as a reliever, it's returned to the high-90s and has exceeded triple digits numerous times previously.
| | | |
| --- | --- | --- |
| | Average Velocity (MPH) | Average Spin Rate (RPMs) |
| Starter | 95.7 | 2,062 |
| Reliever | 98.5 | 2,242 |
As for his fastball's average spin rate, it's sat in the low 2,000s during his time in the starting rotation over the previous two seasons. Similar to his heater's velocity, he's also witnessed an identical trend regarding its spin as it has experienced a pretty significant improvement since transitioning to the bullpen.
Moving on to the youngster's slider, it's encountered a near 2-mph difference in velocity between the starting rotation and the bullpen. Since the explosive hurler didn't need to preserve his stamina as a reliever, that likely helped him increase the speed of his primary breaking ball – and fastball.
| | | |
| --- | --- | --- |
| | Average Velocity (MPH) | Average Spin Rate (RPMs) |
| Starter | 85.4 | 2,412 |
| Reliever | 87.3 | 2,609 |
In regards to its average spin rate, just like with its velocity, a noticeable spike in revolutions per minute occurred when Pearson was utilized in the bullpen. Rather than sitting in the 2,400 range as a starter, it jumped by nearly 200 RPMs when he was shifted to a relief role.
Based on these developments, it's difficult to argue against keeping the former first-round selection in the bullpen, at least to begin the 2022 campaign.
Considering accuracy will remain a key focal point for Pearson next season, it'd be much easier to monitor that issue if he returned to the bullpen. That way, the coaching staff – in the minors or majors – could control his environment much more easily compared to if he were utilized as a starter once again.
Assuming the new Collective Bargaining Agreement allows all 30 teams to feature a maximum of 13 pitchers (starters and relievers) on their respective 26-player rosters, which is a topic that remains undecided on, the talented right-hander would likely possess a much greater chance to break camp with the Blue Jays as a reliever.
If Pearson were to spend most of the 2022 season in the majors, even as a relief option, he'd receive an opportunity to work exclusively with pitching coach Pete Walker and the rest of Toronto's coaching staff. In turn, he'd likely gain a better understanding of his pitching mechanics, possibly helping him take a positive step forward in that regard.
For a group that's still in need of a high-leverage arm or two, one potential solution to that problem could be featuring Pearson in that type of role, however, that probably wouldn't happen until later in the calendar. Still, the possibility of having him available for late-game situations would certainly be appealing to everyone involved.
Though some fans would rather include the flamethrowing hurler in a blockbuster trade, potentially addressing the club's vacancy at third base, for now, he remains a work in progress for the Blue Jays. Given their lack of MLB-ready arms in the minors, the perfect deal would likely need to come along for the front office to part ways with him.
Even if Pearson begins next season elsewhere, finding consistency should be the driving force behind the most critical performance of his career, regardless of where that occurs.