Taking a look at the pitchers that the Los Angeles Angels placed on waivers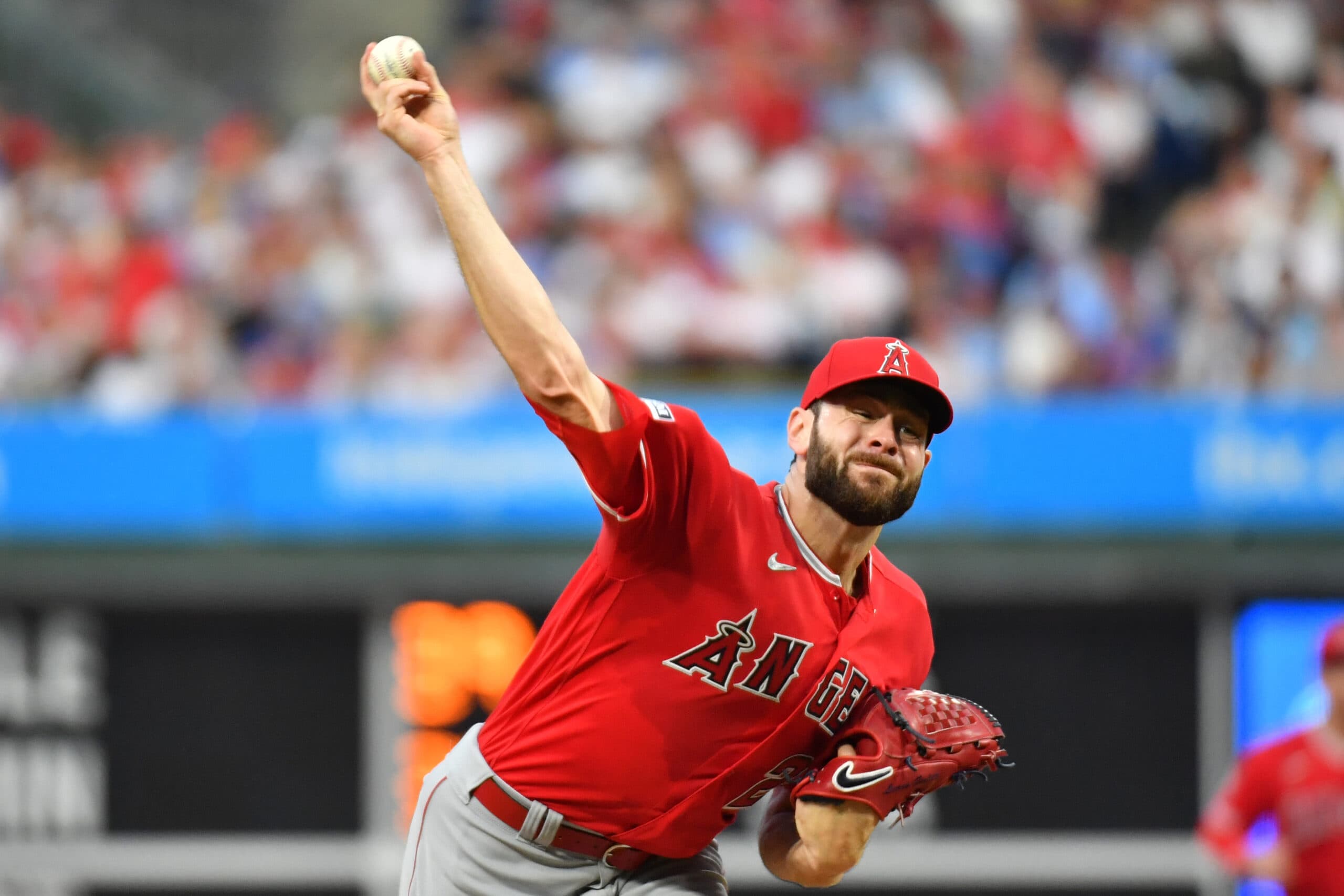 Photo credit:Eric Hartline/USA Today
What are the Los Angeles Angels doing?
On Tuesday afternoon, it was Tweeted by ESPN's Jeff Passan that the bad Los Angeles team released five players, Lucas Giolito, Matt Moore, Reynaldo López, Hunter Renfroe, and former Blue Jay Randal Grichuk.
Lucas Giolito:
The 29-year-old was the only starter released by the Angels, and he has a 4.45 ERA and a 4.95 FIP in 153.2 innings pitched between the Chicago White Sox and the Los Angeles Angels.
The Angels traded two prospects, Edgar Quero (ranks third in the White Sox system) and Ky Bush (ranks ninth in the White Sox system) to get Giolito and López.
Giolito has been awful with the Angels, sporting a 6.89 ERA and a 6.82 FIP in 32.2 innings pitched in the six games he started.
Furthermore, the Blue Jays don't really need a starting pitcher, as Hyun Jin Ryu has been great since retuning from injury, as he has a 2.25 ERA and a 3.86 FIP in 24 innings pitched.
To round of the Blue Jays rotation, they have Chris Bassitt who has a 4.00 ERA and a 4.64 FIP in 157.1 innings pitched, José Berríos has a 3.55 ERA and a 4.05 FIP in 152 innings pitched, Yusei Kikuchi has a 3.63 ERA and a 4.23 FIP in 139 innings pitched, and Kevin Gausman has a 3.30 ERA and a 2.84 FIP in 155.1 innings pitched.
So there's really no need for a struggling Giolito, who will be a free agent after the season ends.
Reynaldo López:
López was the other player heading back to the Angels prior to the trade deadline. In 2023, he has a 3.86 ERA and a 3.94 FIP in 53.2 innings pitched, along with a 30.7 K% and a 12.1 BB%.
Unlike Giolito, López has been lights out with the Angels, posting a 2.31 ERA and a 1.82 FIP in 11.2 innings pitched, along with a fantastic 35.8 K% and an 11.3 BB%. He also averages 98.5 mph on the fastball.
The Blue Jays don't need a starter, but you could never go wrong with picking up more hard-throwing relievers. Furthermore, Erik Swanson is on the 15-day injured list, so picking up a pitcher with experience in medium-leverage and high-leverage isn't such a bad idea.
Like Giolito, López will become a free agent after the season ends.
Matt Moore:
Moore is a 34-year-old left-handed pitcher who was originally a starter, but eventually moved to the bullpen and has been lights out the past two seasons. He had a rebound year in 2022, where he posted a 1.95 ERA and a 2.98 FIP in 74 innings pitched with the Texas Rangers, along with a career-high (minimum 10 innings) 27.3 K%, but struggled with walks as he had a 12.5 BB%.
Moore has been great for the Angels this season, posting a 2.30 ERA and a 3.57 FIP in 43 innings pitched. He has an even higher 27.8 K%, while his BB% has dropped to 7.1%.
The big question is do the Blue Jays have a need for
another
lefty in the bullpen? Tim Mayza is elite, and has been one of the best relievers period in the league this season. Génesis Cabrera is their other lefty, The 26-year-old has a 0 ERA and a 2.35 FIP in the 16.1 innings he's pitched in with the Jays, and his BB% has dropped to 3.4%.
Both relievers would help quite a bit, and the Blue Jays could easily option either Bowden Francis or Jay Jackson, but that begs the question, will the Jays even get a chance at any of these five players?
Who's ahead of the Jays on the waiver wire:
The waiver wire is in reverse order, which means the worst team (Oakland Athletics) have priority over the 29 other teams.
However, it's unlikely that a team out of the race attempts to put a claim in, as all five of these players will be free agents at the end of the 2023 season.
So which teams that are in the playoff hunt have a worse record that the 72-60 Blue Jays? Teams that are five games back of the final wildcard spot in their league won't be included.
Miami Marlins
(66-65, 2.5 games back)
Cincinnati Reds
(68-65, 1.5 games back)
San Francisco Giants
(68-63, 0.5 games back)
Arizona Diamondbacks
(69-63, third wildcard spot)
Boston Red Sox
(69-63, 5.5 games back)
Minnesota Twins
(69-63, abolish divisions)
Chicago Cubs
(69-62, second wild card spot)
Of course, any team with a worse record
can
claim these players, but that seems unlikely, as it'll just add extra payroll, and they're already out of the hunt.
It'll be interesting to see what will transpire on Thursday.
---
As always, you can follow me on Twitter, Instagram, and Threads @Brennan_L_D.
---