That's what you like to see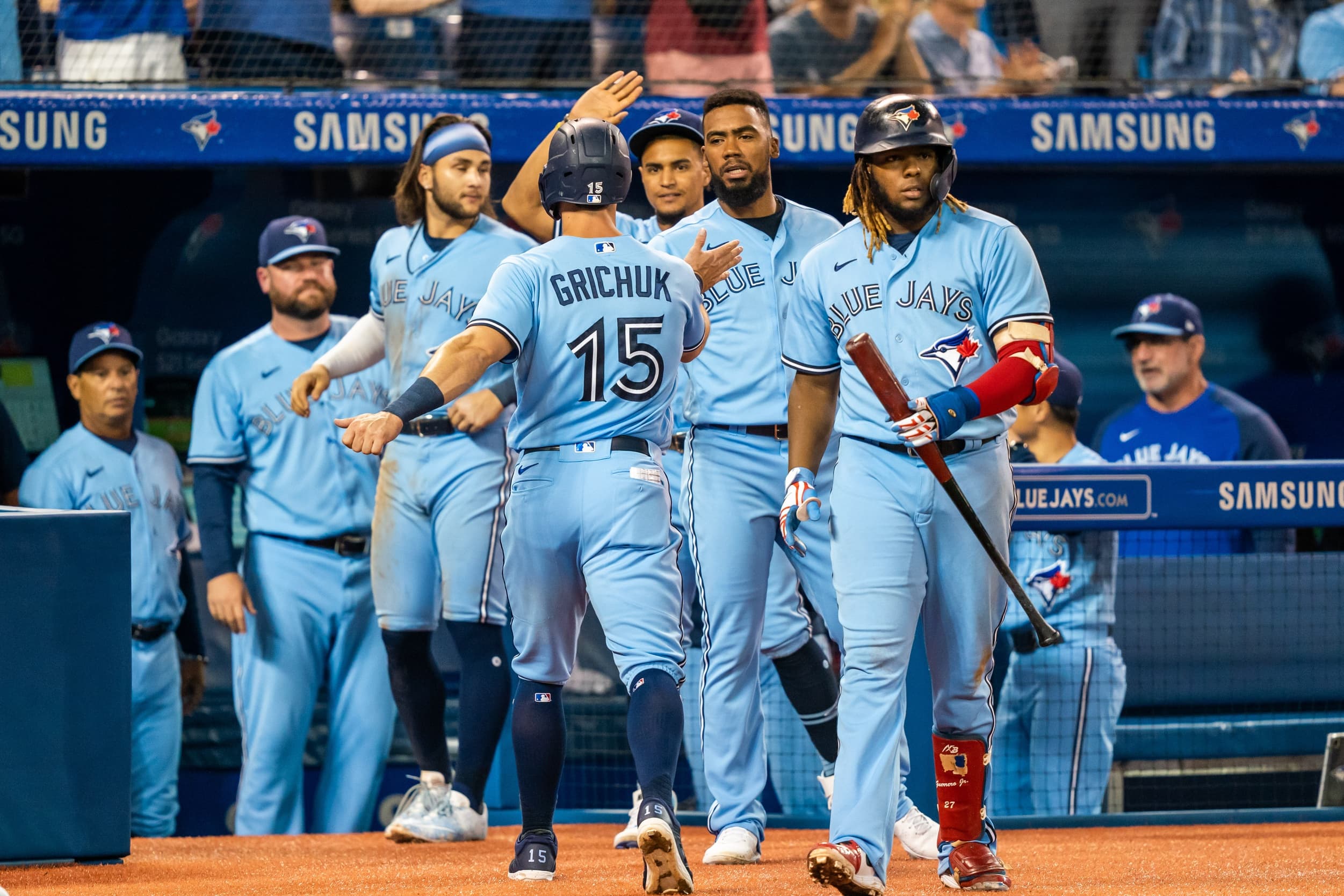 Photo credit:© Kevin Sousa-USA TODAY Sports
It's August 1st, 2015. The night before, I experienced a magical moment that all teenagers look forward to. You can guess what that is. The next day I experienced an even better event as the Jays played the Kansas City Royals. Here's a brief recap of the madness that game was:
8/2/15: Dickey baffles Royals as Blue Jays win series
There are a lot of similarities between the 2021 Blue Jays and the 2015 Jays, even with the specific game. The 2015 series was intense as it was the two best AL teams going head to head. Hell, even Jim Wolf was behind the plate as, @Minor_Leaguer points out.
While the 2021 Jays and the Red Sox aren't the best of the best, they are in a battle for a potential AL East division title.
The first 4 innings were quite boring and it looked like it would be a disaster when the bases were loaded for the Red Sox in the top of the fifth. However, the big man Manoah got out of the inning allowing only 2 runs in 5 innings pitched.
Then the bottom of the fifth happened.
Smash the Fraud-sox
Lead off catcher Alejandro Kirk started it off with a double. I didn't think much of it, other than Kirk is a fantastic hitter. Next up was Girchuk. To say I was less than optimistic was an understatement, but
Grichuk essentially said screw you Brennan and hit an RBI double bringing in Kirk.
Then up came Breyvic Valera. If you follow me on Twitter, you know I absolutely despise bunting. Valera attempted to bunt for the first two strikes, but thankfully stopped after that. When I say thankfully, I really mean it as he shot a ball up the right field line for a double and scored Grichuk.
Springer moved Valera to third, Vlad was intentionally walked, Semien struck out. I thought the rest of the game would be a nail biter, but Bo Bichette had other ideas as he singles to take the lead. Oh you just blinked, Teoscar Hernandez just doubled in the gap on the first pitch scoring two.
Next up is Gurriel, he pulls the ball but somehow keeps it fair and hits the foul pole for a dinger to make it 7-2 and to bring Kirk to the plate for the second time. He hits an absolute rocket off the left field wall holding him to a single.
So the Red Sox are mad at this point. I'm now thinking Kirk is a good hitter AND this team is more fun than the 2015 team, but if I had any doubts this team would make the playoffs, they disappeared on the first pitch to Grichuk.
FIRE UP THE BARBEQUE HONEY, WE GOT SOME BEEF TO COOK
I'm a big fan of Secret Base's Beef History on YouTube. While it's not relevant to this article, @Seth_Rosenthal has given me a new appreciation for beef puns.
The beef was raw. Yes, both teams know how important this season is, but there was no animosity between the two teams. That is, until Hansel Robles threw a first-pitch fastball into Grichuk's arm. Instead of firing up the barbeque, we may need to go to Yellowstone Park and throw the beef into the supervolcano, cause this game got heated quickly.
Both teams were warned meaning that the Jays can't retaliate… until tomorrow. However, a warning doesn't prevent the Fraudsox from getting dunked on as Valera hits a squibber up the left field line juicing the bases and Springer comes to the plate.
I won't lie, I thought this ball was gone, sadly it was too good to be true. We'll settle with the two-run ground rule double. Sadly, the inning came to an end when Vlad grounded out.
Tomorrow will be crazy, and that's a Brennan guarantee.
Bullpen and the rest of the game:
It's hard to see Borucki struggle. In 2018, I truly believe he could be an ace. Injuries hampered the potential for that; however, last season he showed he could be a useful high leverage pitcher as he added velocity. Injuries again have hurt his season and upon his return, he hasn't looked great.
Dolis man. You'll lose to him, but it'll take nearly an hour for his half-inning to finish. He also tends to allow a ton of base runners but get out of it somehow. If you've seen Dolis live, you are lucky.
Hand and Saucedo both rebounded and looked good in tonight's game.
This beef sells itself. Tomorrow's games are going to be wild. I don't need to say much more than this team will make the playoffs and perhaps, a banner will fly.
As always, follow me on Twitter @Brennan_L_D.